Manly Vegetable Soup, Mañoco Food Culture, Pickled Papaya, Heirloom Beans, Donuts, & More!!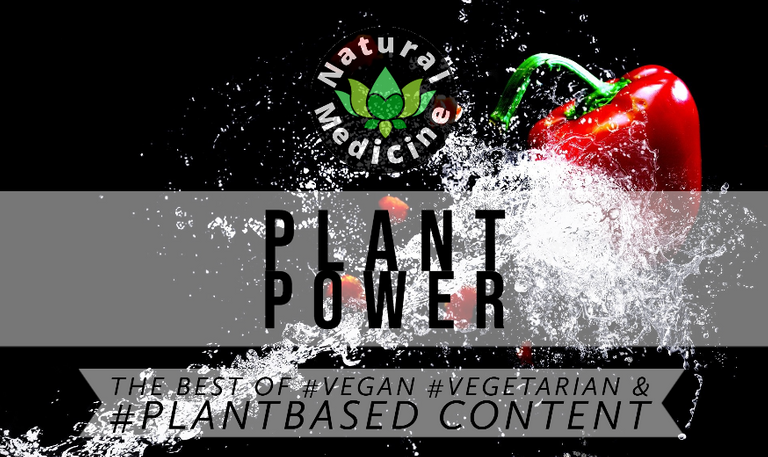 @JustinParke here with another Plant Power curation containing some exciting news, and featuring a selection of delicious #plantbased creations and more to share with all of you.

Not A Ladies Only Club Anymore
     Yesterday was the lovely chef @Sreypov's birthday, and I made her a family favorite meal, puri pizza, an in-house invention. I have been a bit lonely as nearly the only manly-man posting #plantbased recipes in Natural Medicine for some time, so I was quite happy to discover a fellow man-chef to bring into the fold.
     Of course you ladies are killing it as always too, with lovely and tempting recipes from all around the world. The cooking challenge is quickly becoming popular in the Hive-osphere, and I love the increased abundance of delicious recipes it has supplied us with.
     This chef's Vegan Enchiladas was the winner of our @LotusShares Plant Power Cooking Challenge - Week 3. This challenge is a lot of fun, and there are several main ingredients to choose from each week, making it easy for everyone to join in, whether you follow a strictly #plantbased diet or not. Come have a look at the new challenge and featured ingredients.

     Onward to this week's Plant Power curation, where I found a collection of recipes made with love from all over the globe. From soups to traditional food processing, production, and culture, I found some really awesome posts to share with you all.
     I chose @cesarj21 as the winner of this week's 5% beneficiary, his satisfaction was infectious!!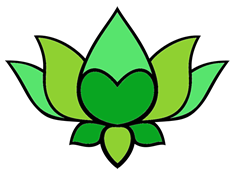 How to Be Curated by PLANT POWER
Use the tags #naturalmedicine #vegan or #plantbased
WE don't mind what community you post in - although we prefer you post in the Ecotrain or Natural Medicine communities!
Ensure your recipes are plant based - although we don't preach any diets, this curation would like to focus on plants rather than dairy or meat additions to recipes.
Use clear, well focused photographs - and ORIGINAL content!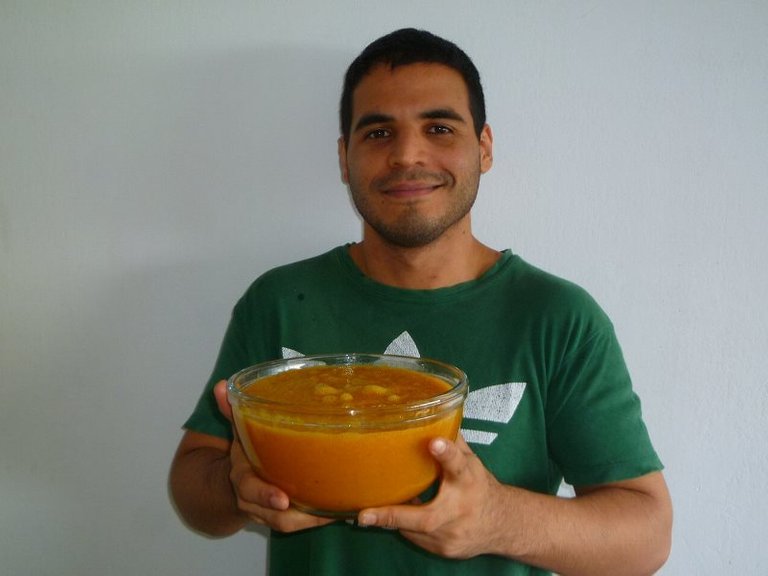 by: @cesarj21
     When I found this chef's post, I was quite surprised to see another man in the ranks of NM's #plantbased chefs. Vegan chefery on Hive has mostly been dominated by the ladies, so it's nice to know I'm not alone now. One of the notable steps in this recipe is that this chef baked the potatoes before adding to the soup, a step that increased the flavor and made this dish extra savory. Honestly, what I like even more than the recipe is this Hiver's smile of satisfaction at a job well-done.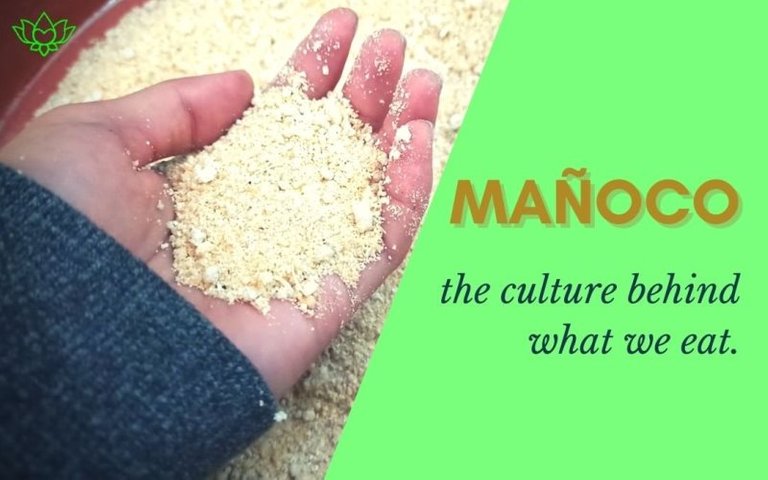 by: @auelitairene
     Quickly becoming one my favorite newly discovered content creators, @auelitairene shared this mix of culture and food with us. So many famine-type foods can be made from cassava, and this mañoco reminded me of a product known locally as kwaka here in Suriname. The product I am speaking of is almost like a cassava-based couscous substitute, and it works well as a rice replacer in meals, and even a bread is made from it, of which also Suriname a has a similar version.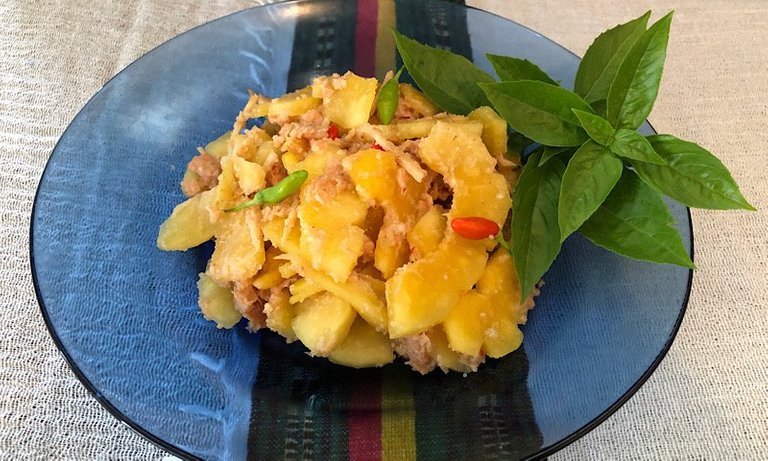 by: @sreypov
     There are a lot of things you can do with ripe papaya and green papaya, but what about those in-the-middle papayas? Have no fear, Cambodians have an answer for all things papaya. This pickle is full of flavor, and is a nice side dish with any meal, and can even be enjoyed alone or with some steamed rice as a complete meal. The toasted rice powder gives this dish and extra dimension of flavor.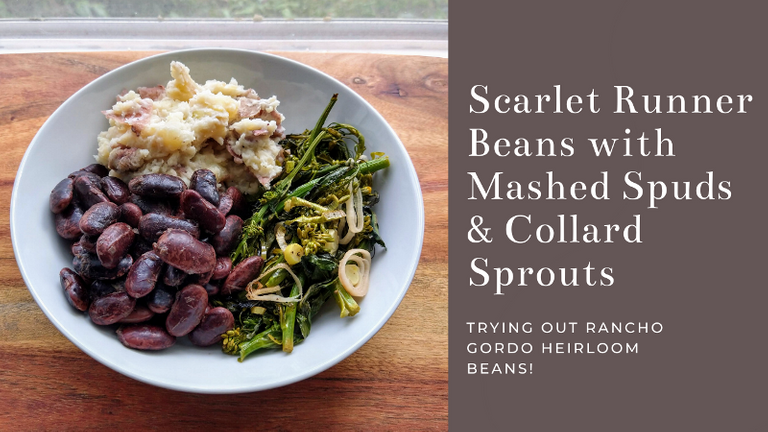 by: @plantstoplanks
     "Beans, beans, the miracle fruit, the more you eat, the more you toot!" This little jingle from my childhood always pops into my mind when I'm cooking beans. But this bean dish isn't just a bean dish, it's got some green friends, and the beans happen to be an heirloom variety, part of a box of various heirloom beans she recently purchased. One thing I really love are heirloom varities of traditional fruits and vegetables, so this recipe was right up my alley.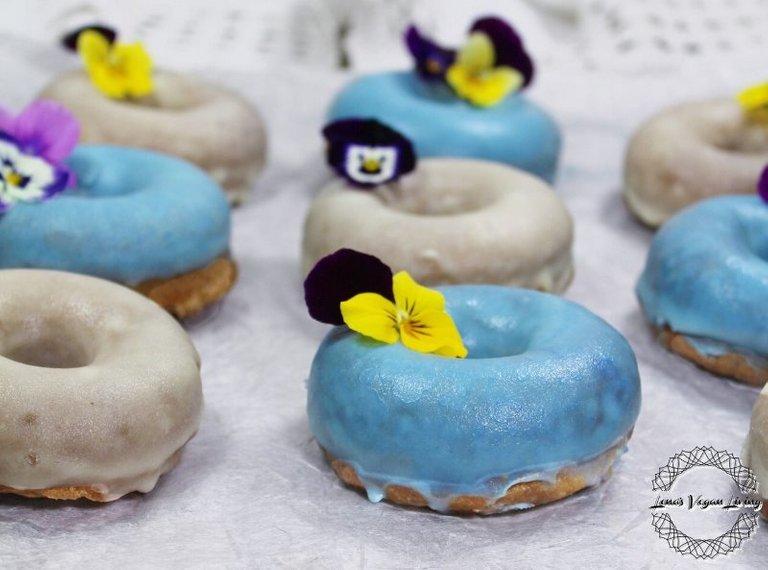 by: @lenasveganliving
     Donuts, delicious donuts, something I used to eat in Cambodia, but here in Suriname the local ones are of low quality, so my family and I have abandoned them. However, if this chef lived nearby and was making and selling these delicious beautiful blue donuts, she'd have at least 4 loyal customers (my family).

We hope you get involved with posting lots of yummy #plantbased #vegan #naturalmedicine #ecotrain recipes! Both communities are now also supported by OCD, so good quality posts might also get a little bit of extra love. Stay healthy, stay safe, and stay happy!

Earn Instantly For Writing Natural Health Content
Earn LOTUS and HIVE rewards for sharing your natural health content on www.naturalmedicine.io. If you don't already have a HIVE account, you can sign up for FREE here. We support writers sharing about herbalism, TCM, yoga, meditation, vegan and other healthy diets, as well as earth centred practices such as foraging, permaculture and biodynamics - read more about us here!




Delegate | Community | Discord | Lotuschat




---
---