Strawberry Marmalade, Summer Corn - Ayocote Amarillo Mélange, Chocolatey Bon-Bons, Khmer Prahut, Protein-Packed Spaghetti, & More!!
Aloha #plantbased chefs and foodies of Hive!! It's @JustinParke here with the latest Plant-Based Curation, where you get to see the most delicious treats of the week, curated by the none other than me.

     Her Aubergine & Green Banana Curry was the winner of our @LotusShares Plant Power Cooking Challenge - Week 18. This challenge is a lot of fun, and there are several main ingredients to choose from each week, making it easy for everyone to join in, whether you follow a strictly #plantbased diet or not. Come have a look at the new challenge and featured ingredients.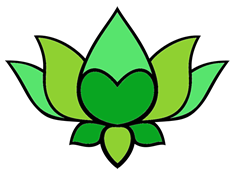 How to Be Curated by PLANT POWER
Use the tags #naturalmedicine #vegan or #plantbased
WE don't mind what community you post in - although we prefer you post in the Eco-Train or Natural Medicine communities!
Ensure your recipes are plant based - although we don't preach any diets, this curation would like to focus on plants rather than dairy or meat additions to recipes.
Use clear, well focused photographs - and ORIGINAL content!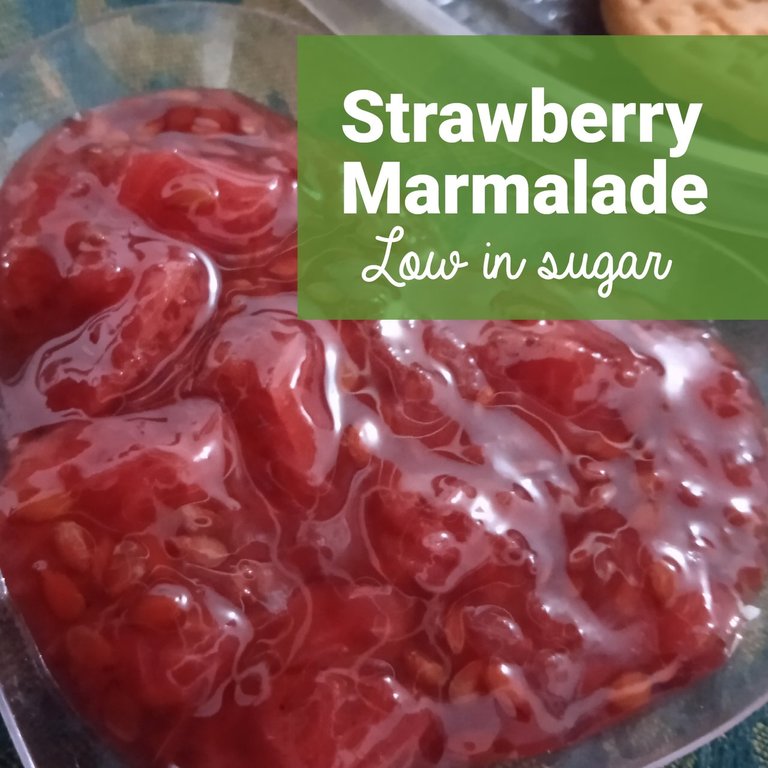 by: @kyleana
     When I saw this jam, I was taken by to my childhood in the USA, where the peanut butter and jelly sandwich (aka "Choke & Slide") was born. As a kid, I occasionally enjoyed homemade jams in between jars of high fructose corn syrup jams, and I must say there is no comparing the two. What I like about his strawberry jam is the use of flaxseed as the thickening agent.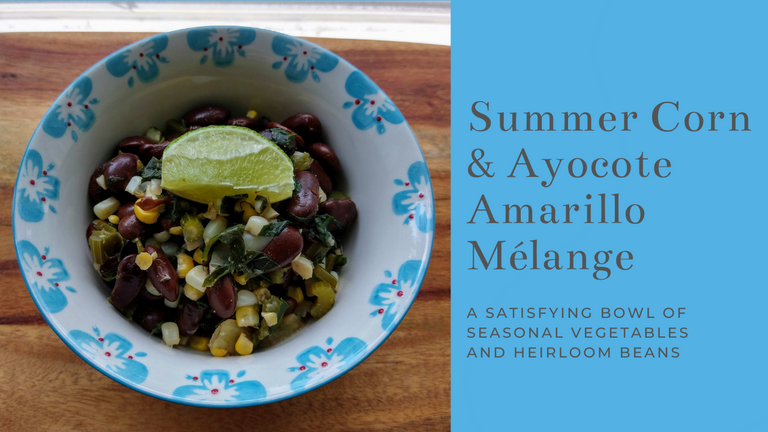 by: @plantstoplanks
     This chef has been away for awhile, and she is quite a busy person, so we are blessed when she shares a post with us, all of which are instant gems. This dish made use of some heirloom beans and seasonal veggies, all of which came together excellently. I would love a bowl of this protein-packed mélange.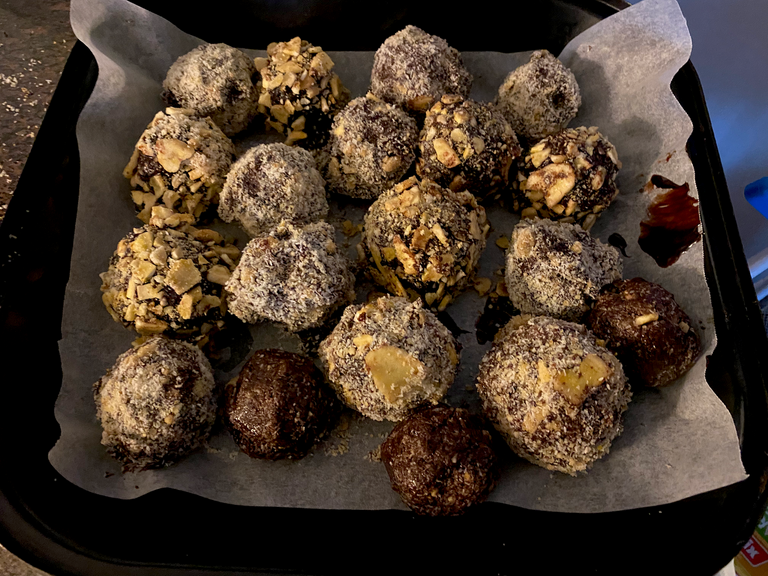 by: @chocolatescorpi
     In this Hive chef's username is the word "chocolate," so we can't be surprised when she shares some chocolatey treats with us. Although this snack doesn't really have a name, it doesn't take away from how awesomely delicious these energy-packed balls are. Read the post and you'll even discover the various health benefits of the ingredients.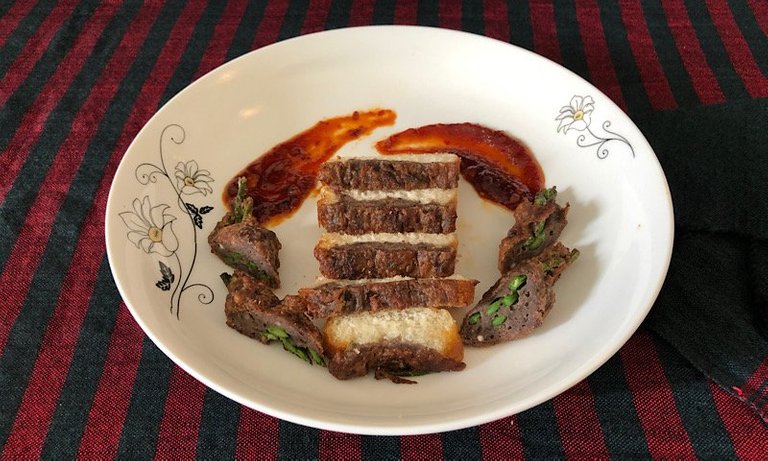 by: @sreypov
     Cambodian sausage, otherwise known as prahut, is something any traveler in this country has seen hanging under umbrellas along any roadside. Well, this chef is a vegan, so she decided to make a #plantbased version of one of her country's favorite snacks. I must say she did and excellent job.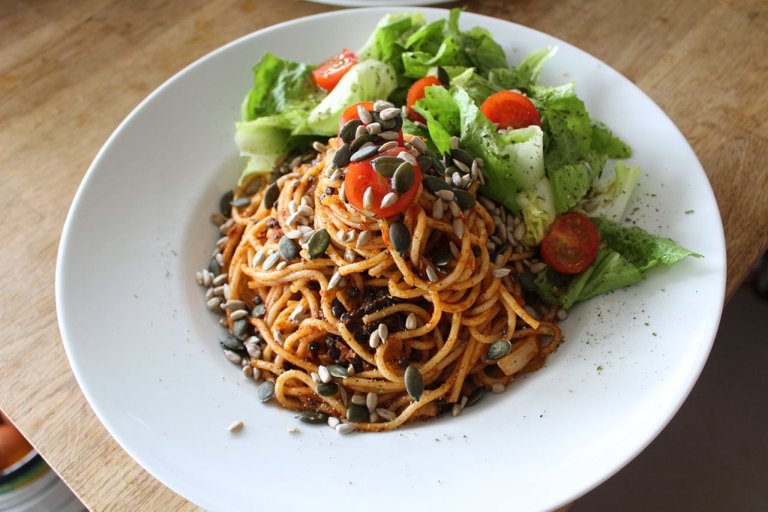 by: @luca1777
     I hope Italy would approve of this dish even though it's certainly not traditional. That doesn't bother me at all, and I like that this chef worked in some pumpkin and sunflower seeds into this spaghetti, as well as lentils. These ingredients make an already delicious dish very filling and hearty, something I can apprecialove after riding 40kms on my bike near the equatorial sun.

     I chose @plantstoplanks as the 10% beneficiary because we missed her culinary creations very much, and this is a good way to welcome her back.

We hope you get involved with posting lots of yummy #plantbased #vegan #naturalmedicine #ecotrain recipes! Both communities are now also supported by OCD, so good quality posts might also get a little bit of extra love. Stay healthy, stay safe, and stay happy!



Earn LOTUS and HIVE rewards for sharing your natural health content on www.naturalmedicine.io. If you don't already have a HIVE account, you can sign up for FREE here. We support writers sharing about herbalism, TCM, yoga, meditation, vegan and other healthy diets, as well as earth-centered practices such as foraging, permaculture, and biodynamics - read more about us here!
Delegate | Community | Discord | LotusChat




---
---