Am dedicating the making of this beautiful outfit in humor of our late great mother and Queen, Elizabeth II. She'll continue to live in our hearts......
Happy new week friends,
It's a brand new week to explore guys, that feeling when you're currently experiencing something new or about to, the feeling is out of this world 😂 could remember when I acquire for myself a new iPhone years back when iPhone wasn't really rampant those times it was mainly for big boy 😂 and if you have one you're just considered a rich kid, cause iPhone that time was seen as a classy tech and a costly one too, so for those who could afford even the smallest one as iPhone 6 were considered big boys and the person holding it will be over the moon with excitement, because you know the respect and acknowledgment the phone will bring to you.
Now acquiring the phone was something I was super excited about and my happiness knew no bounds, have experience a friend dance till he couldn't catch his breath again in the cause of attaining a new gadget 😂 the feeling is something else 😂. Same to being fortunate to see a new day, it's a clear indication of Gods love so we need to be thankful🙏.
Well..... before I commence with my content, let me use this time to send my heart felt condolences to the family of our amiable mother and Queen Elizabeth II (the great) who transcended to glory in the past week, it's actually a week and four(4) days since our mother pass on to glory she's the oldest and longest-reigning British monarch.

source
we're still in mourn of our great Queen and epitome of excellence, who died at the age of 96 during her time in power she was a great inspiration to many including me, (I don't have to be a citizen of her country to be inspired by her, I celebrate and adore her regardless). She ruled with great beauty and strength such that one can comprehend, I get so marveled going to her profiles, she's so caring such that even in her demise she still lives in our hearts.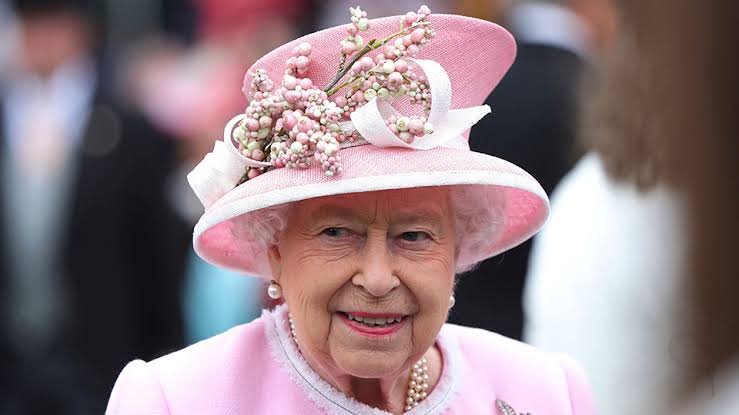 source
She looks even more beautiful in pink 🤭🤭So am officially dedicating my post today in memory of our great mother and Queen Elizabeth, we love you mother and you'll forever remain in her hearts.
Moving forward to my today's content, firstly this were all the items I used.
Equipment used:
Navy blue fabric
Vintage fabric
Plain White fabric
Soft gum
Readymade zip
Matching threads
My cutting processes:
The navy blue fabric was to be used as the main body of the cloth, so first thing I did was to lay the navy blue fabric on my cutting table, draft out my client's measurement on it and cut it out, right after that I used the front I just finished cutting to lay and I added 3.7inches at the neck part of the back for the shoulder overlapping and from there I measured out 2Inches for the bank neck and after that I was done and I cut out the back view and I added 2Inches ruler line for the back view, it's a well known stuff it's beautify the back of the cloth but most times we call it flap.
I was done with that I then drafted the sleeve, it was long sleeve, so my own pattern of drafting it, like the long sleeve of the person was 25inches.
Now after drawing the starting line to where the sleeve stops, I do add 1inches to make it 26inches and I subtract 3 inches for the sleeve band which is always 3inches length, so that was what did and I cut it out with a sloping of 6inches from the starting point, I was done so I cut it out. I kept the front on the remaining fabric and duplicate the back facing with that I was done...that's how I do my cutting.
My sewing processes:
Now the sewing part is kinda simple to be honest,when you know what you're doing.
Next thing I did was to take out the vintage fabric and I cut it in form of an L And I added a soft gum to the the back view and I press gummed it with an electric iron, now I used the iron to bend it half inches all round and immediately after When I was done i sewed it to main fabric.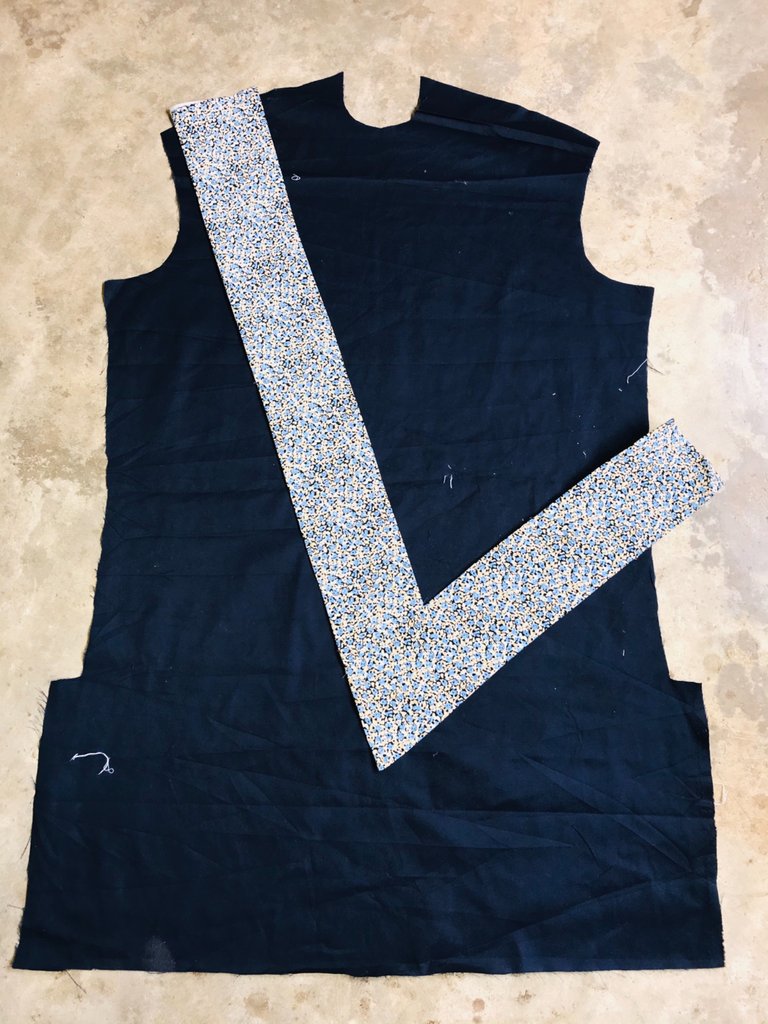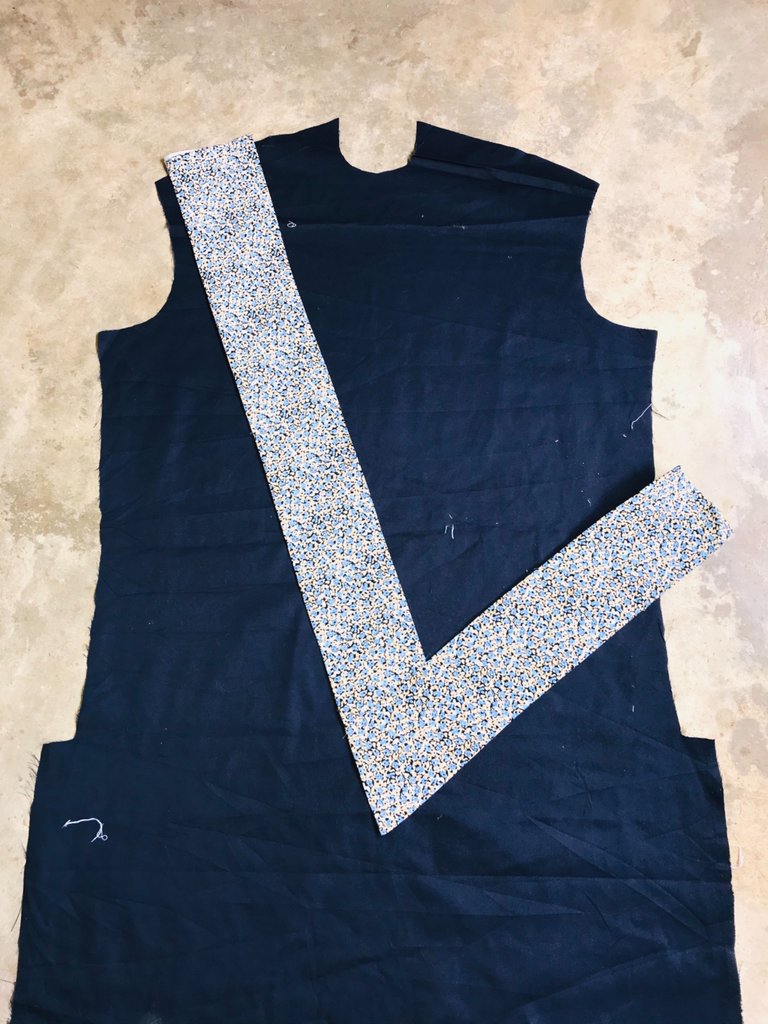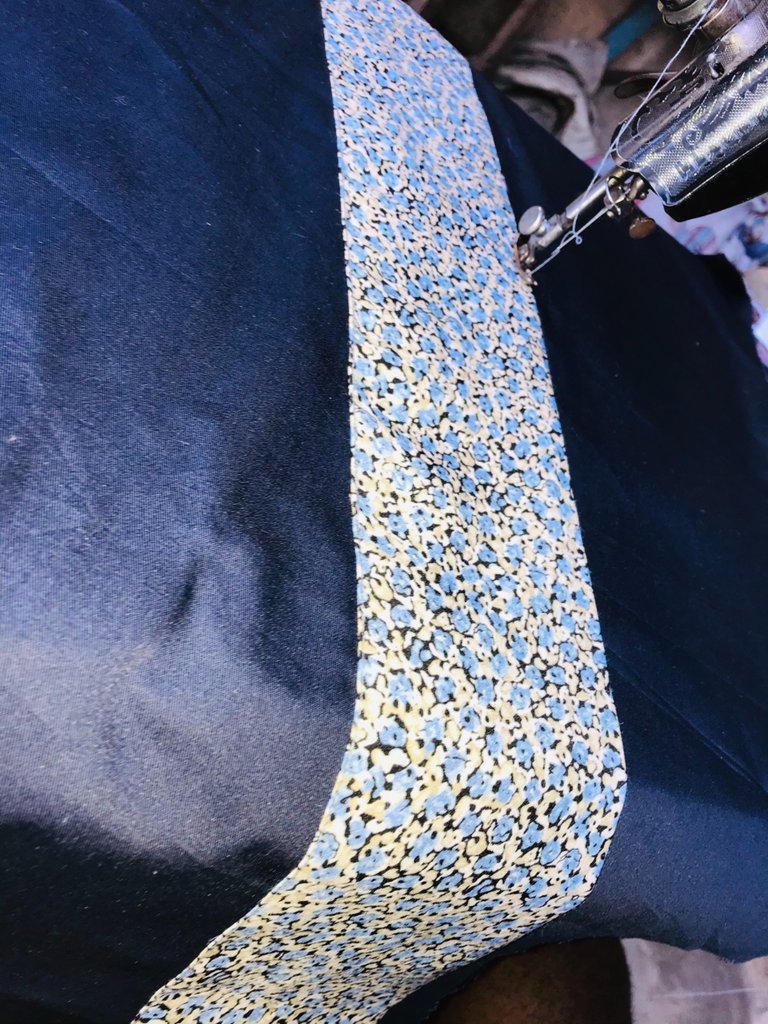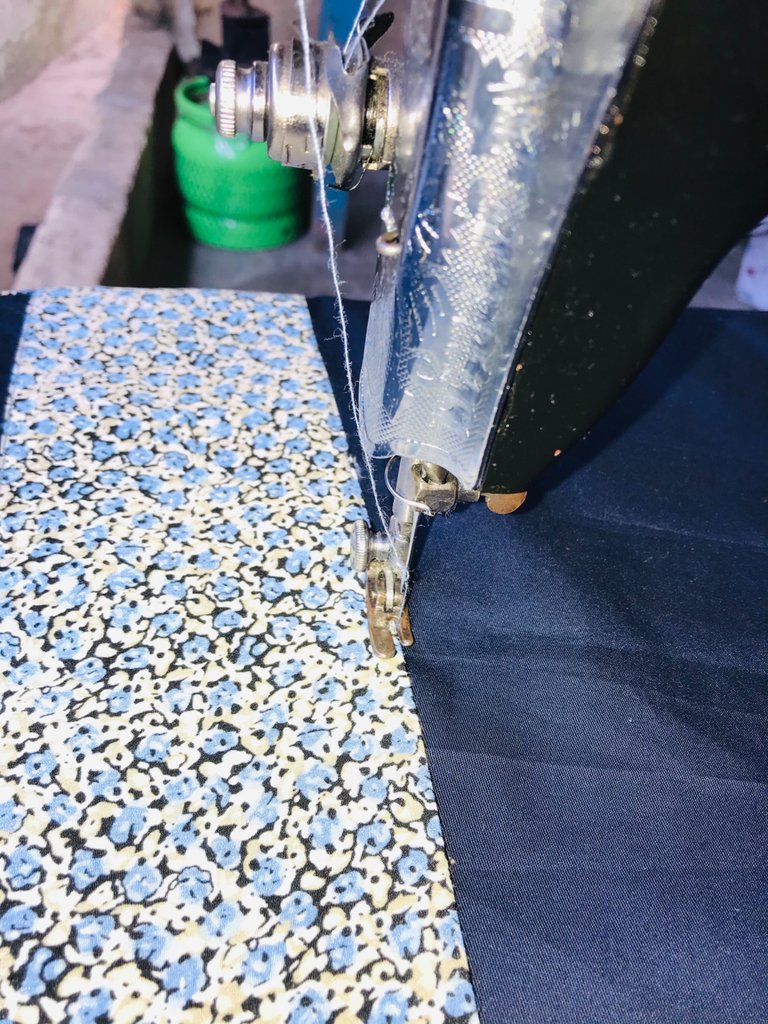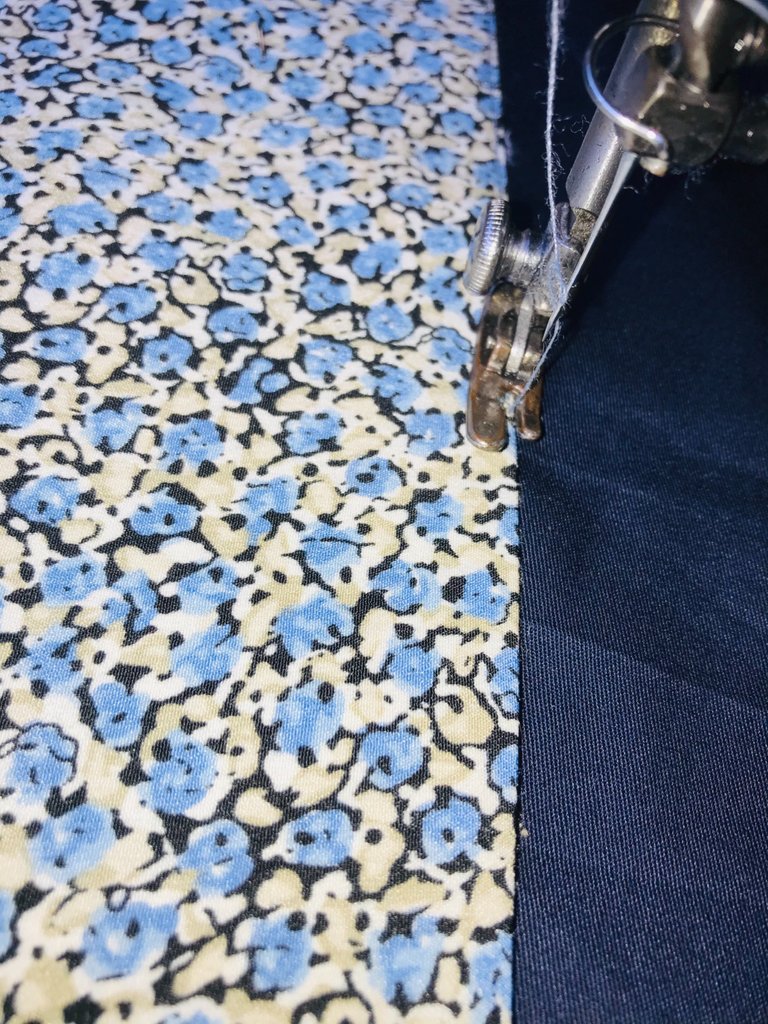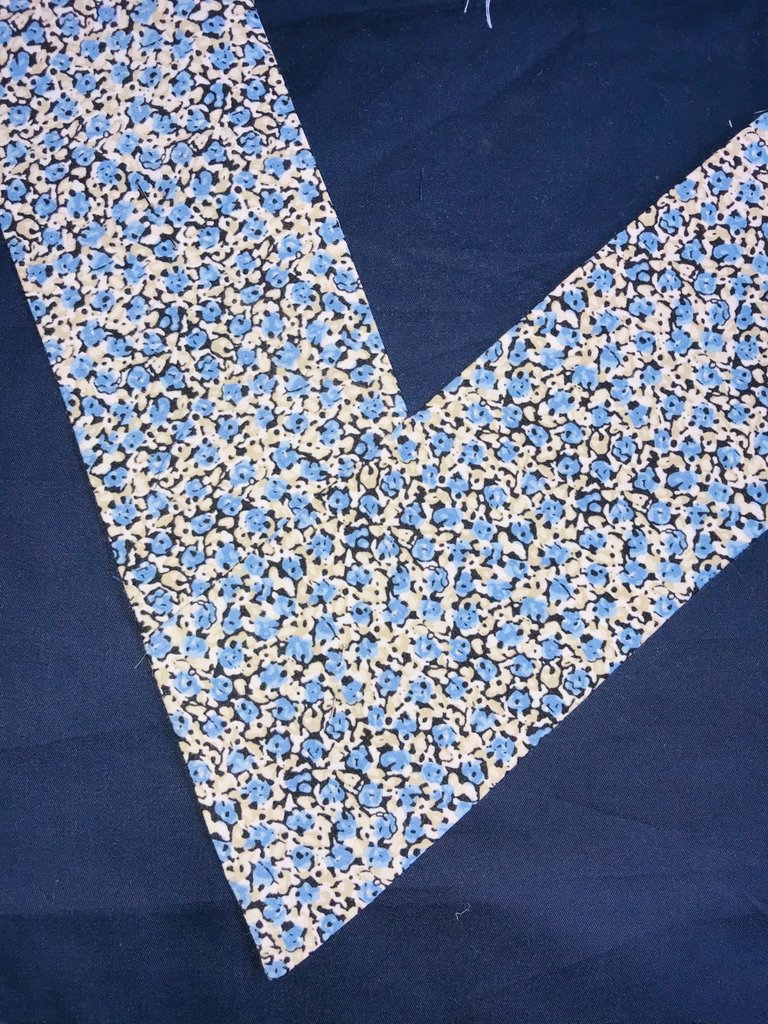 That was done, I took the white fabric and I cut it same style in form of an L 2inches and I bend it both sides in by half inches to give me 1inches all round and I skipped 0.7inches size from where the vintage fabric is and I place and sewed the white fabric there.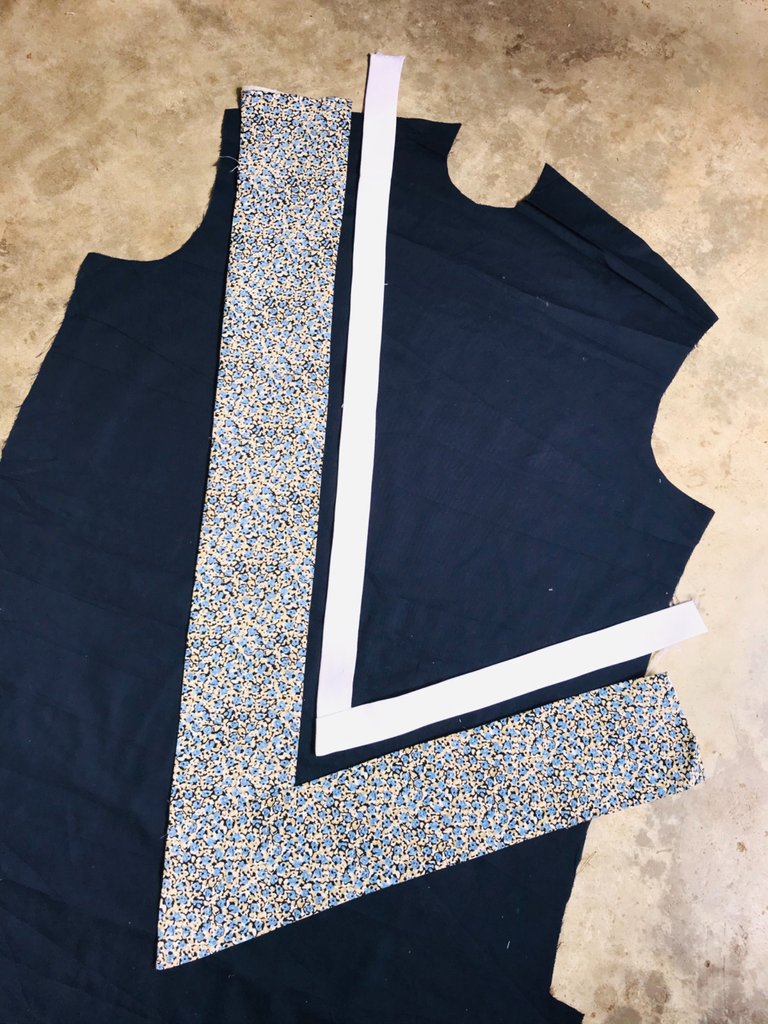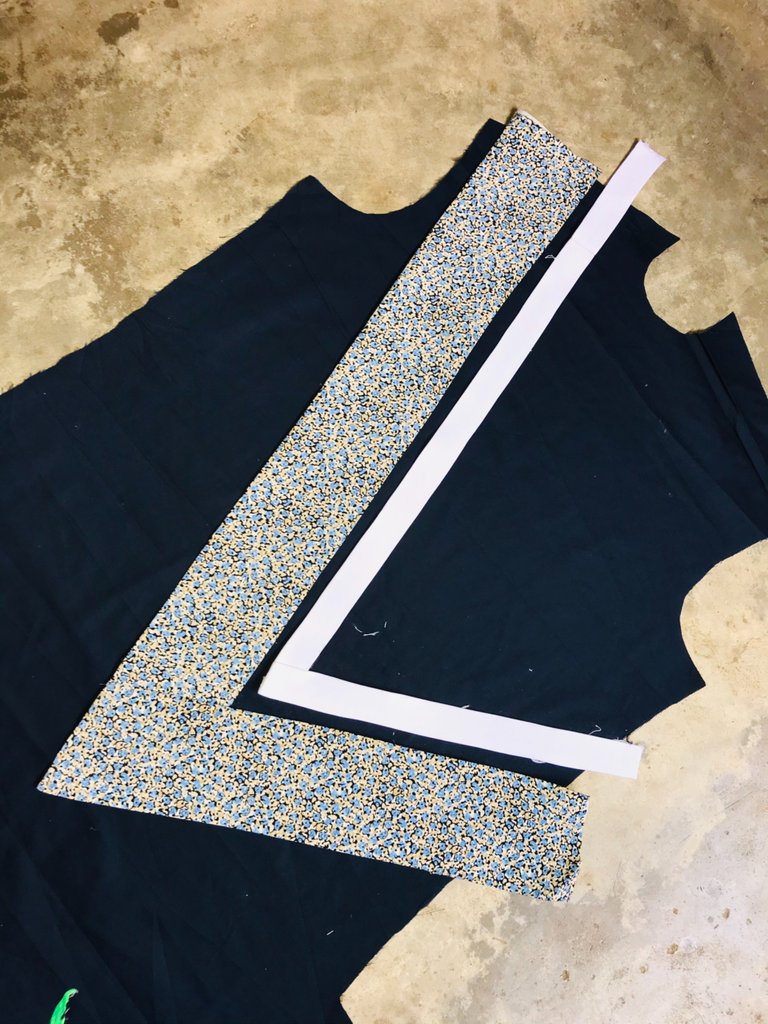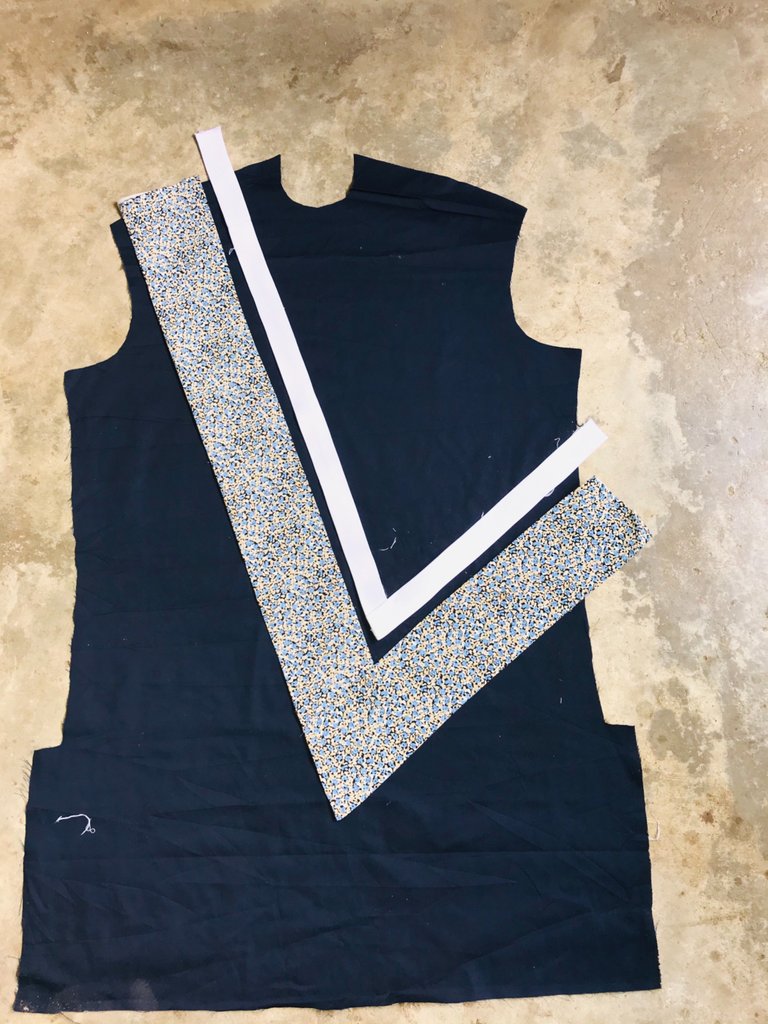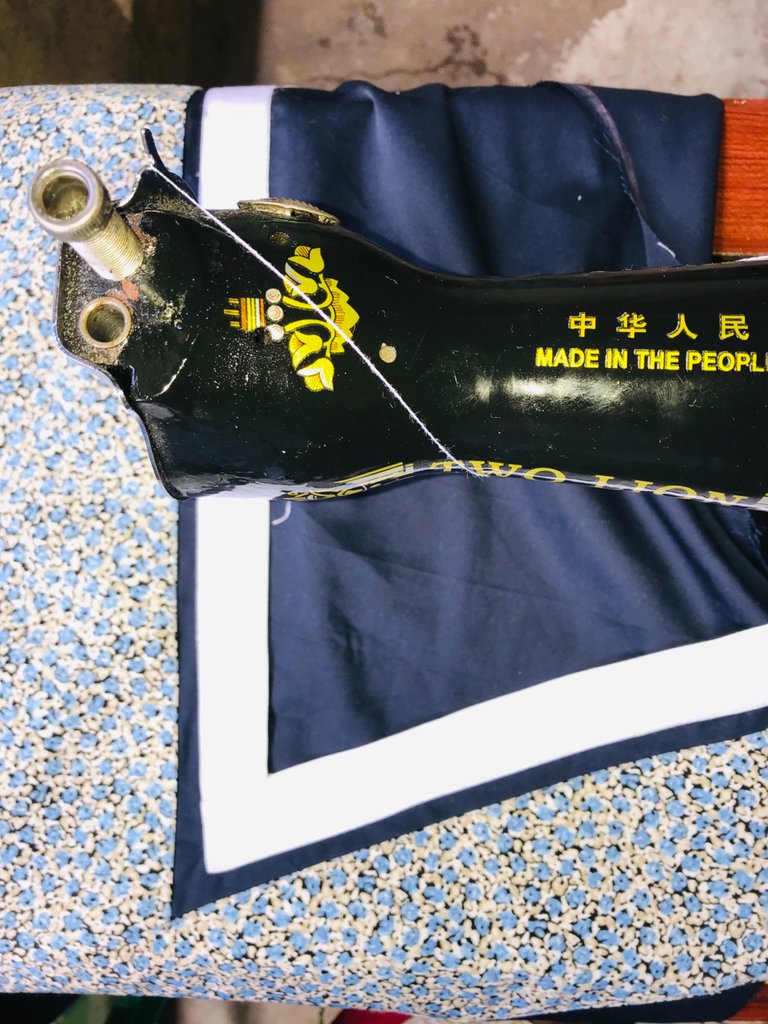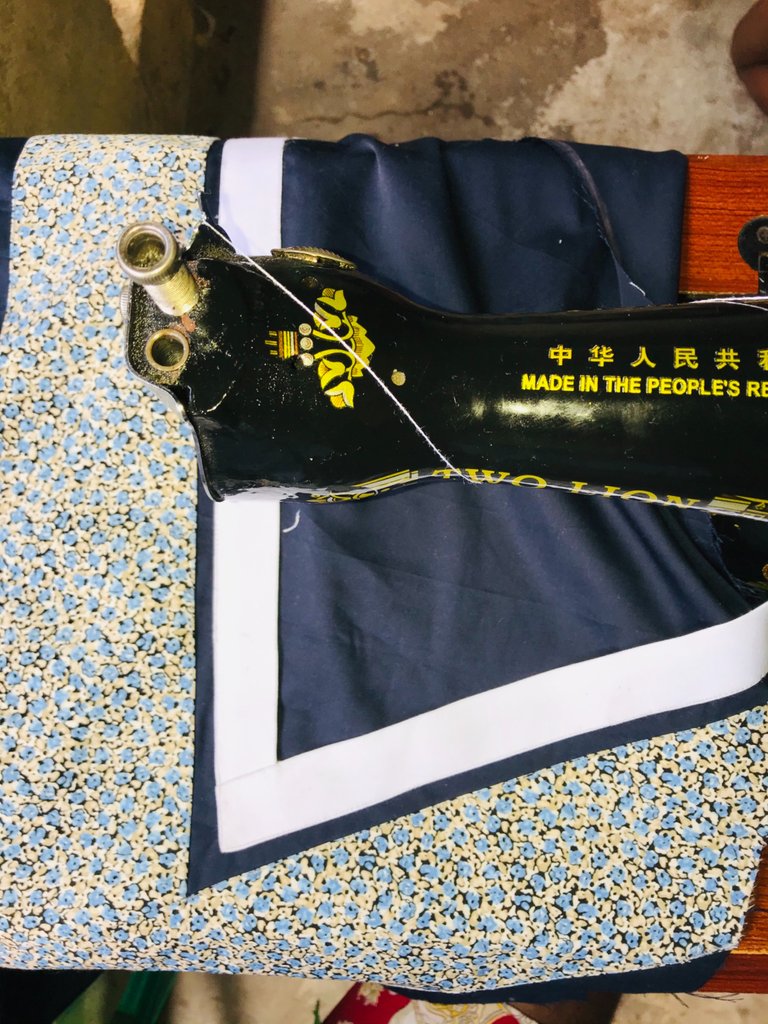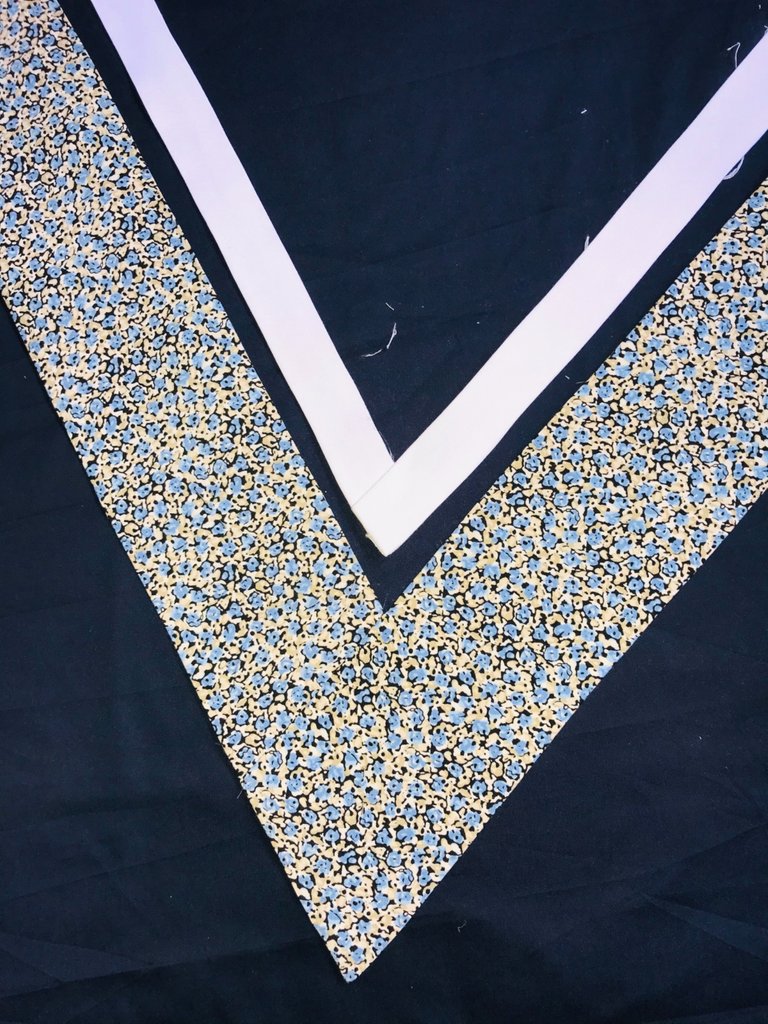 That was done I was partly finish, so I added the readymade zip to the left side of the should while I sewed the right side front to back, why I do add the readymade zip to the left instead of the right is that that it will be much easier to zip it personally from the left than the right so I love adding mine to the left side.
That was done successfully, I piped the neck too using the blue fabric.
I joined the both sleeves to the shoulder and i sewed the body according to my client's body measurement and I bend the length together and that was how my client's outfit was ready!!!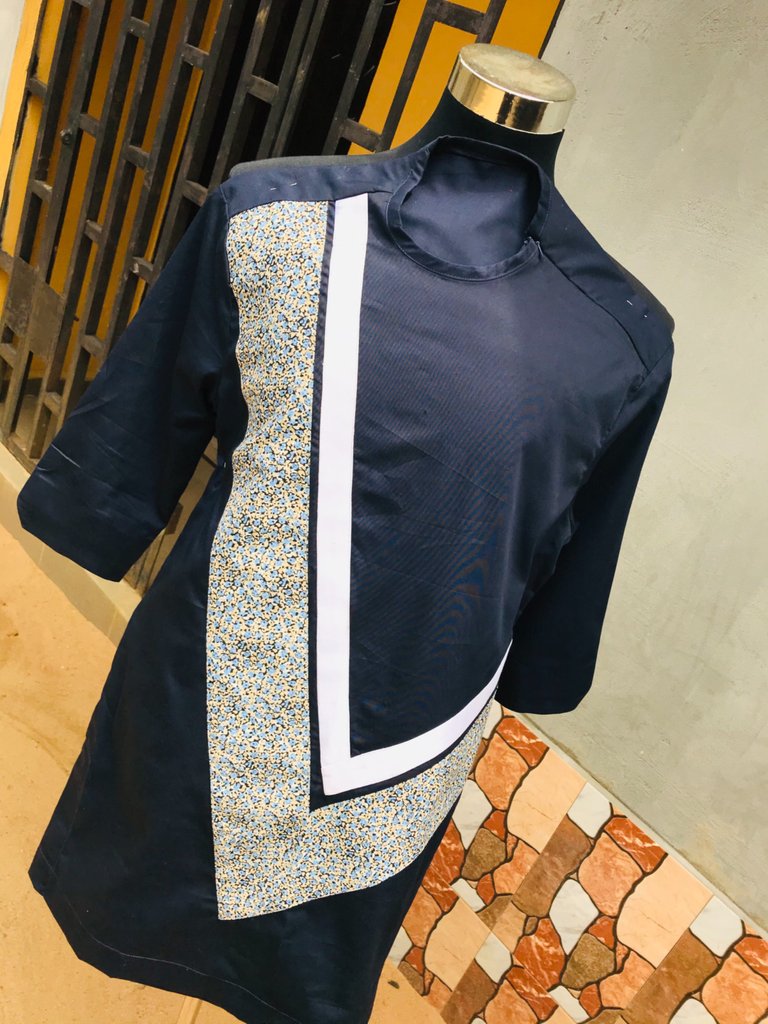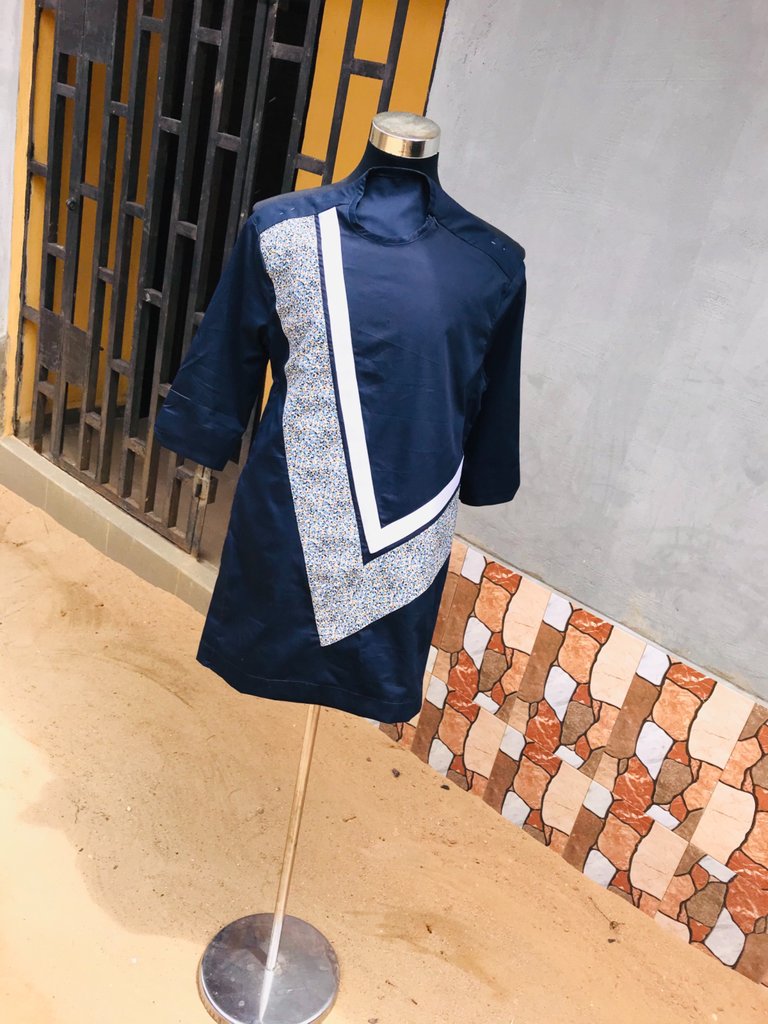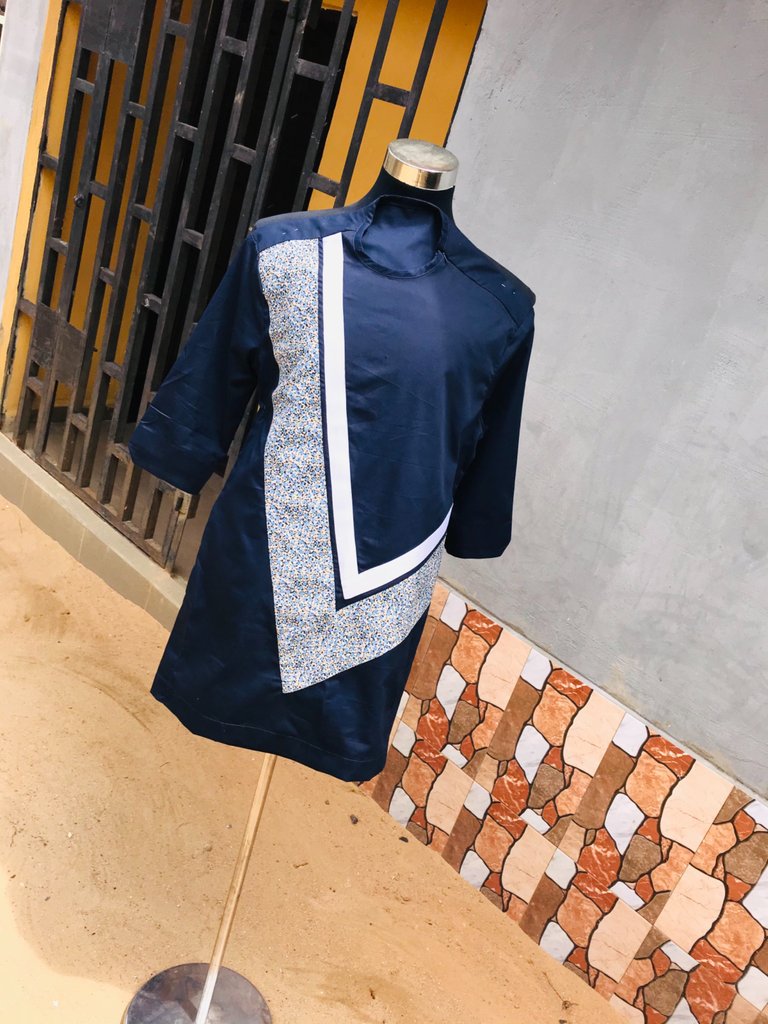 Thank you very much everyone for your time on my post do have a productive day along side a prosperous week although....
This is my office customize brand logo of (Kingsmenluxury)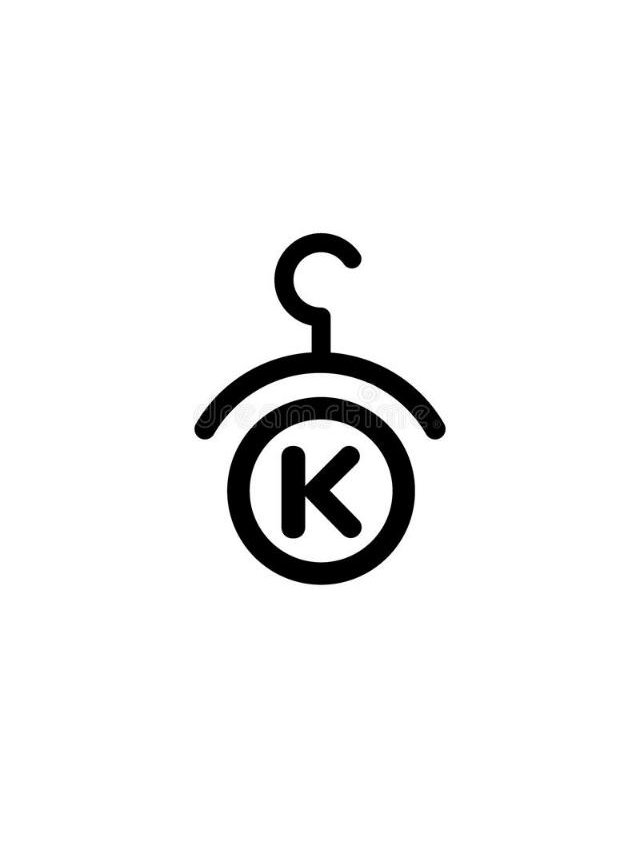 ---
---