It's not a BLACK Friday it is a RED Friday ;) 3 tokens I bought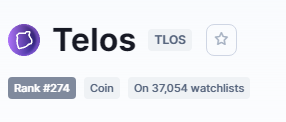 OMG! Have you seen market today? Looks like it is not a BLACK friday it is a RED friday actually, which means that it is about that time to buy this dip. Are you with me?
I bought a bit of Request, Bloktopia and Telos. I will left you a bit of info about them:
Request have a huge pump yesterday and looks like it don't want to stop.
The Request (REQ) utility token, launched in 2017, ensures the performance and stability of the Request Network. The Request Network itself is an Ethereum-based decentralized payment system where anyone can request a payment and receive money through secure

Bloktopia is a Metaverse token so the newest trend in crypto world.
For the first time ever, users will have access to crypto information and immersive content all in one place. Bloktopians will be able to earn revenue through real estate ownership, advertising revenue, play games, build networks and much more. By using the world's most advanced real time 3D Creation Engine, Bloktopia will leverage this technology to create stunning visualisations and user experience.

Telos is still GEM which anyone should look at. All partnerships and functionalities are insane. Very cheap transaction fees and speed.
It is the ideal network for real world use across multiple industries – Telos based Tokens NFT's and Smart Contracts are already used for DeFi, Gaming, Social Media amongst a backdrop of almost unlimited real world use cases. There are over 100 projects already building on Telos.
Am i right here? Time will tell :)
What about you? You bought the dip? Let me know in comments :)
Thank you.
/NEO
---
---