What Would Life Be Like if Every Human Never Have to Worry About Money?

Say a society decides to work towards a state where all the needs of every citizen is provided for by the government. Say they succeed. The government manages to open huge farms all over the country, plant crops on a large scale. The government further opens ranches, poultries, piggeries, fish ponds, etc; uses modern agricultural technology in all these endeavors and produces so much food from these farms and it is given freely to all the citizens.
How would the government get labour to keep up something like this?
Let's say every district has their own farm, the people living in that district can be the labour for the farm since they're the ones feeding from it. They'll have some help from machines, fertilizers, modern irrigation, so it wouldn't be back breaking labour.
How would the government get funds to keep something like this up?
The govt built these things through all the revenue generation means countries around the world are currently using: exports, taxes, etc. The govt slowly built these things and when they were ready it stopped taxing citizens and transformed to a system where everything in the country was collectively owned and food became given to the people for free.
The funds to sustain this would be funds the govt had already amassed. It can keep amassing more by exports. All the money made would be kept for the use of the citizens, to keep up their agricultural and other endeavors. Clothing, shelter and health care is already provided for free too and the labour is gotten the same way agricultural labour has been said to be gotten.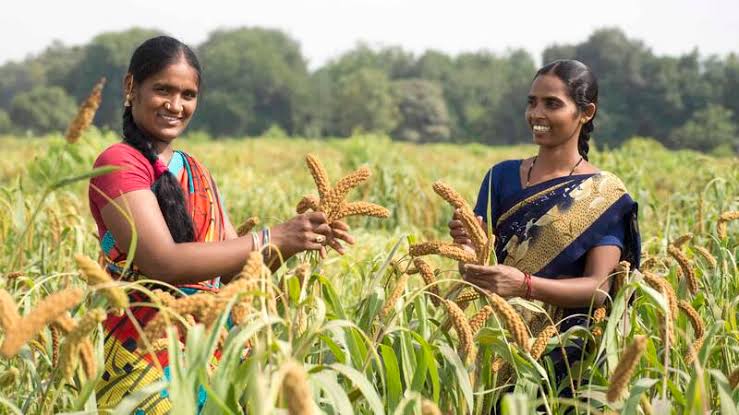 Photo: Srujan Punna. source
Other Luxuries like phones, tvs, laptops, cars, etc. are also given freely, labour to make them gotten from the people, funds from the same place as described above. So everyone in the country doesn't have to worry about money or anything at all. You have free time to eat and play and only work when you're needed in any of the collectively owned farms or production site.
A world like this is usually argued against and the major argument is that it promotes laziness and unproductivity. But is that true? Definitely not true.
How a World Like that Can Still be Productive
Laziness and Less Worries not an Evil:
Relaxation and not having to worry about tomorrow's money and feeding is not as evil as they make it look like sometimes. Lack of worries and enjoyment is not a bad thing. But because of all the hardship in life currently a lot of people tend to look at hardship as the only worthwhile way. If there's a way man doesn't have to work so hard what could be so bad about that?
Productivity Inevitable:
About productivity, what do we want humans to keep producing? Products like food, clothes, shelter, technology, isn't it? Now in the description of life above isn't it clear that the people would still be producing these things as they labour in different farms and factories?
For the arts: music, movies, literature, drawings, etc. The only people who think that those who don't have to worry about money would not engage in creativity are those who are not creative themselves or who do not really understand creativity. Creativity forces itself out from people. If you're a creative person it gives you joy and fulfilment to create and if you are not creating you'll hardly ever be happy to keep living.
Those who have the creative talent, say singing, would always feel like singing and making music. They'd do it for money but if there was no money they'd still do it because it gives them joy and fulfilment and the urge to sing keeps banging on the doors in their head and hearts day and night. The same goes for writers, artists and all the creatives: even if there was no money, they'd still produce pieces because that's the only way they can live.
Many of us drew, painted, wrote, constructed things in our childhood even when we knew we wouldn't get paid for those things. Many of the things we made cost us so much time, energy and even our own money but we didn't mind, because we couldn't wait to produce something, to express our creativity.
That's how it's going to be in a world like this utopia described above without money. All the jobs and production you can imagine that involves creativity would still be done by many people because that's who they are. Now can you mention any kind of production that doesn't have to do with creativity? Can you mention any field that some people just find themselves drawn to?
People are drawn to medicine, building, farming, animal rearing, construction, technology, etc. They just find that they derive joy from these things. Remember, though, important production (agriculture, clothing, shelter and tech) would already be required by members of every district. The arts which are the only things left can handle itself since creative people would have no option but to create.
Money not the Only Reward:
People would still chase fame, recognition and sex. Humans thirst for these things so this thirst would drive a lot of endeavours. It would drive people to work harder, to put out literature, art, music, etc.
Conclusion
In conclusion it's really important I make it clear that I'm not arguing for socialism or communism because the main reason why they're dangerous is because they're managed by humans. The government would still be human and humans can really mess a thing like this up. Humans can be corrupted and turn evil when they find themselves in a position of so much much power like a government with the livelihood of the entire population in their hands.
The purpose of this write up is simply to argue that an arrangement like this where money would not be needed, if possible, is not as bad as one would think and is probably a utopia humans should work towards.
---

Hey I and @katharsisdrill are publishing our collaborative novel which started here on hive (I write while he illustrates with art).
Don't forget to go on Kickstarter and support us by pre-ordering via this link:
Professor Otagburuagu Kickstarter.
Read more about the book here: Announcement
Roll with

@nevies

, I run a Humor, deeper thoughts and sex talk blog here on Hive🌚
Donate/Tip:
BTC: bc1qlpu8rqftnn9r78dajpzf9p0ueqkvzdvzeayrtd
ETH:0x7168800F3b7499A2dd32B4C8Ae0EFA0F68A93800
LTC: ltc1qx0r3nym5hpq6mxvfkl3dzs2ap455aefh9rjq07
Email: confidencenevies@gmail.com.

Posted Using LeoFinance Beta
---
---