100,000 SPS staked. Mission accomplished.
I like goals and targets.
I also like round numbers. There is a little bit of OCD in me somewhere underneath the surface.
That is why I am very happy to reach this goal.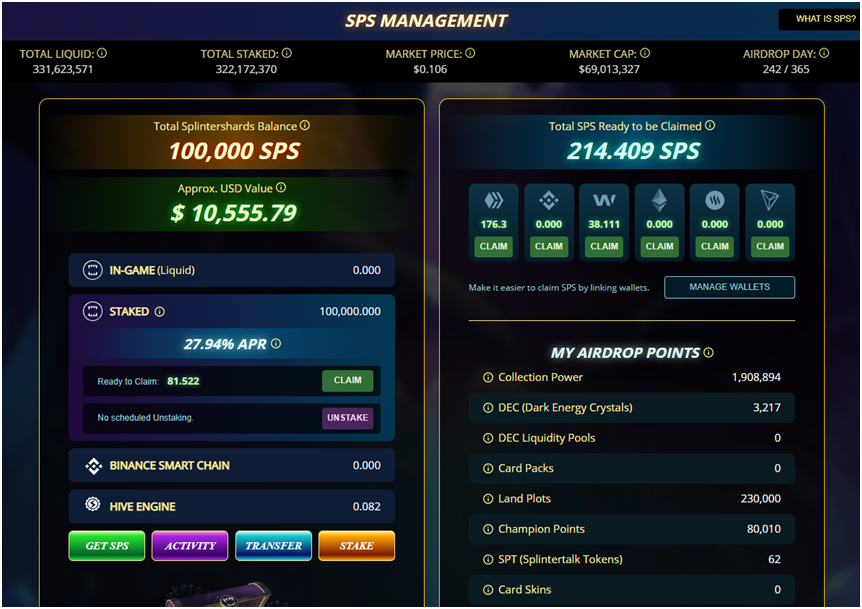 I can't say that it's a target as I didn't do anything to earn it. The beauty of SPS is that it just builds up every day without any need to touch it or do anything with it other than claim and stake.
From along way out i wanted to have 100K staked to my account.
A lot of people are giving out about the price continuously dropping but I' always of the long term mindset.
Stake and earn. Come back in two years and check the price.
We are still only two thirds oft he way through the splinterlands team pouring out free SPS to everybody involved in the game with little reason to hold outside of interest.
Short term mentality is to sell everything and take the money.
I'm betting long on SPS and splinterlands.
In five years of operating in the crypto space i have never seen another team to have developed so much and done it so consistently.
I'm not saying perfectly as we all know there were some bad moves during the year but they have kept moving forward in good times and bad.
Built, innovated, expanded and connected to other groups.
All positive signs for the future.
For fuck sake, all of our assets went at least 10 this year and people still complain.
Just get the head down and keep stacking. It should pay off in the end. It usually does on a solid project.
SPS is just another leg in the journey and as the team has kept delivering value to the game then I am happy to take that bet.
100K is not a huge number but it's enough to make a difference in the future.
There is a lot more to come in 2022 so I'm just happy to be here waiting for it.
Land
Rift watchers.
Guilds V2.
Promos
Vouchers.
All part of the bigger picture.
I'm happy to hit my first target but that just means that it's now time to attack the next level up instead.
Try for yourself.
If you haven't played the game before then now is the best time to join. Today is much better than tomorrow and a lot better than later.
Cards worth a few cents now will have a much higher value in the future as the print runs out. We have a strong community and seen this happen every time as it grows with the game.
Link to the game here,
Posted Using LeoFinance Beta
---
---