Leothreads. Time to change the game on Hive.
This is what I'm talking about.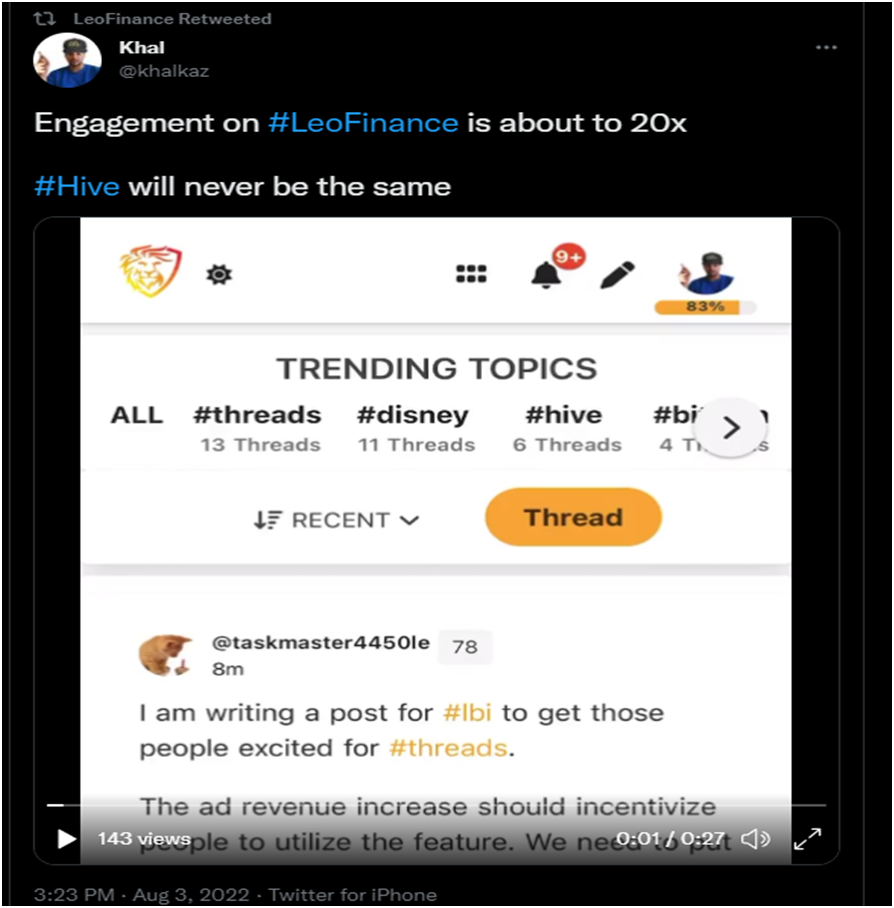 The latest offering from the @leofinance team is about to turn the blockchain on it's head.
First we had the original hardfork.
Then splinterlands rode the playtoearn wave to the top of the charts.
Now Leofinance is going to lead the charge for tokenized social media.
Hive is a leader in crypto innovation and has been since the early days.
So many ideas were formed on this chain that are being used across all blockchain now. Some of which have been done the right way and leofinance is one of them.
Threads - Twitter on the blockchain.
Since I have joined Hive five years ago there has always been this big debate about quality content.
With this latest development that all goes out the door. Leofinance have built their new threads feature in such a way that it wont effect your main hive blog but that you will still get all of the benefits from being on the hive blockchain.
I have only seen glimpses of threads myself until they launch tomorrow but so far it looks like something that is going to change how we operate on Leo and Hive.
A quick overview on how they will work.
From @leogrowth,
Threads don't trigger autovotes, you can post as many OP threads and reply to anything without worrying about the reward police.

There is no time limit between posts, you can literally post a new thread as fast as you can, there's no minimum time between threads (unlike hive posts for example)

Threads increase the Leo ad revenue which will be used to buy back Leo.

You can post images, markdown, and embed links on thread comments

People can vote on threads the same way they can vote on top-level posts on Leo/Hive

It's Twitter but on steroids: Engraved on a blockchain, immutable, no thought police, no censorship, no hard feelings.

Microblogging on chain, 240 characters.

No post limit

Costs RCs to post, the more you post, the more you need RCs, this increases the need for Hive Power, this encourages people to buy Hive and power it up.

Puts the blockchain to the test by testing scalability in the future.
This opens up a whole lot of new possibilities.
We already know about the upcoming Ad revenue scheme from Leo that will buy back and distribute tokens to the community. This is currently working from a budget of $4K which is nothing to be sniffed at but what happens to the token price if we are looking at $40K per month instead?
Is that even feasible?

I don't know what the exact number is but I would like think we will see it double in the near future.
From there. Who knows?
Somebody who does usually have a good guess at these matters is @taskmaster4450 with his post on On how threads will make money for Leo holders.
Threads is the first step in what many believe will eventually be the "Killer App" in cryptocurrency.
For this reason, $LEO is going to skyrocket. This is not financial advice but the sensible conclusion.
For those who are not paying attention, what happens if the yearly ad revenue gets to a couple hundred thousand dollars? That is not a huge amount when you think about it. According to what was put out there, the ad revenue is already sitting around $3K-$4K per month. Threads can certainly pull in a 3x-4x based upon what we already saw.
Of course, all of this feeds into the rest of the Leo ecosystem.
What does the buying of a couple hundred thousands dollars do to the price of $LEO?
Threads launch tomorrow.
I hope that your ready for this bold new world.
The whole game is going to change in one day That was 18 months in the making.
I've spent years talking about the need to bring ad revenue into our eco-system and what it will do for the apps that can make the most of their content.
From @bitcoinflood,
Ad revenue has built multi billion dollar companies your youtube, facebook, twitter, tiktok and so on. There's no reason why this can't also be applied to blockchain based companies and LEO is showing us the true potential!
Leofinance are about to do just that while multiplying their page views and community engagement in one go.
This is what i have been waiting to see for years and the reason that I have been filling my LEO bags every single week.
Khal wants to see 20K threads on day 1.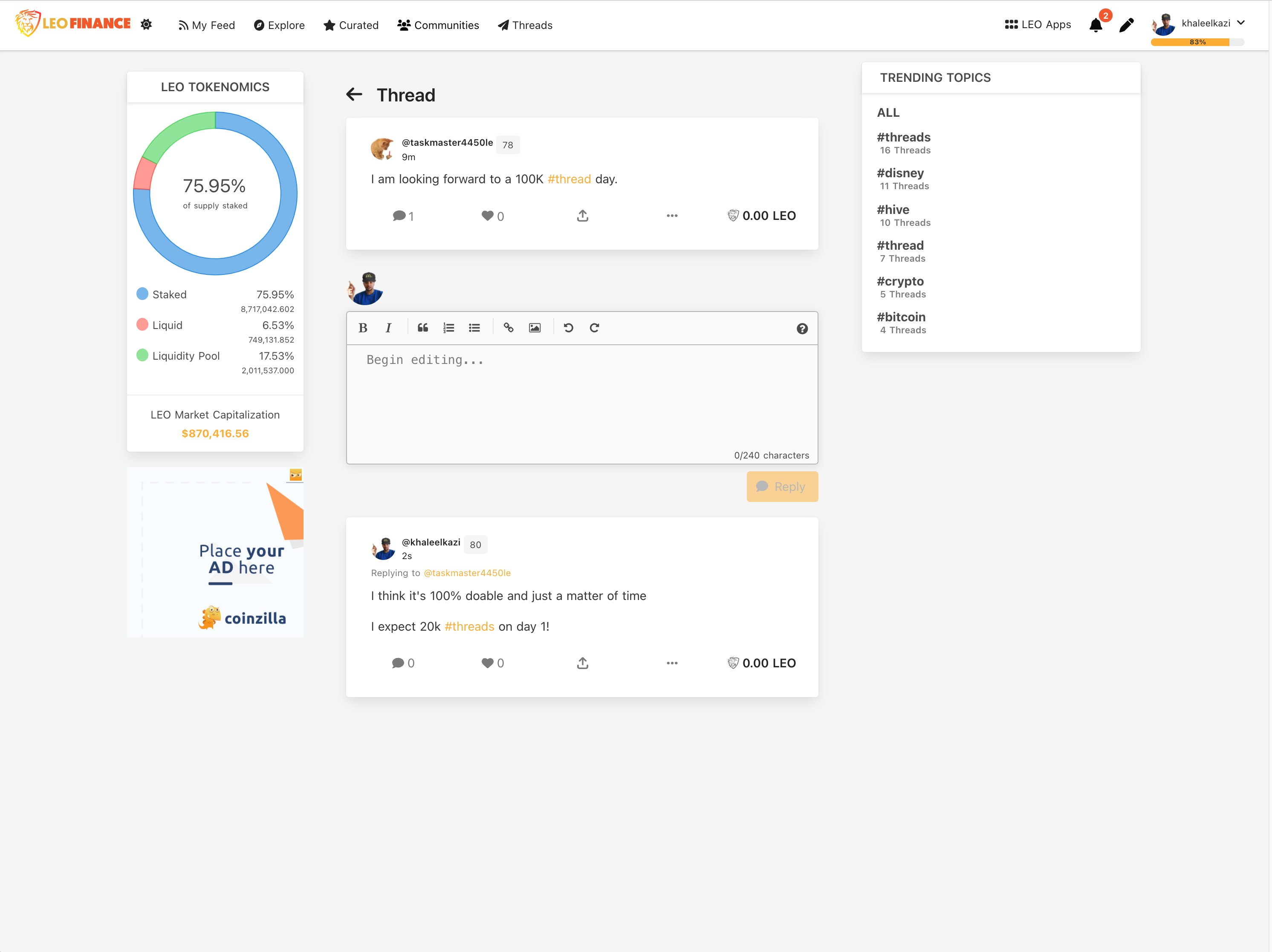 I'm good for at least 100 by myself and I would be surprised if taskmaster can't do ten times that by breakfast.
I hope that everybody is ready for what comes next because we only go up from here.
Now we just need to get excited about Threads and when they launch tomorrow hit them hard.
Hit them hard and then tell everybody outside of Hive how amazing they are.
We are getting closer and closer to bringing in big numbers through our apps and this is the next big thing.
Posted Using LeoFinance Beta
---
---