New Drum & Bass Release Out Now - Stare
Yes yes crew!
We have a brand new dramatic Drum & Bass release that's out now on Electronic Alliance Records called "Stare" and it should hopefully help blast you through this week!
Why I called it Stare was down to a few things but the main reason was due to a game I was playing on my smartphone.
Although it actually wasn't the game itself I was playing on, rather the adverts that appeared to get to the next level.
I don't normally watch adverts as I try to skip through as quickly as possible but this wasn't an option and so I had to sit through it.
Ear Worm
As the advert played out, there was an annoyingly catchy tune playing and as I looked back at my phone, it was some solitaire game with this harp melody playing with a medieval style designed deck of cards.
I thought nothing of it first time around but then I kept hearing this damn melody and seeing the same advert relentlessly so I had enough.
It was time to research this background music and see if I could sample it!
Alas, nothing doing on that front.
So I had to get rid of that melody and satisfy the itch and get creative.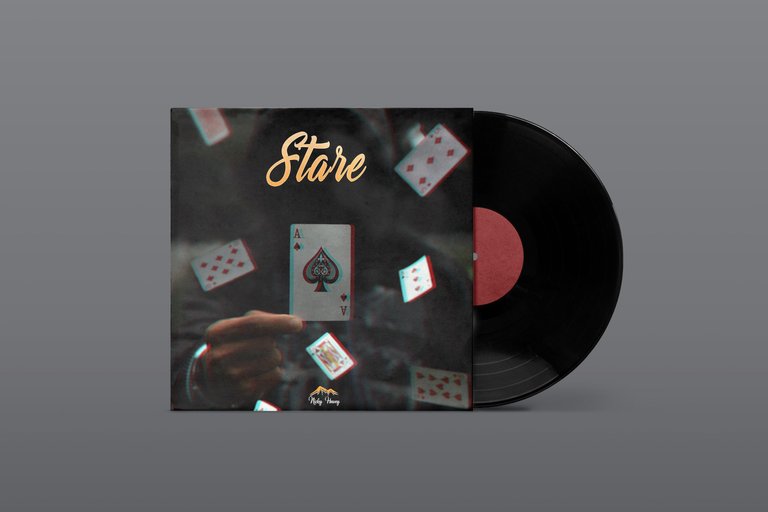 Stare
This melody formed the basis of Stare, which is actually just Solitaire with a few words taken out.
The main melody of my track is what I remember the melody of this advert to be, the rest is my own creativity.
I wanted to go with full on with the drama here and the amazing artwork from @gabrielatravels got the point across of a dramatic game of Solitaire but I guess you could imagine playing a game of poker.
As you stare down your opponent to get a read off them in the final few hands to win the grand prize.
Can you hold your nerve?
Enjoy this one!
---
---