$12 Challenge - Session 3 - Time to work some magic!
This is the third session of the challenge. If you haven't read Session 1 or Session 2 you should check those ones out too! Session 1 covered the Life splinter and Session 2 covered Death.
Another session down, and this one was really good. The first daily was Water, which is why we were able to enjoy water this go around, and the second daily quest was Fire. I received 4 DEC for the first quest and an alchemy potion for the second – so really nothing to write home about. However, drawing Water for that first daily quest meant that my rentals for this session were water and I knew that it was going to be a good one.
So, one thing I wanted to point out that changed between this post and the other posts, I'm no longer labeling it as days, but using the word sessions instead. I feel like it is a more accurate description as saying days kind of feels like they were being played multiple days in a row which isn't accurate. As I'm having 1 session every 3 days, I think saying sessions just sounds better and will be less confusing for those who are not sure.
As with my last post, I wanted to give a bit of helpful information for newer players to help them understand the mechanics of the game better in each post moving forward. In this post, I thought I'd give a brief overview of how the order that monsters attack is determined in battles. There are quite a few elements that go into it, but the order is pretty easy to remember. The first thing that determines attack order is speed. A 5 speed will always attack before a 4 speed, and so on. But what about monsters that both have the same speed? The next thing that is looked at is attack type. Magic monsters will always attack first, ranged second, and melee last. In the even that monsters share both speed and attack type, the card's rarity is looked at next. Legendaries go first, then epics, and so on. If the cards share speed, attack type, and rarity, the card's level is the next thing that is looked at. The higher level card will attack first. Finally, if the cards share speed, attack type, rarity, and level, the order is randomly determined from there. Note This information was given to me by another player, and I have not read it on official sources nor have I done extensive testing to verify it – but in limited testing it seems to hold true.
Now, onto the rentals for this session! I only picked up one summoner this session, the classic, the man, the myth, the legend – Alric Stormbringer! Even better, I was able to pick up an Alpha version of him for just 17 DEC for the day.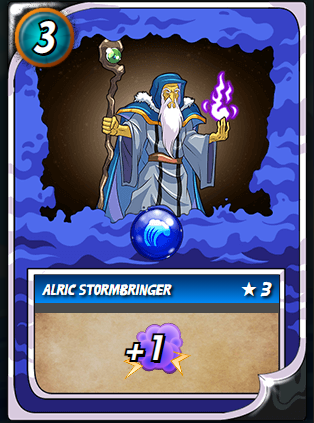 For monsters, I grabbed a whole bunch of magic monsters that had a variety of mana costs, so that I could have as many options as possible to work with when putting teams together. The most important of these I would say for sure were the Crustacean King (AKA Crusty for those who joined me on the stream!) and the Sea Monster. Here are all the cards I rented for the Water quest. One note, I picked up a level 2 Spineback Turtle thinking that it had thorns. It does not have thorns. Could have saved some DEC not picking that one up.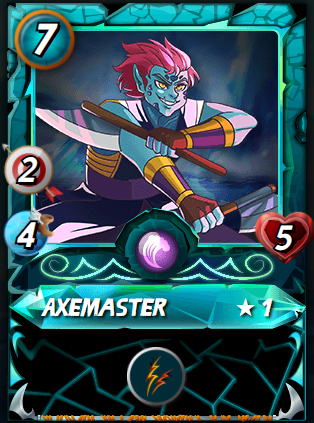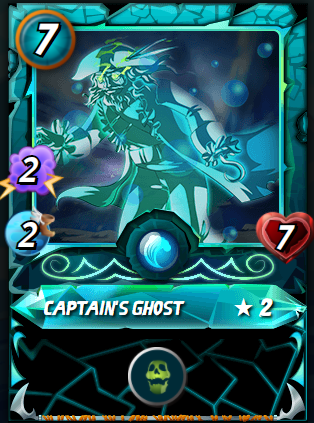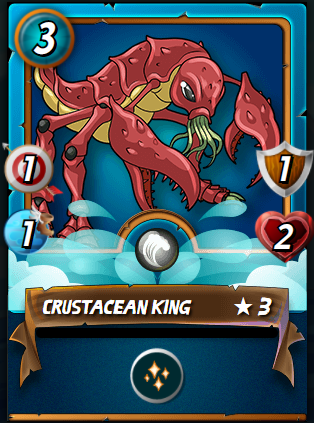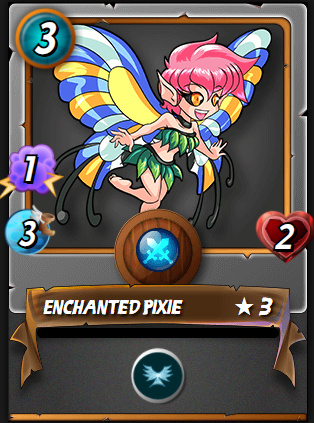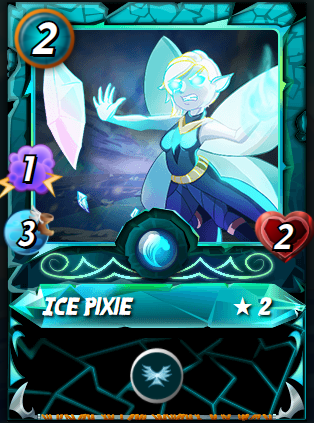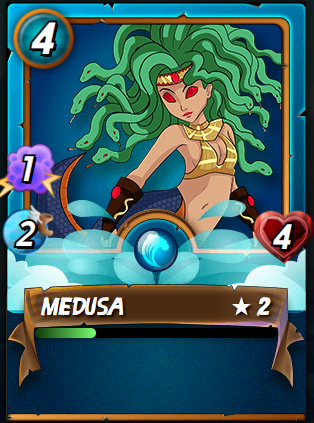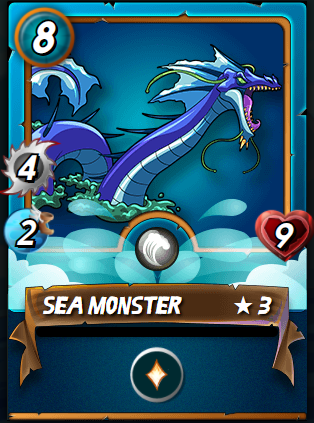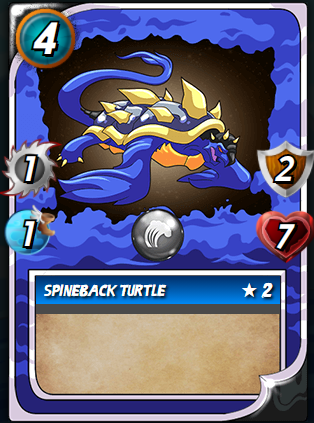 Also don't forget I was lucky enough to pick up a Venari Wavesmith from a daily quest, so that card was in play also but I didn't have to rent it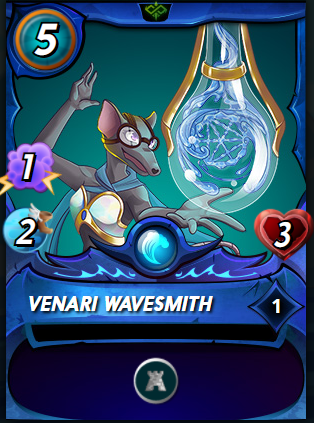 Then of course, the utility monsters that I pick up every week. Your friends, my friends, ladies and gentlemen, the Chicken and the Ooze.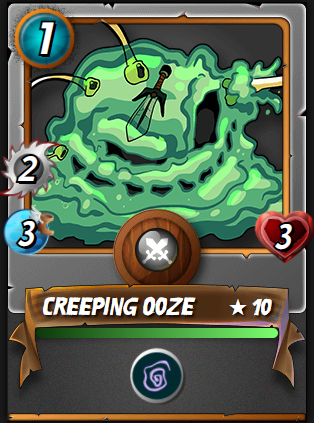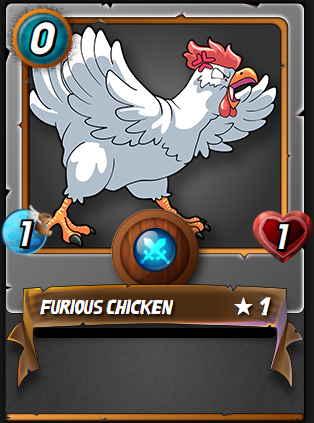 Honestly, playing water was pretty easy. My general strategy was to play Sea Monster and Crustacean King with a Creeping Ooze, and then filling in whatever magic damage I could fill in from there on almost every game and a chicken to fill it up if there were still gaps. The double heal is so very strong and tends to just eat through enemy teams. To be honest, there isn't really much else to say about this one – water doesn't require much strategy in Bronze. Just stack damage and kill everything.
Using Water I was able to grind up to about 1700 rating. But… then my next daily quest came available, and it was fire. And it was a painful experience to say the least. I didn't want to rent a complete new set of cards because my capture rate was already going down quite a bit and I didn't think I could break even on it. So, all I picked up was a Sand Worm for that extra huge sneak damage.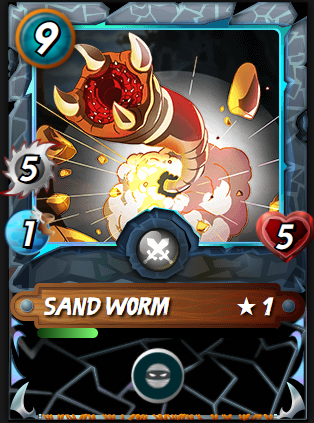 I dropped from the 1700s to 1428 before I was able to complete that second daily challenge. I was pretty burnt out at that point, and it was getting late, so I played a few more games with Water and ended at 1467 rating for the night. Which means I went up 10 rating for the session – which is unfortunate given that I was playing with Water but better than back tracking. Plus being around 1500 is a pretty sweet spot for ruleset options and DEC gains versus rental costs.
Speaking of DEC, I started the session with 400.162 DEC, spent a total of 50.92 DEC on rentals, and ended the session with 506.251 DEC for a net gain of 106.089 DEC. This number could definitely have been a lot better; I made several mistakes that could be improved upon. Mainly, when doing my rentals I was too excited to get started and didn't spend any time looking to see if I could pick up gold versions of the cards or alpha versions for a reasonable price to increase my DEC per game. I'm sure I missed a decent chuck of DEC as a result of that. Also, if I had started my session earlier in the day, I could have grinding out a lot more games. My goal for this challenge was to grind to 40% each day and so far, I haven't even come close yet on any of these sessions. This session ended with me at around 51% or so, which means I had a lot of grind time to go, and every single potential win was pure profit for the session missed.
Being results oriented, I could say that grinding for that fire daily quest was a mistake too as the loss of rank, time, and capture rate trying to complete it definitely hurt me. However, I don't think I would have felt that way if I had got something good instead of an Alchemy potion so I'm not going to mark that one as a mistake. I try to be objective when analyzing my gameplay instead of being results oriented as sometimes you can just get unlucky despite having done the right thing. I think competing a second daily quest was the right choice all things considered.
Last post I gave a huge shoutout to the Twitch community supporting this game. I just wanted to comment on that again – the growth of the Splinterlands Twitch community has been huge over the last couple weeks. I'm the programmer of the Twitch chatbot named SplinterlandsBot and as such I have pretty good analytics about the growth of the community. The day over day growth in total users has been huge and it is great to see so many great content creators having constant growth in their viewer counts.
If you'd like to check out this challenge being played out live feel free to join us on my twitch channel. The next stream is tomorrow night, Sunday September 25th at 7PM New Zealand Time where the winner will be drawn for the giveaway that was posted in the first post of this challenge. If you'd like a third entry in that giveaway leave your Splinterlands username as a comment to this post below. You can find my twitch here.
I feel like I give them a shoutout every post but shout out to @Gank and @WalkingKeys over at @SplinterlandsHQ for having a killer 500 follower party stream tonight. Even with the game being down almost the entire time the stream was a huge success and a ton of people left with great prizes from the giveaways. If you didn't get a chance to attend this party, drop their stream a follow here and check them out next time they're on because every stream is a party of there.
Another streamer I really wanted to highlight is @Drabs587. His streams are always a ton of fun and filled with quality content that everyone should really check out. He has regular giveaways, and the marbles Grand Prix's are a ton of fun. You can find his Twitch here.
One last person I want to highlight isn't a streamer, but he is an absolute legend. @Zasktrader has been going out of his way to support Splinterlands streamers on twitch and has no doubt helped so many of the people in the community and helped grow the community as best as he could. No links here, he doesn't stream as far as I know. I just wanted to give props to a legit good dude.
---
---