MY HIVE BUDDY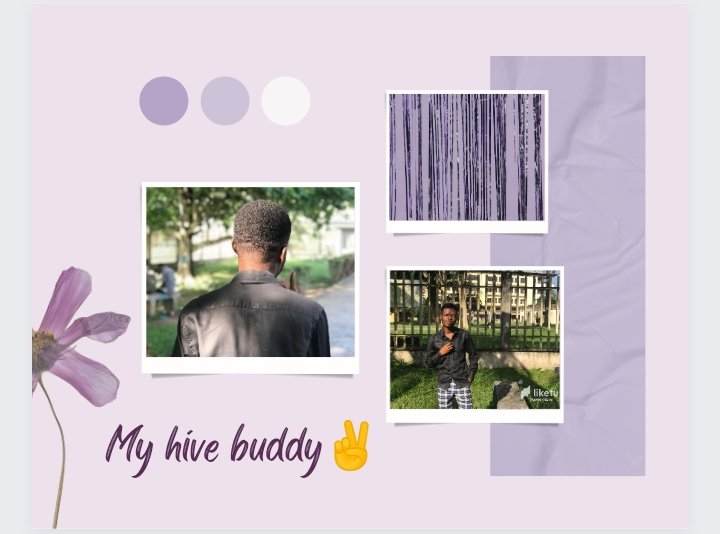 Designed by me using Canva app
I had a lot of mixed feelings when I first started 4 months ago and this was due to the fact that the few posts I made after my introduction post didn't get comments and upvotes. I found myself asking questions like;
Is this worth my time and energy?
Am I such a bad writer?
If I can't get at least $0.05 reward or a "Hi" comment on my post, then I should do myself a favour and quit because I sensed that the blogging thing is not for me.
But I had to try one last time, I remember I tried connecting with few persons that had their twitter or telegram handle name on their hive profile. They were really nice and patient to answer all my questions but it just ended there, we didn't move the relationship to the next level.. hahaha😅
@lhorgical who introduced me to the platform gave me some tips on how to be successful in the blockchain after I told him how worried I was. Since he said the platform was all about engagement, I stopped posting for few days and just focused on commenting on posts. But mehhn! it felt like I was doing nothing 😢
He got very busy with his National youth service program and I just didn't want to bother him much, so I decided to let him be.
I had given up already!
I didn't visit my hive profile for weeks until that blessed day when I logged in and got some notifications, the notifications were comments made under the very second post that I made after my introduction post. The post was all about my birthday celebration, I made it in Liketu community and it expired without a single comment and upvote. I was very bruised 😢
Seeing those comments made me happy but one of the comments caught my attention and made me feel loved.. I was happy that at least someone was kind enough to give me reasons why my post was ignored. I replied immediately and dropped my telegram username for futher guidance.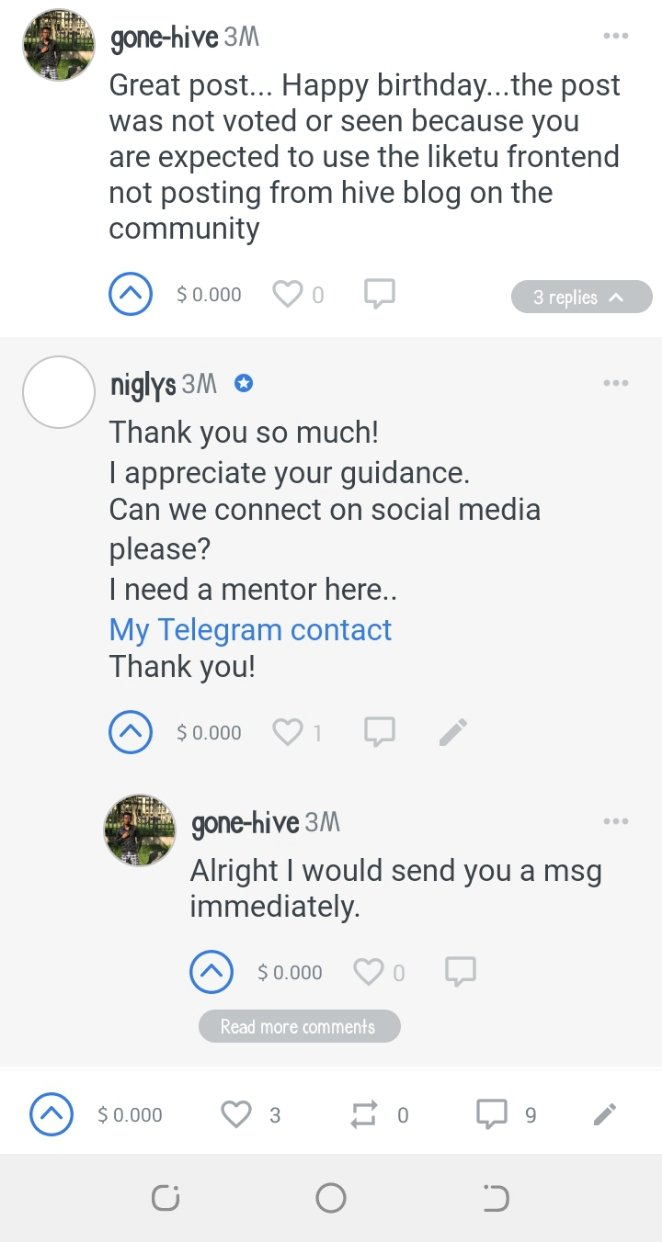 Screenshot of the comment
@gone-hive chatted me up on telegram later in the evening and opened my eyes to how the hive blockchain works. He took his time to explain a lot to me with some voice notes and this really revived my lost interest on the Blockchain. We also talked about other things aside hive, I got to know the state he's from (A Rivers state guy), got to know his real name "Kenechukwu" and also about his academic status. I am consistent and active here @hivelearners community and also on the hive blockchain all because of his guidance and encouragement. All thanks to him!
Later on, we discovered we were not very active on telegram because some messages were left unreplied for days so we had to connect on discord inorder to make communication easier. He has been there all the way, from the contest links he sends to my DM for me to participate and even with the help he rendered to me by delegating to a friend that I recently introduced to the platform.. I really appreciate your kind help dear!
It has been an amazing ride with you boss!
Funny enough, he never admits he's my boss, but I hope you admit it this time.
I couldn't have come this far without you. Just when I was about quitting, you came into the picture, my blogging experience on the hive blockchain wouldn't have made sense without you.
Cheers to 3 months of friendship on the blockchain Kene!🥂
This is my entry to the week13 edition02 of the contest organized @hivelearners community. Feel free to participate.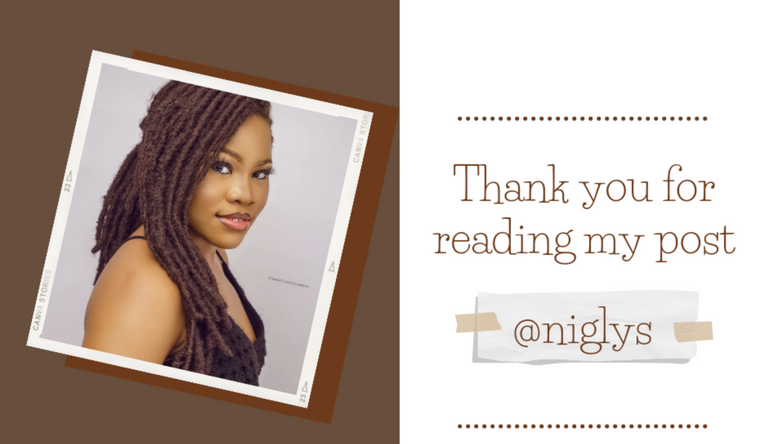 ---
---