EXPOSURE VS MONEY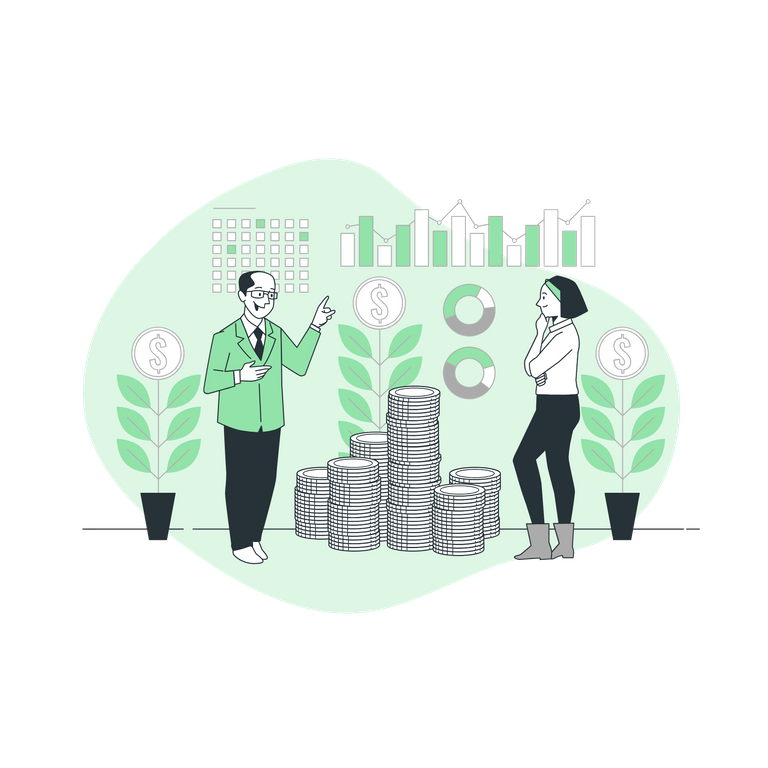 Business illustrations by Storyset
So recently I put out a poll on Leo thread asking people to choose between earning $35,000 annually for the rest of their lives or having 500,000 active followers (community members). I have gotten varying responses, which I appreciate. It goes to highlight our various value systems. I will share my preferred option and give reasons for my choice.
Between getting $35,000 yearly for the REST of my life and having a community of half a million people, I will choose the latter. In fact (and you might consider this strange) but I will pick having a community of 1000 individuals rather than getting $35,000 yearly. Yes, I understand that $35,000 is a significant sum. It puts you amongst the top 10% of income earners globally. That is a huge feat, but a community of 10,000 active (still emphasizing the 'active' part) is a more valuable tool to me.
If I offer these people any sort of value to engender their confidence, their attention is worth more to me than any amount. It is priceless. I am guaranteed at least 1000 customers if I decide to put out any product or service. Now imagine scaling that to half a million people. We are talking about insane cash flow that could guarantee you billionaire status in a few years.
To put things into more context, leofinance is running a campaign with a $10,000 prize pool. Now imagine if I can guarantee Khal of ten thousand active individuals that can push this campaign. I am certain he will triple his marketing budget without thinking twice.
There are crypto community leaders who make more than $2,000 per project for participating in their awareness campaigns. This excludes other benefits like whitelist spots and free mints. Those in the NFT community can attest to this instance I shared. The ironic thing is that these said leaders have communities of 1,000 or more people (or even less) but they are able to capitalize on it.
Exposure is important. This is why companies spend billions on advertising/marketing to create awareness for their product or service. Having exposure puts you in a unique position to profit from anything you do. Most influencers are realising this and are launching products and services off their online fame and influence. They've realized how much influence they have over their followers, and rather than trading that for some cash from a big brand, they are creating brands/products/services and scaling them over time. This just goes to show you the importance of influence and exposure.
Unfortunately, most people assume they can buy exposure which is feasible but the cost is significant and the results are uncertain. It is one thing to have exposure but a totally different thing to gain people's trust, hence, my high valuation of a significant following. These are people who enjoy what you do and also believe you to some extent. You have a level of influence over their lives that can be channelled in whatever way you deem fit. Money certainly cannot buy that cheap.
So it is exposure over money for me. Money is a tool but the influence is true power and when you add exposure to the mix you become almost unstoppable. There are no financial levels you cannot reach with this level of power.
Posted Using LeoFinance Alpha
---
---