THE HIVE 4-YEAR PLAN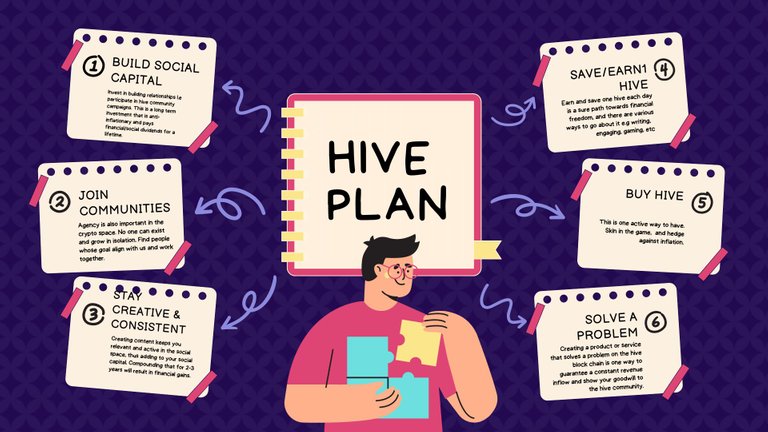 This post is specifically made for the Nigerian demography, targeting young individuals between the ages of 16-25 who are new to the hive ecosystem, or are struggling in their hive journey.
WHY HAVE A PLAN?
The hive ecosystem is quite vast and with little to no guidance or focal point, it is quite easy to get lost chasing everything. The purpose of this post is to help you streamline your activities, manage your time, and have a sense of purpose as you navigate the hive ecosystem.
Planning your crypto/hive journey gives you the opportunity to track your progress. You have a clear view of things and places where you are making process and also things you need to improve upon. I believe with this six-point you can better shape your crypto experience.
WHY 4 YEARS?
Well, market cycles are said to be quadrennial, so it is important to consider that in your plan. Also, a four-year plan allows for quantum growth and mitigates the pressures and anxiety of growing fast. In this plan, time plays a crucial role as it is the starting capital for the individual. It is hoped that after executing this plan you can meet your financial goals while building strong relationships in the crypto community.
So without further ado let's get into the meat of this discussion
1. BUILD SOCIAL CAPITAL
"Social capital refers to the institutions, relationships, and norms that shape the quality and quantity of a society's social interactions. Increasing evidence shows that social cohesion is critical for societies to prosper economically and for development to be sustainable."
-- World Bank
When most people think about cryptocurrency the first thing that commons to mind is money. However, your overall success in the crypto space is determined, to a large extent, by the amount of social capital you have. Crypto is more of a social game than it is financial. This is why it is imperative to spend your active years building relationships.
Two of my biggest patrons on hive are acquaintances of mine. One is an old friend who isnt as active on the chain and the other person is a colleague I worked on a project with about a year ago. So yes I write decent posts but I am not necessarily earning because of the quality of my post. My time investment in community work and building rapport with like-minds is currently paying dividends.
2. JOIN A COMMUNITY
One key way of building relationships is by joining a community. This is more practical than randomly reaching out to people who might not like or share your interests. Crypto, like every other thing, is very tribal. People look out for their own. So it is imperative you join an active community of like-minded individuals.
A community also gives you agency. Crypto is the wild west, you need some level of protection and guidance to excel in this space. There is no way around it. This is why communities like Hive Naija exist–to give Nigerians on the blockchain better representation.
3. STAY CREATIVE AND CONSISTENT
Crypto is a game of time and chance, and the only way to even the odds in your favour is by staying creative and consistent. Hive is a social platform. Most people earn hive through social mining e.g creating content, engaging, gaming, etc.
4 & 5. EARN AND SAVE AT LEAST 1 HIVE EACH DAY || BUY HIVE/HBD
Hive at its peak was around $3.4. If you are able to save 1 hive every day for the next 4 years and hive peaks at $3.4 you would have about $4964. That is a lot for someone who started with nothing and if well invested can triple in a couple of years.
One major way to earn hive is by creating content. However, you might not have the required exposure to earn much on your content. The other alternative would be engagement which can be rewarding if effectively used. For instance, Ecency gives contributors 5 points for each comment they make using their app. It takes about 30 comments to make a dollar worth of points which you can use to boost your content. There are also community tokens (leo, vyb, pob, ctp, etc) you can earn by contributing to their community and using their hashtags (correctly).
If you do have some purchasing power, then buying hive is another great option. Currently have is selling for around N300 naira, you can buy it daily or weekly. If you are afraid of the volatility of the currency, HBD is another option you can explore, which is an algorithmic stablecoin. This way you hedge against inflation and earn a decent 20% annual interest on your savings.
6. SOLVE A PROBLEM
This is the level we all should aspire to reach because it is fulfilling and your way of giving back to the community.
Also, hive loves problem solvers ( I cannot overemphasise this point). Once you have gained some social traction on hive by virtue of your reputation, the next big step is figuring out how you can make the blockchain better in your little. That might entail starting a community or creating a dapp.
These are some practical steps you can use to achieve your plan:
Join two active communities on hive in the next four years (recommendations: leofinance, The City of Neoxian, and ecoTrain)

Engage in community activities e.g attend live sessions on discord or telegram, read and contribute to the community's newsletter, participate in community projects and contests

Create 5 pieces of content weekly (Learn how to write decent and engaging posts. Also, learn how to use tags properly).

Make between 50-150 comments weekly (Join the hive and leofiance engagement challenge).

Save 1 hive/hbd daily for the next 4 years.

Buy 7 hive weekly (if you can afford it)

Become a moderator or curator; create a dapp or service that is useful for the hive community
I hope you found this post useful in some way. Cheers!
---
---