Inscripción para el Concurso Reflection Hunters round 83/Mi gran Sueño/[ESP-ENG]
Nuevamente en mi Cacería de Reflejos Promovido por @olgavita, a quien agradezco por mantenernos distraídos y aprendiendo a amar las fotografías.
He retratado los reflejos que quedaron en mi memoria, producto del primer paso para la consecución de un gran sueño, como una #hiver que soy. Ese gran sueño es lograr reunir a los amigos que hacen vida en #Hive, en un evento que se está dando en varios lugares de Venezuela y ahora en Argentina.
Again on my Reflection Hunt, Promoted by @olgavita, whom I thank for keeping us distracted and learning to love photographs.I have portrayed the reflections that remained in my memory, product of the first step towards the achievement of a great dream, as #hiver that I am. That great dream is to gather friends who make life in #Hive, in an event that is taking place in several places in Venezuela and now in Argentina.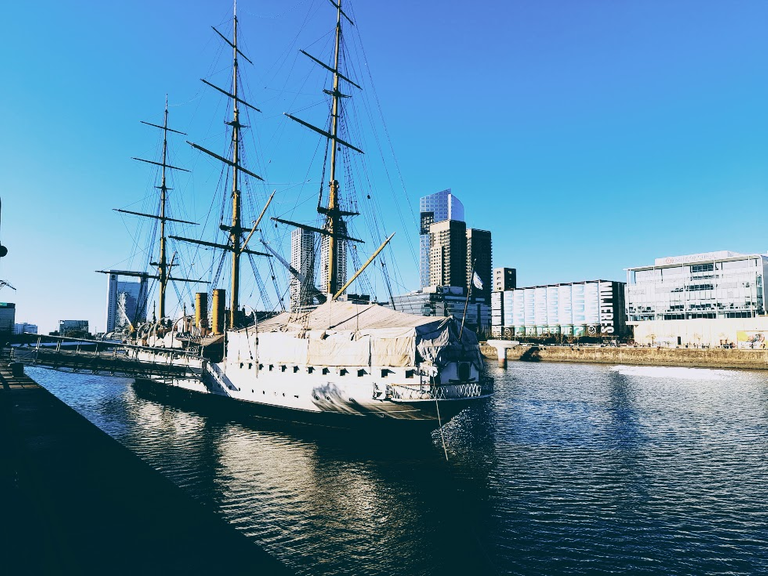 La imagen de este gran barco, es una de las que primero te encuentras al llegar al Puerto Madero en Buenos Aires. Es un barco donde se organizan visitas guiadas para que el turista conozca la historia, su interior y cómo está estructurado. Ese día no había manera de ingresar, pues ya estaba lleno el cupo del día. Había mucha gente dentro.
The image of this great ship is one of the first beauties you see when you arrive at Puerto Madero in Buenos Aires. It is a ship where guided tours are organized for tourists to learn about its history, interior and structure. That day there was no way to get in, as the day's quota was already full. There were many people inside.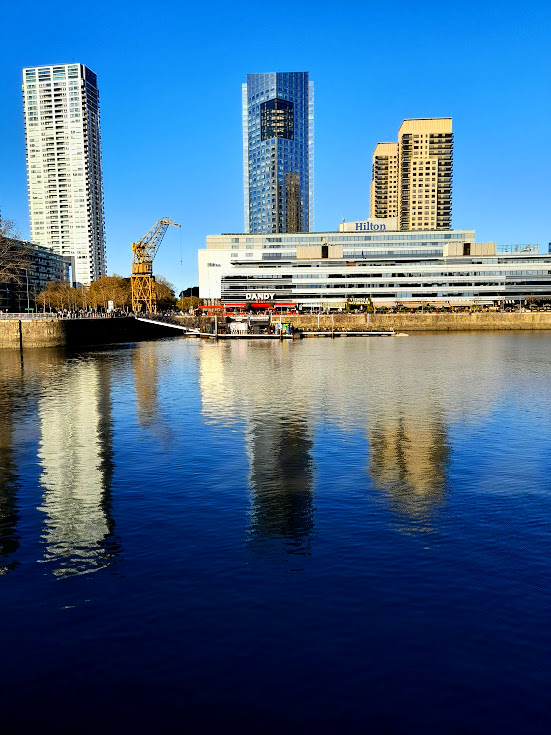 En esta imagen se puede ver el bello reflejo de los edificios, generalmente destinados a oficinas, así como uno de los hoteles más famosos del mundo, el Hotel Hilton, por ser una zona puramente turística y comercial.
In this image, you can see the beautiful reflection of the buildings, which are generally used for offices, as well as one of the most famous hotels in the world, the Hilton Hotel, because it is a purely tourist and commercial area.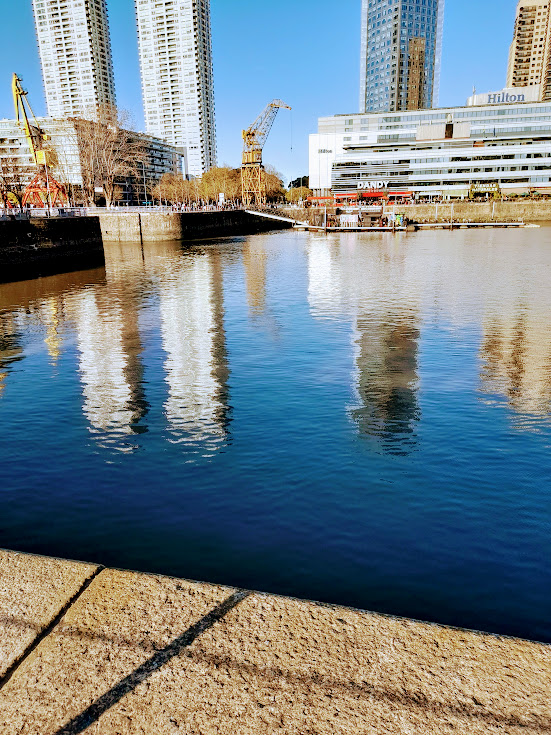 Imagen capturada desde otro ángulo y más cerca del muelle. A lo lejos se divisa otro reflejo que tiene gran significado. Son las grúas que se usan para subir la mercancía de los contenedores que llegan en barcos de carga.
Image captured from another angle and closer to the pier. In the distance you can see another reflection that has great significance. These are the cranes used to lift goods from containers arriving on cargo ships.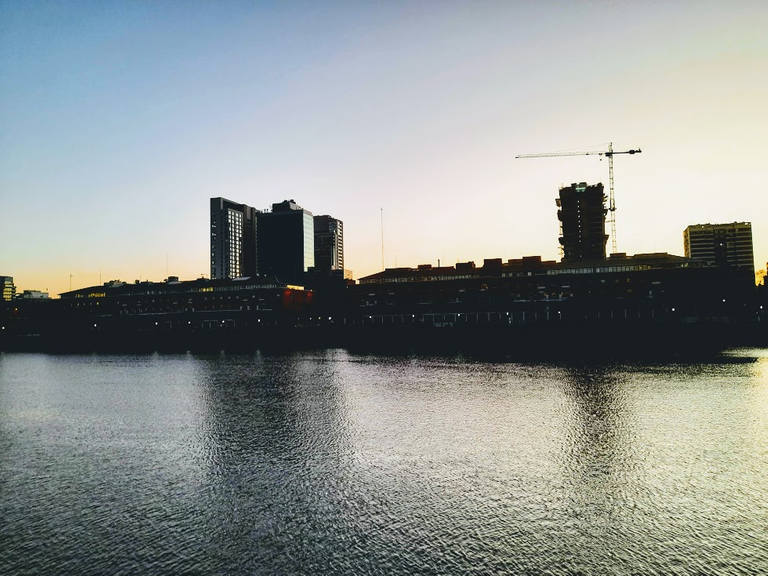 Finalmente, la noche ha llegado a Puerto Madero, Buenos Aires. Asimismo, nos despedimos de este hermoso encuentro con los #hivers como el inicio de un gran sueño. Fue el primero de otros que se proyectarán en el futuro. A veces, la mayoría de los sueños se cristalizan, y este ha comenzado, hasta hacerse realidad. Independientemente de si califico o no, en este desafío semanal, siento que con mostrar lo que vi ese día del primer encuentro de #hivers camino al gran #HivemeetupArgentina, me bastará.
Finally, the night has arrived in Puerto Madero, Buenos Aires. Likewise, we say goodbye to this beautiful meeting with the #hivers as the beginning of a great dream. It was the first of others that will be planned in the future. Sometimes, most dreams crystallize, and this one has begun, until it becomes a reality. Regardless of whether I qualify or not, in this weekly challenge, I feel that just showing what I saw that day of the first #hivers meeting on the way to the great #HivemeetupArgentina, will be enough for me.
---
---
---