Some Collections of Aglonema Ornamental Plants
Hi hive garden, happy gardening to all of you who are gardening, both in the yard, on the balcony terrace and even in your extraordinary garden out there. A fun and relaxing activity, simple but very passionate when we have our own beautiful plants. Thank you hivegarden community for providing an opportunity for us plant lovers.
Talking about gardening cannot be separated from the world of plants, with the diversity of plants around the world that have various types and their own identities, both in terms of shape, growth, and the living media of the plants we like. This time I will introduce several collections of aglonema ornamental plants on the terrace of the house. Before I introduce a gathering of aglonema collections, I will first explain, what is an aglonema plant.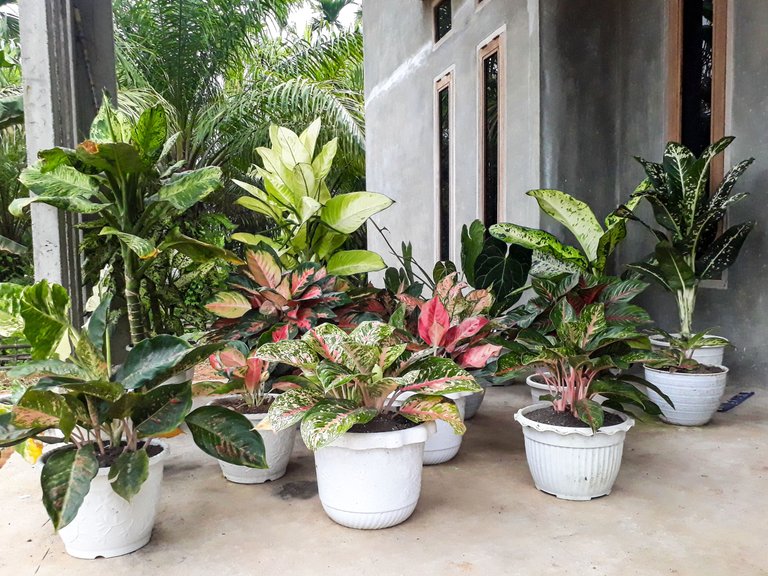 ---
Aglonema is a type of plant that is used as an ornamental plant to complement your home garden which comes from the taro plant species. Aglonema is an ornamental plant whose beauty lies in the leaves, with unique colors that add an elegant impression to each of these plants. Now this plant has flowers, but the flowers of aglonema are very unattractive so that the prima donna of this flower is the unique and brightly colored leaf part.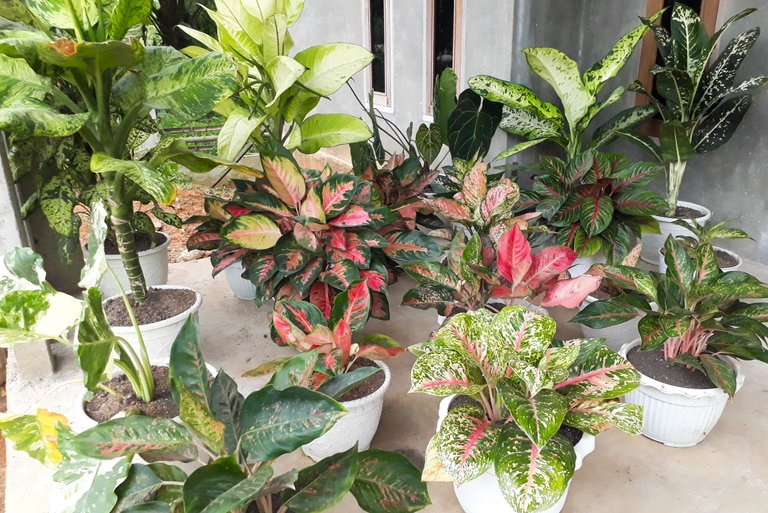 ---
2 years ago during the covid 19 pandemic, the aglonema flower had become viral in Indonesia, the selling price offered for this ornamental flower jumped dramatically, due to booming market demand. Not only the upper middle class, this flower has also become a target in every corner of the area like where I live, so at that time my flower became rare in our area. So here I will introduce several types of aglonema flowers that are popular in my area, and become a personal collection at home.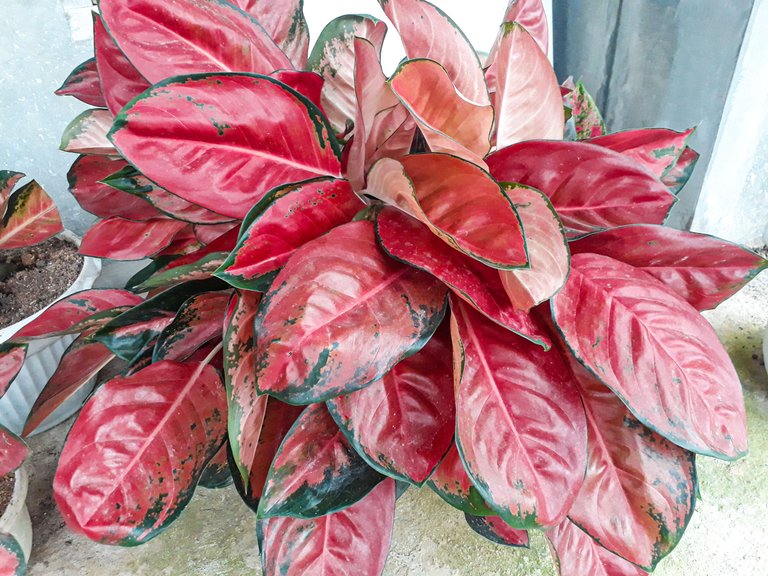 This type of aglonema is one of the most expensive aglonemas that have a price range of 500 thousand to 1 million IDR. Because it has a bright color and wide leaves, this flower is often the target of every aglonema collector, it has a leaf size of 15 to 20cm with a relatively shorter stem height, reaching only 5 to 10cm.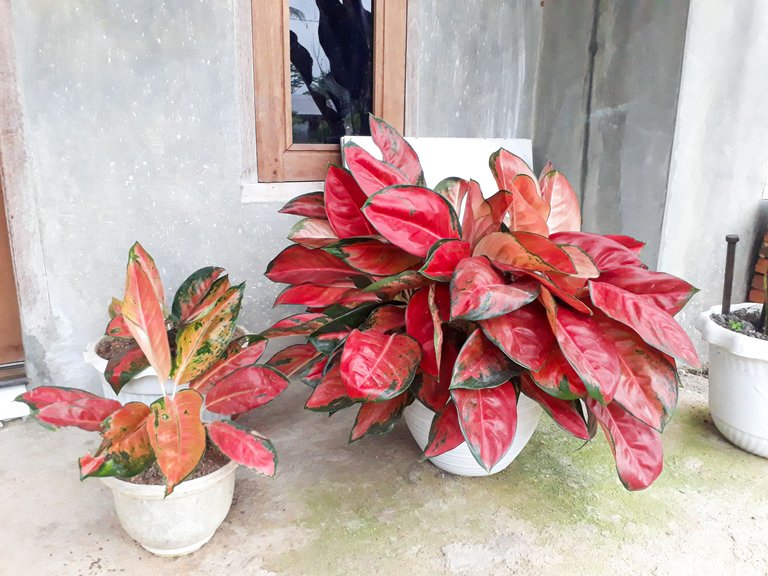 ---
---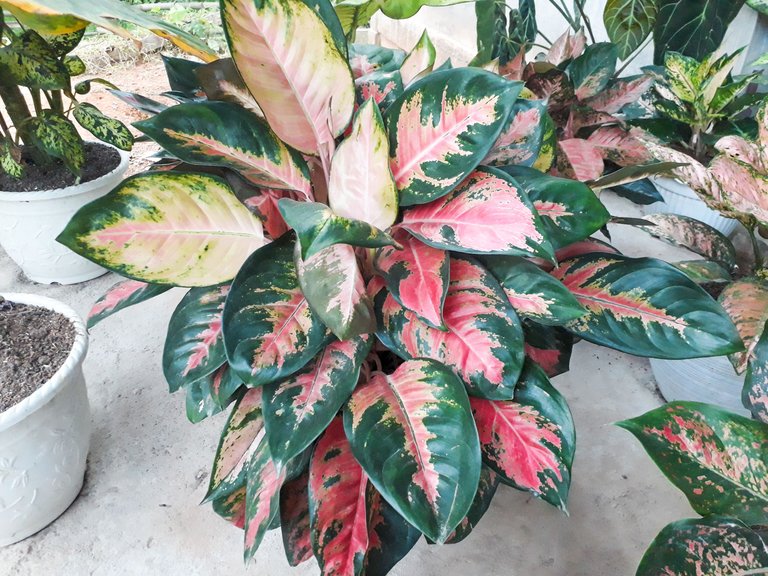 One of the most favorite types of aglonema that has ever made this aglonema viral in my area, has been sold at a fantastic price, making aglonema very attractive to many people.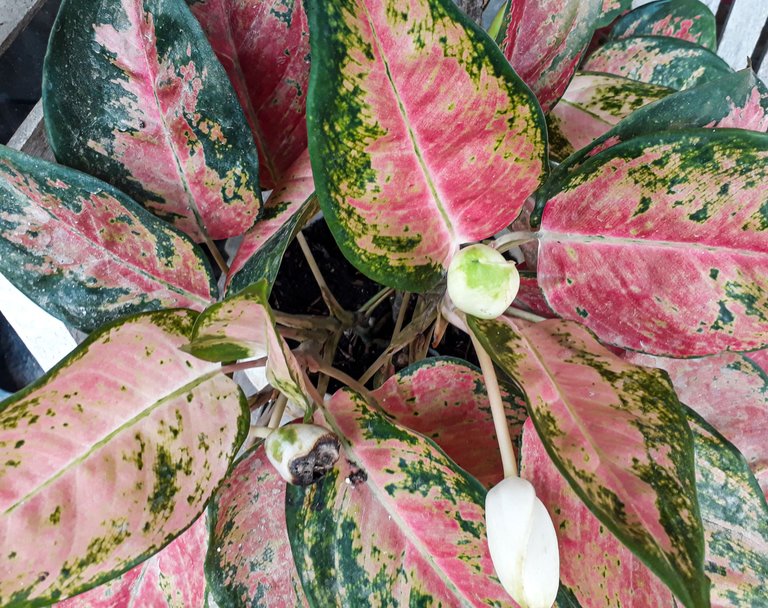 Besides this aglonema type Red kochin has a red leaf color that is not too thick with a mixture of green on the edges of the leaves so that makes this aglonema very interesting, the leaf size is not too wide, making it very interesting to collect.
---
---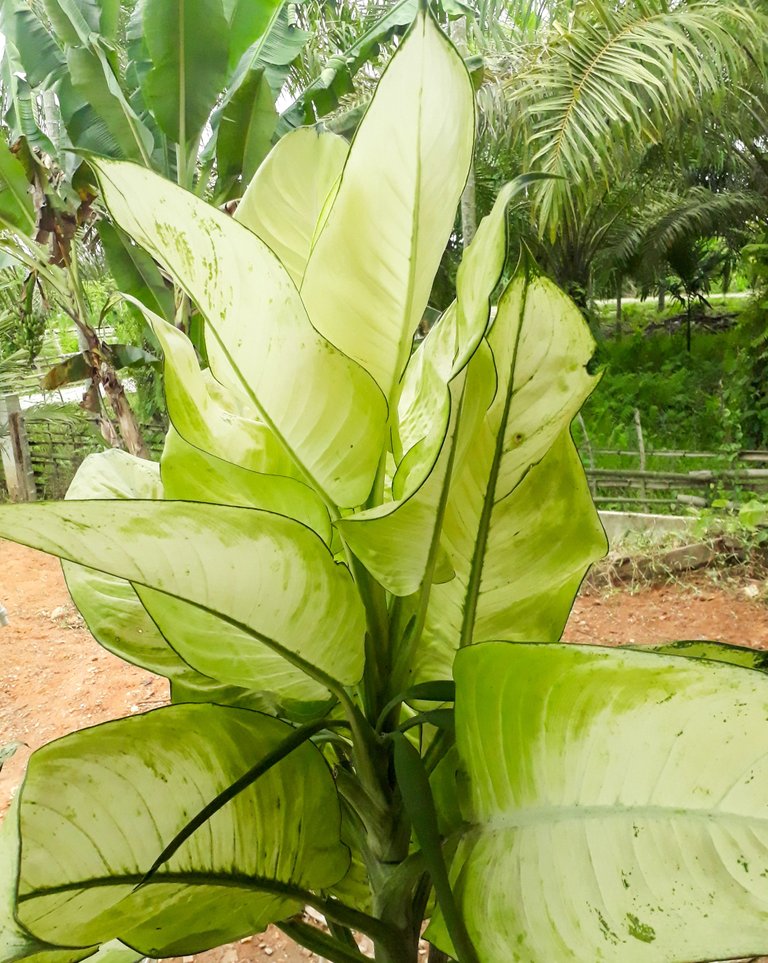 This aglonema has a high stem size when it is old, the shape of the leaves is thin and light green in color mixed with white, so it is known as aglonema tisu. Leaf size reaches 10 to 20 cm, this plant is very easy to live with, dense soil texture can still live, but this aglonema, it is very difficult to grow new shoots if not cared for properly.
---
---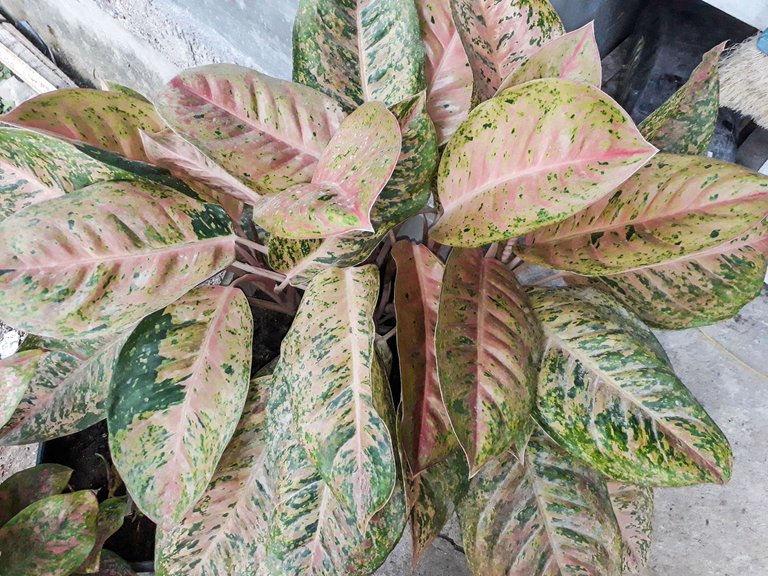 This type of aglonema is a local type of aglonema, which is very cheap to sell at flower shops near your home, besides being easy to grow and sprout, this flower is also very beautiful, has a mixed green and peach leaf color which makes it very elegant, besides this ornamental plant also has a stem that is similar in color to the leaves, namely peach. Now the size of the aglonema leaves of the big roy type has a leaf size of 10 to 20 cm, usually its growth will depend on your pot planting media.
---
---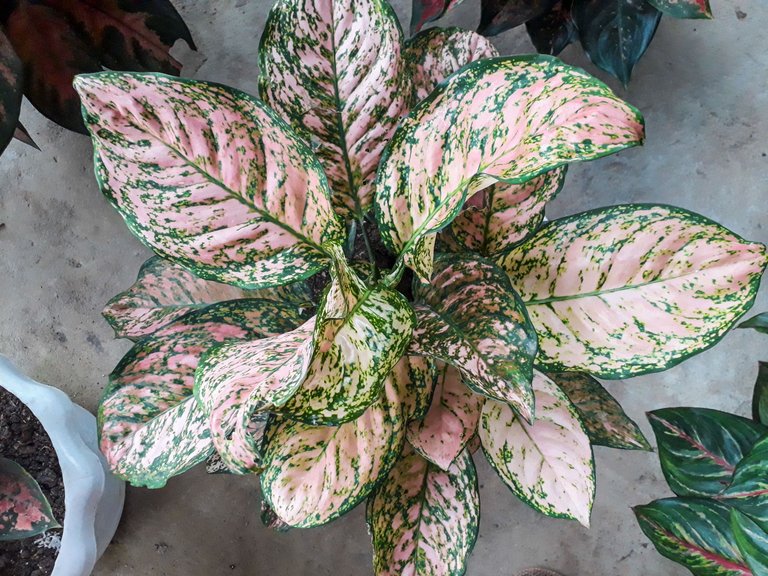 This type of aglonema is one of my favorites, because I am very interested in the color of this type of aglonema, it has an elongated leaf size, and it is not too big like other types of aglonema so that it really makes it different, the color that is highlighted from the leaves of this aglonema is very attractive pink young with small green spots on the surface and edges of the leaves.
---
---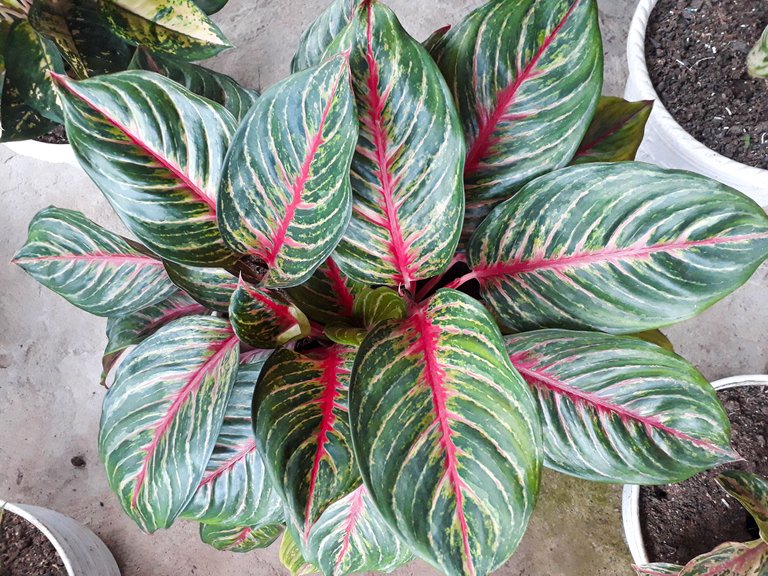 Aglonema adelia or often called Red borju is a type of aglonema that has a fiery red color on the leaf line, and has red fibers on the leaf surface with an overall green color with a glossy surface. Aglonema also has a leaf shape with a pointed tip and a standard size with elegant color collaboration.
---
---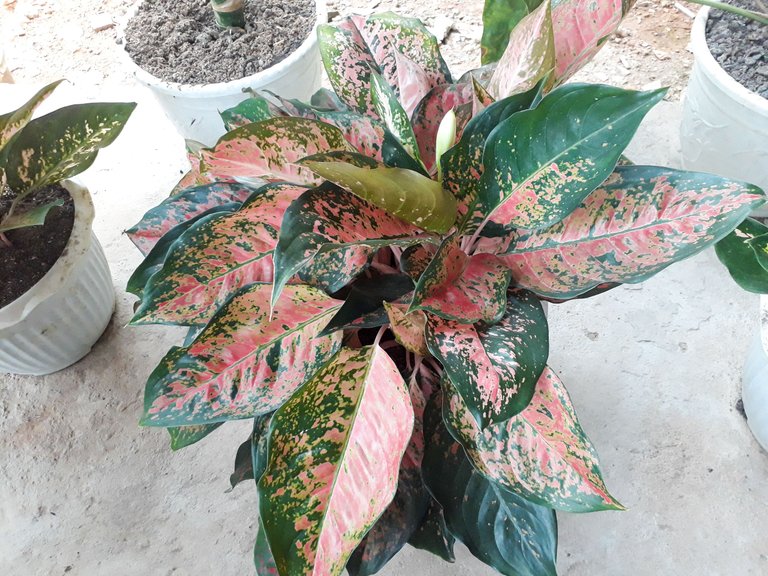 This type of aglonema venus is one aglonema that at first glance is almost similar to other types of aglonema which has a faded red color with a mixture of dark green patches. The leaves are oval and pointed at the ends and have pink stems.
---
---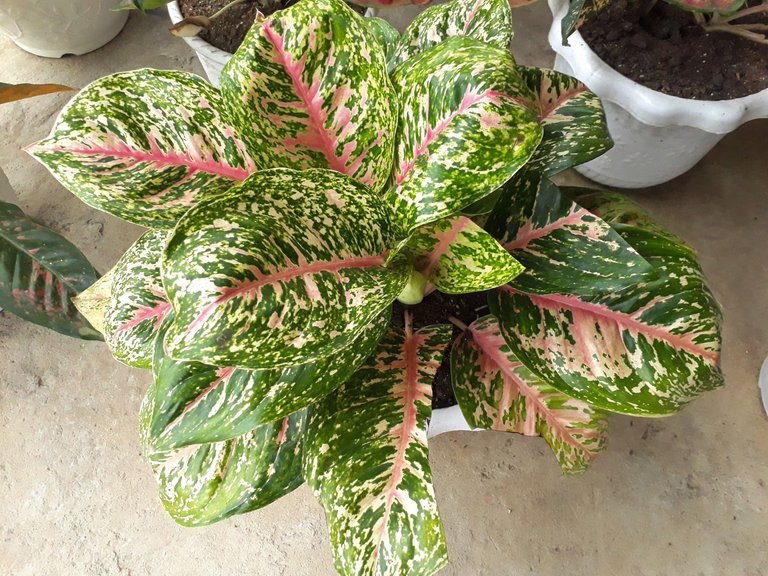 The aglonema legacy type ornamental plant has green leaf color, the color of the leaf surface with dark green spots is spread evenly throughout the leaves so it is very attractive to decorate your home. In addition, it has a leaf model that is round and tapered at the tip of its medium-sized leaf, which is around 7 to 15 cm.
---
---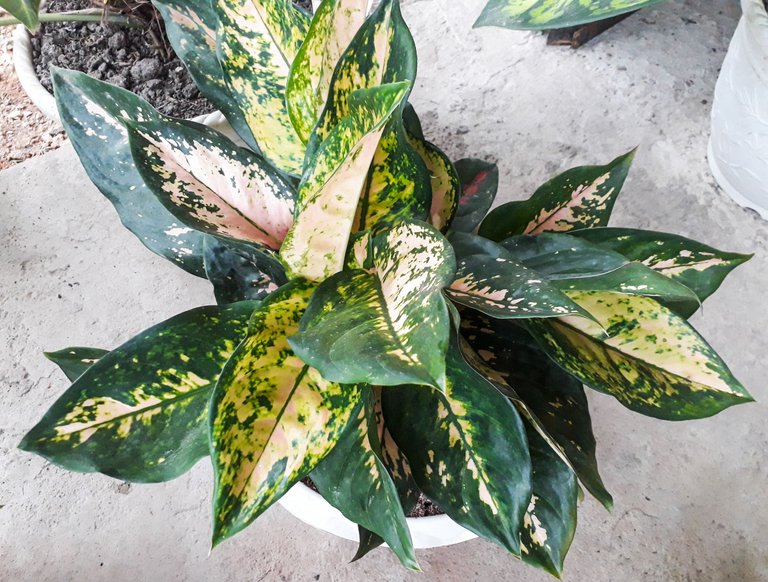 The shape of the pointed leaves and the mixed color of the leaves are like the color of batik, so this aglonema is known as such. The leaves that do not expand like the type of taro in general make this plant very beautiful when planted in small pots to decorate the terrace of the house. It has a leaf size of 5 to 10 cm, so if this plant thrives it will very much fill your pot.
---
---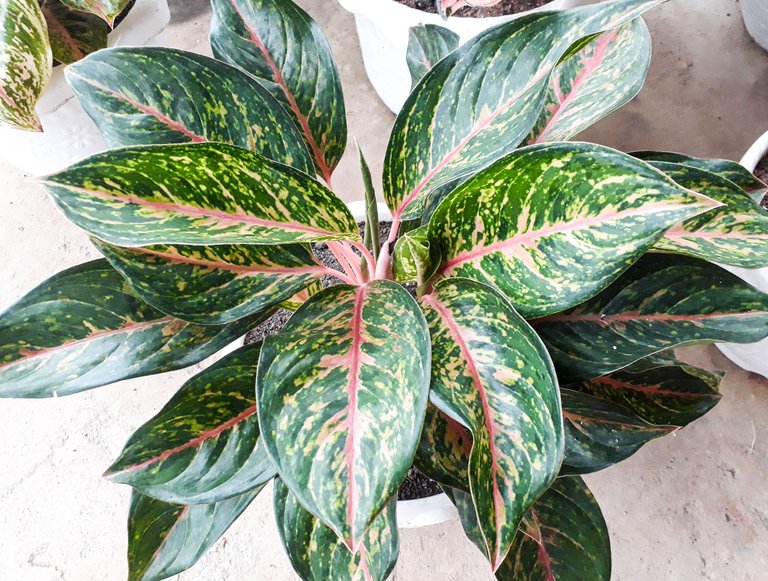 This aglonema is a mutation of the peach-colored aglonema big roy that I described above, the dark green leaf color and red spots make this aglonema plant different from the previous big roy type.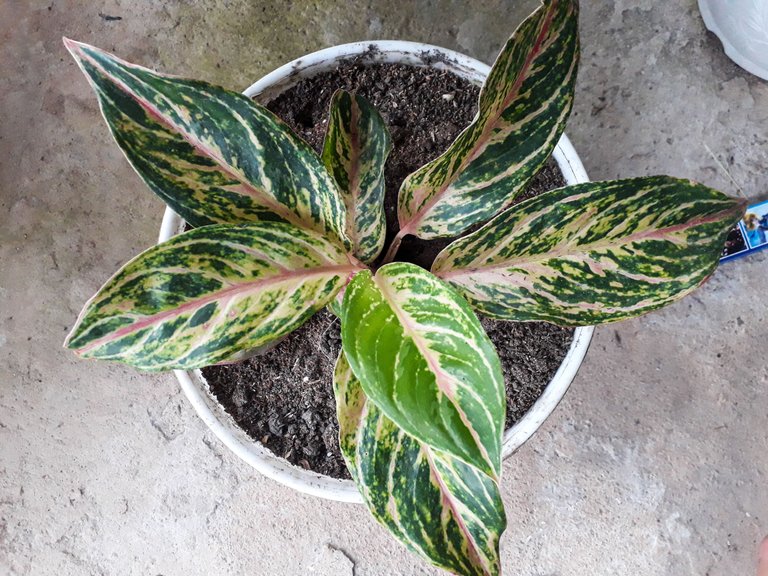 ---
---
---
So, those are some aglonema collections, I hope you like them and inspire you to add to your collection of ornamental plants in your home or garden, besides the aglonema above I also have a collection of other taro plants that I don't know the name of this type. They are also members of the aglonema type but have a higher stem size than the aglonema above.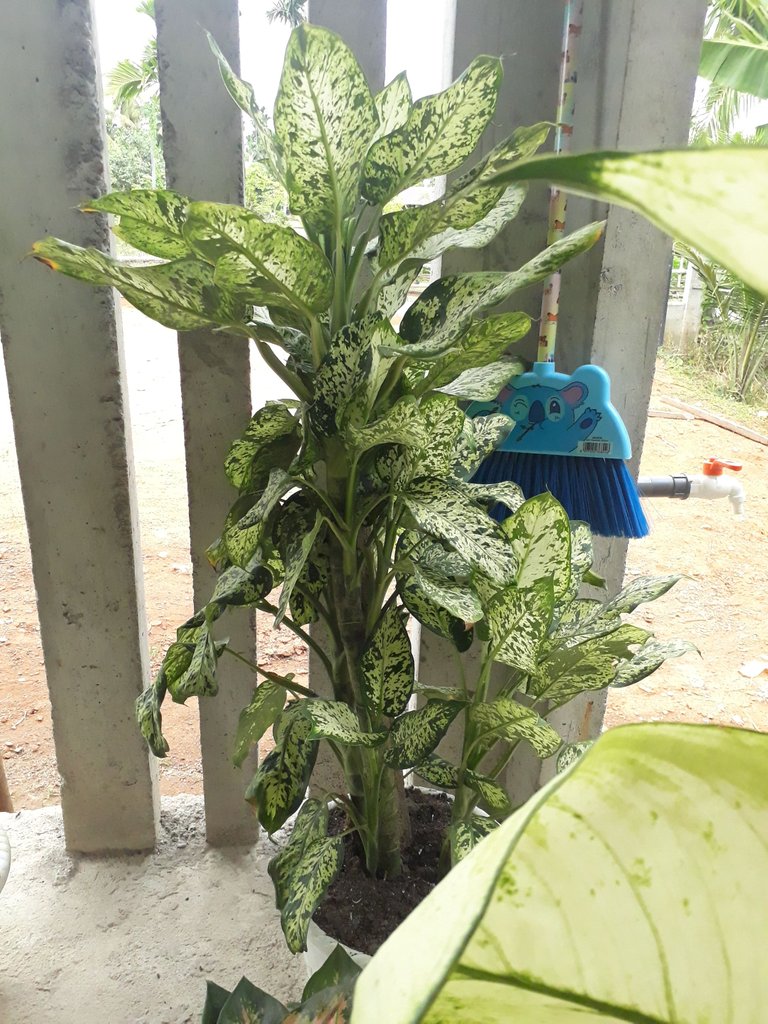 ---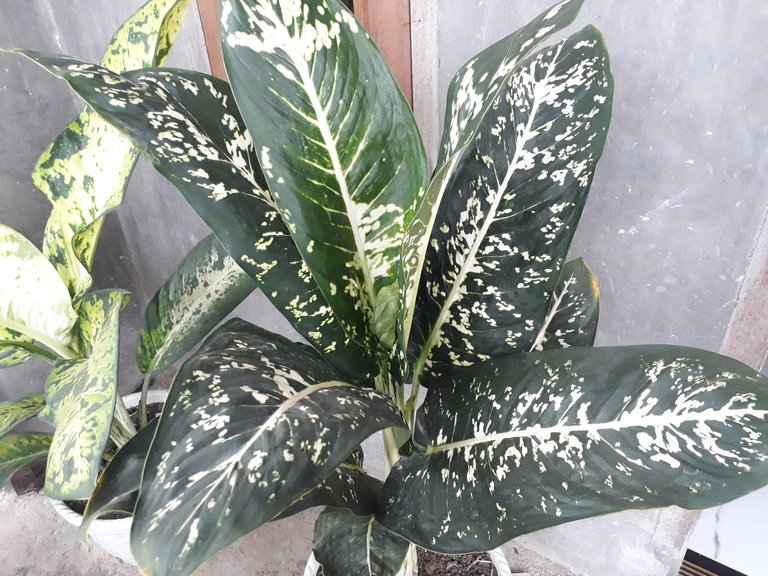 ---
---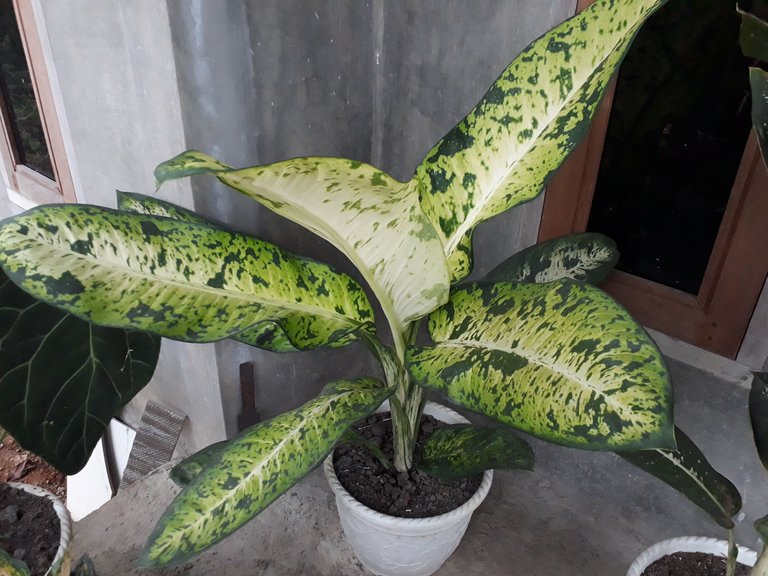 ---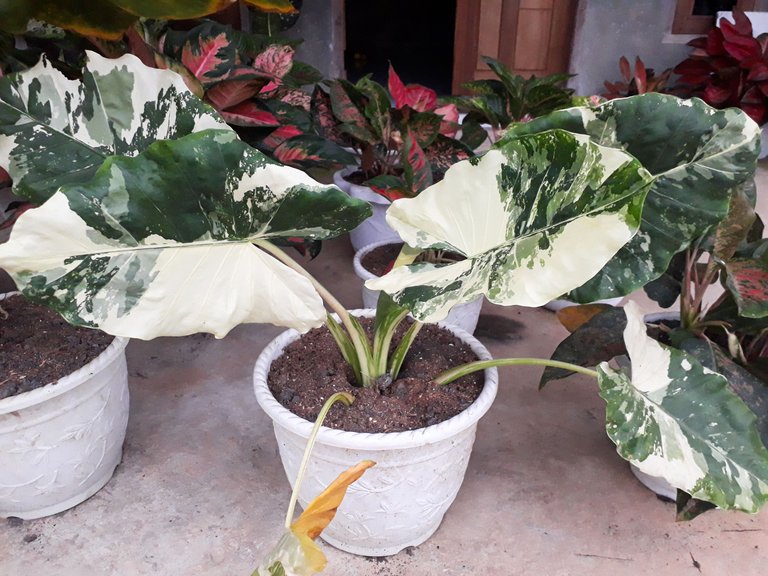 ---
---
---
Care and Growing Media
For the care of aglonema ornamental plants, you only have to pay attention to the water content and good planting media, a good growing medium for aglonema plants is soil and husks, and organic fertilizer from animal waste that has been decomposed by the soil. Now, for leaf care, you can wipe or clean the leaves with normal water, so as not to damage the leaf layer so that the leaves are always healthy and fresh, for partially lay leaves, I recommend that part because it will affect or transmit to other parts of the leaf.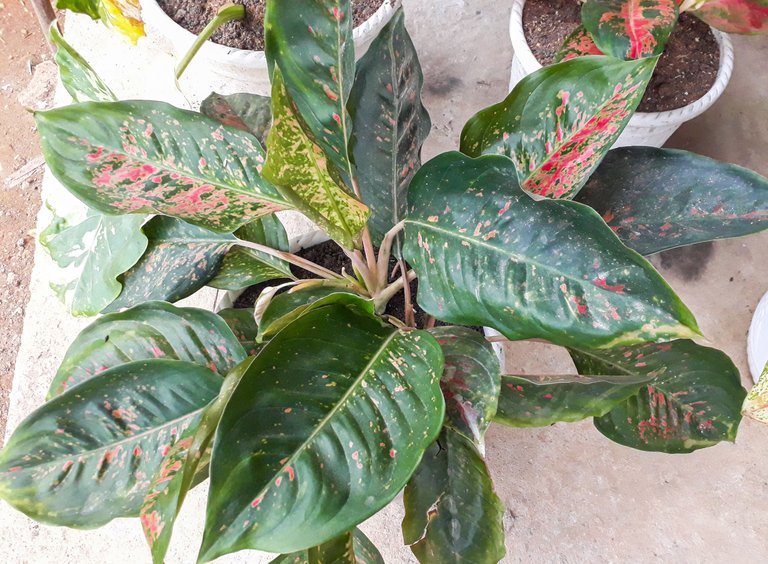 ---
Now the water content for watering the aglonema type is only 2 times a day, namely in the morning and evening with the amount of water according to the size of our aglonema, while on the surface of the soil avoid weeds growing and don't forget to loosen the soil surface on the planting medium so that this plant grows with the outskirts of the city.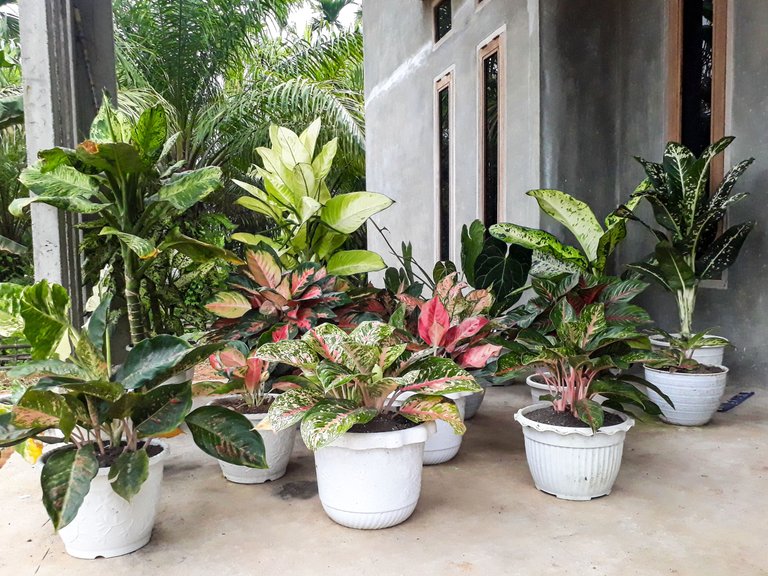 ---
---
---
So many articles from me, I hope you can enjoy seeing my ornamental plants virtually, and if the names of the different types of aglonema in your area are different that's the only mention I know. Finally hope you like it, warm greetings from me @nurfay
---
---
Hi Readers and Hivers, Thank you for reading and visiting my posts which are 100% copyrighted by myself, my own content, writings and photos, taken with the Samsung J5prime Smartphone editing by lightroomApp
---
---
---
See you the next post
---
---
---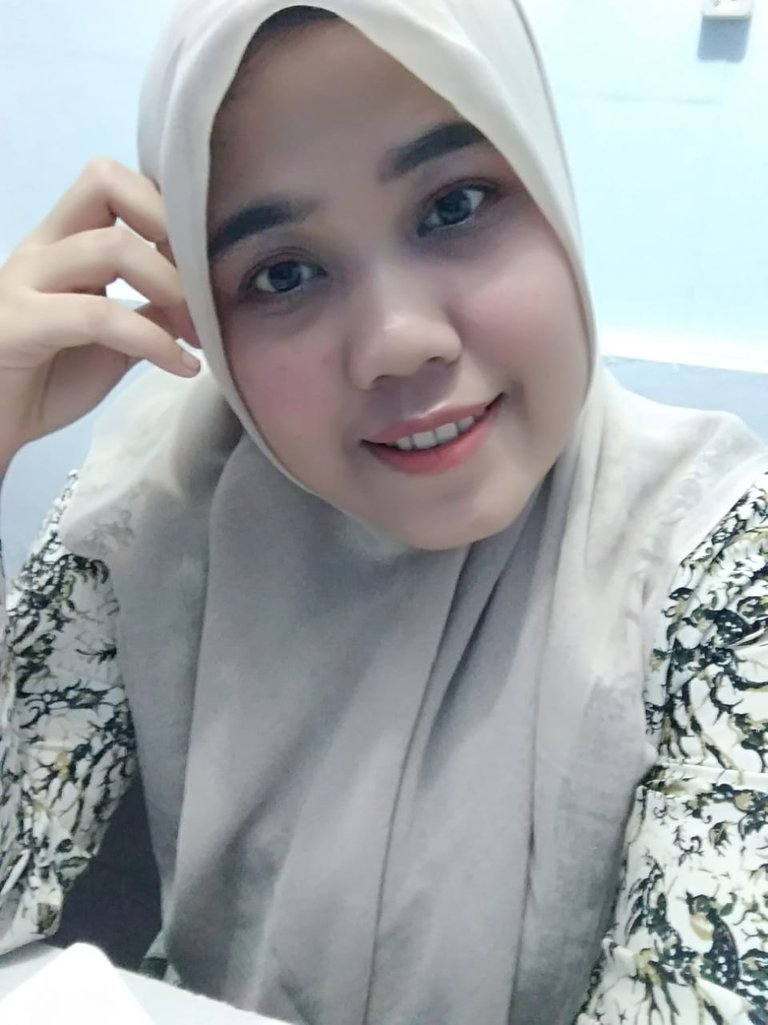 About The Author
A woman, firm and stubborn who is called "Nurul", born in July 1993, comes from Indonesia, Aceh province. My daily activity is work.
Besides working, I have several hobbies, namely reading, writing, cooking, gardening, making crafts, and traveling. From this hobby of mine, I will develop some inspiring content for all of you. I am also very happy to discuss positive new things with all of you.
---
---