Hive Bloggers Targets 5000 HP - Weekly Achievement - Report N02
Peace
Greetings,
How are you prospering on Hive, my friends?
I hope you are doing fine despite the bear market.
I would like to share the various achievements I have completed in the direction to reach my goals on Hive.
The plan is to keep track of my progress as I cumulate many tokens on Hive-engine, stake assets, and engage with Hivees in various communities.
--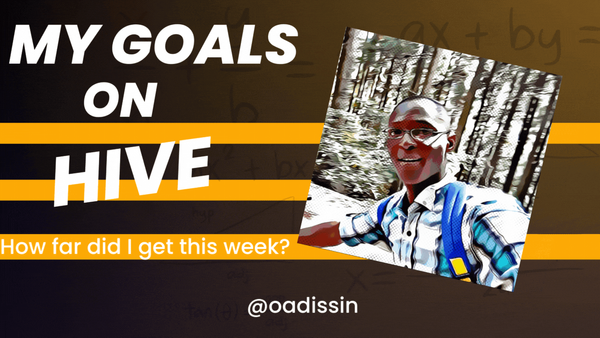 Source
--
Splinterlands and Tokeconomics
| Current Data | Goals | Comments |
| --- | --- | --- |
| Season Diamond | Diamond II | It is possible to reach my targets. I leveled up and max out monsters of Life elements. Obsidian and Thaddius are maximized |
| Mid-Season Level | Gold I | I will fight my way to Gold I. After the season reset it was a struggle to get out of Silver League |
| SPS | I hope to reach 300k DEC/SPS in pool | I change my target this month considering the Burning event for Splinterlands 5th anniversary |
| Card leveled up | I keep all cards in my collection combined as I plan to qualify in Diamond soon. SoulBound cards are pilling up and all combined to strengthen my battle strategy in the arena. | I have activated my plan to purchase cards on the Bid market with credit |
| Packs | Chaos Legions pack and Riftwatcher are still staked up at the rate of 5 packs per week | I got many packs during the daily rewards quest in the game. The process of accumulation is my position this week, so I am not buying additional packs |
| Lands | I have only a plot | I am preparing for the management of my plot of lands. It is a reality that most players won't have enough resources to operate their lands. I am waiting for the release of features to rent resources and earn some passive income on the land |
| Hive purchase | The P2P market on Binance in Benin has reached over a period of seven days a temporary stable level in the exchange | I will monitor the situation and position myself to acquire around 2k liquid Hive |
Hive Publication and Tokeconomics
My plan to reach the target on Hive is a marathon. I have been blogging for years but I have not been so lucky to get consequential upvotes to support my content. Despite the situation, I keep on working to improve the quality of my publications and engagement with members of different communities.
The past seven days were packed with important events that helped in the process of growing my stakes of tokens Hive SPS and SPT. I am not sure this week is going to be similar in terms of earning on Hive. I post on "Let's make collage" You can read the entire post Here
I will try to diversify the topics of my articles and engage even more in constructive discussion. I am sure that the process of networking will help me achieve not only my goal of greater visibility but also long-lasting friendship.
My Hive stakes are growing slowly at the speed of a turtle crossing the sand band on the beach to reach the sea.
| HIVE Power | HBD Savings | HBD | HIVE |
| --- | --- | --- | --- |
| Last week: 1415 Hp + Hp from the Curation | 547 HBD | 10 HBD on the internal trading market | Internal trading market 60 Hive |
| This week: 1503 Hp | 554 HBD + Purchase from trade | My project is growing slowly towards the 40 HBD target | Liquid Hive trade Project goal 100 Hive in the internal market |
--
I thought it was better to launch the trading project last week. The direct consequence of this choice was the empty wallet during the Hive power-up day.
It is not the end because I will keep storing Hive liquid for the July HUPD event. My goal for the thirty days ahead will be 30 Hive liquid. It will increase by 5 Hive each month. I like this challenge for the HPUD event at the beginning of each month.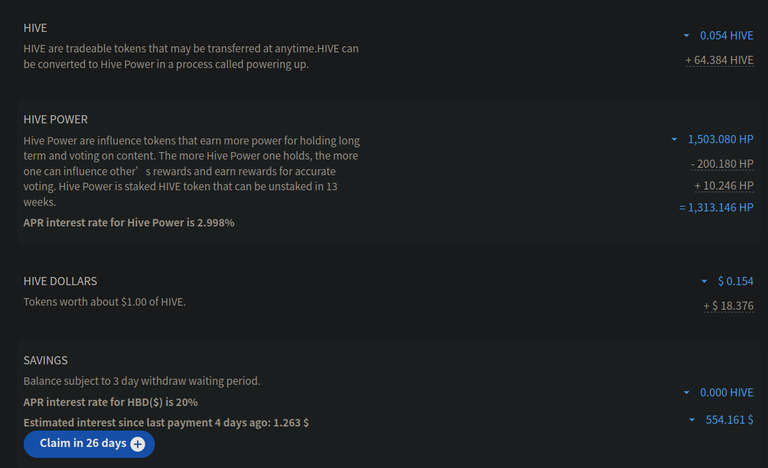 Source
I feel that Hive token on the exchange has reached interesting low prices. The conversion of XOF (fiat currency) to USDT will not be a serious barrier in the following days for my investment in Hive.
My trading mission will surely kick off something new on the economic side of my activities on Hive Blockchain such as posting articles, comments, and curations. It will be the fuel that powers the passive income engine of this account.
Hive-engine Tokeconomics
LEO, SPS, DEC, VOUCHER, and SPT are continually staked on a daily basis. My target is to keep storing these assets for useful attributes on Splinterlands or blogs.
| Past Week state | Current State | Expectation (This week) |
| --- | --- | --- |
| LEO / 500 | LEO / 600 | 700 LEO |
| DEC /250k | DEC /150k | 155k |
| SPS/ 17k (Staked) | SPS/ 22k (Staked) | 25k |
I place 100 thousand DEC in the burning event on Splinterlands 5th anniversary portal. It is good for my Guild and the pegged value for DEC the whole community is trying to reach.
There are many assets I can easily get at the end of this event. However, the current evolution of the Burnt DEC pot is close to 500 million. I will not be able to compete with the whales.
It is not the end though because the 5th anniversary of Splinterlands will reward the players with plenty of gifts on the final day of the event.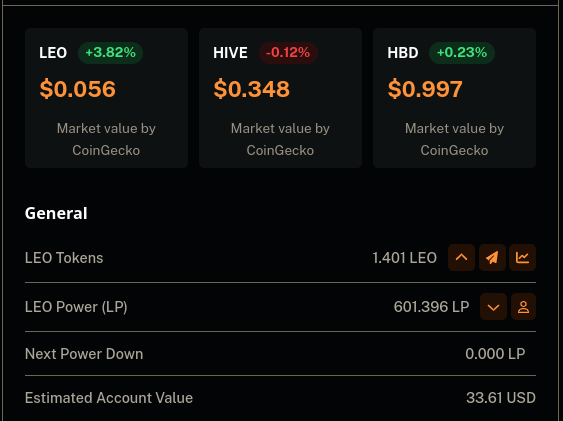 Since it is a competition I will not give too much detail now but the expectation is to enter the leaderboards.
Targets
An amount of 50k DEC will be sold on Hive-engine as soon as the token price reaches peg values and above during the anniversary event.
Target I considered complete during the past week
SPS stake reached 22k in-game Splinterlands
DEC from the rental market has not dropped below 600 Dark Energy Crystal
I have successfully burnt 100k DEC as a participant in the 5th anniversary of Splinterlands. It is a huge boost to my guild Alliance. I have seen other members of my guild doing the same.
I have some great cards that I would like to level up, so I am still purchasing cards on the bidden market. I have defined my deadline as the end of June to get 150 cards.
My trading project is launched with the minimal fund I could gather from my wallet. I will share the evolution of my trading activities next week.
Engagement in the Hive with authors
The total number of comments I made since my account was activated is about 10971 comments. It is a surprise to read from the analytics that my current count is 11228 comments. Source
I am encouraged to reach 11500 comments or above before my next article.
If I complete these small steps in my goal by the end of the next June, it will have a positive influence that surely will give me the additional boost to reach higher targets.
I will strive to share 40 comments a day, so by the end of the week it will be about 280 additional comments.
My goal for the rest of the year is to reach the annual goal of 14k comments by the end of 2023.
Thank you so much for your attention.
To support my effort in the process of reaching these goals:
You can freely consider delegating some Hive power to Oadissin as many times as you want by clicking here ==> Delegations 50 HP; 100 HP or 500 HP

Suggestions and discussion in the comment section are welcome

Inform your friends about any element that capture your attention in the article, then through the power of the collective we can move mountains.
==Disclaimer:== This Article's purpose is only educational and has no intention to compare my path to anyone else on social media. My publications relay valid information based on my personal experiences for your edutainment.
---
---