MY LIFE WITHOUT HIVE || MI VIDA SIN HIVE [ENG/ESP]
First I would like to appreciate this initiative by @rutablockchain for such a wonderful topic brought up which is making us think head to head on what our lives might have been if we never knew of Hive.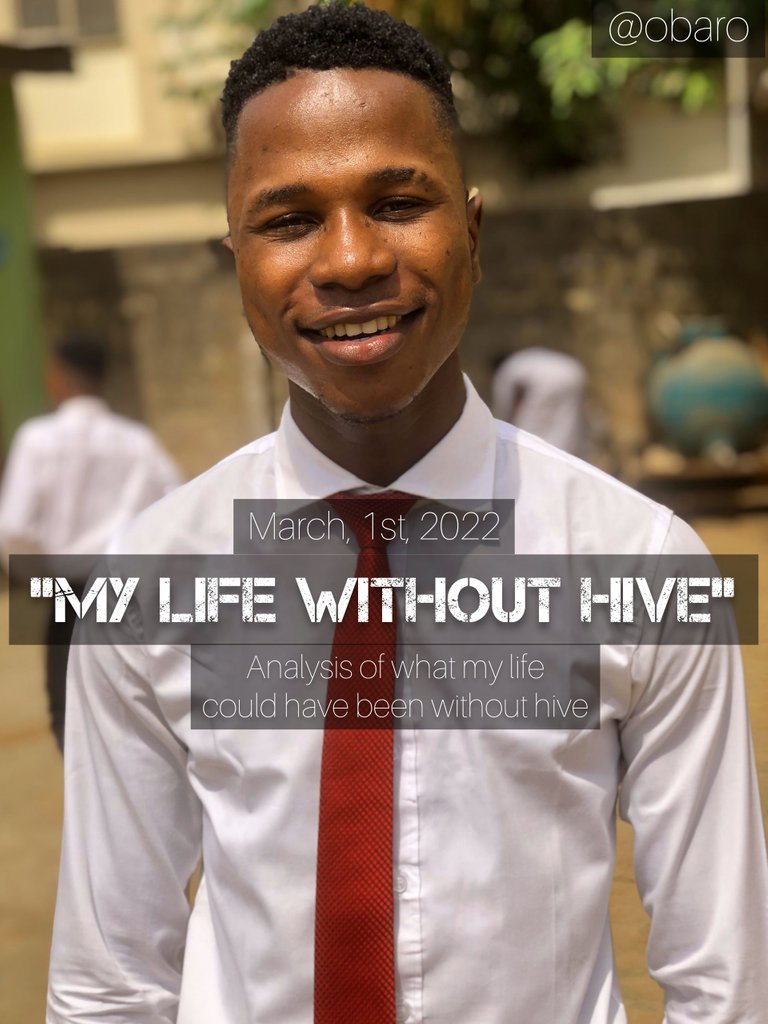 En primer lugar, me gustaría agradecer esta iniciativa de @rutablockchain por haber planteado un tema tan maravilloso que nos hace pensar cara a cara sobre cómo podrían haber sido nuestras vidas si nunca hubiéramos sabido de Hive.
For me, I see hive as a blessing as i always feel grateful for encountering some situations or trials that probably drew me nearer to the possibility of knowing about hive.
If I hadn't know hive, some level of maturity, seriousness, creativity, focus and knowledge I've acquired might not have come my way, which might make me just a normal regular human being.
Well, I can tell for sure, this is the upgraded version of me ever since I got into hive
Para mí, veo a Hive como una bendición ya que siempre me siento agradecido por encontrarme con algunas situaciones o pruebas que probablemente me acercaron a la posibilidad de conocer Hive.
Si no hubiera conocido colmena, cierto nivel de madurez, seriedad, creatividad, enfoque y conocimiento que he adquirido podría no haber llegado a mí, lo que podría convertirme en un ser humano normal y corriente.
Bueno, puedo asegurarlo, esta es la versión mejorada de mí desde que entré en Hive.
MY LIFE BEFORE HIVE
I got to know about hive in the year 2020 through a very close and supportive friend @starstrings01 .
We both went to the same polytechnic together. I studied science laboratory technology (S.L.T), while he studied electrical engineering. We are both musicians. Back then in school, we depend solely on our parents for feeding. So whenever things are not going to fine at home and we couldn't get funds, we starve. Or better still we look for means of hustling with our musical talents. "@starstrings01 is a badass guitarist, I am a singer, drummer, pianist, and also a guitarist"
MI VIDA ANTES DE LA HIVE
Conocí Hive en el año 2020 a través de un amigo muy cercano y solidario @starstrings01.
Los dos fuimos juntos al mismo politécnico. Yo estudié tecnología de laboratorio de ciencias (S.L.T), mientras él estudiaba ingeniería eléctrica. Ambos somos músicos. En aquel entonces, en la escuela, dependíamos únicamente de nuestros padres para alimentarnos. Así que cada vez que las cosas no van bien en casa y no podemos obtener fondos, nos morimos de hambre. O mejor aún, buscamos medios de empujar con nuestros talentos musicales. "@starstrings01 es un guitarrista rudo, soy cantante, baterista, pianista y también guitarrista"
Well, after getting to know about hive in the year 2020, I didn't get serious about it as i believed it won't work. I never saw reasons why i should be consistent as i had the mentality that it might be scam. Well, my friend @starstrings01 kept encouraging me not to back out, but I was adamant and I eventually backed out because I also wasn't getting the financial results I expected.
All my thoughts was to make money on hive, as my love for hive then wasn't really a genuine one. I couldn't get creative, focused, useful, impactful and productive on hive, so I left and became inactive.
Bueno, después de conocer Hive en el año 2020, no me lo tomé en serio porque creía que no funcionaría. Nunca vi razones por las que debería ser consistente ya que tenía la mentalidad de que podría ser una estafa. Bueno, mi amiga @starstrings01 siguió animándome a no dar marcha atrás, pero me mantuve firme y finalmente me di marcha atrás porque tampoco estaba obteniendo los resultados financieros que esperaba.
Todos mis pensamientos eran ganar dinero con Hive, ya que mi amor por Hive no era realmente genuino. No pude ser creativo, enfocado, útil, impactante y productivo en Hive, así que me fui y me volví inactivo.
MY LIFE AFTER I KNEW HIVE
Well, I must say, I'm really a lucky guy loved by God and man. Here's the good news. @starstrings01 still never gave up on me. He saw potential in me and reasons why I must be initiated into hive.
Well, this time, I decided to even get to know about this so called hive. I'm talking about late 2021.
So I decide to be active on hive and to always explore on different communities, get to interact with people, impact lives with my skills and talents.
And I really must confess, it's really been fun and so so addictive.
Now, I don't just love hive, I'm addicted to hive as I spend the most of my hours on the hive communities daily.
All thanks to @starstrings01.
MI VIDA DESPUÉS DE CONOCER HIVE
Bueno, debo decir que soy realmente un tipo afortunado amado por Dios y el hombre. Aquí están las buenas noticias. @starstrings01 nunca se rindió conmigo. Vio potencial en mí y las razones por las que debo iniciarme en la colmena.
Bueno, esta vez, incluso decidí conocer esta supuesta colmena. Estoy hablando de finales de 2021.
Así que decido estar activo en Hive y siempre explorar en diferentes comunidades, interactuar con la gente, impactar vidas con mis habilidades y talentos.
Y realmente debo confesar que ha sido muy divertido y muy adictivo.
Ahora, no solo amo la hive, soy adicta a la hive ya que paso la mayor parte de mis horas en las comunidades de la hive todos los días.
Todo gracias a @starstrings01.
There's always good package following every hard work they say.
Now look at me, ever since I got to genuinely love hive and dedicate most of my time, there has been a lots of changes in my life.
I gladly can announce to we all that my level of interaction increased, I can get focused too, I became so so matured in things I do, my thinking upgraded, I became a good listener and thinker, and lastly, my financial life upgraded.
To some extent, I can meet end needs, which really is a great news for me.
Siempre hay un buen paquete después de cada trabajo duro que dicen.
Ahora mírame, desde que amé genuinamente a Hive y le dediqué la mayor parte de mi tiempo, ha habido muchos cambios en mi vida.
Con mucho gusto puedo anunciarles a todos que mi nivel de interacción aumentó, también puedo concentrarme, maduré tanto en las cosas que hago, mi forma de pensar mejoró, me convertí en un buen oyente y pensador y, por último, mi vida financiera mejoró.
Hasta cierto punto, puedo satisfacer las necesidades finales, lo que realmente es una gran noticia para mí.
MY LIFE IF I NEVER KNEW HIVE
I can't even imagine what could have become of me if I never knew of hive at all.
I could have been the 100% dependent man.
I definitely will be looking up to people for help in many areas of my life.
Take for example my musical life, it really developed so quick due to a lot of musical styles and patterns I've came across on this hive community.
I met with some musical genius like @chosenfingers, @ksam, @mayorkeys and so on.
Knowing them has really been helpful to me.
Even in the financial aspect, I I don think I couldn't have been able to meet some needs as a student if I never knew of hive.
MI VIDA SI NUNCA CONOCIERA HIVE
Ni siquiera puedo imaginar lo que podría haber sido de mí si nunca hubiera sabido nada de la hive.
Podría haber sido el hombre 100% dependiente.
Definitivamente buscaré a la gente en busca de ayuda en muchas áreas de mi vida.
Tomemos como ejemplo mi vida musical, realmente se desarrolló tan rápido debido a muchos estilos musicales y patrones que encontré en esta comunidad de hive.
Conocí a algunos genios musicales como @chosenfingers, @ksam, @mayorkeys, etc.
Conocerlos me ha sido de gran ayuda.
Incluso en el aspecto financiero, no creo que no hubiera podido satisfacer algunas necesidades como estudiante si nunca supiera de hive.
THANKS FOR VISITING MY BLOG, THE TIME YOU SPENT HERE IS HIGHLY APPRECIATED
Who is D4MUSIC?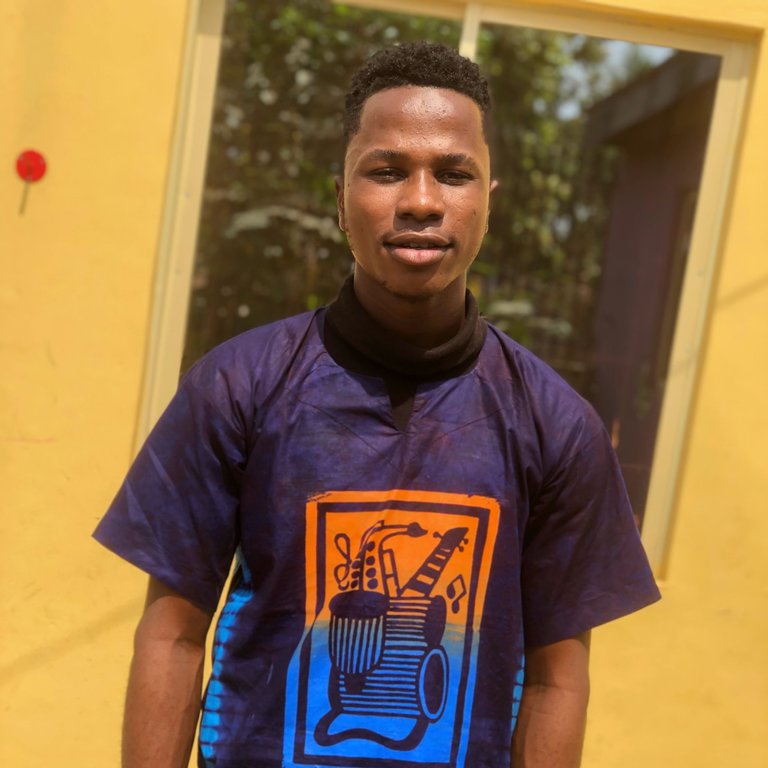 I am a blogger, singer, guitarist, pianist, guitarist, drummer, artist, lover of photography and more.
I'm also a student currently studying chemistry in one of the most prestigious universities in Nigeria, AAUA (Adekunle Ajasin University Akungba)
Because of my musical live and love for hive, I try to balance all alongside my education.
It's really been fun being on hive and knowing we all!
GRACIAS
---
---