MAGUIRE INSIST THEY ARE STILL ON THE TITLE RACE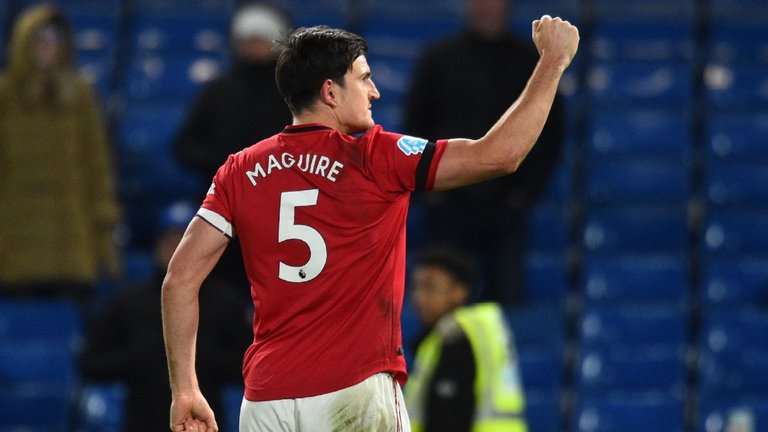 source
Recently the Manchester United senior player came up to cancel every talks of them not been in the title race, saying they are fully in the race. My advice for him is not to be an all "talk no walk" as he has spoken he should prove it to us in tomorrow's game with Real sociedad.
Or else I will protest he be stripped off the captain band, and it should be given to Bruno he deserve to be in charge, Maguire can't speak for his team, he can't carry the team, he should be protesting against some decision taken by ref, yet he is just been a bunch of weakness, and get playtime cause you're from England.
Well not to say too much we all should see him in action after what he had said, that is the spirit, on this one I can't predict anything am even afraid of placing bet on the game, right now my mind is telling me it going to be draw lol.. Mason greenwood has recently signed new long term contracts with Manchester United, that is the right decision to make at this point, I was just watching and wandering if after is contracts expire what will be his next move. I was thinking he would want out of the club. he is currently on 82 appearance in the club and he has scored good number of goals, the kid is too good but I think Ole Gunner is not always putting him in most games.
the fans of Manchester United will be very delighted if the two youngsters are included in their Europa League squad ahead of the knockout stages tomorrow. Manchester United will take on Real Sociedad tomorrow in the Round of 32 tie in what will prove to be a very hard doubleheader against one of Spain's most finer club. Amad and Shola Shoretire are the young stars added to the squad.
I strongly believe Shola Shoretire , must have been doing very well behind the scenes in order to gain a spot in the squad in tomorrows games.
THANKS FOR ENGAGING MY BLOG
@OBRISGOLD1
---
---