CELEBRATING EID AL ADHA
Good morning everyone!
Today is the Feast of Sacrifice. This month is the last month of Hijraa Calendar. I think this is base on lunar calendar. People around the world bring a huge flocks of pilgrimage to Makkah (Mecca) the HOLY PLACE.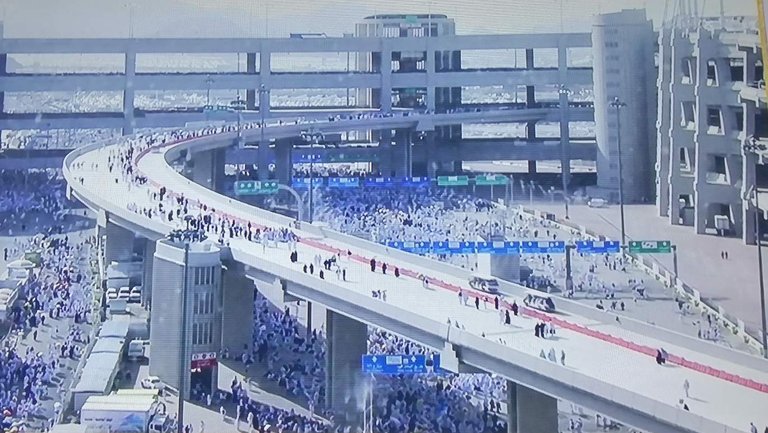 This is not the mosque but part of the pilgrim site.
2013,I was performing Hajj sponsored by a certain Saudian charity group. It cost 100kPH if converted to our currency. I had no camera before and I was so sad having no remembrance. I hope some of my friends will tag me. It was 10 days staying in Mecca, just praying. How I wish it would happened again.
Thank you for dropping by.
PLEASE visit, support and join the other contest of our fellow Steemians;
@mermaidvampire:
PROOF OF STEEM: A 5-in-1 Daily Game for Everyone in Steemit;
#GUESSTHECOLOR GAME Daily Splitter Contest; &
WEEKLY DELEGATION RAFFLE For Planktons
For more detail try to check @plankton.token and enjoy your airdrops, faucets and weekly contest in discord:
---
@zephalexia:
UP-GAGE CHALLENGE | Join and Get Rewarded w/ upvote+steem
---
@atongis for his delegation contest.
.....
@izaid for his initiative gueesing the correct amount
Try to check the photography contest of our fellow steemians
@axeman
@lightcaptured
@marc-allaria
@worldcapture
@tobetada for his love the Clouds contest
@melinda010100 for Shadow Contest
@dcontest by seven77 @ dtube member
@tggr for snapfeed and number challenge
Vote for witness
@steemgigs
@good-karma
@quochuy
@cOff33a
@arcange
@yehey
KEEP STEEMING
It's me,
Nanay Deevi.
Posted using Partiko Android
---
---