Drip On The Greens || [WE-120]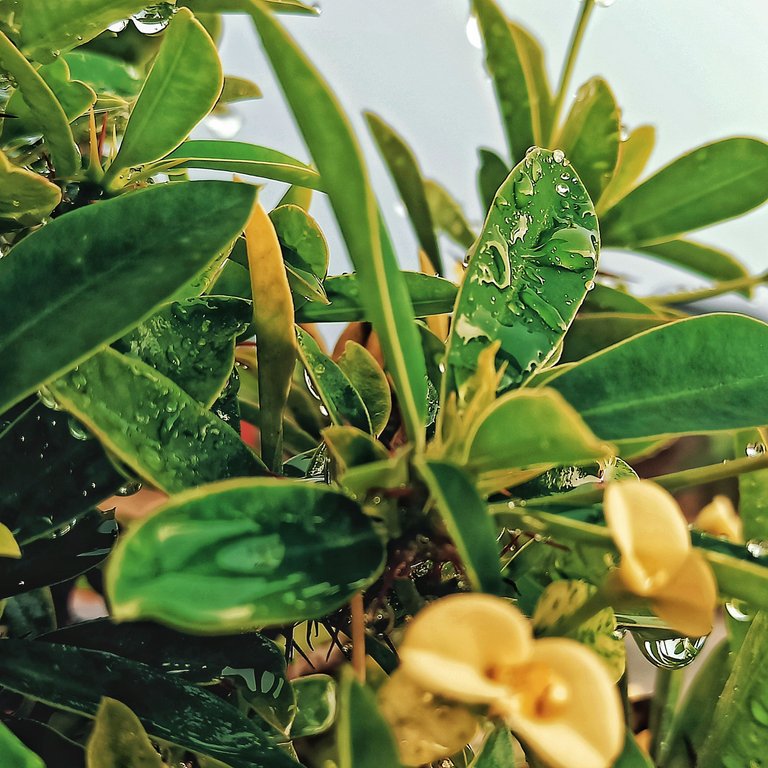 ---
Plants! Plants! Plants!"...my mother always emphasises.
We had just moved to our new home about four years ago when she started mentioning that we needed to get beautiful plants and place them everywhere so as to make our brick house look even prettier. I couldn't agree more, since we had a whole lot of aloe vera in our old house and it sure made it look much better.
Then, about a year ago, we went on to buy a hundred small plants and planted them all around the compound and around the house. The plants were all still very far from their full potential and then did not look much of a beauty to behold.
But as often as we can, we take care of our surroundings by trimming the flowers, cutting down weeds, watering the plants, fumigating the crops, and the like.
We're in a large compound and there's a lot of work to do every day, especially with the taking down of the weeds, so we kind of spread everything (all the work) and then do specific ones at intervals.
In my country, we do not often have access to all these fancy tools and machines that make dealing with all these weeds easier. We use things like cutlasses, hoes, rakes, and wheelbarrows to accomplish our day-to-day farming.
---
On a not-so-special day about three months ago, I got up early to take down the weeds, as we had not done so in a while and the rain had fed them well enough to let them grow really fast. I set out with my trustee cutlass, which was a little blunt by the way, and then I set out to work on the field (our compound where we had vegetation).
It had rained a little before I got out, and so, the plants were basically all wet. It was a pretty good time to cut down some, as they were much easier to cut at that time because they had gotten really wet, making them soft.
Just as I was on the job for the morning, the plants, which have now grown since we planted them last year, caught my eye. They looked so radiantly beautiful with all the dew all over them. I could not help but stop and get my phone to take shots of them.
As they were all not-so-big plants, I had to take really crazy postures to grab what it was I saw that I adored so much. Regardless of how inconvenient it was, I knew I was going to love these photos.
---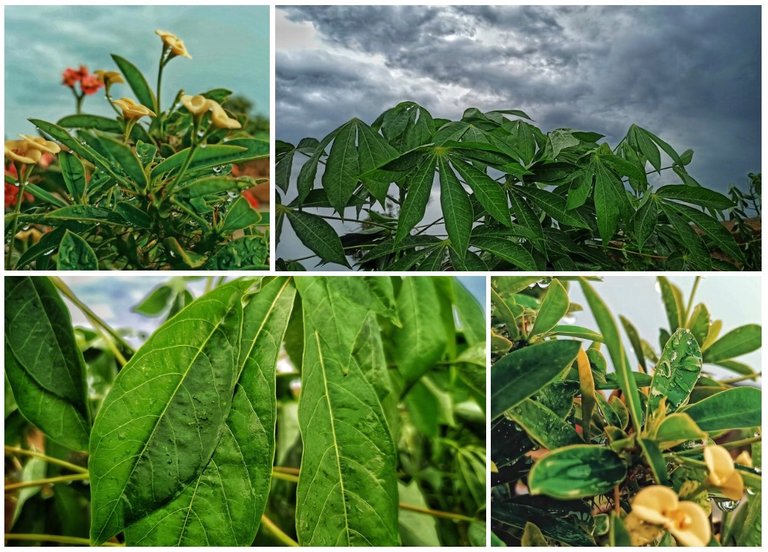 ---
Photography is not something I am particularly into. But it is something that I know that I have a flair for. There is just a propensity that pushes me into seeking the best I can achieve with any photo I am interested in. So, I ran them all through Snapseed, by Google, and ensured I touched the photos well enough so as to enunciate the beauty that I beheld.
Of course, not much was done to the photos but things that were needed to provide the vibrancy of the plants' colors. I only deemed it necessary to do so because I had used my phone, and not an actual camera that could have captured them well.
---
This post is in response to the #WEEKEND-ENGAGEMENT topic, "The green weekend". If you would like to know more about it and the community, click here.
---

ℍ𝕖𝕪, 𝕚𝕗 𝕪𝕠𝕦 𝕖𝕟𝕛𝕠𝕪𝕖𝕕 𝕥𝕙𝕚𝕤 𝕡𝕠𝕤𝕥, 𝕜𝕚𝕟𝕕𝕝𝕪 𝕝𝕖𝕒𝕧𝕖 𝕒 𝕔𝕠𝕞𝕞𝕖𝕟𝕥, 𝕣𝕖𝕓𝕝𝕠𝕘, 𝕠𝕣 𝕦𝕡𝕧𝕠𝕥𝕖. 𝕀𝕥'𝕝𝕝 𝕤𝕦𝕣𝕖 𝕓𝕖 𝕒𝕡𝕡𝕣𝕖𝕔𝕚𝕒𝕥𝕖𝕕.

T͜͡H͜͡A͜͡N͜͡K͜͡ ͜͡Y͜͡O͜͡U͜͡ ͜͡F͜͡O͜͡R͜͡ ͜͡S͜͡T͜͡O͜͡P͜͡P͜͡I͜͡N͜͡G͜͡ ͜͜͜͜͡͡͡͡B͜͡Y͜͡
---
---