Money As An Enablement In Relationships || Can It Buy Love?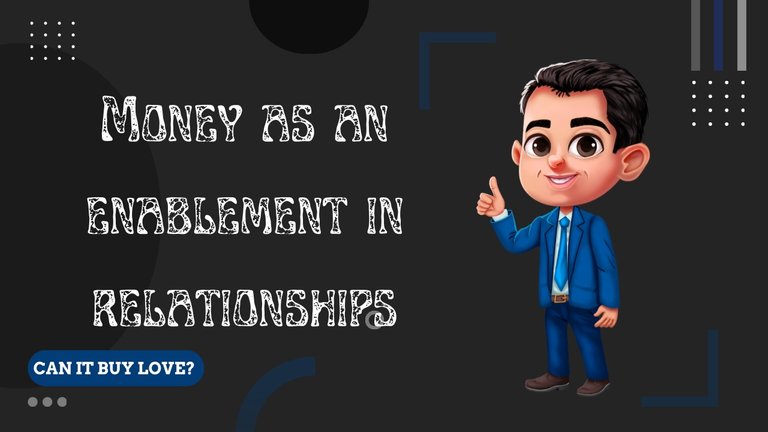 ---
There are always two sides to every story about love and hate. Tyler Perry's film Acrimony comes to mind. It's a psychological thriller film from years ago that still shocks audiences with its simple yet perplexing plot. If you had seen Tyler Perry's film Acrimony, you would have come to a rather prejudiced opinion.
The film's ending divided its audience into those who blamed the husband and those who blamed the woman. It frequently results in people switching sides. I can't remember my side because it was so long ago, but here's my point: Everyone will always have an opinion about what love is, and let's be honest with ourselves, it will always be influenced by our experiences.
When it comes to the subject of whether money can buy love, many people will have their own stories to relate. The majority may be opposed, but there are many who would say, "Yes, money can buy love." And this is generally true where I come from. Again, it is unquestionably founded on experience.
There are some things that money can purchase, and some things that a billion dollars will never be able to compensate for. When it comes to matters of the heart, genuine loyalty, and self-sacrifice, it needs a deep and ingrained will to sincerely love someone else.
You literally cannot buy love with money. Well, you could buy and own a dog and it would love you with no strings attached; that's why they are called "man's best friend." You can also buy loyalty and attention, but definitely not an individual's willingness to sacrifice almost anything. Because love is all about selflessness; making sacrifices for you with no selfish motives.
"Love is sweet, but love is sweeter with money." People often say, and I couldn't agree more. There are a lot of reasons why having a relationship with good financial standing is important:

ᴍᴏɴᴇʏ ᴍᴀᴋᴇs ʟᴏᴠᴇ ᴇᴀsɪᴇʀ
I, as a person, love to make surprises. In any relationship that I am in, I love to shower love on my partner. I find something really nice that I know my partner would love and want to get it for her to make her happy.
Another example would be having memorable experiences together. As important as it is to have times when we are both alone (I am referring to private conversations, not anything else), it is also nice to have experiences outside our space that can be referred to as memorable moments in the future.
Imagine going on a boat ride at a beach and then seeing one angry horse chasing after another person for hitting it too hard. That would be hilarious and definitely something to talk about in the future. It is money that we would spend to go on a boat ride.

ᴍᴏɴᴇʏ ᴍᴀᴋᴇs ʏᴏᴜ ʟᴏᴏᴋ ᴀᴛᴛʀᴀᴄᴛɪᴠᴇ
Love does not only exist in romantic relationships, but in platonic ones too. I have friends that talk about their friends and say things like, "One of the reasons why I love Jonathan is that he knows how to take good care of himself." Jonathan would not have been able to instill such feelings in others if he had not taken care of himself. Taking good care of oneself requires money, you would agree with me.
Success basically makes you attractive. It would not bring love, but it would definitely recommend you be loved. People generally find loving successful people easier. I am sure you would agree with me.

ʏᴏᴜ ᴄᴀɴ ᴇᴀsɪʟʏ ʙᴇ ɢᴇɴᴇʀᴏᴜs ᴡɪᴛʜ ᴍᴏɴᴇʏ, ᴀɴᴅ ᴘᴇᴏᴘʟᴇ ʟᴏᴠᴇ ɢᴇɴᴇʀᴏsɪᴛʏ
You cannot tell me that a man or woman who is generous is not easier to love. You just cannot tell me that. I do understand that it is not a determining factor, but it sure gives an individual an edge in being loved.
Being able to impact the lives of people is appealing. There are many other reasons, even more important ones, but this is something lovable. As an individual, I find it easier to lend a helping hand (or make sacrifices) to a person that I know is naturally generous.

Now, there are many caveats to having money. And the three that I have are:
1. Having money does not guarantee that you will find love.
2. Having money does not mean you won't find love.
3. Money is only one way to make loving easier, look attractive, and be generous.
As a matter of fact, having money can buy a lot of fake love too. This is why I earlier said that money can buy loyalty. Simply because you are known to be comfortable, you are likely to have many people willing to be loyal to you in hopes of getting your favour. This can make finding true love quite difficult sometimes.
To truly find love, there are way more important things that have to come into place. But I just wanted to share my thoughts on why money is a positive enablement in relationships.

ℍ𝕖𝕪, 𝕚𝕗 𝕪𝕠𝕦 𝕖𝕟𝕛𝕠𝕪𝕖𝕕 𝕥𝕙𝕚𝕤 𝕡𝕠𝕤𝕥, 𝕜𝕚𝕟𝕕𝕝𝕪 𝕝𝕖𝕒𝕧𝕖 𝕒 𝕔𝕠𝕞𝕞𝕖𝕟𝕥, 𝕣𝕖𝕓𝕝𝕠𝕘, 𝕠𝕣 𝕦𝕡𝕧𝕠𝕥𝕖. 𝕀𝕥'𝕝𝕝 𝕤𝕦𝕣𝕖 𝕓𝕖 𝕒𝕡𝕡𝕣𝕖𝕔𝕚𝕒𝕥𝕖𝕕.

T͜͡H͜͡A͜͡N͜͡K͜͡ ͜͡Y͜͡O͜͡U͜͡ ͜͡F͜͡O͜͡R͜͡ ͜͡S͜͡T͜͡O͜͡P͜͡P͜͡I͜͡N͜͡G͜͡ ͜͜͜͜͡͡͡͡B͜͡Y͜͡
---
---