Repurposing The Anger For Growth

Emotions play a very heavy role in influencing our actions and motives. They are basically like fuel for engines. And sometimes, they drive us in the wrong directions. However, these emotions are fundamentally functions and reflections of our thought processes.
You sure must have heard of the statement, "As a man thinketh, so he is." It is from the Bible, but it sure has a self-explanatory meaning in its context. One does not need the wisdom of Solomon to comprehend the interpretation of this statement.
---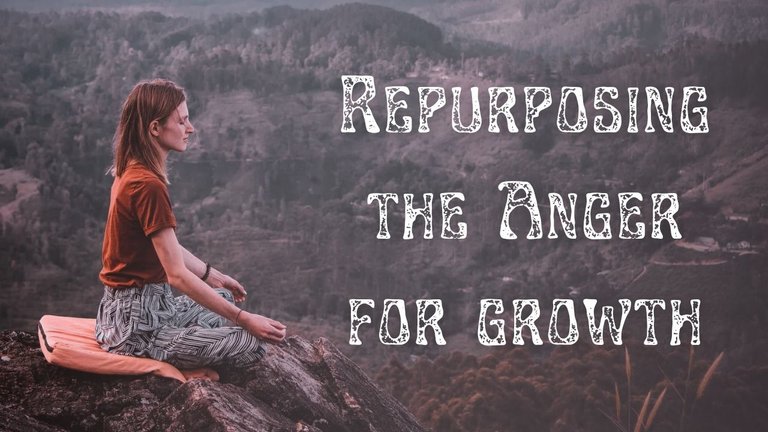 Designed with Canva
---
Many may say that our emotions and feelings define or shape us. But, in reality, we define our emotions; we just don't realize it. This is because there is an underlying perception of a situation, or matter, that causes these emotions to fall into place.
I am no neurologist, but you will surely agree with me that if a kid, say your child or some child of a relative, asks you for money and you deny having the money, the child could simply agree with you and move on with life. That same child may not think much of it, even if you had just bought yourself some nice shoes.
However, this may not be the case with an adult. It is quite normal to ask someone for help, knowing that they probably can, and then they turn you down. This is simply because you had some thought process for it. And that process may be similar to what the person in question could have done but did not; it may irritate one.
This may not be the case for many, as some would rather claim that they did not think much about it and just let it go. Simply ride with me, as we are headed somewhere.


Now, there are four fundamental emotions: happiness, sadness, fear, and anger. Many other emotions are based on these four. But for today, we'll be focusing on anger.
Anger is basically an emotion we feel when things go wrong or when we feel wronged by someone. It is something everybody feels, and it is relatable.
However, it is a powerful tool. It can be used as a weapon, in fact. Essentially, it can create and destroy. The choice primarily lies in our hands, or rather, our thought processes.
We may not be able to entirely control how we feel. Yet, the way we use it depends on our decisions. And the way we use it can be divided into two categories: constructive and destructive. They are both self-explanatory.
Destructive anger is practically inevitable if one does not take a second, at least, to rethink the repercussions of one's immediate response. The consequences can be severe, and they frequently are. This is why one needs to be less ignorant in order to strengthen one's logical thinking process.
An example may not be necessary, you would think, but it may buttress the point we are getting a little.
Where I am from, cursing (not necessarily the F* word) is something that is normal not uncommon to hear, especially if one is in the vicinity where there are less educated people.
Years ago, I was walking back from a job where I served as an IT (industrial training) student, and I crossed paths with the wrong individual. Rather than peacefully maneuvering our way and just passing by each other, we brushed each other's shoulders -- apparently his fault, as I was in my lane and he wasn't.
I just ignored it, rather than look back. And then a sudden slap on my neck sounded like lightning. I gently turned back to find that I had crossed paths with a thug. I am small-bodied and no match for him. That did not matter to me, and I was furious. But rather than start a fight that I could not win, I just walked away as the people around him held him.
Had I chosen to fight, I may not have the complete set of teeth I have today. And that would have been as a result of neglecting logical reasoning and picking up a losing battle. At the same time, I could have been lucky enough to land a violent attack and put him in a coma. I would definitely not be here writing this now.
The Stepping Stone
The cognitive approach to matters determines the category in which one's usage of anger can fall into. If one approaches an appalling situation without much thought, one may end up regretting one's actions. That is, if they are conscious of regret. But in most cases, the repercussions tend to be self-detrimental, so they might as well end up regretting it.
On the other hand, constructive anger is the only weapon for forging something sensible from an unpleasant situation. An example would be being angry at being sidelined for not being good enough for a position. If one takes the anger that one may feel and channels it into actually developing oneself to the point of mastery, it sure would be a "stepping stone" rather than a "stumbling block."
As earlier established, anger can be a tool for creation. By acknowledging one's feelings of anger and processing the cause of the anger in the first place, one can arrive at a meaningful approach to the matter such that one will be able to prevent such an incident from repeating itself. This ultimately could result in one developing a feat that may not have been achieved had the anger not set in in the first place.

Like our beloved (not) COVID-19, anger could be like a plague. It will eat one from the inside out, so slowly that one really may never notice it, eventually turning one into a ticking bomb. It really is only a matter of time before one explodes (not literally).
And just like a plague, it will spread bad energy not only to those that already know you, but to those that are yet to know you. This can go a long way towards inhibiting one's progress, in turn impeding success in one's life.
Rather than letting anger control one, it could be transfigured into a tool in bringing about the change that may be required to better one's perspective and life in general.
---

ℍ𝕖𝕪, 𝕚𝕗 𝕪𝕠𝕦 𝕖𝕟𝕛𝕠𝕪𝕖𝕕 𝕥𝕙𝕚𝕤 𝕡𝕠𝕤𝕥, 𝕜𝕚𝕟𝕕𝕝𝕪 𝕝𝕖𝕒𝕧𝕖 𝕒 𝕔𝕠𝕞𝕞𝕖𝕟𝕥, 𝕣𝕖𝕓𝕝𝕠𝕘, 𝕠𝕣 𝕦𝕡𝕧𝕠𝕥𝕖. 𝕀𝕥'𝕝𝕝 𝕤𝕦𝕣𝕖 𝕓𝕖 𝕒𝕡𝕡𝕣𝕖𝕔𝕚𝕒𝕥𝕖𝕕.

T͜͡H͜͡A͜͡N͜͡K͜͡ ͜͡Y͜͡O͜͡U͜͡ ͜͡F͜͡O͜͡R͜͡ ͜͡S͜͡T͜͡O͜͡P͜͡P͜͡I͜͡N͜͡G͜͡ ͜͜͜͜͡͡͡͡B͜͡Y͜͡
---
---