Control by Tenth Avenue North || Hive Open Mic 127

---
This week's theme is "tevazu" and it means humility/modesty. As simple and relatable as it it, I was going to skip this week, like I have mostly done. But here we both are with a rendition from me before us.
The road we travelled down in our past holds nothing that's secret to us. The present, we live and we see. However, the future possesses mysteries that ultimately will shape us.
I am oblivious of what's to be in years to come, or the eventual outcome of the paths I take in this journey we call "life." I can only hope my decisions and choices lead me to an expected end.
An unfair advantage, however, do I have; one that can only be exploited if I do submit in humility and modesty. Shall I not do so, and yield to the One I live and move and have my being? A rhetorical question, I ask myself.
So, here I am. All my intentions and obsessions all laid down. In His hands, only His love is vital. Although I am not entitled, He still calls me his child.
He doesn't need me, but somehow he wants me. Oh, how He loves me, and that frees me somehow. Therefore, I open my hands up and give Him control.
---
I intended to skip this week's theme, like I earlier established, but thanks to @sekani for her suggestion of Control by Tenth Avenue, I didn't.
It's a song I have known and sang for over two years now, but this will be my first recording of it. It resonates well with my thoughts, and there couldn't have been a better song for me to sing this week.
---
Now, I'd like to tag a few of my friends. @hopestylist @merit.ahama @nickydee @vheekthorjay @erelasblog @nkemakonam89 @obaro @ksam @starstrings01 … because they do not want to miss videos…
---

SPANISH
---
El tema de esta semana es "tevazu" y significa humildad/modestia. Tan simple y familiar como es, iba a saltarme esta semana, como lo he hecho la mayoría de las veces. Pero aquí estamos los dos con una interpretación mía ante nosotros.
El camino que recorrimos en nuestro pasado no tiene nada que sea secreto para nosotros. El presente, lo vivimos y lo vemos. Sin embargo, el futuro posee misterios que finalmente nos moldearán.
No me doy cuenta de lo que será en los próximos años, o el resultado final de los caminos que tomo en este viaje que llamamos "vida". Solo puedo esperar que mis decisiones y elecciones me lleven a un final esperado.
Sin embargo, tengo una ventaja injusta; uno que solo puede ser explotado si me someto con humildad y modestia. ¿No lo haré y me entregaré a Aquel en el que vivo, me muevo y tengo mi ser? Una pregunta retórica, me pregunto.
Así que aquí estoy. Todas mis intenciones y obsesiones establecidas. En Sus manos, sólo Su amor es vital. Aunque no tengo derecho, todavía me llama su hijo.
Él no me necesita, pero de alguna manera me quiere. Oh, cómo me ama, y ​​eso me libera de alguna manera. Por lo tanto, abro mis manos y le doy el control.
---
Tenía la intención de saltarme el tema de esta semana, como establecí anteriormente, pero gracias a @sekani por su sugerencia de Control by Tenth Avenue, no lo hice.
Es una canción que conozco y canto desde hace más de dos años, pero esta será mi primera grabación. Resuena bien con mis pensamientos, y no podría haber una mejor canción para cantar esta semana.
---
Ahora, me gustaría etiquetar a algunos de mis amigos. @hopestylist @merit.ahama @nickydee @vheekthorjay @erelasblog @nkemakonam89 @obaro @ksam @starstrings01 … porque no quieren perderse videos…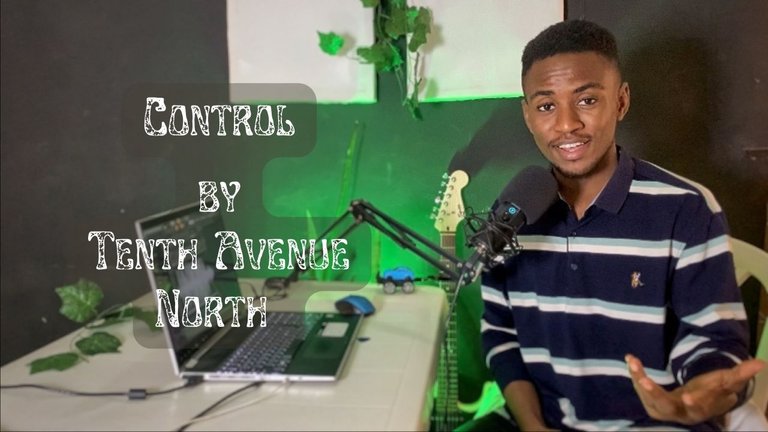 ℍ𝕖𝕪, 𝕚𝕗 𝕪𝕠𝕦 𝕖𝕟𝕛𝕠𝕪𝕖𝕕 𝕥𝕙𝕚𝕤 𝕡𝕠𝕤𝕥, 𝕜𝕚𝕟𝕕𝕝𝕪 𝕝𝕖𝕒𝕧𝕖 𝕒 𝕔𝕠𝕞𝕞𝕖𝕟𝕥, 𝕣𝕖𝕓𝕝𝕠𝕘, 𝕠𝕣 𝕦𝕡𝕧𝕠𝕥𝕖. 𝕀𝕥'𝕝𝕝 𝕤𝕦𝕣𝕖 𝕓𝕖 𝕒𝕡𝕡𝕣𝕖𝕔𝕚𝕒𝕥𝕖𝕕.

T͜͡H͜͡A͜͡N͜͡K͜͡ ͜͡Y͜͡O͜͡U͜͡ ͜͡F͜͡O͜͡R͜͡ ͜͡S͜͡T͜͡O͜͡P͜͡P͜͡I͜͡N͜͡G͜͡ ͜͜͜͜͡͡͡͡B͜͡Y͜͡
---
▶️ 3Speak
---
---