The Good Boy || An Award I'll Always Cherish

Parenting is one of the most challenging things to deal with in life. This is because there is no "handbook" tailored to a specific (personal) parenting situation. There are, of course, countless resources made to help with parenting, but they are never built specifically for the parent that may be needing them.
Bringing up a child and training them in the way you want them to go can be challenging sometimes. You are just going to have to learn on the job because every child is different.
---
---
Now, hol 'up! Relax those brows, if you are wondering who this young chap is to be talking about parenting. I am not here to talk about parenting, as I am not even a parent yet, but to share with you something I would love to see should when I become a parent someday.
Actually, I wish to become a parent. I want to, because it's a part of the cycle of life that I consider beautiful. I want to be responsible for someone. I want to be a part of the shaping of the destiny of a person into something great. Who wouldn't want that? Not everyone, I guess.
I grew up single-parented. My mother has just two of us, my brother and I. I am the first, but I did not receive an upbringing that was different from my younger brother. I only had to grow a larger sense of responsibility by being the first child.
You know those mothers who have yells that are as loud as thunder? ...beating on the back, powerful enough to wreak earthquakes? ...stern looks at you (in the midst of your wrongdoing) that make you wish the ground swallowed you up? Yeah, you do know them. You either had one just like that while growing up, or you had a friend that had such a fate. My mother was much like that while I grew up as a kid.
My mother is disciplined, strict, and keen on perfection. She never spared the rod and spoiled her kids. She never tolerated lousiness, nonchalance, or even laziness.
To be honest, I used to believe that I (especially me) was adopted. I think that I was found at the doorstep of our house and then she just took me in. I thought so because I felt she was just trying to be wicked to me. At the time I was much younger, the discipline she was trying to impart on me was on a whole other level in my eyes.
She is, however, the sweetest woman in the world. With one hand, she uses the rod, and with the other, she uses it to draw the child with. She would always still shower you with love in the midst (much after, actually) of the whole fight.
She is just as caring as she is strict. As a matter of fact, I would like to say she is strict only because she cares and loves. and wouldn't want to see her own fall astray in her hands.
The Dreaded Mornings...
Growing up with such a mother made me different. It made me different in the sense that I developed the propensity to behave well-mannered just about everywhere I was found. This caused me to be unaccustomed to some things, which in turn made me seem "unexposed" to my peers.
Fast forward to a time when I was in secondary school...
I attended a military secondary school. The Nigerian Navy Secondary School I attended (as there are many) is actually a "boy's only" school. As the name implies, there were no ladies present, only boys.
I will be blunt here: life was basically tough there. It was especially so because we were all guys. It may not have been so if it were mixed.
Being a "good" guy was not something that would come naturally. Everyday was a living hell for me, and I hated every single one I spent there. Well, there were definitely some good days, but I was always anxious about the day I would graduate and be free for life.
I got into a lot of unpleasant situations for things that I never did or things that were totally unrelated to me. I was beaten a lot (mostly by everyone) for pretty much anything, whether it was a senior or an officer. In fact, as a junior student, I often took a few strokes of beating every morning for breakfast. It wasn't just me, actually.
But I digress...
There were bad things that anyone could be influenced into getting into. These would basically be things that the school prohibits.
Simple things like sardines, noodles, phones, electronic devices, and many more were not allowed. So, having them (or getting them) was more like a crime then.
But that is not all. Fingers were never equal then, so many of us had different levels of "buoyancy." It was very easy to want to get into things like stealing or bullying some junior students to obtain their belongings.
But somehow, I never really did any of those things. I'd say "really" because I am not a saint either. I know it's nothing special, and it's not like everyone was a thief or something like that.
The Good Boy...
I always kept my head down and tried my best to stay out of trouble. And then, I got noticed. I wonder how, because we had over a hundred students in my set.
On the day of our graduation, I was awarded with an award that never really existed, making me the pioneer, if you will. I was awarded as the best-behaved graduating student in my set.
---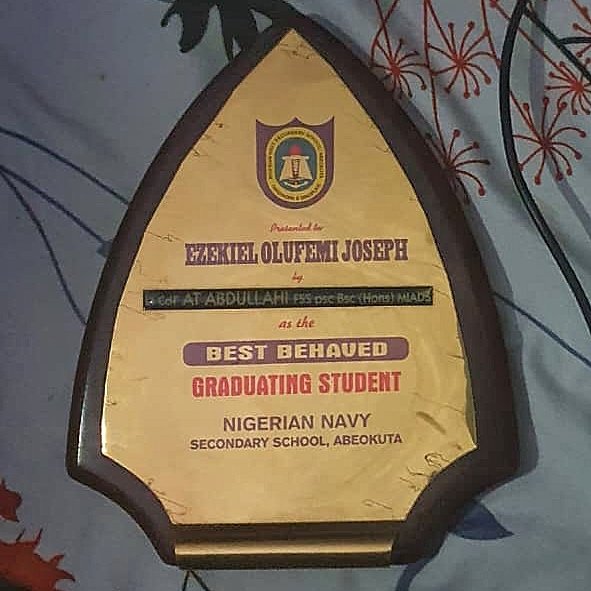 Original photo
---
I mean, I did not exactly work for it, as one would with the awards we are used to (the best in physics, etc.), but being different and not conforming to the opinions of people that had quite a different perspective.
It is an award that most definitely made my mother proud. And I too was most ecstatic to receive it right in front of her eyes. She had taught me to make her proud wherever I went, and I did just that.
---

ℍ𝕖𝕪, 𝕚𝕗 𝕪𝕠𝕦 𝕖𝕟𝕛𝕠𝕪𝕖𝕕 𝕥𝕙𝕚𝕤 𝕡𝕠𝕤𝕥, 𝕜𝕚𝕟𝕕𝕝𝕪 𝕝𝕖𝕒𝕧𝕖 𝕒 𝕔𝕠𝕞𝕞𝕖𝕟𝕥, 𝕣𝕖𝕓𝕝𝕠𝕘, 𝕠𝕣 𝕦𝕡𝕧𝕠𝕥𝕖. 𝕀𝕥'𝕝𝕝 𝕤𝕦𝕣𝕖 𝕓𝕖 𝕒𝕡𝕡𝕣𝕖𝕔𝕚𝕒𝕥𝕖𝕕.

T͜͡H͜͡A͜͡N͜͡K͜͡ ͜͡Y͜͡O͜͡U͜͡ ͜͡F͜͡O͜͡R͜͡ ͜͡S͜͡T͜͡O͜͡P͜͡P͜͡I͜͡N͜͡G͜͡ ͜͜͜͜͡͡͡͡B͜͡Y͜͡
---
---