White Plays Knight to f3 || Untethering From The Digital Space

All my life, all I have ever known is computers and gadgets that make life much easier for one. I have always been the kind that has always looked for the quickest and easiest way to do things. But my parents often told me that wasn't the way of a hardworking man. What a bummer to be told that as a kid. All I ever wanted was the soft life.
---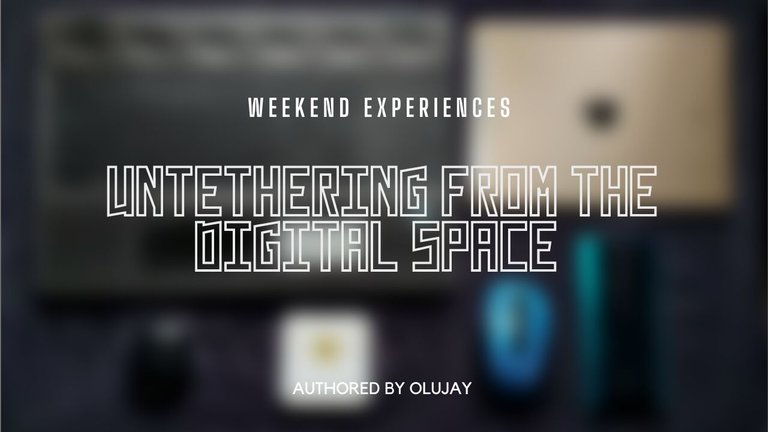 ---
At the time, the "soft life" meant having machines do my laundry and dishes and owning an autonomous vehicle that didn't require me to drive myself too often. And an automated butler that would basically do the darn chores I had to do every morning. At that time, I always wondered for what reason one should be doing chores every single day. And if it really had to be done every day, an auto-butler wouldn't be so bad.
Having such thoughts and imaginations as a kid was quite absurd in the sense that I seemed to want to turn out to be a lazy kid. Even though that was partially true (I was actually being lazy), all I really had in the back of my mind was the knowledge that technology was growing and expanding. I knew that technology could make life much easier. So why not allow it? :)
The world has grown so much that it heavily depends on the technology we have today. In one way or another, many of us have adopted these machines into our everyday lives; in our businesses, social lives, etc. They basically surround us.
Without much thought to it, it is well known how these gadgets improve our lives. And without them, the world sure would be different. However, there are many downsides to being tethered so much to them.
I've never considered living without one of my devices, my computer, my phone, my earphones, the internet... It was only recently, after seeing G-dogs prompts for the weekend on the "no-device weekend," and thinking about it, that I realised that I had never really done so.
I mean, I live in a country where electricity is unstable, irregular, and uncertain. So, having my devices without power (even for a long time) is not new to me. It is choosing to stay away from them for a long time, even if they have power, that I have never really done.
Taking more time to sleep
I do not know how people sleep for more than 7 hours at a stretch... It's just not something I've been able to do regularly.
Whenever I choose to sleep or take a nap, I always wake up in a few hours. I think this may be owing to the fact that I live on the internet mostly. There is always one thing or another to check on, thereby depriving me of much needed rest.
Taking more time to rest and relax wouldn't be all that bad to do. I know how revitalizing and beneficial it can be to sleep for long periods of time on a regular basis.
There's even a book I tried to read. It's Why We Sleep by Matthew Walker. As the title implies, it is about the reason we sleep, its essence, and misconceptions about it. And in the few pages that I have read, I already know that I am only hurting myself by not sleeping often.
Finishing that book
Speaking of reading books, I am the type to pick up books with fancy titles start them, but not the type to actually finish them. I think it's because the books I see now do not have them colorful and pretty pictures like the ones I read as a kid. I am just kiddin... I am just not a book person.
The internet has made us rely so much on it for acquiring information. It provides quick answers to questions that one may have, allowing people like us to keep being lazy at reading actual books.
I have a few books that I started and never finished. I would like to get back to them and finish what I started.:)
Visit friends and appreciate nature more
I do not do this, I'd admit. All my friends and I just communicate over social media and never really see the need to meet in person. How about checking them for real and having physical conversations with them? Who knows…? I may discover that some of them already have kids.
Nature has a really good way of mixing up colors. It does so in a better way than any human could. Going out with a couple of friends to see places that have beautiful scenery and where the air is just so peaceful and clean too, would definitely be a good way to unwind.
Write again.
There's this journal I started about two years ago, where I actually started to write, but haven't visited in a very long time.
To me, writing is like a portal to another dimension, one with mirrors everywhere. In that dimension, I get to reflect on who I really am, what the heck I am frigging doing in this world, and where it is I would like to find myself in a couple of minutes.
---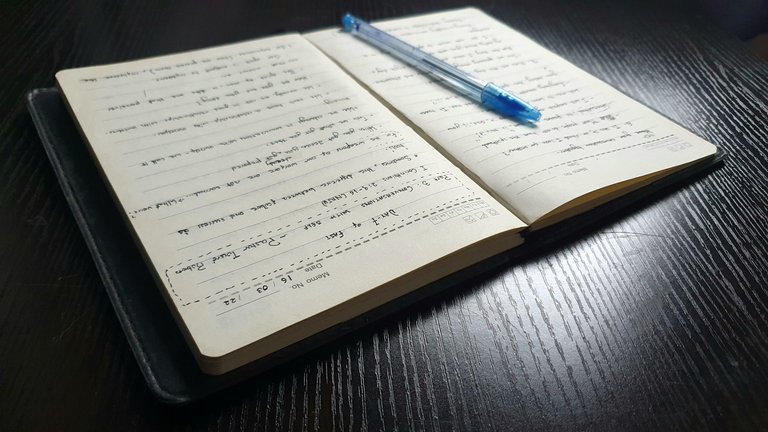 ---
Since I started to write, I have been able to very much assess my thoughts, aspirations, and emotions. And the time I got that journal was when I actually discovered it. But I have not done that in such a very long time. I mean, I write quite often here on Hive, but it really is much different from when I pick up a pen and put down some words.
White plays Knight to f3
I have been playing chess for a very long time. And although I do not play professionally, I have come to love it very much. It is among many of the few things I do and cherish.
However, the last time I actually felt so enthusiastic and pumped about it was about two years ago during the pandemic. During that time, I was able to improve so much on it. I practically spent 10 hours at least every day playing with different people, mostly over the internet.
---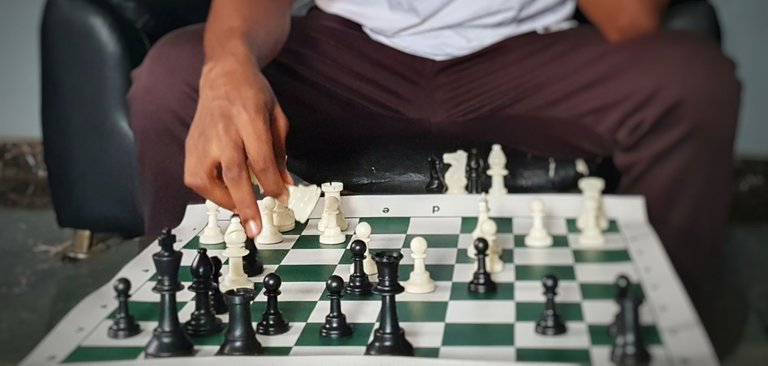 ---
There are spots in town where one would stop by on some days and play with really good people, and we'd all smile and frown at our wins and losses. I'd like to do that again. I have missed the thrill of winning and also losing.
I also have stopped learning. Taking time away from devices will allow for some time to invest in picking up things again. For a start, I could really work on my rating on Lichess, which I have terribly declined in. I mean, I used to be so close to being rated 2000 then. I sure would have gotten much better by now.
---
This post is in response to the #WEEKEND-ENGAGEMENT topic, "The no-device weekend". If you would like to know more about it and the community, click here.
---

ℍ𝕖𝕪, 𝕚𝕗 𝕪𝕠𝕦 𝕖𝕟𝕛𝕠𝕪𝕖𝕕 𝕥𝕙𝕚𝕤 𝕡𝕠𝕤𝕥, 𝕜𝕚𝕟𝕕𝕝𝕪 𝕝𝕖𝕒𝕧𝕖 𝕒 𝕔𝕠𝕞𝕞𝕖𝕟𝕥, 𝕣𝕖𝕓𝕝𝕠𝕘, 𝕠𝕣 𝕦𝕡𝕧𝕠𝕥𝕖. 𝕀𝕥'𝕝𝕝 𝕤𝕦𝕣𝕖 𝕓𝕖 𝕒𝕡𝕡𝕣𝕖𝕔𝕚𝕒𝕥𝕖𝕕.

T͜͡H͜͡A͜͡N͜͡K͜͡ ͜͡Y͜͡O͜͡U͜͡ ͜͡F͜͡O͜͡R͜͡ ͜͡S͜͡T͜͡O͜͡P͜͡P͜͡I͜͡N͜͡G͜͡ ͜͜͜͜͡͡͡͡B͜͡Y͜͡
---
---