[ESP] Cassius... El Tipo que Flotaba como Mariposa y Picaba como Abeja... Boxeo Legendario [ENG] Cassius... The Guy Who Floated Like A Butterfly And Sting Like A Bee... Legendary Boxing
De regreso mis queridos amigos de #hive y @sportstalksocial. Hoy con un tema referido a aquel hombre que flotaba como mariposa y picaba como abeja. Toda esta conversación está dentro de mi pasión el #boxeo, y no podríamos estar hablando de otro personaje que de el más grande de todos los tiempos, de mi pana Cassius Marcellus Clay, nombre este que llevó desde su nacimiento hasta que él mismo se lo cambió. Este personaje que dudo mucho que nazca uno con él, fue una persona si se quiere arrogante en lo que a materia de boxeo se refiere, no le temía a ningún rival, pero eso sí era muy dado con su público y se dedicó a luchar de frente contra el racismo del cual él mismo fue víctima. Este tipo era un bailarín sobre el ring, tenía un movimiento de cintura espectacular que hacía fallar a sus oponentes en todos los sentidos, su forma de golpear de repente no era la más poderosa y salvaje pero cuando tocaba a sus rivales los hacía volar y visitar el país de los sueños. Tenía un jab que preparaba la mesa para terminar la pelea. Y un aspecto muy relevante fue que cuando disputó la pelea contra Archie Moore, quien era llamado el rey del #knockout, éste en su ocaso precisamente sucumbió ante Alí de la misma forma. Ironía de la vida, no creen ustedes. Bueno amigos avancemos y revivamos de cerca aspectos relacionados a la vida de mi amigo querido Cassius Marcellus Clay. Vamos a la acción.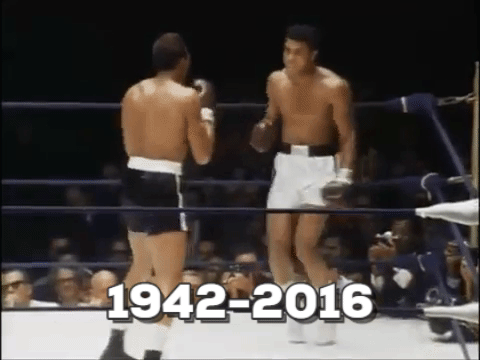 Alí 1942-2016
Back my dear friends from #hive and @sportstalksocial. Today with a topic referring to that man who floated like a butterfly and sting like a bee. All this conversation is within my passion #boxing, and we could not be talking about another character than the greatest of all time, my corduroy Cassius Marcellus Clay, this name that he carried from his birth until he himself knew it. change. This character who I very much doubt that one is born with him, was a person if you want to be arrogant when it comes to boxing, he was not afraid of any rival, but that was very given to his audience and he dedicated himself to fighting against the racism of which he himself was a victim. This guy was a dancer on the ring, he had a spectacular waist movement that made his opponents miss in every way, his way of hitting suddenly was not the most powerful and savage but when he touched his rivals he made them fly and visit the country of dreams. He had a jab that set the table to end the fight. And a very relevant aspect was that when he disputed the fight against Archie Moore, who was called the king of #knockout, he in his decline precisely succumbed to Ali in the same way. Irony of life, don't you think? Well friends, let's move forward and relive closely aspects related to the life of my dear friend Cassius Marcellus Clay. Let's go to action.

El inicio de este maravilloso púgil se remonta por aquellos tiempos del 17 de enero de 1942 en Louisville, Kentucky. Vivió dentro de una familia de clase media donde el racismo era su pan de cada día. En vista de que a nivel deportivo el béisbol y baloncesto ameritaban más recursos económicos y una formación universitaria, Cassius se inclinó por el boxeo, más aún cuando desde pequeño no le importaba enfrentarse a niños y jóvenes mayores que él, viendo de igual forma una manera de ganar dinero sin importar que tenía que arriesgar su vida en ello. Una anécdota relevante que hizo que Alí navegara su barco hacia el boxeo, fue cuando a los 12 años frente al gimnasio le robaron su bicicleta, el niño entro furioso queriendo vengarse del ladrón, donde el entrenador Joe Martin quien también era agente de policía, le dijo, epa chamo para vegarte primero debes aprender a pelear. A bueno y desde entonces vaya que si aprendió, se volvió una máquina de boxeo derrotando a peleadores más grandes y fuertes que el. Al cumplir los 14 años ganó los Guantes de Oro en Kentucky, además de ganar torneos en New York y Chicago, la magia y la leyenda empezaba a escribirse.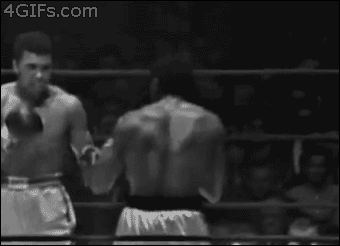 Fuente-Source
The beginning of this wonderful fighter dates back to those times of January 17, 1942 in Louisville, Kentucky. He lived in a middle-class family where racism was his daily bread. In view of the fact that baseball and basketball merited more financial resources and a university education at a sporting level, Cassius leaned towards boxing, even more so when since childhood he did not mind facing children and young people older than him, seeing in the same way a way to make money no matter that he had to risk his life on it. A relevant anecdote that made Ali sail his boat to boxing, was when at the age of 12 his bicycle was stolen in front of the gym, the boy was furious, wanting to take revenge on the thief, where the trainer Joe Martin who was also a police officer, told him He said, epa chamo to get vegarte first you must learn to fight. Well, and since then he has learned, he became a boxing machine, defeating fighters bigger and stronger than him. When he turned 14, he won the Golden Gloves in Kentucky, in addition to winning tournaments in New York and Chicago, magic and legend began to be written.

Y nos vamos a 1960, cuando Cassius Clay combate en los Juegos Olímpicos de Roma ganando la presea dorada al derrotar por decisión al polaco Zbigniew Pietrzykowski. La leyenda seguía en ascenso y nadie lo iba a detener, porque con las enseñanzas de su entrenador Angelo Dundee, Cassius enfrentó y le ganó a los pesos pesados Alonzo Johnson, Sonny Banks y Don Warner. Triunfos que le permitieron combatir en 1962 al rey del #knockout Archie Moore quien contaba con más de 200 peleas y más de 100 #ko, pero Moore parece que no sabía contar, porque no contaba que Cassius le daría una probada de su propia medicina, ya que perdió por Ko en el asalto 4. Para 1963 enfrenta a Doug Jones en el Madison Square Garden, y al británico Henry Cooper en el antiguo estadio de Wembley de Londres. En estas dos peleas Cassius aunque no fue muy contundente ganó los dos combates. Todo esto configuraba la gran pelea ante Sonny Liston, Cassius tenía la mirada en esa corona, mientras Liston solo veía a Cassius como una forma de hacer dinero y que lo acabaría fácilmente considerándolo un charlatán sin pegada. Ay papa, que has hecho Liston no sabes en el paquete en que te has metido hijo de Dios. Lo que te espera es candela, pero esto lo vemos más adelante.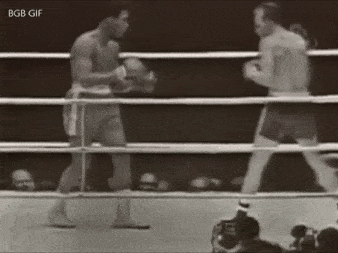 Cassius Clay-Henry Cooper
And we go to 1960, when Cassius Clay fights in the Rome Olympics, winning the gold medal by defeating Polish Zbigniew Pietrzykowski by decision. The legend was still on the rise and no one was going to stop him, because with the teachings of his coach Angelo Dundee, Cassius faced and beat heavyweights Alonzo Johnson, Sonny Banks and Don Warner. Triumphs that allowed him to fight in 1962 the king of #knockout Archie Moore who had more than 200 fights and more than 100 #ko, but Moore seems that he did not know how to count, because he did not count that Cassius would give him a taste of his own medicine, since he lost by Ko in round 4. By 1963 he faced Doug Jones at Madison Square Garden, and the British Henry Cooper at the old Wembley Stadium in London. In these two fights Cassius although he was not very forceful, he won both fights. All this made up the great fight against Sonny Liston, Cassius had his eyes on that crown, while Liston only saw Cassius as a way to make money and that he would easily end up considering him a charlatan without hitting. Oh dad, what have you done? Liston do not know in the package that you have gotten yourself son of God. What awaits you is candlelight, but we will see this later.

Logros-Primer y Último Encuentro Profesional
Achievements-First and Last Professional Meeting
Por aquí amigos vamos a destacar, antes de entrar en detalle sobre los combates, que desde mi punto de vista fueron los más espectaculares; todos esos logros que obtuvo mi pana Cassius Clay, luego Muhammad Ali. Por otra parte conversaremos sobre el primer y último combate a nivel profesional de este gran guerrero. En tal sentido, Alí para su momento se convirtió en el único Boxeador en obtener 3 veces el título de Campeón de los Pesos Pesados. Puro lomito de este tipo, ya que durante su carrera pugilística nos dejó un récord de 61 encuentros, triunfando en 56 de ellos terminando 37 por la vía del sueño. Fue derrotado solo en 5 oportunidades de ellas una por #tko. Y por si fuera poco y por si no lo sabían, en su tiempo fue el único combatiente para 1964, 1974 y 1978 en conquistar en tres oportunidades el campeonato lineal, e indiscutido en 1964, 1967 y 1974 de los pesos pesados. Pero esto sigue, porque fue el primero y quien más podría ser en ganar 4 veces un título mundial de peso pesado de la Asociación Mundial de Boxeo AMB para los años de 1964, 1967, 1974 y 1978. Una pelusa, esto es marca y marca para el más grande de todos, mi pana Cassius no tiene comparación. Y por si se han fijado no por nada la imagen de Muhammad Alí está perenne en los cinturones de la CMB como el principal embajador mundial de la disciplina. Y se lo ganó a fuerza de jabs y de historia.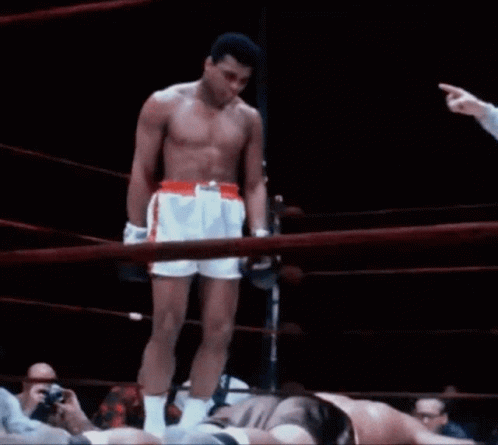 Fuente-Source
Around here friends we are going to highlight, before going into detail about the combats, which from my point of view were the most spectacular; all those achievements that my pana Cassius Clay, then Muhammad Ali, had. On the other hand, we will talk about the first and last combat at a professional level of this great warrior. In this sense, Ali at the time became the only Boxer to obtain 3 times the title of Heavyweight Champion. Pure tenderloin of this type, since during his boxing career he left us a record of 61 matches, triumphing in 56 of them finishing 37 by way of sleep. He was defeated only 5 times, one of them by #tko. And as if that were not enough and if you did not know, in his time he was the only fighter for 1964, 1974 and 1978 to win the linear championship three times, and undisputed in 1964, 1967 and 1974 of the heavyweights. But this continues, because he was the first and who else could be to win 4 times a world heavyweight title from the WBA World Boxing Association for the years 1964, 1967, 1974 and 1978. A fluff, this is brand and brand for the greatest of all, my corduroy Cassius is unmatched. And in case you have not for nothing, the image of Muhammad Alí is perennial in the belts of the WBC as the main world ambassador of the discipline. And he earned it by dint of jabs and history.

Ahora vamos a presentar la primera y pelea a nivel profesional de este gigante del ring. Entonces usando la máquina del tiempo nos vamos al 29 de octubre de 1960, tiempo en que se da inicio al nacimiento profesional de esta leyenda cuando a los 18 años se enfrentó al jefe de policía Tunney Hunsaker que además lo aventajada en edad por 12 años, el tipo tenía 30; pero como es característico de Cassius estaba acostumbrado a medirse con púgiles más grandes y fuertes que él; y eso se evidenció durante los 6 asaltos que duró el combate, ya que la maestría de Clay se impuso en cada uno de ellos, el policía recibió palo hasta en la cédula, en cada asalto eso fue puñetazo y puñetazo dejándole la cara rota y ensangrentada, es verdad el policía resistió todos los rounds pero díganme ustedes a que precio. El tipo no le quedó más nada que decir que Clay para tener 18 años era un maestro y se movía tan rápido como un peso mediano.
Clay-Hunsaker
Now we are going to present the first and professional level fight of this giant of the ring. So, using the time machine, we go to October 29, 1960, the time when the professional birth of this legend began when, at age 18, he faced Police Chief Tunney Hunsaker, who also outstripped him in age by 12 years. the guy was 30; but as is characteristic of Cassius, he was used to taking on fighters bigger and stronger than himself; And that was evidenced during the 6 rounds that the combat lasted, since Clay's mastery prevailed in each one of them, the policeman received a stick even in the identity card, in each round that was punch and punch, leaving his face broken and bloody It is true the policeman resisted all the rounds but tell me at what price. The guy was left with nothing more to say that Clay for 18 years was a teacher and moved as fast as a middleweight.

Pero como todo lo que inicia tiene su final, el 11 de diciembre de 1981 Alí se puso los guantes por última vez para enfrentar a Trevor Berbick un tipo de 28 años. Esto parecía 40 y 20 y se asemejaba a aquella historia cuando Cassius peleó contra Archie Moore, claro ya Moore era casi un cincuentón. Para este pelea Alí ganó unos asaltos pero ya la magia se había ido, y aunque perdió la pelea por decisión siempre fue superado en los 10 asaltos por Trevor. Para muchos Alí debió colgar los guantes desde hace mucho tiempo, por lo que las dos últimas peleas pudieron ser causante de la terrible enfermedad que se había gestado en la humanidad de Muhammad.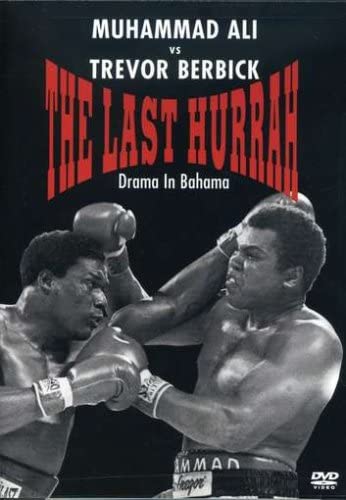 Alí-Berbick
But since everything that starts has its end, on December 11, 1981, Ali put on his gloves for the last time to face Trevor Berbick, a 28-year-old guy. This looked like 40s and 20s and it was like that story when Cassius fought Archie Moore, of course Moore was in his late fifties by now. For this fight, Ali won a few rounds but the magic was gone, and although he lost the fight by decision, he was always beaten in the 10 rounds by Trevor. For many, Ali had to hang up his gloves for a long time, so the last two fights could be the cause of the terrible disease that had developed in the humanity of Muhammad.
Primer Campeonato Mundial
Negado Totalmente a ir a la Guerra
First World Championship
Totally refused to go to war
Cassius Clay Vs Sonny Liston
Seguimos andando en el tiempo y esta vez viajamos al 25 de febrero 1964, donde el jovencito de 22 años pelearía por primera vez por el título mundial de los pesos pesados. Para ese momento disputa ese campeonato contra nada más y nada menos al campeón Sonny Liston. Antes de subir al ring primero se generó un combate verbal donde se decían de todo. Sonny lo llamó charlatan, bocón y predijo que lo noquearía en el primer asalto; por su parte Alí lo llamaba el oso feo y de todo menos bonito. Sin embargo, llega la pelea y Cassius por primera vez hecho un manojo de nervios sintió miedo, pero en su esquina estaba su amigo Drew Brown, a quien llamaban Bundini y desde allí animándole le gritó mi pana Vuela como una mariposa y pica como una abeja, métele ese zumbido mi hermano. Desde allí esa frase paso a la historia convirtiendo a Cassius en esa combinación de mariposa con abeja. Ya en el cuadrilátero, y como las palabras se las lleva el viento, la matanza que había predicho Liston se volvió contra él porque fue Cassius que le dio una paliza descomunal, tanto así que después de recibir puñetazos a granel durante seis asaltos, Sonny se negó a seguir peleando, abandonó la pelea y dijo, este no era el tipo con quien yo pelearía, me lo cambiaron al nacer porque pega durísimo. Entonces Cassius se convertiría en el Campeón mundial CMB de los pesos pesados, desde allí ya era El Más Grande. Por eso siempre digo no hay rival pequeño, no hay que subestimar al enemigo. Luego de la pelea Cassius renunciaría a su nombre convirtiéndose a la Nación Islam y cambiando su nombre por el que lo conoceriamos por siempre como el gran Muhammad Ali.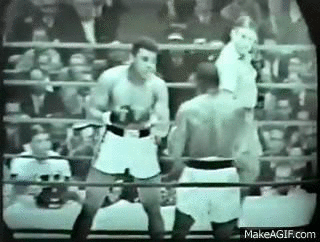 Clay-Liston
We keep going back in time and this time we travel to February 25, 1964, where the 22-year-old would fight for the world heavyweight title for the first time. For that moment he disputes that championship against nothing more and nothing less the champion Sonny Liston. Before getting into the ring, a verbal combat was first generated where they said everything. Sonny called him talkative, bigmouth and predicted he would knock him out in the first round; For his part, Ali called him the ugly bear and anything but pretty. However, the fight comes and Cassius for the first time, made a nervous wreck, felt fear, but in his corner was his friend Drew Brown, whom they called Bundini and from there, cheering him on, my corduroy yelled at him Fly like a butterfly and sting like a bee, put that buzz in my brother. From there that phrase went down in history, turning Cassius into that combination of a butterfly with a bee. Already in the ring, and as the words are blown away, the slaughter that Liston had predicted turned against him because it was Cassius who gave him a massive beating, so much so that after being punched in bulk for six rounds, Sonny was He refused to continue fighting, he gave up the fight and said, this was not the guy I would fight with, they changed him at birth because he hits very hard. Then Cassius would become the WBC Heavyweight World Champion, from there he was already The Greatest. That is why I always say there is no small rival, you must not underestimate the enemy. After the fight Cassius would renounce his name by converting to the Islam Nation and changing his name to what we would know him forever as the great Muhammad Alí.

No voy a la Guerra
Alí se negó rotundamente a participar en la guerra de Vietnam por motivos religiosos, decía que debía seguir los designios de Allah sobre los impuestos en la tierra. Tal negativa lo llevó a prisión por evasión al servicio militar y por si fuera el colmo lo despojaron de su título de campeón además de revocarle la licencia para pelear. Alí sabía lo que estaba haciendo aunque esto le costaría colgar los guantes por 3 años, sin embargo para 1970 sería el gran regreso del maestro del ring al propinarle una soberana paliza a Jerry Quarry a quien mando al país de los sueños en el tercer asalto. Alí no había perdido el toque y regresaba con más fuerza. Por lo menos eso parecía.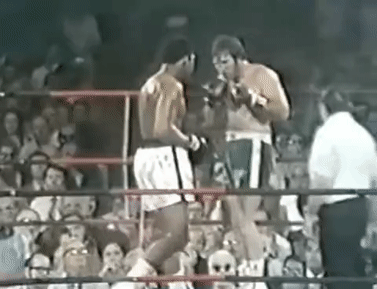 Alí-Quarry
I'm not going to war


Ali steadfastly refused to participate in the Vietnam War for religious reasons, saying that he should follow Allah's designs on taxes on the land. Such refusal led him to prison for evasion of military service and, to top it all, they stripped him of his champion title in addition to revoking his license to fight. Ali knew what he was doing, although this would cost him to hang up his gloves for 3 years, however by 1970 it would be the great return of the ringmaster by giving a sovereign beating to Jerry Quarry, whom he sent to dreamland in the third round. Ali hadn't lost his touch and was coming back stronger. At least that's what it seemed.

Los 5 Combates más Espectaculares
The 5 Most Spectacular Fights
Cassius Clay vs Sonny Liston. 1964
Como se mencionó antriormente esta fue la primera pelea de campeonato entre la juventud Cassius Clay y la experiencia de Sonny Liston. Este enfrentamiento fue declarado como uno de los más fabulosos ya que la intensidad y la inmensa cantidad de golpes fue impresionante, y sino lo creen pregúntenle a Liston que tenia estampado en la cara el puño de Alí. Para ese momento Cassius era el batacazo, nadie daba medio por él lo que le produjo una motivación superior a pesar de que Liston para ese entonces tenía una de las pegadas más poderosas, pero sería contra otros porque le dieron una probada de su propia medicina y durante 6 explosivos asaltos, aunque Sonny también conectó sus buenos golpes la mejor parte se la llevó Clay al darle puñetazos hasta en la cédula, lo que originó que al campanazo del séptimo asalto Sonny se quedará sentado en su esquina diciendo que va papá tu no eras el rival que pensé, me llevas loco aquí me quedo sentado, llévate lo tuyo toma el título eres el nuevo campeón.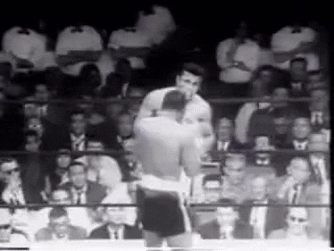 Clay-Liston
As mentioned earlier this was the first youth championship fight between Cassius Clay and the experienced Sonny Liston. This confrontation was declared one of the most fabulous since the intensity and the immense amount of blows was impressive, and if you don't believe it, ask Liston who had Ali's fist stamped on his face. For that moment Cassius was the hit, nobody gave half for him which produced a higher motivation even though Liston at that time had one of the most powerful hits, but it would be against others because they gave him a taste of his own medicine and during 6 explosive rounds, although Sonny also landed his good punches, the best part was taken by Clay by punching him up to the ballot, which caused that the bell of the seventh round Sonny will remain sitting in his corner saying that daddy you were not the rival that I thought, you drive me crazy here I stay seated, take yours take the title you are the new champion.

Muhammad Alí vs Floyd Patterson. 1965
Para ese entonces Patterson era el negro bueno a quien los blancos toleraban, mientras que Alí era el villano de la película, más de una vez Alí se burló de él tanto dentro como fuera del ring ambos con religiones diferentes que se recordaban a cada momento, pero eso parecía importarle poco a Alí porque lo que quería era humillar a golpes a su rival, tanto así que pudo haberlo noqueado en cualquier momento pero no, Alí se burló, humilló y castigó a Patterson durante toda la pelea antes de noquearlo en el duodécimo asalto. Alí bailó, insultó y hasta tonto llamó a Patterson pero el árbitro detuvo ese circo en el asalto 12, Muhammad ganaba por #TKO. A pesar de ganar el público lo lo odio hasta mas no poder por egoísta y sarcástico.
Alí-Patterson
By then Patterson was the good black who the whites tolerated, while Ali was the villain of the film, more than once Ali made fun of him both inside and outside the ring both with different religions that were remembered at every moment, But that seemed to matter little to Ali because what he wanted was to humiliate his rival with blows, so much so that he could have knocked him out at any time but no, Ali mocked, humiliated and punished Patterson throughout the fight before knocking him out in the twelfth assault. Ali danced, insulted and even dumb called Patterson but the referee stopped that circus in round 12, Muhammad won by #TKO. Despite winning the public I hate him to the full extent for being selfish and sarcastic.

Muhammad Alí vs Joe Frazier I. 1971
Aunque Alí luego del retiro por negarse al servicio militar regreso triunfante en 1970; se pensaba que no había perdido el toque pero aquel 8 de Abril de 1971 se escribiría otra historia al enfrentar a Smokin Joe Frazier, este fue el tipo que de tantos puñetazos le rompió las alas a la mariposa y quebró el aguijón de la abeja. ¿Y por qué?, bueno porque Frazier le dio tal paliza a Muhammad Ali castigándolo con su explosiva zurda durante las 15 rondas del combate. Frazier le daría matarile al invencible Ali derrotándolo por decisión unánime en el mítico Madison Square Garden. Frazier siempre desafío el jabs de Alí quien había perdido un poco su velocidad y habilidad. Pero fue en el último asalto cuando Frazier con una bomba de izquierda mando a volar a Alí a la lona, aunque el tipo se levantó y pretendía buscar el #ko, ya el daño estaba hecho puesto que Frazier desde el primer momento le dio con todo a Alí.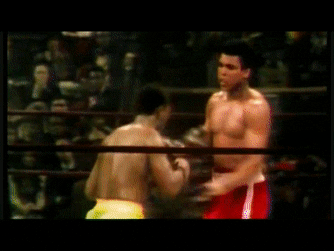 Alí-Frazier
Although Ali after his retirement for refusing military service, he returned triumphant in 1970; It was thought that he had not lost his touch but that April 8, 1971 another story would be written when he faced Smokin Joe Frazier, this was the guy who with so many punches broke the butterfly's wings and broke the bee's sting. And why? Well, because Frazier gave Muhammad Ali such a beating, punishing him with his explosive left foot during the 15 rounds of the fight. Frazier would kill the invincible Ali by defeating him by unanimous decision at the legendary Madison Square Garden. Frazier always challenged the jabs of Ali who had lost his speed and ability a bit. But it was in the last round when Frazier with a left hand bomb sent Ali to the canvas, although the guy got up and tried to look for the #ko, the damage had already been done since Frazier from the first moment hit him with everything to Ali.

Muhammad Alí vs Ken Norton I. 1973
El 31 de marzo de 1973 Norton recibió la oportunidad de su vida al enfrentar al más grande Alí. Desde el inicio fue una pelea de puñetazos de principio a fin, y aunque nadie besó la lona Muhammad se llevó la peor parte ya que además de perder la pelea por decisión dividida, sintió el poder de Norton cuando en el segundo round de un solo estacazo le rompió la mandíbula. Este fue un encuentro candente puños iban y puños venían. Al final de la pelea dos jueces dieron ganador a Norton con tarjetas de 7-4-1 y 5-4-3 y el tercero se la dio a Ali por 6-5-1, para ese momento los votos eran por round y no por puntos. Esta fue la segunda derrota de Alí y la primera de tres peleas entre ellos, Alí ganaría las últimas dos por decisión.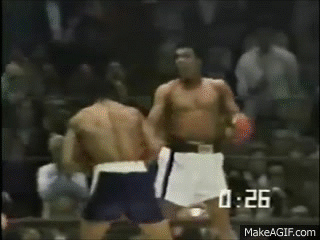 Alí-Norton
On March 31, 1973, Norton received the opportunity of a lifetime when he faced the greatest Ali. From the beginning it was a fist fight from start to finish, and although no one kissed the canvas, Muhammad took the worst of it since in addition to losing the fight by split decision, he felt the power of Norton when in the second round with a single blow broke his jaw. This was a fiery meeting fists were going and fists were coming. At the end of the fight, two judges gave Norton the winner with cards of 7-4-1 and 5-4-3 and the third gave it to Ali by 6-5-1, at that time the votes were per round and not for points. This was Ali's second loss and the first of three fights between them, Ali would win the last two by decision.

Muhammad Alí vs George Foreman. 1974
El 30 de octubre de 1974 en Kinshasa se dio lo que para muchos fue la pelea más espectacular de la historia. En la pelea estaban en juego los títulos de peso pesado CMB y AMB. Como siempre Alí acostumbrado a darle batalla a rivales de mayor envergadura, tuvo que enfrentar a un George Foreman que podía con un solo golpe derribar una pared. Foreman era el campeón y Alí buscaba recuperar su cinturones. Alí uso una técnica inusual jugando al desgaste de Foreman quien no se cansaba de darle golpes a Alí, éste solo resistía entre las cuerdas reaccionando solo al final de cada round para darle sus respectivos toques a Foreman. Sin embargo, de tanto lanzar golpes, en el séptimo asalto Foreman tenía las pilas desgastadas había que llamar al conejito de duracell, ja ja. El ocaso de George se venía en el octavo round cuando una poderosa combinación de golpes por parte de Muhammad Ali le dio matarile a Foreman mandándolo a dormir, inció el conteo pero el tipo se levantó a la cuenta de 10, que va usted perdió mi hermano, Alí recuperó los títulos que había perdido ante Frazier. Como un datico especial no podemos olvidar que en 1975 Muhammad Alí recibió una sorpresa en aquel combate que protagonizó contra Chuck Wepner cuando recibió el mamonazo que lo mando a la lona. Otro dato, esa pelea sirvió de inspiración para la creación de la más grande saga del #boxeo Rocky, quien a pesar de ser un personaje ficticio fue exaltado al salón de la fama del boxeo, y aunque usted no lo crea le fue concebido el cinturón como campeón mundial CMB.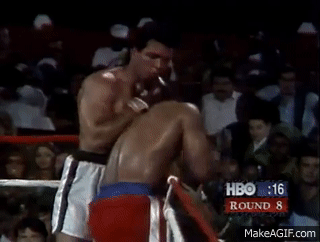 Alí-Foreman
On October 30, 1974, in Kinshasa, what for many was the most spectacular fight in history took place. In the fight, the WBC and WBA heavyweight titles were at stake. As always, Ali, used to fighting bigger rivals, had to face a George Foreman who could knock down a wall with a single blow. Foreman was the champion and Ali was looking to regain his belts. Ali used an unusual technique playing the wear of Foreman who never tired of hitting Ali, he only resisted between the ropes reacting only at the end of each round to give his respective touches to Foreman. However, from throwing so many punches, in the seventh round Foreman had worn out batteries, he had to call the duracell bunny, ha ha. The decline of George was coming in the eighth round when a powerful combination of blows by Muhammad Ali killed Foreman by sending him to sleep, he started the count but the guy got up at the count of 10, you lost my brother Ali regained the titles he had lost to Frazier. As a special fact, we cannot forget that in 1975 Muhammad Ali received a surprise in that fight he starred against Chuck Wepner when he received the sucker that sent him to the canvas. Another fact, that fight served as inspiration for the creation of the greatest saga of #boxing Rocky, who despite being a fictional character was inducted into the boxing hall of fame, and believe it or not the belt was conceived for him as WBC world champion.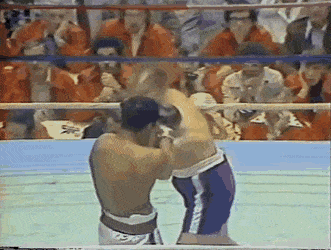 Alí-Wepner

Enfermedad y Final de la Leyenda
El más grande Muhammad Ali durante 32 años de su vida se vió afectado por el mal de Parkinson una enfermedad que limita el sistema motor impidiendo progresivamente la movilidad de la persona afectada. Mucho se dijo que los golpes habían hecho mella en la humanidad de Alí y que su retiro debió darse con antelación, puesto que las dos últimas peleas no debieron darse, no por nada luego del retiro empezó a sentir indicios de la enfermedad que empezaba a disminuir la movilidad y agilidad del campeón. Luego de tanta agonía el más grande, la mariposa ya no tenía alas y la abeja quedó sin aguijón, porque a los 74 años el 4 de junio de 2016 en un hospital de Arizona llegó a su fin la vida de Muhammad Alí. Paz a tu alma gigante.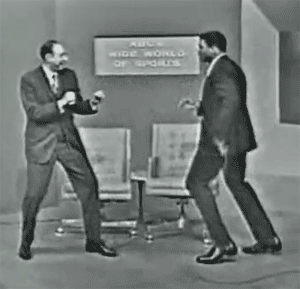 Fuente-Source
The greatest Muhammad Ali for 32 years of his life was affected by Parkinson's disease, a disease that limits the motor system, progressively impeding the mobility of the affected person. Much was said that the blows had made a dent in the humanity of Ali and that his retirement should have occurred in advance, since the last two fights should not have occurred, not for nothing after the retirement did he begin to feel signs of the disease that was beginning to diminish the mobility and agility of the champion. After the greatest agony, the butterfly no longer had wings and the bee was left without a sting, because at the age of 74 on June 4, 2016 in an Arizona hospital the life of Muhammad Ali came to an end. Peace to your giant soul.

Que gusto y orgullo para mi ofrecer parte de la carrera del más grande boxeador de la historia. El gigante del ring Muhammad Alí. Espero que les haya gustado el contenido y que hayan aprendido un poco mas sobre el boxeo y sobre este fabuloso gladiador. Saludos y hasta pronto.
What a pleasure and pride for me to offer part of the career of the greatest boxer in history. The giant of the ring Muhammad Ali. I hope you liked the content and that you have learned a little more about boxing and this fabulous gladiator. Greetings and see you soon.
...Gracias Por Visitar...

...Thanks for visiting...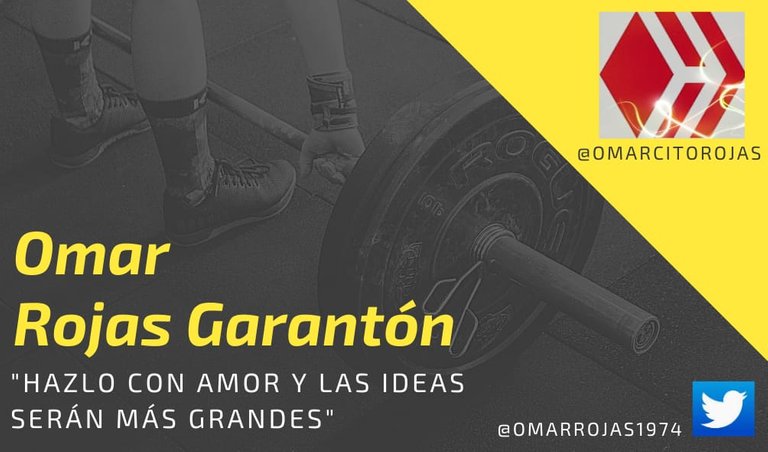 ---
---