[Esp] Los viejitos del boxeo... Deporte sorprendente [Eng] The old men of boxing... surprising sport
De regreso a nuestro mundo deportivo y saludando con un caluroso abrazo a toda mi gente de #hive y @sportstalksocial, le damos la bienvenida a una nueva entrega de nuestra pasión el #boxeo. Un deporte demasiado emocionante y sorpresivo que nos brinda situaciones que muy pocos pueden conocer, y si ese es el caso aquí estamos nosotros para hacer de su conocimiento todos estos fabulosos temas. Y en el punto que nos ocupa amigos míos vamos a socializar sobre aquellos boxeadores, que se destacaron aun teniendo más de cuatro décadas sobre sus espaldas, es decir, vamos a hablar de los viejitos del boxeo. Porque en esta disciplina se recomienda iniciar desde temprana edad para que tu desarrollo como atleta sea más productivo. Ahora puedes ser joven o anciano, puedes haberte retirado y animarte a boxear de nuevo. En todo caso lo importante es que estés en excelentes condiciones físicas, porque sea la edad que tengas o seas quien seas, si no estás en buenas condiciones lo más seguro es que te den un tremendo mamonazo y ten manden directo al mundo de los sueños. Por allí podemos ver como hay peleadores que desean salir de sus tumbas para volver al ring. Ejemplo de ello es el animalazo de Mike Tyson quien a sus 54 disputó una pelea de exhibición contra Roy Jones, pelea pautada a 8 asaltos la cual terminó en empate aunque Tyson se veía dominante. Lo cierto es que el tipo volvió a pelear. A diferencia de la gente que veremos cuyas edades están entre 40 y 52, la bestia Tyson regresa a los 54 años alegando que ahora es más letal que cuando joven. Y por si no lo sabían este tipo a los 20 años, 4 meses y 22 días se convirtió en el boxeador más joven en ganar el título mundial de los pesos pesados. Título de la CMB que obtuvo el 22 de noviembre de 1986 ante Trevor Berbick. A Berbick de tantos martillazos lo mandaron a volar rápidito. Bueno amigos esto no es nada porque lo que viene ahora es candela.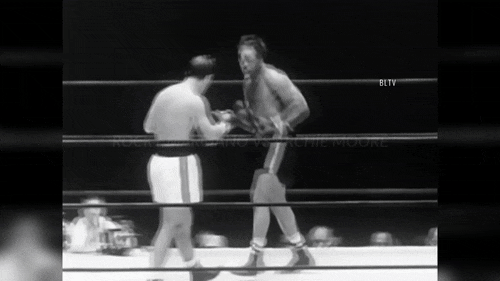 Archie Moore-Rocky Marciano
Back in our sports world and greeting all my people at #hive and @sportstalksocial with a warm hug, we welcome a new installment of our passion #boxing. A sport that is too exciting and surprising that gives us situations that very few can know, and if that is the case, here we are to make all these fabulous topics known to you. And at the point that concerns us, my friends, we are going to socialize about those boxers, who stood out even having more than four decades on their shoulders, that is, we are going to talk about the old men of boxing. Because in this discipline it is recommended to start from an early age so that your development as an athlete is more productive. Now you can be young or old, you can have retired and encouraged to box again. In any case, the important thing is that you are in excellent physical condition, because no matter how old you are or whoever you are, if you are not in good condition, the safest thing is that they will give you a tremendous suck and have them send you straight to the world of dreams. Over there we can see how there are fighters who want to get out of their graves to return to the ring. An example of this is the great animal of Mike Tyson who at 54 played an exhibition fight against Roy Jones, a fight scheduled for 8 rounds which ended in a draw although Tyson looked dominant. The truth is that the guy fought again. Unlike the people we will see whose ages are between 40 and 52, the beast Tyson returns to the 54 years claiming that he is now more lethal than when he was young. And in case you didn't know, this guy at 20 years, 4 months and 22 days became the youngest boxer to win the heavyweight world title. WBC title that he obtained on November 22, 1986 against Trevor Berbick. Berbick, with so many hammer blows, was sent flying fast. Well friends this is nothing because what is coming now is candlelight.

Pero si hemos hablado de los viejitos, no podemos dejar de lado a aquellos panitas que debutaron profesionalmente a corta edad. Por ejemplo tenemos al amigo británico Teddy Baldock quien debutó a nivel profesional a los 12 años, 10 meses y 24 días enfrentando posteriormente a su compatriota Young Makepace el cual derrotó por decisión en 6 rounds. Por eso decimos que iniciar a pelear a temprana edad permite tener una buena carrera deportiva, ya que este pequeñín peleó 80 veces ganando 74 de ellas. Su momento de gloria llegó el 5 de mayo de 1927 cuando derrotó por decisión en 15 asaltos a Archie Bell, ganando el título mundial de los pesos gallos en 54 kilogramos. Sin embargo, su corona fue como una estrella fugaz porque ese mismo año el 6 de octubre pierde por ese mismo caminito. Aunque iniciar joven te puede garantizar una larga gesta en el deporte, este panita muere en 1971 sin haber cumplido los 63 años. Muchos alegan que presentó innumerables secuelas cerebrales producto de la infinidad de estacazos que recibió en la cabeza desde su debut boxístico siendo casi un niño. Caso triste.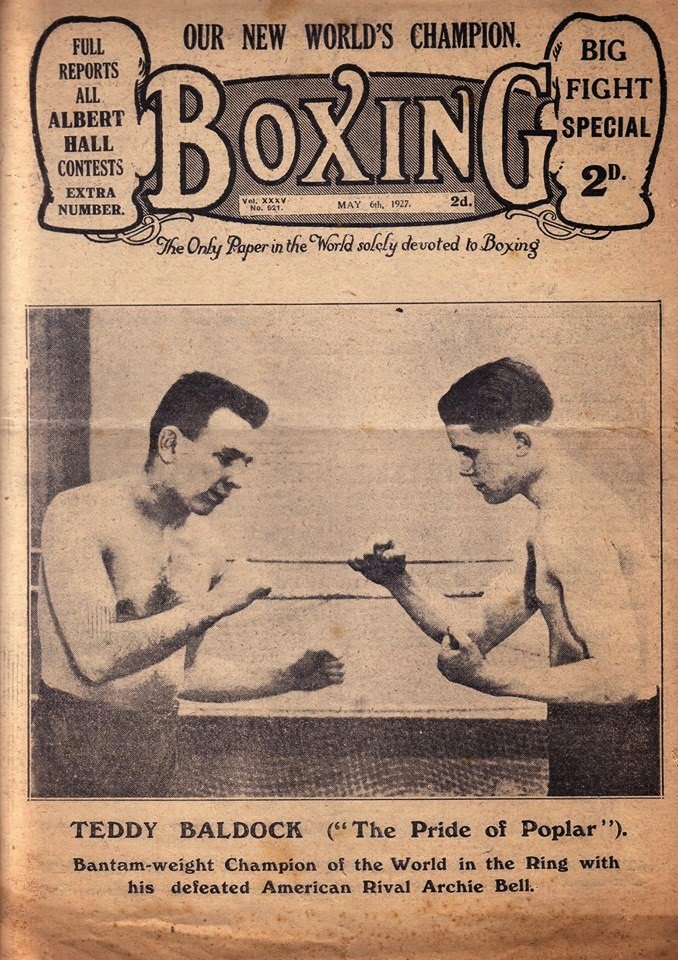 Teddy Baldock
But if we have talked about the old men, we cannot leave aside those panitas who made their professional debut at a young age. For example we have the British friend Teddy Baldock who made his professional debut at 12 years, 10 months and 24 days later facing his compatriot Young Makepace which he defeated by decision in 6 rounds. That is why we say that starting to fight at an early age allows for a good sports career, since this little boy fought 80 times winning 74 of them. His moment of glory came on May 5, 1927 when he defeated Archie Bell by decision in 15 rounds, winning the world bantamweight title at 54 kilograms. However, his crown was like a shooting star because that same year on October 6 he lost on that same path. Although starting young can guarantee you a long feat in sports, this panita died in 1971 without having reached the age of 63. Many allege that he presented innumerable brain sequelae as a result of the infinity of blows he received to the head since his boxing debut as a child. Sad case.

Otro caso fue el de Alberto Baby Arizmendi, quien debutó a los 13 años y se destacó como el primer mexicano en la historia en ser campeón del mundo. Por otro lado es el único boxeador azteca que ha derrotado a cinco guerreros que están inmortalizados en el Salón Internacional de la Fama de Canastota, Nueva York. El tipo fue campeón mundial pluma de la Asociación Nacional de Boxeo ya que para esa época no existían los organismos que rigen hoy en día el #boxeo. El panita se retiró en agosto de 1942 con un récord de 138 peleas, 93 ganadas, 20 por ko, 27 derrotas, 17 empates y 1 no contests. Y esto no es nada porque peleó con verdaderos animales como Henry Armstrong y Tony Canzoneri. Pero lean este datico, porque el Baby Arizmendi junto a Roberto Manos de Piedra Durán, son los únicos guerreros latinoamericanos que han peleado con 8 tipos que, como se mencionó antes hoy son parte del Salón de la Fama. Con la pequeña diferencia que Arizmendi le ganó a 5, y Durán le ganó a 4, entre ellos Carlos Palomino, Ray Leonard, Pipino Cuevas, Ken Buchanan. Sin embargo perdió ante Héctor Camacho, Marvin Hagler, Tommy Hearns y Wilfred Benitez. Estos datos son para la historia.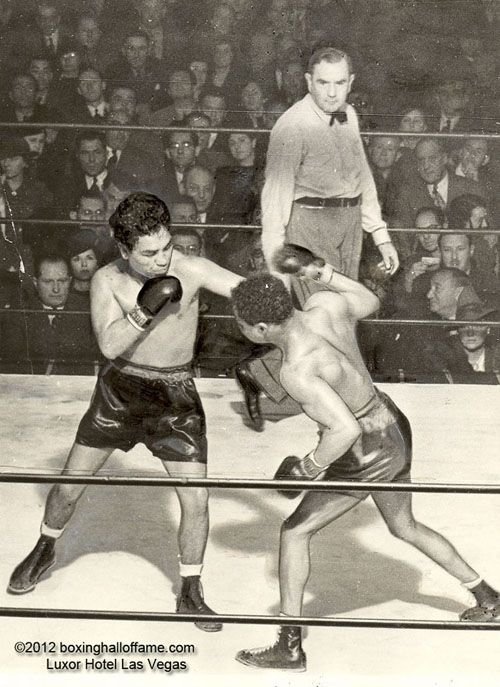 Baby Arizmendi-Henry Armstrong
Another case was that of Alberto Baby Arizmendi, who made his debut at age 13 and stood out as the first Mexican in history to be world champion. On the other hand, he is the only Aztec boxer who has defeated five warriors who are immortalized in the International Hall of Fame in Canastota, New York. The guy was a featherweight world champion of the National Boxing Association since the bodies that govern #boxing today did not exist at that time. The panita retired in August 1942 with a record of 138 fights, 93 won, 20 by ko, 27 defeats, 17 draws and 1 no contest. And this is nothing because he fought real animals like Henry Armstrong and Tony Canzoneri. But read this data, because Baby Arizmendi together with Roberto Duran Stone Hands, are the only Latin American warriors who have fought with 8 guys who, as mentioned before, today are part of the Hall of Fame. With the small difference that Arizmendi beat 5, and Durán beat 4, among them Carlos Palomino, Ray Leonard, Pipino Cuevas, Ken Buchanan. However he lost to Hector Camacho, Marvin Hagler, Tommy Hearns and Wilfred Benitez. These data are for history.

Lo cierto hermanos es que en todo deporte a medida que pasa el tiempo el cuerpo va dejando de ser el mismo, y si hablamos de boxeo más aun, ya que los constates golpes ponen maduro y flojito a cualquier cuerpo. Es como cuando agarramos un limón que está duro y lo pegamos contra la pared para aflojarlo, es igualito. Ya no se tienen las mismas condiciones físicas de la primera pelea; las habilidades son más limitadas, estás más viejo papá no inventes. Ahora cuando estos tipos pelean, los magullan a golpes, se retiran y después quieren volver. Entonces a veces lo llaman deporte de viejos si nos ponemos a ver el regreso del boxeador francés Jean-MarcMormeck de 48 años y Wladimir Klitschko de 44. Esto sin contar lo de Tyson que se lleva a cabo a los 54 años. Estos tipos deberían quedarse tranquilitos, se imaginan si le dan un mamonazo y lo dejan tendido. Bueno estos casos son parecidos a lo que enfrentó Rocky cuando le dio la cosquilla de volver a pelear después de viejo y se enfrentó a Mason en Rocky VI. Lo real es que no hay límite de edad para comenzar en el boxeo.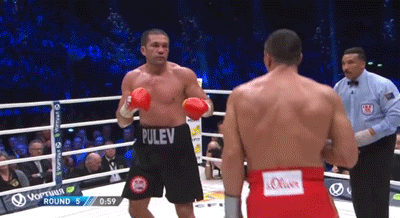 Wladimir Klitschko
The truth, brothers, is that in every sport as time goes by, the body is no longer the same, and if we talk about boxing even more so, since the constant blows make any body mature and weak. It's like when we take a hard lemon and hit it against the wall to loosen it, it's just the same. You no longer have the same physical conditions as the first fight; skills are more limited, you're older dad don't invent. Now when these guys fight, they beat them to death, they retreat, and then they want to come back. So sometimes they call it the sport of old men if we get to see the return of the French boxer Jean-MarcMormeck, 48, and Wladimir Klitschko, 44. Not to mention the Tyson thing that takes place at 54. These guys should stay calm, they can imagine if they give him a suck and leave him lying. Well these cases are similar to what Rocky faced when he was tickled to fight again after old age and faced Mason in Rocky VI. The real thing is that there is no age limit to start boxing.

Los Viejitos del Boxeo
Bueno amigos como este deporte nos tiene acostumbrados a muchas sorpresas, datos, récords y pare usted de contar, lo que presentamos hoy no es la excepción ya que al parecer la edad no es limitante ni para iniciar, ni para volver a pelear. Lo que si es cierto es que a mientras mas edad el cuerpo no responde de la misma manera. Entonces mi consejo hermanos, si ya se retiraron quédense tranquilitos en casita. Ahora si mis panas disfruten de lo que viene.
The Old Men of Boxing

Well friends like this sport we are accustomed to many surprises, data, records and stop counting, what we present today is no exception since apparently age is not limiting neither to start, nor to fight again. What is true is that the older the body does not respond in the same way. So my advice brothers, if you have already retired, stay calm in the little house. Now if my friends enjoy what's coming.

Archie Moore
El rey de #ko disputó 219 peleas, ganó 186 de las cuales 141 fueron por la vía del sueño, 23 derrotas y 10 empates. Para Moore 1952 fue un año de leyenda ya que después de vencer al peso pesado Harold Johnson, tuvo como rivales del mismo calibre a Jimmy Slade, Bob Dunlap, Clarence Henry y al peso semipesado Clinton Bacon a quien le dio matarile en cuatro asaltos. Pero a los 36 años llegó la gran oportunidad de disputar el título de Campeón Mundial de Peso Semipesado contra Joey Maxim, quien habría derrotado al fabuloso Sugar Ray Robinson dándole matarile por #TKO en asalto 14. Volviendo con Maxim, Moore propinó varios latigazos superpoderosos aunque ganó por decisión en 15 asaltos. El combate más espectacular llegó días antes de cumplir 42 años al defender el título contra Yvon Durelle. Durelle mandó a volar 3 veces a Moore en el primero, le dio viaje de nuevo en el quinto. Todo parecía que Moore sería destronado, pero como dicen el juego no se acaba hasta que se termina. El pana Archie hizo como el ave Phoenix resurgió de las cenizas. Sigan que viene lo bueno.
The king of #ko played 219 fights, won 186 of which 141 were via the dream, 23 defeats and 10 draws. For Moore, 1952 was a legendary year since after beating heavyweight Harold Johnson, he had as rivals of the same caliber Jimmy Slade, Bob Dunlap, Clarence Henry and light heavyweight Clinton Bacon who was killed in four rounds. But at the age of 36 came the great opportunity to contest the title of Light Heavyweight World Champion against Joey Maxim, who would have defeated the fabulous Sugar Ray Robinson killing him by #TKO in round 14. Going back with Maxim, Moore delivered several super powerful lashes although won by decision in 15 rounds. The most spectacular fight came days before his 42nd birthday when he defended the title against Yvon Durelle. Durelle sent Moore flying 3 times in the first, gave him a trip again in the fifth. It all seemed like Moore would be dethroned, but as they say the game is not over until it is over. Corduroy Archie did as the Phoenix bird rose from the ashes. Keep up the good stuff.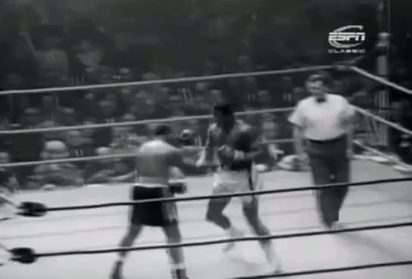 Archie Moore-Cassius Clay
Renace de las cenizas porque desde el asalto 6 Moore aplica su inteligencia, se defiende y contragolpea, el viejo avanza, marca puntos golpea y golpea, Durelle se está desgastando se está apagando, Moore controla, allí va una tripleta de bombas y un fabuloso uppercut que mandan a volar a Durelle en el séptimo. Ya la cosa cogía color, para en el rounds 10 Moore conecta buenas manos y no son precisamente de cambur lo que manda a la lona otra vez a Durelle. La campana le da un respiro a Durelle pero no por mucho porque un maremoto de puños aterrizaron sobre él para definir la pelea por Ko en el asalto 11. El regreso para ganar fue espectacular. La última derrota de Moore fue casi a los 45 años cuando cometió el error de enfrentarse a aquel tipo el niño de la película de 20 años el grande Cassius Clay, y como cosa irónica el rey del #knockout perdió por esa vía. El final vendría en 1963 disputando y ganando su última pelea en el round 3 precisamente al darle nocaut a Mike DiBiase. Moore se despide del #boxeo a los 47 años.
He is reborn from the ashes because since round 6 Moore applies his intelligence, defends himself and counterattacks, the old man advances, scores points, hits and hits, Durelle is wearing out, he is fading, Moore controls, there goes a triplet of bombs and a fabulous uppercut that they send Durelle to fly in the seventh. The thing was already taking color, for in the 10th rounds Moore connects good hands and it is not exactly from cambur what sends Durelle to the canvas again. The bell gives Durelle a break but not for long because a tidal wave of fists landed on him to define the fight for Ko in round 11. The comeback to win was spectacular. Moore's last defeat was almost 45 years old when he made the mistake of facing that guy the 20-year-old boy in the movie the great Cassius Clay, and ironically the king of #knockout lost that way. The end would come in 1963 fighting and winning his last fight in round 3 precisely by knocking out Mike DiBiase. Moore says goodbye to #boxing at age 47.

George Foreman
Con un total de 81 peleas disputadas, 76 ganadas, 68 por Ko y 5 derrotas. Este panita en 1987 cuando tenía 38 años regresó al ring provocando burlas y risas de parte de todos, pero el amigo Foreman hizo como el vino, mientras mas viejo es mejor. Más aún cuando revivió su tiempo ejecutando sus primeras peleas fuera de la vista de todos con el fin de adaptarse y ajustar su estilo al nuevo físico. Ahora en 1989 a los 40 años disputó algunas peleas con 10 victorias, de esas 8 fueron nocauts. Recibe el chance en 1991 para combatir contra Evander Holyfield recién campeón mundial de los pesados por el CMB, la AMB y la FIB. Aunque Foreman se enfrentaba a un jovencito y fue dominado, perdió por decisión unánime. Sin embargo, George demostró que a su edad seguía siendo el papá de los helados. Cuidado allí viene Foreman. Para 1993 otra vez quería ser campeón OMB ante Tommy Morrison, se acuerdan aquel que hizo Rocky 5. Pero volvió a perder por decisión unánime. El tipo no se rendía y seguía avanzando porque en 1994, al fin aleluya George Foreman se enfrentaría a Michael Moorer, haciendo historia coronándose otra vez campeón mundial AMB y FIB. Moorer había despojado de los títulos a Evander Holyfield. Continúen y disfruten de un pequeño resumen de ese combate.
With a total of 81 fights disputed, 76 won, 68 by Ko and 5 losses. This panita in 1987 when he was 38 years old, he returned to the ring causing mockery and laughter from everyone, but the friend Foreman did like wine, the older the better. Even more so when he relived his time by executing his first fights out of the sight of everyone in order to adapt and adjust his style to the new physique. Now in 1989 at age 40 he played some fights with 10 wins, of those 8 were knockouts. He received the chance in 1991 to fight Evander Holyfield, the recent heavyweight world champion by the WBC, the WBA and the IBF. Although Foreman was facing a youngster and was overpowered, he lost by unanimous decision. However, George proved that at his age he was still the daddy of ice cream. Watch out there comes Foreman. For 1993 he wanted to be WBO champion again against Tommy Morrison, remember the one who made Rocky 5. But he lost again by unanimous decision. The guy did not give up and kept moving forward because in 1994, at last hallelujah George Foreman would face Michael Moorer, making history by being crowned WBA and IBF world champion again. Moorer had stripped the titles from Evander Holyfield. Go ahead and enjoy a short summary of that match.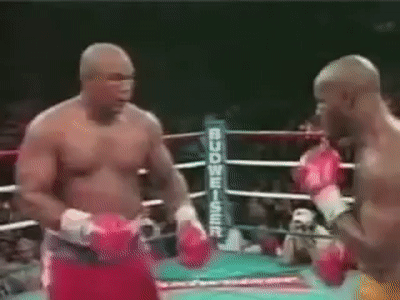 Foreman-Moorer
Pasados los primeros 9 asaltos el viejito se notaba como un tipo de 45 años y 310 días. Ajá pero se venía el round 10 y Foreman mando una tremenda bomba de derecha que reventó al jovencito de 27 años y le inyectó tal anestesia que el MGM era una locura, Foreman lo logró con un solo puñetazo, y no solo logro ser campeón, sino que superó el récord de Jersey Joe Walcott como el boxeador más viejo en ganar un título mundial de los pesados, además de convertirse en el más viejo en ser campeón en cualquier categoría. Upa cachete, ahora Foreman debía defender sus títulos pero éste se negó y por tal motivo fue despojado de los mismos. Pero Foreman dijo que me importa eso, porque salí del retiro fui campeón de nuevo e hice historia imponiendo un récord que duró hasta el 2011, cuando fue roto por Bernard Hopkins al ganar el campeonato semipesado CMB a los 46 años y 4 meses, marca superada por él mismo al quedar campeón FIB en 2013 a los 48 años, 1 mes y 22 días. Ahora díganme que este #deporte no es fabuloso. Historia y sorpresas por doquier.
After the first 9 rounds, the old man looked like a 45-year-old 310-day guy. Aha but round 10 was coming and Foreman sent a tremendous right hand bomb that blew up the 27-year-old boy and injected him with such anesthesia that the MGM was crazy, Foreman achieved it with a single punch, and not only managed to be champion, but who beat Jersey Joe Walcott's record as the oldest boxer to win a world heavyweight title, as well as becoming the oldest to be a champion in any category. Upa cheek, now Foreman had to defend his titles but he refused and for that reason he was stripped of them. But Foreman said that I care about that, because I came out of retirement I was champion again and I made history by setting a record that lasted until 2011, when it was broken by Bernard Hopkins when he won the WBC light heavyweight championship at 46 years and 4 months, a mark surpassed by himself when he became FIB champion in 2013 at 48 years, 1 month and 22 days. Now tell me that this #sport is not fabulous. History and surprises everywhere.

Bernard Hopkins
El ejecutor disputó 67 peleas, 55 victorias con 32 ko, perdió 8 veces, 2 empates y 2 no presentado. Fue campeón mediano defendiendo el titulo en 20 ocasiones batiendo el record de Carlos Monzón. Para ser campeón semipesado se enfrentó a Jean Pascal convertiendose en el campeón de mayor edad en la historia del boxeo, superando a George Foreman cuando le ganó a Michael Moorer a los 45 años de edad. Además es el único boxeador que ha logrado al mismo tiempo en una misma división los títulos AMB, OMB, CMB y FIB, títulos que por si fuera poco defendió en una misma pelea. Para remate también es el boxeador de mayor edad en ser campeón mundial mediano. Entonces recapitulando, el triunfo de Hopkins sobre Pascal y la ganancia del campeonato mundial, hicieron a Hopkins de 46 años, 4 meses y 6 días el peleador más viejo de la historia en conseguir un campeonato. De nuevo, para remate a los 48 años, 1 mes y 22 días se superó asimismo al ganarle a Tavoris Cloud y ser campeón mundial semipesado de la FIB, que locura, que historia, que bestia.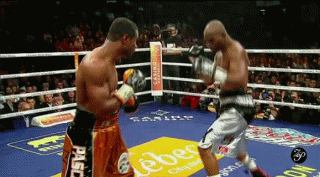 Hopkins-Pascal
The executor contested 67 fights, 55 victories with 32 ko, lost 8 times, 2 draws and 2 no shows. He was a middleweight champion defending the title 20 times, beating Carlos Monzón's record. To become a light heavyweight champion he faced Jean Pascal becoming the oldest champion in boxing history, beating George Foreman when he beat Michael Moorer at 45 years of age. He is also the only boxer who has won the WBA, WBO, WBC and IBF titles at the same time in the same division, titles that he defended in the same fight. To top it off, he is also the oldest boxer to be a world middleweight champion. So to recap, Hopkins' win over Pascal and winning the world championship made the 46-year-old, 4-month-old, 6-day-old Hopkins the oldest fighter in history to win a championship. Again, to finish at 48 years, 1 month and 22 days he also surpassed himself by beating Tavoris Cloud and being the IBF light heavyweight world champion, what a madness, what a history, what a beast.

Larry Holmes
El asesino de easton disputó 75 peleas, ganó 69, 44 por ko y 6 derrotas. Un dato especial fue que ganó sus primeras 48 peleas. Obtuvo el título mundial frente a Ken Norton, ademas de vencer a Earnie Shavers, Tim Witherspoon, Gerry Cooney, James Bonecrusher Smith y, por KO técnico en el asalto 10 al más grande Muhammad Ali. Siendo campeón defendió su título en 20 oportunidades, marca que fue superada por las 25 defensas de Joe Louis. Por si fuera poco le faltó solo un triunfo para igualar a Rocky Marciano quien se retiró invicto con 49 peleas y 49 victorias. Esa pelea que le faltó fue la que perdió en una dudosa decisión frente al campeón semipesado Michael Spinks en 1985. Pierde de nuevo en la revancha y se retira a los 36 años. Pero eso no queda allí. Tiene curiosidad, bueno avancen.
The Easton killer fought 75 fights, winning 69, 44 by ko and 6 losses. One special fact was that he won his first 48 fights. He won the world title against Ken Norton, in addition to defeating Earnie Shavers, Tim Witherspoon, Gerry Cooney, James Bonecrusher Smith and, by technical KO in the 10th round, the greatest Muhammad Ali. As champion, he defended his title 20 times, a mark that was surpassed by Joe Louis' 25 defenses. As if that were not enough, he lacked only one win to match Rocky Marciano who retired undefeated with 49 fights and 49 victories. That fight he missed was the one he lost in a dubious decision to light heavyweight champion Michael Spinks in 1985. He loses again in the rematch and retires at age 36. But that does not stop there. You're curious, well move on.
Holmes-Butterbean
A los 38 años Holmes regresa y se enfrenta a Mike Tyson. Pelea que no le fue muy bien porque Tyson lo descuartizó en el asalto 4. Otra vez otra pausa para regresar de nuevo en 1991 a los 41 años ganando por #TKO en el round 4 a Tim Anderson, era un regreso de leyenda. Desde alli inicia con 5 triunfos y 3 nocauts para enfrentar a Ray Mercer, pelea de buen nivel que gana por decisión unánime. Vendría otro chance en 1992 para optar por el campeonato mundial CMB, AMB y FIB contra Evander Holyfield, dio un buen espectáculo perdiendo por decisión unánime. El tipo no se rinde y sigue avanzando ganando 7 peleas más para competir de nuevo por el título CMB frente a Oliver McCall el 8 de abril de 1995, pierde otra ves por una muy apretada decisión unánime. Ciertamente en su regreso no logró ser campeón pero dio buenas peleas y se metió unos buenos milloncitos. Se retiró a los 52 años.
At age 38 Holmes returns and faces Mike Tyson. Fight that did not go very well because Tyson dismembered him in round 4. Again another hiatus to return again in 1991 at age 41 winning by #TKO in round 4 to Tim Anderson, it was a legend return. From there he starts with 5 wins and 3 knockouts to face Ray Mercer, a good level fight that wins by unanimous decision. Another chance would come in 1992 to opt for the WBC, WBA and IBF world championships against Evander Holyfield, he gave a good show losing by unanimous decision. The guy does not give up and continues to advance winning 7 more fights to compete again for the WBC title against Oliver McCall on April 8, 1995, he loses again by a very close unanimous decision. Certainly on his return he did not manage to be champion but he gave good fights and made a few good millions. He retired at 52.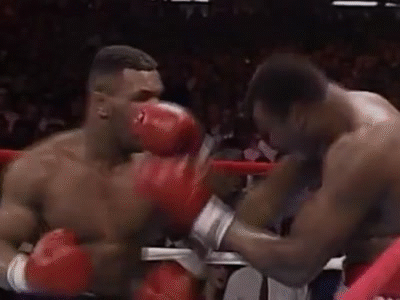 Holmes-Tyson

Muy bien mis apreciados y fabulosos amigos, hemos hecho un espectacular recorrido sobre aquellos hombres que con tan avanzada edad dieron lo máximo sobre el ring. Esta gente no le paró pelota a boxeadores super más jóvenes porque les dieron batalla, incluso ganaron campeonatos. Siempre será un orgullo presentar estas historias porque sé que son de su total agrado. Saludos y hasta pronto.
Very well my esteemed and fabulous friends, we have made a spectacular tour of those men who at such advanced age gave their best in the ring. These people did not stop the super younger boxers because they battled them, they even won championships. I will always be proud to present these stories because I know they are to your complete liking. Greetings and see you soon.
...Gracias Por Visitar...

...Thanks for visiting...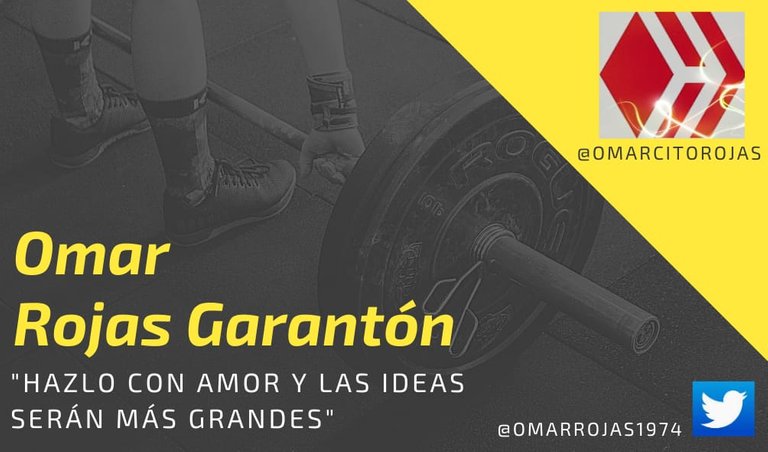 Sorry. English is not our native language. Therefore, a web translator is used for texts in English. (Spanishdict)
---
---