First Time Participating in the LPUD as Part of My Gardening Journey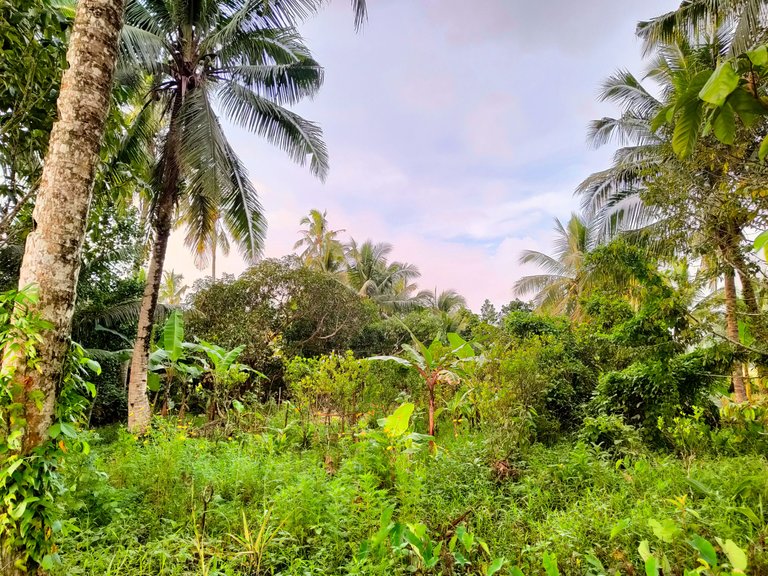 The way to make money is to buy when blood is running in the streets. — John D. Rockefeller
Have you ever felt dumb and smarter at the same time?
Recently, I had that moment where I didn't know that I didn't know, until someone helped me out of my unconscious misery.
Even after 3+ years of immersion in the blockchain technology and the cryptoverse, I am still an absolute newbie, sometimes lost in the path to knowledge.
I was still in lockdown in my tiny apartment space in Cebu City, dreaming of home and finally doing farming. I browsed through Instagram and YouTube for inspiration from other gardeners, farmers, and homesteaders—consuming vlogs after vlog to feed my thirst.
My First Year on Hive
When I joined SteemHive, through the YouTube About Page of the gardener Siloe, I was lost through the complexity and steep learning curve of the system. Sometimes I can't post (ZERO HP) or no rewards on my posts at all.
That is where I initially made HiveHealth to help guide minnows find their path in the blockchain ecosystem and to help them make sense of what they are doing do bring ripples in the reward pool.
This was the start of my holding and trading journey outside Hive Blockchain, and even published the Presage as a free cryptocurrency prediction service.
Life as LeoFinance Outsider
A more recent enlightenment was with LeoFinance.
I have heard about the LeoFinance frontend before, but I was overwhelmed by their topics as a person without sound financial expertise—I felt alienated, though I am still able to read their posts through other frontends.
LeoThreads was then introduced recently and I tried to check it out because it sounded so promising. I did have an account from another Twitter-like DApp, but the login page is hard to get through, I felt barricaded even before I wanted to get in. Please don't hate me with that comment.
tbh #threads is the next best thing that happened to #hive.

No-context thoughts and short-form blabbering on Hive is such a relief sometimes. Imagine talking to yourself without being banned/blacklisted!
When I logged into LeoFinance and then used the LeoThreads feature, I felt hooked. It wasn't really 100% Twitter-ry, but it's the most underrated feature that was built on Hive this year!
Leo, Leo Power, and LeoThreads
DISCLAIMER: Please don't be dumb, this is not a financial advice, do your own research. Only talk to a licensed financial expert.
LeoThreads is like the bridge between non-crypto-nerds to the world of LeoFinance, be it from native Hive users to the people from the actual Twitter world. I did have some LEO tokens piling in my Hive Engine wallet and I started staking it as Leo Power, allowing me to interact and earn within the LeoFinance frontend.
Increasing my staked $LEO

Before, I rly don't know how to use Hive/Hive Engine... ended on swapping tokens for HIVE. Now, I'm hodling #leo and other HIVE tokens.

Yea, just teeny LP, but just for a start...
I started posting about my LP stake and someone replied that I should join the #LPUD on the 15th of the month. I know HPUD, so I have the gist of the event.
But where to start? I made a buy order (LIMIT) through the old TribalDex website because the MARKET option was unclickable, but even after five days, it didn't push through, it got stale and I canceled it in frustration.
I asked around LeoThreads and was advised to use DCity Game's BeeSwap feature—it was a moment of enlightenment. I felt so dumb for not knowing better, but also smarter for learning something new again!
I did use Hive Engine to deposit SWAP.HIVE and SWAP.HBD, then used the DCity Swap feature to buy LEO tokens instantly. I stacked 150+ LEO tokens and excitedly waited for the LEO Power Up Day.
The LeoFinance team have a slay the dragon challenge where each account to power up 2000+ and 5000+ LEO tokens on LPUD will get special NFTs and LP delegations. Check out their official announcement for eligibility and the complete details of the event.
GM:Frens on LeoThreads and SWAP.WAX
Also, I got interested with the GM:Frens folks who say Good Morning as long as the sun rises around the world, but got confused with its onboarding process, it turned out my firewall blocked reCaptcha and other XSS/JavaScripts, making the WAX website (and other usual websites) to become unusable. I needed to use my smartphone instead.
With the help of some good friends (GM to all of you!) I was able to successfully create a WAX account and linked it to the GM:Frens website. I now earn GM tokens when using the gmfrens tag once a day. Don't flag us, join the fun instead and make every morning, good! ;)
After the swift swaps, I returned 5 SWAP.WAX to forexbrokr then transfered some WAXP to my WAX Cloud Wallet. I also learned how to stake some of the CPU and NET resources and buy the RAM resource.
Since I wasn't eligible for the HALLOWEEN NFT, I bought it with 2 WAX on the neftyblocks website instead. I also learned how to use the Alcor Exchange where you can trade your GM tokens to WAX, then possibly back to SWAP.WAX and later SWAP.HIVE token—or you could buy GM in reverse, too!
Food Forest Updates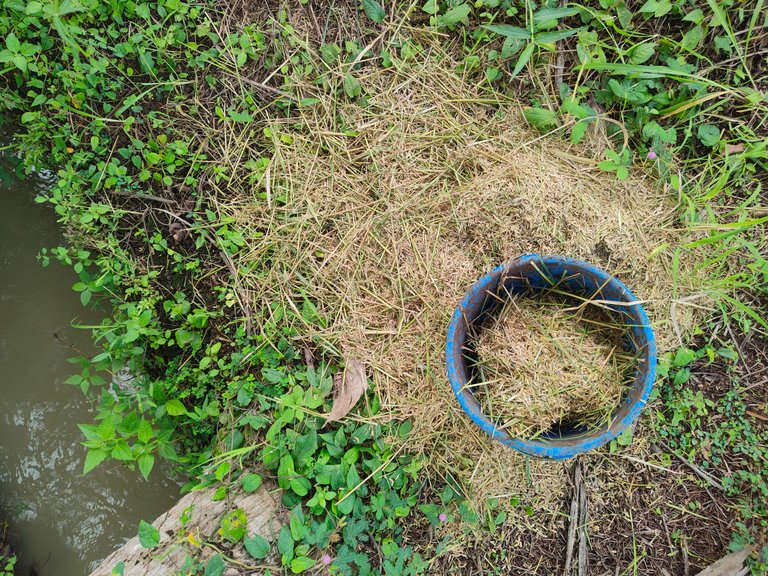 Back to my side hustle, I was able to finish my second raised bed in the extension of the permaculture garden.
To make use of the pit that I excavated to fill up the raised beds with more the garden soil, I thrown in more plant debris to make a DIY composting area. I already have four compost pits inside the food forest where I use grass clippings, weeds, bananas, coconuts, and other plant debris.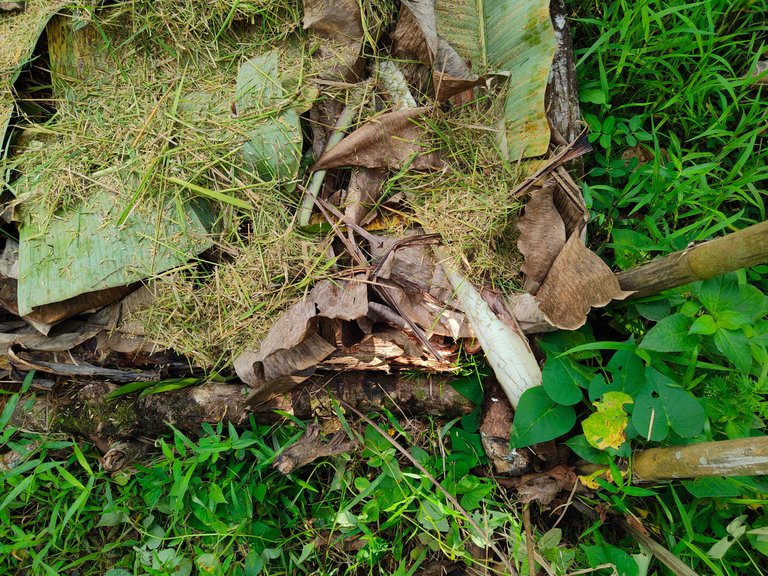 It would be my last chance to collect rice straws this year and will wait again for the next year's summer harvest to do summer mulching again. I used the rice straws as a soil conditioner together with the banana and coconut plant materials that were present in the young food forest.
Rice is rich in nitrogen, bananas in Potassium, and coconut with carbon for soil conditioning.
I did my part on cleaning the banana stems to avoid bacterial, viral, and fungal infections. Banana is a good cash crop since it grows new pups indefinitely, though it is a bit high-maintenance. I was able to harvest a bunch from an older banana plant and then planted three more before I went home.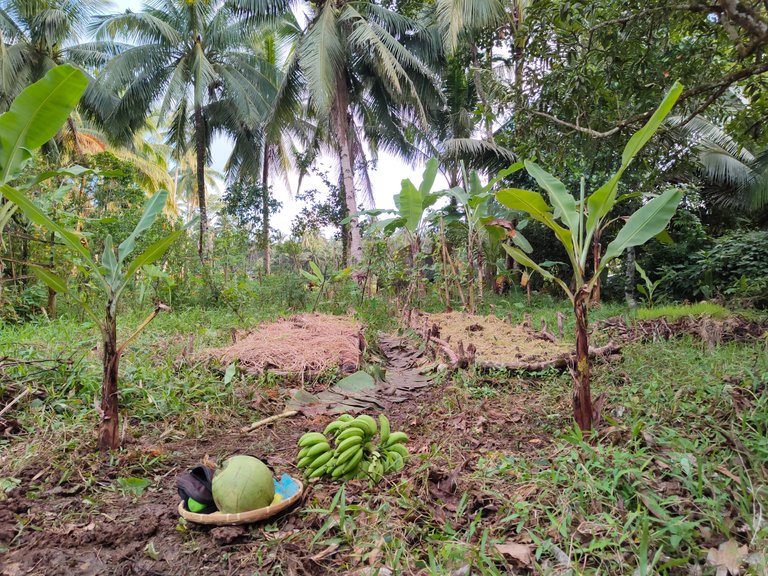 It's a great week for me now.
GM frens!
Weather Forecast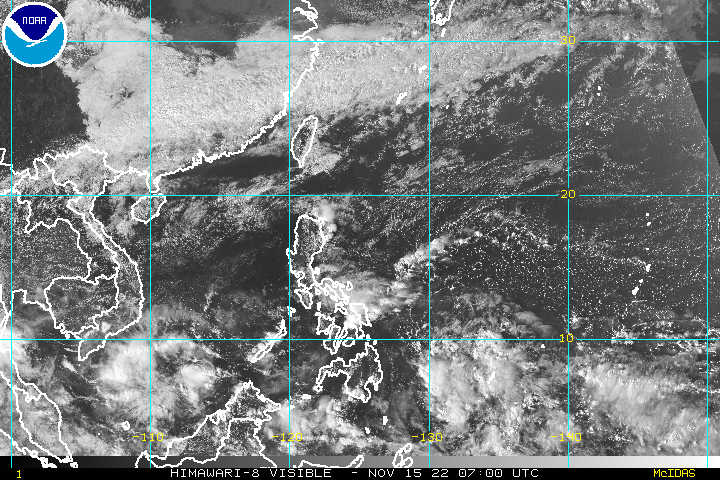 NOAA: HIMAWARI-8 West Pacific Weather Satellite SOURCE

2022-11-15 3 PM
Mostly Cloudy
29°C / 91% H
W 11 km/h NE
P 37% 1mm
UVi 4

---
PINNED POSTS
---
Explore Communities

Logos are owned by its respective community and/or its owner/s.
---
About Me
@oniemaniego is a software developer, but outside work, he experiments in the kitchen, writes poetry and fiction, paints his heart out, or toils under the hot sun.
| | |
| --- | --- |
| | Onie Maniego / Loy Bukid was born in rural Leyte. He often visits his family orchards during the summers and weekends, which greatly influenced his works. |

Follow on Instagram
---
Support with Crypto
Bitcoin 34hdQNHHFUodqegi2wwNeNw2p35ewvnaXQ
Ethereum 0xd36126ab2463c3404cca1c97d8f3337917dfd113

---
© 2022 Onie Maniego and Loy Bukid
---
Don't forget to vote, comment, and follow me.
Not yet on Hive? Earn while blogging.
Sign up with PeakD | Ecency

---
---