Metaverse market in crisis. Opinion. ENG-ESP
English
A 96% drop in any market is a big blow to investors, it can almost be called a total loss of investment capital. In the tweet shared by user Healthy Pockets, he expresses the drop in this percentage market value of the Metaverse, news to set alarm bells ringing. He asks a question that made me think and led me to write this post Do you think it still has a future.
In my opinion, fortunately for those of us who already interact with blockchain technology and Web3, we are in an early stage, of hits and misses, which leads us on a learning path that will give us the advantage, in the not too distant future, over the rest that will be integrated.
It is no secret to anyone that the crypto market in this 2022, has fallen in percentages that none of us want. It is another down cycle, coupled with a global economic crisis that was predicted with the Covid-19 pandemic.
Returning to the subject of the Metaverse market, it must be recognized that many groups of developers rode the wave of FOMO that had in 2021 this technology and took advantage of the ecstasy of crypto enthusiasts. Some projects are trying to hold their own, others have already disappeared leaving huge losses to investors. Recall that Mark Zuckerberg also made the announcement of his own Metaverse with the launch of Meta on October 28, 2021, we still expect to navigate in it, example that this is still very green.
To answer the question, I think the Metaverse does have a future, it is only a matter of time before this technology is finished developing and we will be for hours idiotized navigating in a virtual world. I will continue to be careful, I will stay out of the way and I will not get involved in projects that do not show real utility.
What is your opinion, do you think there is a future or will it remain just smoke and mirrors? Leave your comment and we'll start a healthy debate.
Translated with www.DeepL.com/Translator (free version)
---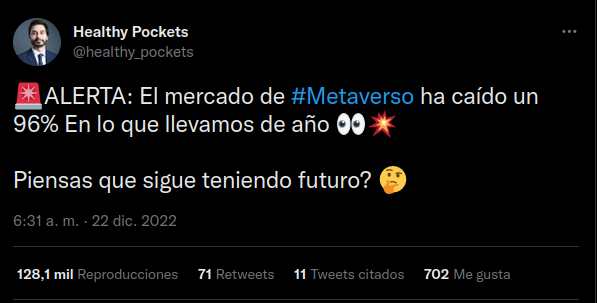 ---
Español
Una caída del 96% en cualquier mercado es un gran golpe para los inversores, casi se puede denominar como una pérdida total del capital de inversión. En el tweet compartido por el usuario Healthy Pockets, expresa la caída en este valor porcentual de mercado del Metaverso, noticia para encender las alarmas. Hace una pregunta que me hizo pensar y me llevó a escribir este post ¿Piensas que sigue teniendo futuro?.
En mi opinión, afortunadamente para los que ya interactuamos con la tecnología blockchain y la Web3, estamos en una etapa temprana, de aciertos y desaciertos, que nos lleva por una camino de aprendizaje que nos dará la ventaja, en un futuro no muy lejano, sobre el resto que se vaya integrando.
No es un secreto para nadie que el mercado crypto en este 2022, ha caído en porcentajes que ninguno de nosotros deseamos. Es otro ciclo bajista, sumado a una crisis económica mundial que se pronosticó con la pandemia del Covid-19.
Volviendo al tema del mercado de los Metaversos, hay que reconocer que muchos grupos de desarrolladores se subieron a la ola de FOMO que tuvo en el 2021 esta tecnología y sacaron provecho del éxtasis de los cripto entusiastas. Algunos proyectos intentan mantenerse, otros ya desaparecieron dejando grandes pérdidas a los inversores. Recordemos que Mark Zuckerberg también hizo el anuncio de su propio Metaverso con el lanzamiento de Meta el 28 de octubre de 2021, aún esperamos navegar en él, ejemplo de que esto aún está muy verde.
Para responder a la pregunta, yo pienso que el Metaverso si tiene futuro, sólo es cuestión de tiempo de que esta tecnología se termine de desarrollar y estaremos durante horas idiotizados navegando en un mundo virtual. Seguiré siendo cuidadoso, me mantendré al margen y no entraré en proyectos que no muestren verdadera utilidad.
¿Cuál es tu opinión? ¿Crees que hay futuro o sólo seguirá siendo humo?. Deja tu comentario e iniciaremos un sano debate.
---
Images are my own or screenshots taken by me, unless outside sources are indicated.
---
Follow me on Twitter
---

---
---