Twitter and censorship

English
Since the purchase of Twitter by Elon Musk, there have been many changes in this social network, positive and many more negative. It was obvious that something like this was going to happen, but the alarm bells have already gone off.
It is no secret to anyone that Twitter is a centralized network and that Elon Musk moves things at will, example of this, his tweets concerning BTC and the manipulation he had or has with Dogecoin. The thing is that he is taking things too far by banning sharing links from other social networks like Facebook, Instagram or the recently popular Mastodon, although this tweet has been deleted, it is not possible to copy links from these pages. In addition many accounts have been suspended.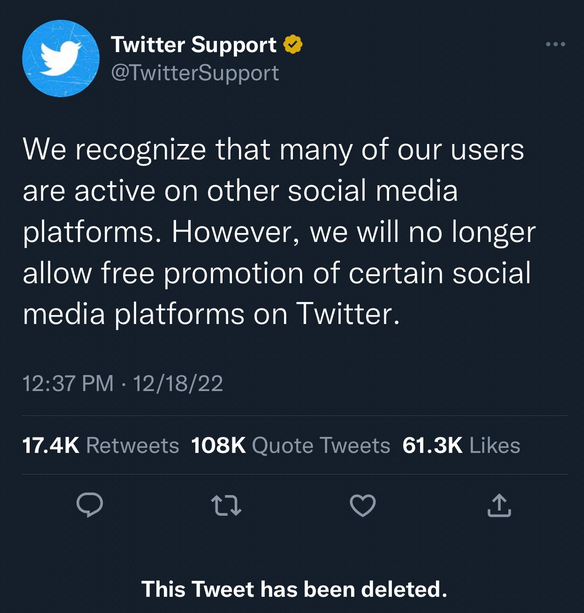 If this continues, is it possible that hive users will not be able to share our posts on twitter? I think there is a possibility, since they want the accounts to be verified (we would have to pay an annual fee), in order to let us share external sources.
Elon Musk did a poll asking if he should resign as head of Twitter, it seems that the result is pretty clear and overwhelming. 57% of more than 17 million users who voted is no small thing. But we know in advance that he will not resign from his position, but the message has been left for him.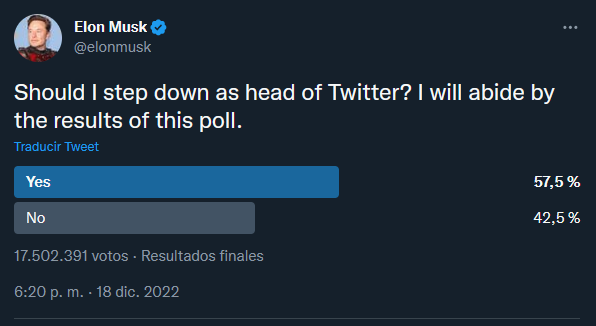 They have improved a lot the issue of bots and invasive advertising, it has been noticed in this month of December, there are still many things to improve and hopefully they will relax their rules because if not they will lose many users.
Translated with www.DeepL.com/Translator (free version)
---
Español
Desde la compra de Twitter por parte de Elon Musk, muchos cambios han habido en esta red social, positivos y muchos más negativos. Era evidente que algo así iba a ocurrir, pero ya se han encendido las alarmas.
No es un secreto para nadie que Twitter es una red centralizada y que Elon Musk mueve las cosas a su antojo, ejemplo de ello, sus tweets referentes a BTC y la manipulación que tuvo o tiene con Dogecoin. El asunto es que está llevando las cosas muy lejos al prohibir compartir enlaces desde otras redes sociales como Facebook, Instagram o el recién popular Mastodon, aunque este tweet ha sido borrado, no es posible copiar enlaces de estás páginas. Además muchas cuentas han sido suspendidas.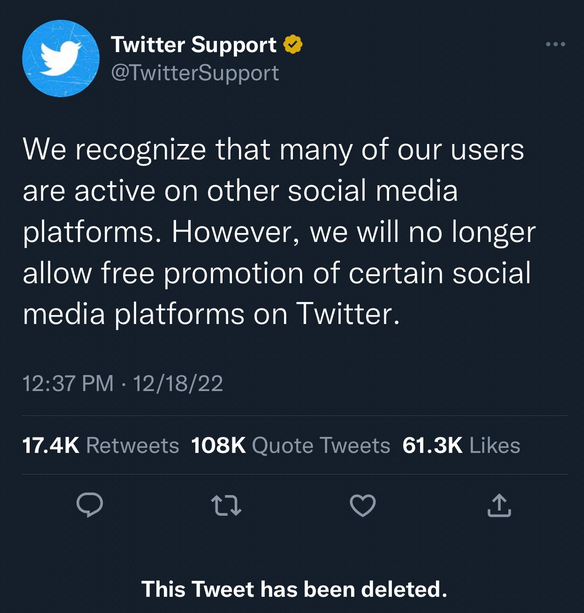 Si esto sigue así ¿es posible que a los usuarios de hive nos imposibiliten compartir nuestros post en twitter?. Yo creo que si existe esta posibilidad, ya que ellos desean que las cuentas sean verificadas (tendríamos que pagar una tarifa anual), para poder dejarnos compartir fuentes externas.
Elon Musk hizo una encuesta preguntando si debe renunciar como jefe de Twitter, parece que el resultado es bastante claro y contundente. el 57% de más de 17 millones de usuarios que votaron no es poca cosa. Pero sabemos de antemano que no renunciará a su cargo, pero se le ha dejado el recado.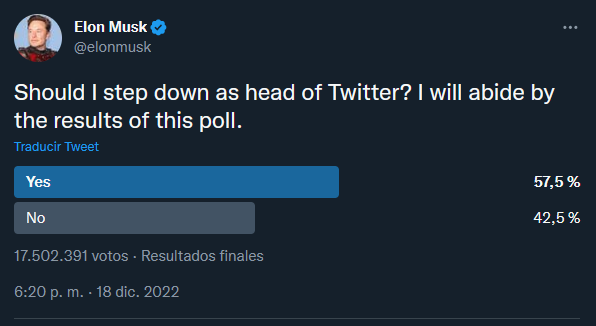 Han mejorado mucho el tema de los bots y la publicidad invasiva, se ha notado en este mes de diciembre, aún le quedan muchas cosas por mejorar y esperemos flexibilicen sus reglas porque si no perderán muchos usuarios.
---
Images are my own or screenshots taken by me, unless outside sources are indicated.
---
Follow me on Twitter
---

---
---