After SEC Tweet, Bitcoin ETF approval is Inevitable.
Bitcoin ETFs are exchange-traded funds that track the value of Bitcoin and trade on traditional market exchanges rather than cryptocurrency exchanges.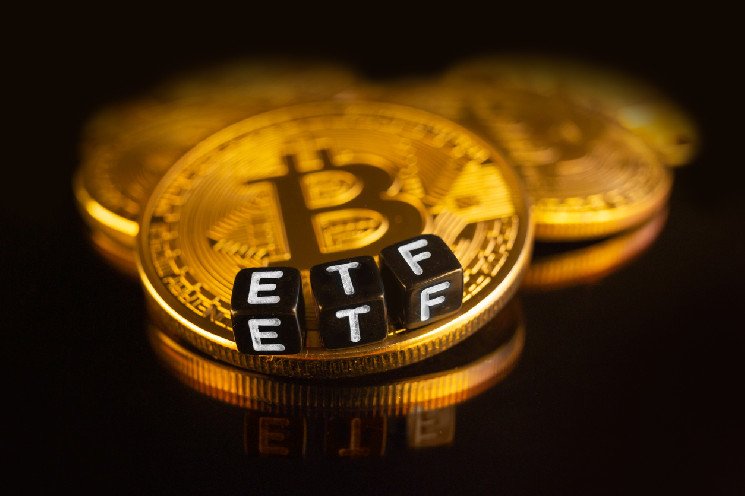 Source
After the tweet from The official Twitter account of the United States Securities and Exchange Commission (SEC), made yesterday educating and advicing investors about "Bitcoin ETF or fund" saying "Before investing in a fund that holds Bitcoin futures contracts, make sure you carefully weigh the potential risks and benefits."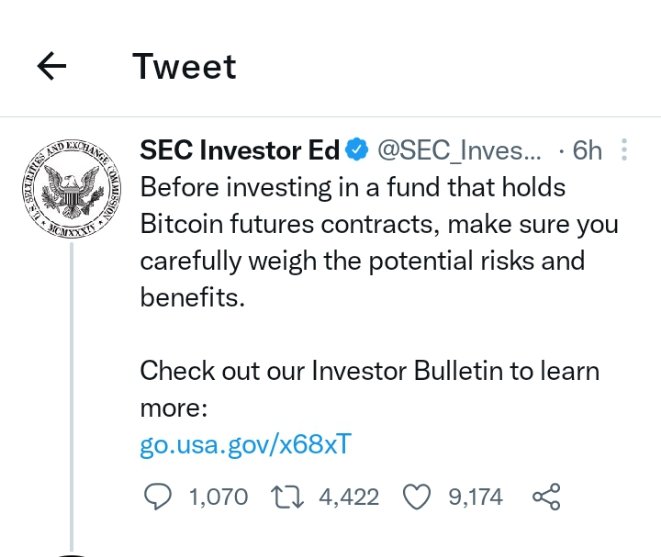 Twitter
This tweet has hinted out and confirmed people's speculations about Bitcoin ETF approval, at this point speculations on Twitter is running wild, someone by the username unusual_whales said "Well, guess this means an ETF is inevitable." I also believe it just going to be a matter of time before it gets approved.
But according to an article by decrypt on the 6th of October,
At the moment, at least 13 high-profile companies have applied to the SEC to launch a Bitcoin ETF and are currently awaiting an answer. And ETF experts say it is likely one will, at last, get approved on October 18. The ProShares Bitcoin Strategy ETF is the one currently slated for an October 18 deadline.
In that same article SEC said.
A futures ETF would allow investors to buy shares that represent futures contracts (which bet on the price of Bitcoin going up and down), rather than the digital asset itself.
As at then after this quote by SEC, there was a 75% chance of approval but after the tweet above it should be hitting close too 90% now.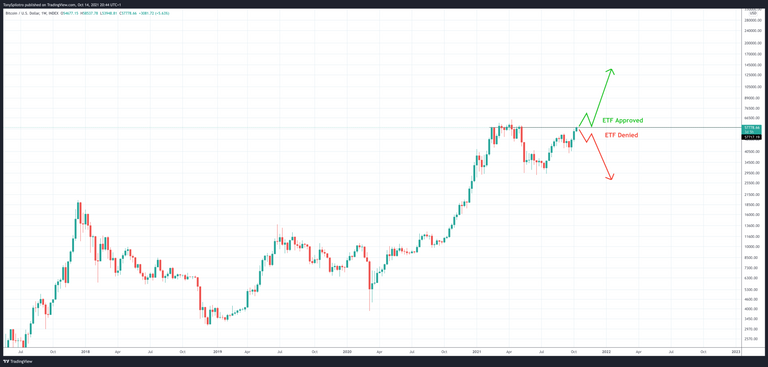 Source
Crypto community sentiments and speculations are already high, but this are two possible scenario that could play out depending on SEC decision towards the Bitcoin ETF. I'm expecting that when the Bitcoin ETF is approval price will skyrocket and my trader's will FOMO in, which is the Green illustrations on the chart above, but if it not approved it would affect price for a bit just like how the market reacted to China banning crypto, which is the Red illustrations on the chart.
But @edicted see it a bit differently as he clearly stated in his article Market Watch: October 18th (Beware the BLOOD MOON)
Don't forget that the news only acts as a catalyst for price movements. When we are in bearish territory no amount of good news is going to spike the price upward. When we are in bullish territory bad news has very little affect on the market. We are in bullish territory now, and an ETF approval would almost certainly be blamed for quite possibly the entire run we were going to get anyway in Q4 2021.
Posted Using LeoFinance Beta
---
---