Merge successful, POS activated But No Ethereum and Crypto Market pump as everyone Expected
Finally, the wait is over and the long awaited Ethereum merge has happened and it was successful, the merge got done completely about 17 hours ago during the early hours of yesterday. The transition for Ethereum from Proof Of Work (POW) to Proof Of Stake (POS) has been activated and is in full motion but while the Ethereum network and blockchain get better as it was supposed to be or reported, which is the main of the merge in the first place.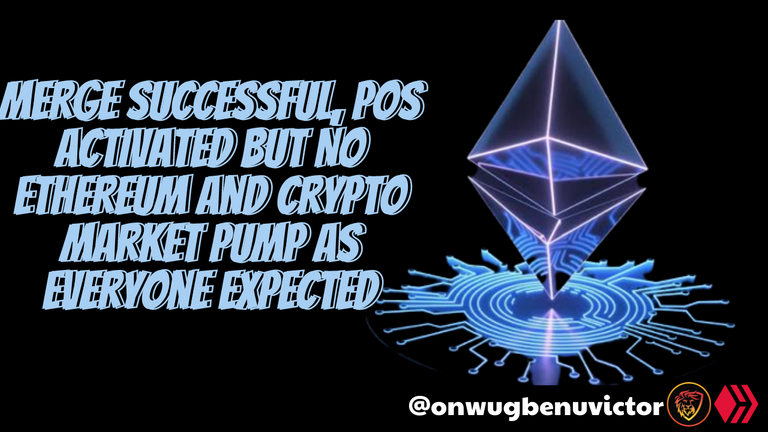 The merge was successful but not everyone in the crypto industry likes the move because the merge and Ethereum's transition from Proof of work (POW) to Proof of Stake (POS) have caused many or all Ethereum miners the source of their income which is mining for those that are not crypto traders or have some form of crypto job, They would be so unhappy with the merge right now, but they should also realize and look on the bright side which is that they have made a lot of money from mining Ethereum when Ethereum was still Proof Of Work (POW).
Ethereum Miners Did A Great Job Securing The Ethereum Network
Despite the current predicament that the Ethereum miners are facing, I still want to give a shoutout to every single Ethereum miner out there because they were the ones that made the Ethereum network to be secured over the years, They really did a great job securing the network for all of us that invested in Ethereum, but let's not forget that many of them became millionaires doing so, especially with their ability to choose the gas fee with the highest amount. But with the current Ethereum Merge, ETH mining will be a thing of the past. We are now in a new era time to mine on but not with machines anymore.
The World Was Expecting A Lot From This Ethereum Merge
Honestly, the eyes of everyone in the crypto sphere or industry were so focused on the Merge and the crypto market in general. Everyone was expecting the price of Ethereum itself and the Crypto market to be skyrocketing by now, which did not happen despite all our wishes for it and the crypto market in general, the world was expecting that the merge will trigger the bull run, but it did not go as planned because the market still did want it wanted to do.
THANKS GUYS FOR READING MY POST.
PLEASE FOLLOW ME ON:
Discord: onwugbenuvictor#3447
Twitter: @VictorOnwugbenu
Posted Using LeoFinance Beta
---
---