Not Your Keys Not Your Crypto: Celsius has robbed its investors by using terms and conditions

Centralized exchanges are turning into scams and stealing from their investors in broad daylight, using terms and conditions as a legal weapon to evade any results or consequences that they are supposed to face if you sue them or take them to court because they will win the case against you because they have hidden so many things to protect themselves in their terms and conditions clause.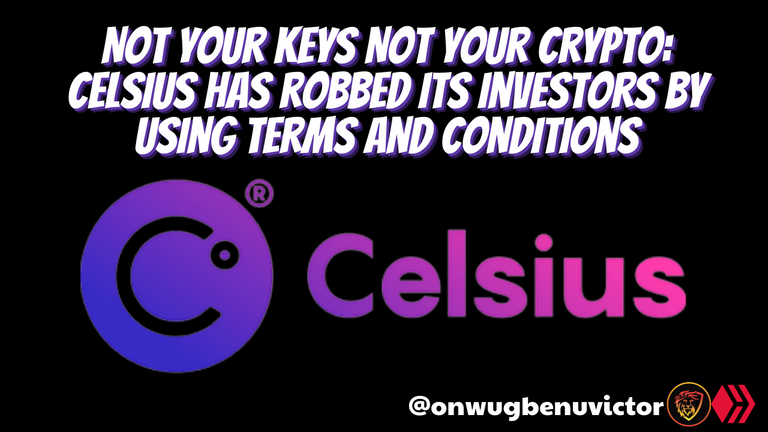 That most of us customers agree to without reading them, which means you have already waved your rights to them in case of anything that happens, and honestly I don't blame anyone for not reading them, because these terms and conditions are unnecessarily long, tiring, time-consuming and unfortunately for us their customers so many things are hidden in between the lines and we don't know about them until times like this when everything has gone south then we start looking for a way out, which honestly there is none because we have initially agreed to whatever the centralized crypto exchange terms and conditions say.
I feel very bad and sad for all Celsius investors because by law all their money is gone and there is not they can do about it, except Celsius decides to pay them back because it was hidden in their terms and conditions that In the event that Celsius becomes bankrupt, enters liquidation or is otherwise unable to repay its obligations, any Eligible Digital Assets used in the Earn Service or as collateral under the Borrow Service may not be recoverable, and you may not have any legal remedies or rights in connection with Celsius' obligations to you other than your rights as a creditor of Celsius under any applicable laws.
It is so unfortunate for the Celsius investors because the only wrong thing they did was investing Celsius, now all their money is gone and they can't do anything about it because by law Celsius is right, the most painful thing here is that they never gave Celsius consent to use their money to invest in Terra luna that crash and started all this bankruptcy thing but their money is still gone anyways because whether or not they gave consent the terms and conditions they agreed to when signing up or creating a Celsius account did, I think this is a learnable moment for all of us in the crypto industry to pay more attention to terms and conditions, spend time reading it and take it more seriously in other avoid situations like this.
Always remember Not Your Keys Not Your.
THANKS GUYS FOR READING MY POST.
PLEASE FOLLOW ME ON:
Discord: onwugbenuvictor#3447
Twitter: @VictorOnwugbenu
Posted Using LeoFinance Beta
---
---