Regrets or Extreme Joy: Two things that will happen after this Bear Market.
Honestly, I don't know when Bitcoin and the Crypto market will recover and return to their all-time highs, nobody out there knows and if someone says he or she does, you should know that is a very big fat lie, except the person wants to tell us that he or she sees the future and is ready to show some concrete proof, if not I won't believe the lie they are spreading. but what I am 100% sure I will be doing is that I will be stacking up my portfolio until I run out of money, which might or might not be very soon, I am buying in using dollar cost averaging into my preferred coins now and then, bit by bit, until the bull market because the huge profit in crypto is made by those who bought, while others were selling at huge losses.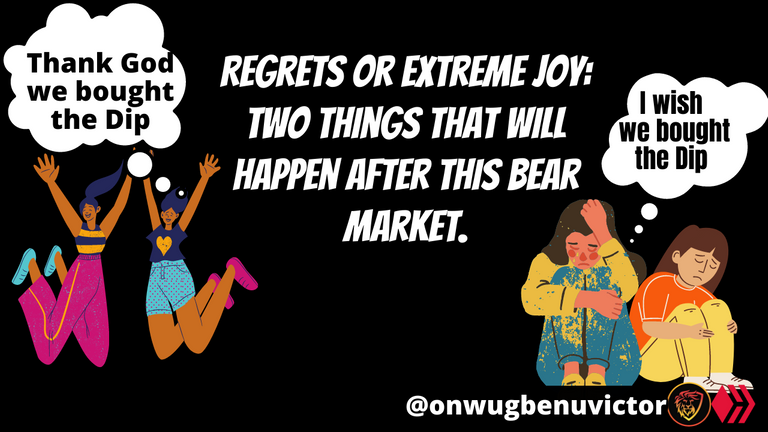 When There Is Extreme Fear In The Market, That Is When The Real Life Changing Wealth Is Acquired In Crypto
This Bitcoin extreme fear is a very good thing and an opportunity for those who want to have great returns in the bull run to sink their teeth dip in (invest heavily) if they want to rip maximum benefits later. Bitcoin determines the market sentiment, and in essence, the crypto market direction when it goes down or dips, altcoins follow it to dip and when it pumps the same thing happens, that is why many coins are in huge discount prices right now compared to where it was in November last year. This is not the time to be scared of taking risks but not just any kind of risks, take well-calculated risks, remember to always do your research first before any decision it been made, but also ensure you diversify your money properly, don't forget to do properly risks and money management your portfolio depends on it.
So many people are not taking advantage of these cheap Bitcoin and Crypto market prices, maybe because of the LUNA/UST crash and I really don't blame them much but losing is part of the game, although the loss they suffered is massive, some millionaires are in debt right now because of the LUNA, UST crash. When Bitcoin pumps to its All-Time High, many people will FOMO (Fear Of Missing Out) back in and then sell at a loss again, and that will not be nice.
Best Time To Accumulate Is Now
Bitcoin is in its accumulation phase now and won't be there forever but it has been there long enough for people to take advantage of the discounted Bitcoin price now or lose the opportunity when the market starts pumping. The best way to acquire cheap Bitcoins and Crypto is to buy using dollar cost averaging. The more crypto you buy, the more you stand a chance of being financially free. But as usual so many people will always give excuses why they haven't been buying the dip when they have the money too, it is understandable if you don't. But if you do and you buy now and you're willing to wait out the storm of this bear market, Bitcoin and crypto will change your life.
Many people who find it hard to be successful in crypto are those who have a short-term mindset and want to be rich immediately after they invest. But crypto requires lots of patience to be profitable. Whales and other smart investors know this and are busy stacking up their portfolios now. During the bull run when they start cashing out big they will be called lucky, but No they invested right. This is the time to grab as much cheap Bitcoin and Crypto as possible so you can enjoy the bull run benefits too. Don't miss out on the opportunity now and FOMO in later, The Trick To Be Profitable Is To Buy Low And Then Sell High.
THANKS GUYS FOR READING MY POST.
PLEASE FOLLOW ME ON:
Discord: onwugbenuvictor#3447
Twitter: @VictorOnwugbenu
Posted Using LeoFinance Beta
---
---