The LEO plane to HiveFest is about to leave but you're still on time to board it
Hey guys, today is the last day and the last chance to jump on the opportunity to be eligible to win a spot amongst the two lions 🦁 that would win the two free tickets and accommodation to the biggest event everyone on this lovely platform looks up too every year, which is the HiveFest just like the popular Bitcoin Conference that takes place in Miami every year, where you get to meet brilliant minds in the crypto industry sharing ideas with each and also making some wise and important business partnerships, deals and life-changing announcements are made just like this year's Bitcoin 22 Conference when Strike announced a partnership with Shopify to allow its global network of merchants to allow for payments across the Bitcoin Lightning network and also in 2021 Bitcoin Conference that was where the President of El Salvador announced the bill of Bitcoin to become legal tender in Salvador.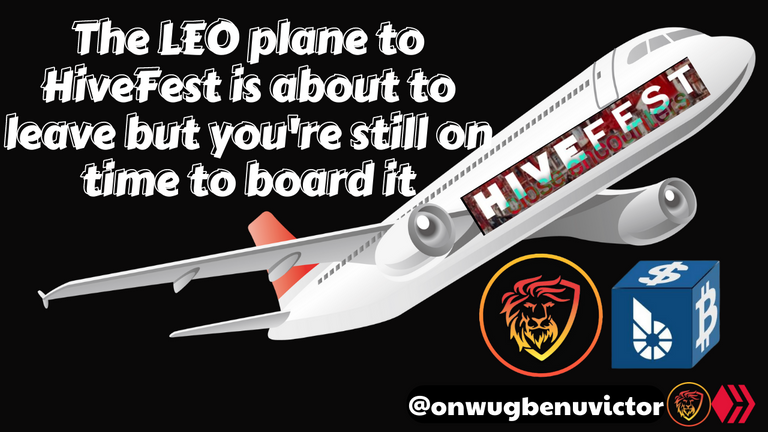 HiveFest Our Own Bitcoin Conference
HiveFest is our Hive conference that is not supposed to be missed by anyone on this wonderful blockchain because there are a lot of amazing things that happen there aside from meeting up with other brilliant content creators and curators. Honestly, I haven't attended any HiveFest yet both vital or physical but I have held some really amazing stories about it, which is why I said it shouldn't be missed out on by anyone here on this Hive blockchain and anyone part of the Leofinance community, which why I have thrown my hat in the ring just like other LeoFinance content creators for a spot amongst the two lucky winners from the Leofinance HiveFest contest powered by @LeoFinance and @Blocktrades, May the best man or woman win.
And don't be worried if you are just seeing my post on this on the HiveFest contest, you still have a few hours left to be one of the lucky winners before the end of today the 31st of July, all you have to do is follow the steps below and check off everything on the list and you are good to go, trust me they are not hard to do, it won't take much of your time and it is worth it.
With just a few hours left here is the list of what you have to be a lucky winner:
Have a Leo Finance account. If you are new to the Hive Blockchain and you want to create an account on Leo Finance, you can check out this simple tutorial to open your account using Twitter.

Follow @leofinance, @blocktrades, @leogrowth and @hivefest on the Hive Blockchain, follow @financeleo on Twitter and join the LeoFinance discord server.

Make a post about the LeoFinance + Blocktrades contest to let other people know about it using the tags #hivefest #blocktradescontest and #leofinancehivefest, then share that post on Twitter using the hashtags #leofinance, #hive, #cryptocurrency and #hivefest.

Post at least 8 times using the Leo Finance frontend (desktop or mobile) during the month of July. Then share those posts on Twitter using the hashtag #leofinance, #posh, and #hive.

Participate in the Leo Power Up Day in July 15th. Power Up 500 Leo Tokens before July 31st.

Subscribe to the Leo Finance Newsletter and make a post about why it is important to be informed about the current markets and how the Leo substack provides useful information related to the crypto space. Then tweet about it using the tags #leofinance #substack #newsletter and #crypto.

Participate in Bring your Fam to Leo week.
Good Luck To Everyone And May The Best Man Or Woman Win
THANKS GUYS FOR READING MY POST.
PLEASE FOLLOW ME ON:
Discord: onwugbenuvictor#3447
Twitter: @VictorOnwugbenu
Posted Using LeoFinance Beta
---
---