Uptober was disappointing, Do you think December will be a Bullish month for Crypto?
Historically, this year's October was the third year that October did not live up to the Uptober name and the hipe, because a lot of crypto traders and investors including me was expecting Uptober to live up to its name and give us a little pump or spark up the bull run or market to help us heal from the prolonged bear market that has lasted 1 year now and there is still no ending in site, due to the FTX and its native token FTT's crashing November was one of the most brutal months for crypto and crypto traders this year since May when Terra LUNA and UST crashed to ZERO.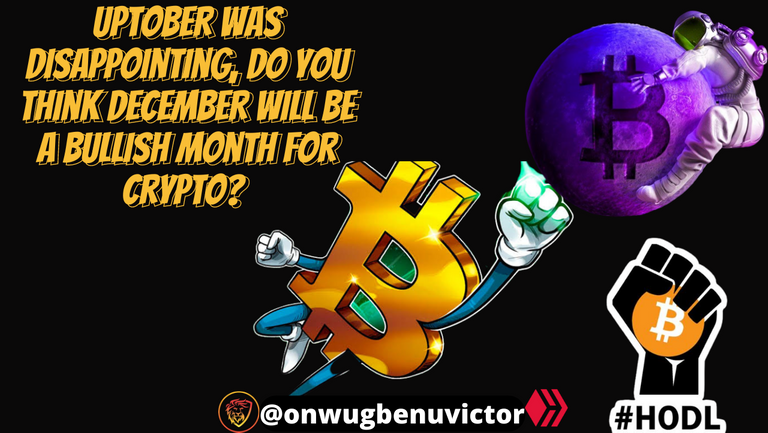 October was a disappointment and it disappointed a lot of crypto traders and investors, Do you think December will be a Bullish month for Crypto?, December is the last line of defense we have right now and the last chance for us and the crypto market of seeing a bull run or market this year, historically December has not had a good track record of a bull run and market for the crypto market since 2013, the crypto market has since five (5) bear markets in December and four (4) bull markets but it is a good thing that history is now messing speaking of October experience this year, so there could be the hope of us to have a dope December with beautiful pumps and a nice bull market.
But being a good crypto trader you should be prepared for any outcome that December brings because honestly, December comes with no promises, so just get ready for anything that happens because we can take it, buy the dip if it comes, and if you have the funds, HODL, and try your best not to panic sell. We are here for the long haul, so however December turns out, we are going to be here regardless and after December will still be here. Crypto always rewards the long-term holders who hold notable coins with great utilities and good reserves to overcome anything that happens to the crypto project.
PLEASE FOLLOW ME ON:
Discord: onwugbenuvictor#3447
Twitter: @VictorOnwugbenu
Posted Using LeoFinance Beta
---
---