Discord to linking with Ethereum

Discord is mostly used by cryptocurrency and NFT trader's globally, I really didn't know how important discord was until when I joined Hive, then I found out that it really important, to relate and chart with fellow hivers, so you don't have to post a private or personal messages under the person's post for the world to see. Also discord helps Hive newbie's to drop their complains and get answers for other experience Hivers, me personally I have learnt so much from other hiver's through discord.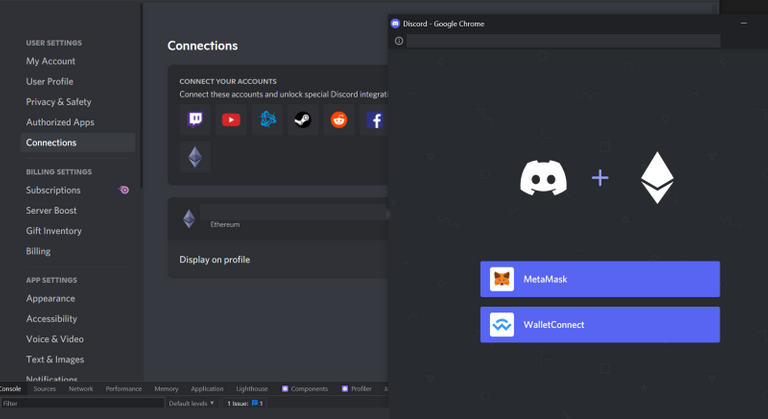 Twitter
Discord being a potential web3 social media platform having deep roots with cryptocurrencies, is considering connecting with Ethereum the world's largest Atlcoin, who's network gas fee just dropped by 33.5%.
Could the gas fee reduction be what is influencing the thought of linking Ethereum to Discord or the price of Ethereum hitting new all time high (ATH), although discord linking with Ethereum has not been confirmed yet, the CEO and Founder of discord, Jason Citron, teases users when he replied a tweet by Packy McCormick about Discord.
Here is Packy McCormick tweet below: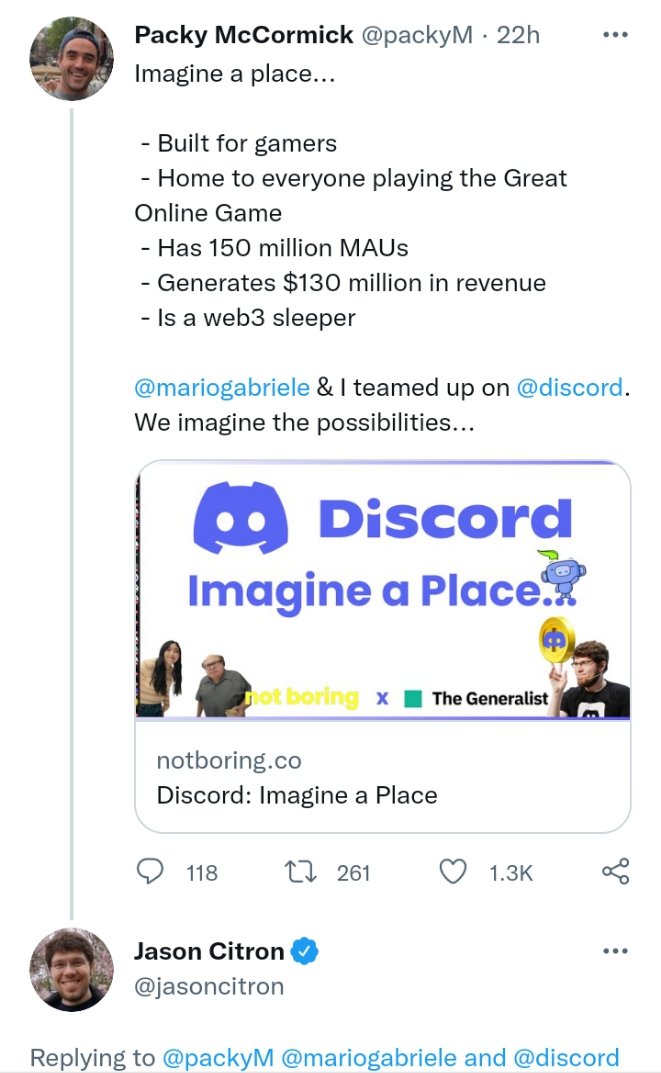 Twitter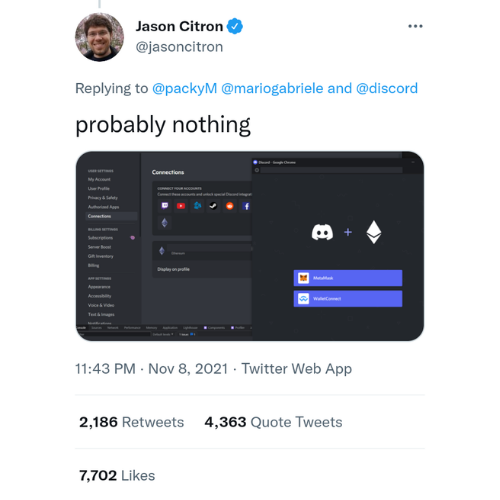 Twitter
According to this new report, Citron posted a screenshot of what appears to be Discord settings that allow users to connect to Ethereum, saying "probably nothing." The screenshot also shows the option to connect using Ethereum wallet MetaMask or chain-agnostic wallet connector WalletConnect. The options were not available on Discord's browser-based app early on Tuesday when CoinDesk checked. The screenshot could be a private development environment not yet released to the public.
Some comments and replies from the CEO of Discord under his tweet hinting on the link with Ethereum:
From Lucas Walters: Hold on, how do I connect my wallet? On the connections tab rn and don't see it. Is it a limited roll-out or is this a pre-release pic?
CEO of Discord replies: pre-release
From @ROBO_LEADER: Hi, I run a partnered server, I'm dealing with rampant scams and phishing attempts on the platform every day, and my server isn't even that popular!
Burning mountain of tires that is Etherium aside: do you really think this is a good idea given your 2FA doesn't work properly?
CEO of Discord replies: Really sorry to hear you are dealing with this. We are aware of the issue and have a new team focused on this issue. More to come soon.
Form the comments I read not everyone is ready to accept Discord connecting with Ethereum like this twitter user who said "I will cancel my nitro subscription and move my communities off discord if this is released."
So my question is, what do you think about Discord connecting or linking with Ethereum?
Thanks for reading and visiting my Blog
Posted Using LeoFinance Beta
---
---