Who pulled off the biggest crypto fraud in 2022, SBF(FTX), Do Kwon(LUNA & UST), and Alex Mashinsky(Celsius)?
Sam Bankman Fried (FTX), Do Kwon (LUNA & UST), and Alex Mashinsky (Celsius), Crypto Fraud is the only thing that binds these three former CEO's together but the major questions am asking right now is *out of the three of them who pulled of the biggest crypto fraud or heist of 2022?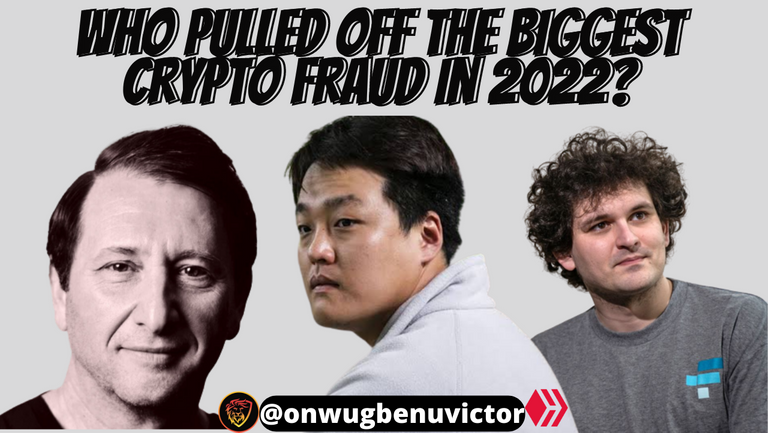 Is it Sam Bankman Fried (former CEO of FTX) who reportedly misused and stole funds worth $10 billion of FTX customer's funds only to later bail himself out with about $250 million after claiming to have only 100k left in his account that he and social media outlets say came from his parents selling their real estate property investments to provide Sam Bankman Fried's bail money, now a lot of people like me does not trust that story because FTX reported bought a lot of real estate properties in the Bahamas way before the FTX and its native coin FTT collapsed, also was paying his parents where receiving a monthly salary from FTX customers funds.
Do Kwon whose failed crypto projects Luna and UST caused a lot of crypto lending firms and exchanges who invested in them to collapse and later filed for Chapter 11 Bankruptcy including Celsius, Do Kwon's failed projects crash to ZERO was the beginning of crypto traders and investors nightmare as it delivered the first gut punch to the entire crypto space and lead to a lot of chaos.
Now, Sam Bankman Fried's FTX crash delivered the second gut punch to the entire crypto market which led to a lot of panic selling as people did not expect FTX to crash or collapse and eventually file for bankruptcy. Recently a judge granted Celsius full ownership rights over all the coin deposited into their platform as their fraudulent terms and conditions protect them legally, meaning all customer's funds in their platform belongs to them now, which is not fair to the customers and a total broad daylight robbery.
PLEASE FOLLOW ME ON:
Discord: onwugbenuvictor#3447
Twitter: @VictorOnwugbenu
Posted Using LeoFinance Beta
---
---