Wishes Don't Make People Bitcoin or Crypto Millionaires, Actions Do.
Honestly, People should stop building Castles and Mansions in the air or their heads when they are not ready to work for it, because that makes no sense, like I said in my post title already Wishes Don't Make People Bitcoin Or Crypto Millionaires, Actions Do. There are two popular sayings that best describes this, one of them is this Action Speaks Louder Than Words and the other is If Wishes Were Horses, Beggars Would Ride, which simply means there is no point wishing for things to happen if you are not ready to move mountains to make sure it does happen for you.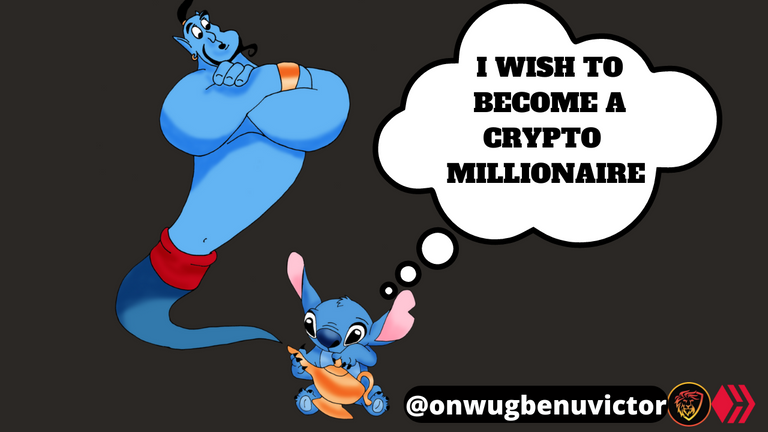 You can't just be sitting on your ass and hoping to be a crypto millionaire or profitable crypto trader just like that, crypto and life, in general, don't work that way, if it did work like that every one would have been crypto millionaires. It doesn't matter how much you have, if you can put some funds in Bitcoin now and leave it for at least five years, Bitcoin will definitely change your life or better still you can be dollar cost averaging into the Bitcoin or other notable altcoins and build your portfolio up, bit by bit and over time you will attain your desired goal, that's action right there. Crypto requires capital and patience, and you're good to go.
Treat Crypto Just Like Any Other Investment Or Business Venture, Not Like A Casino
People should stop treating Crypto like they are betting in a Casino, it does not work out well for them and in the end, it will end in tears or regrets, delete that mindset of seeing crypto as a get rich quick scheme or you become a millionaire is crypto overnight, you will only hurt yourself and that is guaranteed. Crypto is just like every other investment or business venture that has two major outcomes, it's either you Earn or you Learn (I don't want to use the word Lose). With Luna pump and later crash, so many people earned and also learned a lot of things, one is learning how to take profit off the market (this should be normalized) and another is to learn to diversify your money into different assets (don't put all your eggs in one basket). And anything you learn in crypto helps you make better choices next time. Also just like any other investments or business ventures, you need to do your homework, have patience which is very important in crypto, invest small to test the water if you are scared, then gradually build up and grow your portfolio from there.
THANKS GUYS FOR READING MY POST.
PLEASE FOLLOW ME ON:
Discord: onwugbenuvictor#3447
Twitter: @VictorOnwugbenu
Posted Using LeoFinance Beta
---
---