PhotoEdits @oscarps - Childhood in the port of Santander
---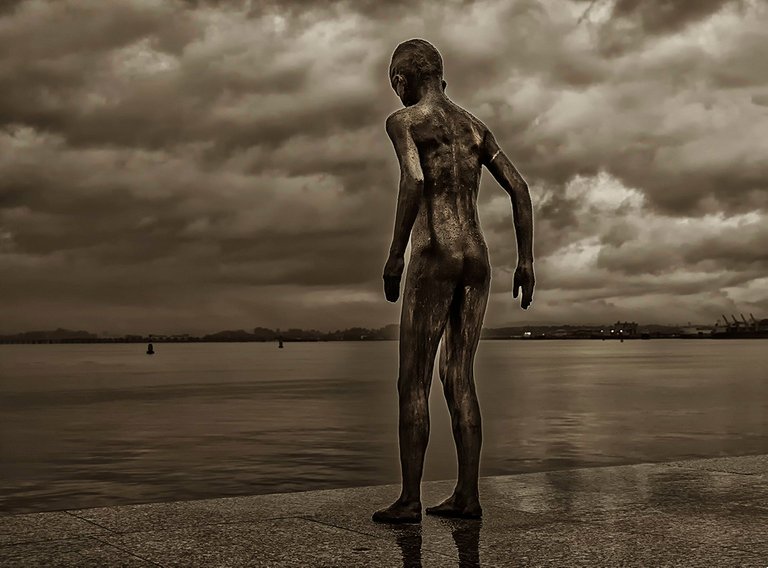 ---

---
Good day community

This is a very special edition that I have made on some images of bronze statues that are in the seaport of the city of Santander, in the north of Spain. I tell you that they are special for various reasons for me, not only because I have worked on these images in a different way than usual, but also because of the memory that they provoke in me. When I was a child I also took these same steps from the seaport of a small town in Galicia called Cangas del Morrazo, on the Vigo estuary. Together with my summer friends we also played similarly to these excellent works of art. My memories take me back to the audacity of that time, since many times we expected a ship to pass so that shortly after we jumped into the water, letting the wake and waves that it formed in its path carry us away. We also sought to dive from high places and challenged ourselves for the "even more difficult".
---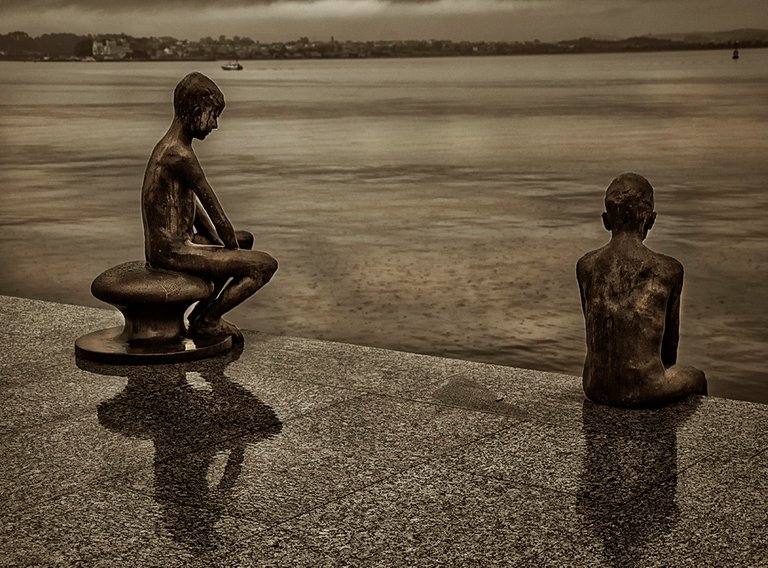 On this occasion when I took these images, the day was very closed, loaded with clouds that left water behind, a good rain. I wanted to work on these images trying a method of light and shadow, a method that must be worked completely manually with different hardness brushes and also playing with opacity. Provoke volume using sepia in addition to touching those darker parts and giving relief to natural lights, even though the day was greyish.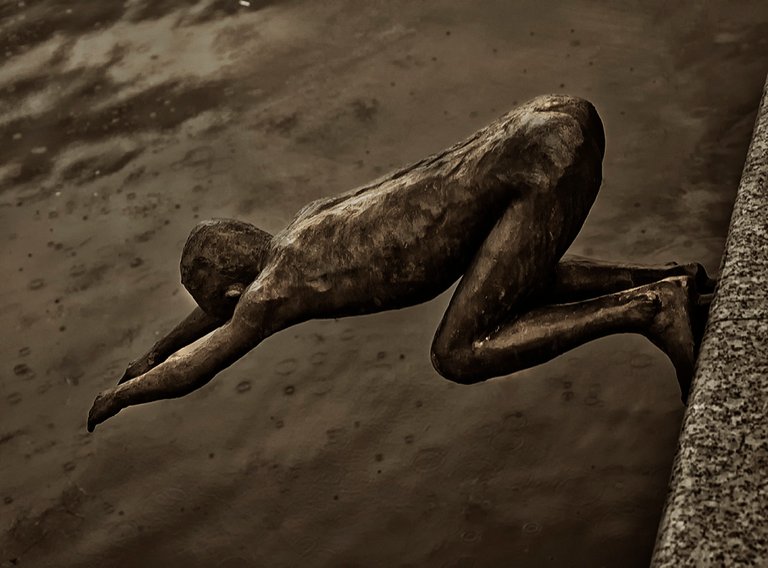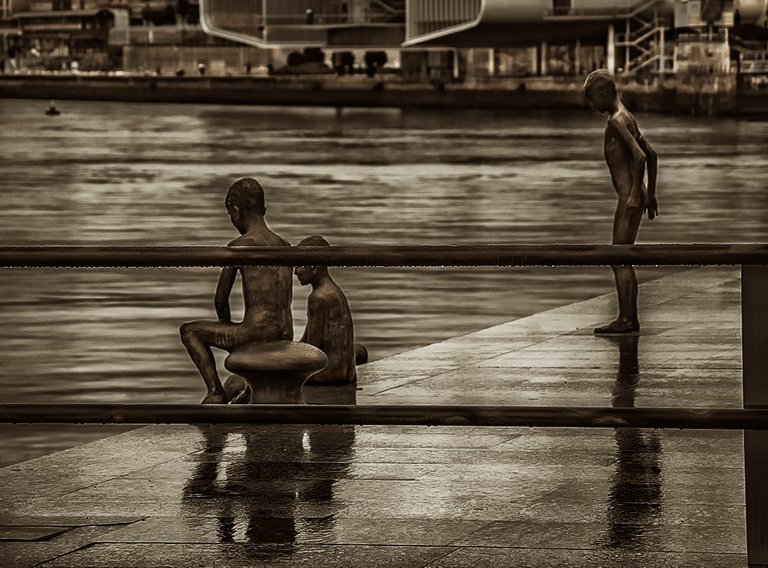 The set of statues is known as "Los Raqueros de Santander" and is based on a tribute they wanted to pay to these boys who dived into the waters of the Cantabrian Sea. The author of these unique statues is José Cobo Calderón in Santander in 1958. When I saw these images, I especially remembered that day when I was taking these photos and it made me remember that great experience of having been contemplating them and taking pictures. Greetings friends.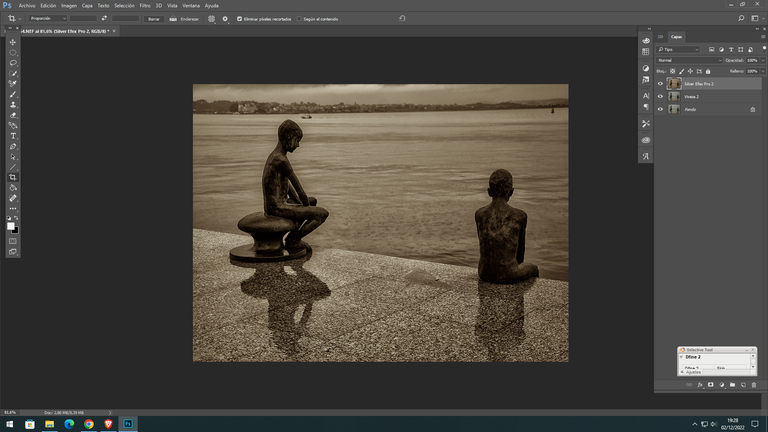 Spanish
---
@oscarps Infancia en el puerto de Santander
Esta es una edición muy especial que he realizado sobre unas imágenes de estatuas en bronce que están en el puerto marítimo de la ciudad de Santander, al norte de España. Os comento que son especiales por varios motivos para mí no solo por el hecho de haber trabajo estas imágenes de manera distinta a lo habitual sino también por el recuerdo que ellas me provocan. Cuando era niño también hacia estos mismos pinitos desde el puerto marítimo de una pequeña localidad de Galicia llamada cangas del Morrazo, en la ría de Vigo. Junto con mis amigos de verano jugábamos también de manera similar a estas excelentes obras de arte. Mis recuerdo me remontan a la osadía de entonces ya que muchas veces esperábamos pasar algún barco para que poco después saltar al aguan dejando llevar por la estelo y oleaje que este formaba a su paso. También buscábamos zambullirnos desde lugares altos y nos retábamos por el "más difícil todavía".
En esta ocasión en el que tome estas imágenes el día estaba muy cerrado, cargado de nubes que dejaban agua de seguido, una buena lluvia. Quise trabajar estas imágenes probando un método de luz y sobra, un método que hay que trabajarlo completamente a manual con distintos pinceles de dureza y también jugando con la opacidad. Provocar volumen usando el sepia además de tocar esas partes más oscuras y dándole relieve a las luces naturales, aunque el día era grisáceo.
El conjunto de estatuas es conocido como ""Los Raqueros de Santander" y está basado en un homenaje que quisieron hacerle a estos muchachos que se zambullían en las aguas del mar Cantábrico. El autor de estas singulares estatuas es José Cobo Calderón en Santander en 1958. Cuando vi estas imágenes recordé en especial ese día cuando tomaba estas fotos y me hizo recordar esa gran experiencia de haber estado contemplándolas y tomándole fotografías. Saludos amigos.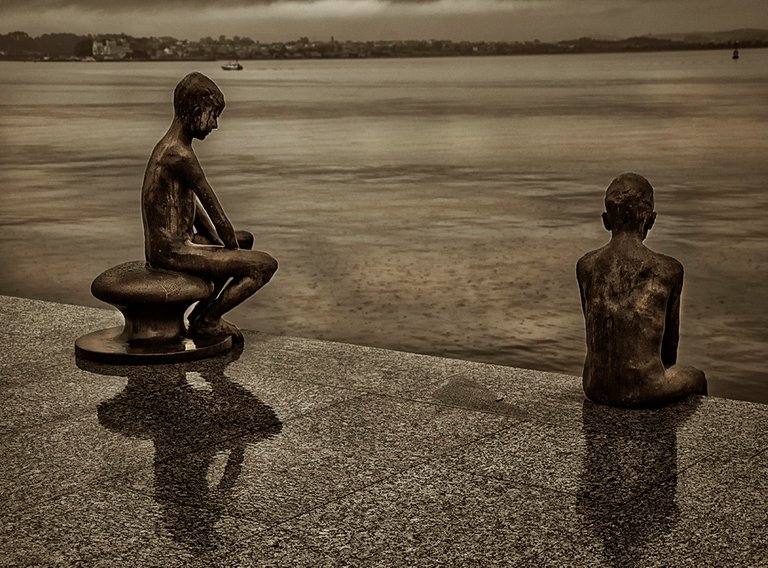 ---
| | |
| --- | --- |
| Categoría | Phototalent |
| Ajustes | ISO-100 f/8 1/100s |
| Cámara | Nikon D7100 - Olympus E410 y Kodak Z |
| Lente | Nikkor or Olympus |
| Localización | Spain |
---

---


Image ©oscarps. All Rights Reserved.
Original content by @oscarps
---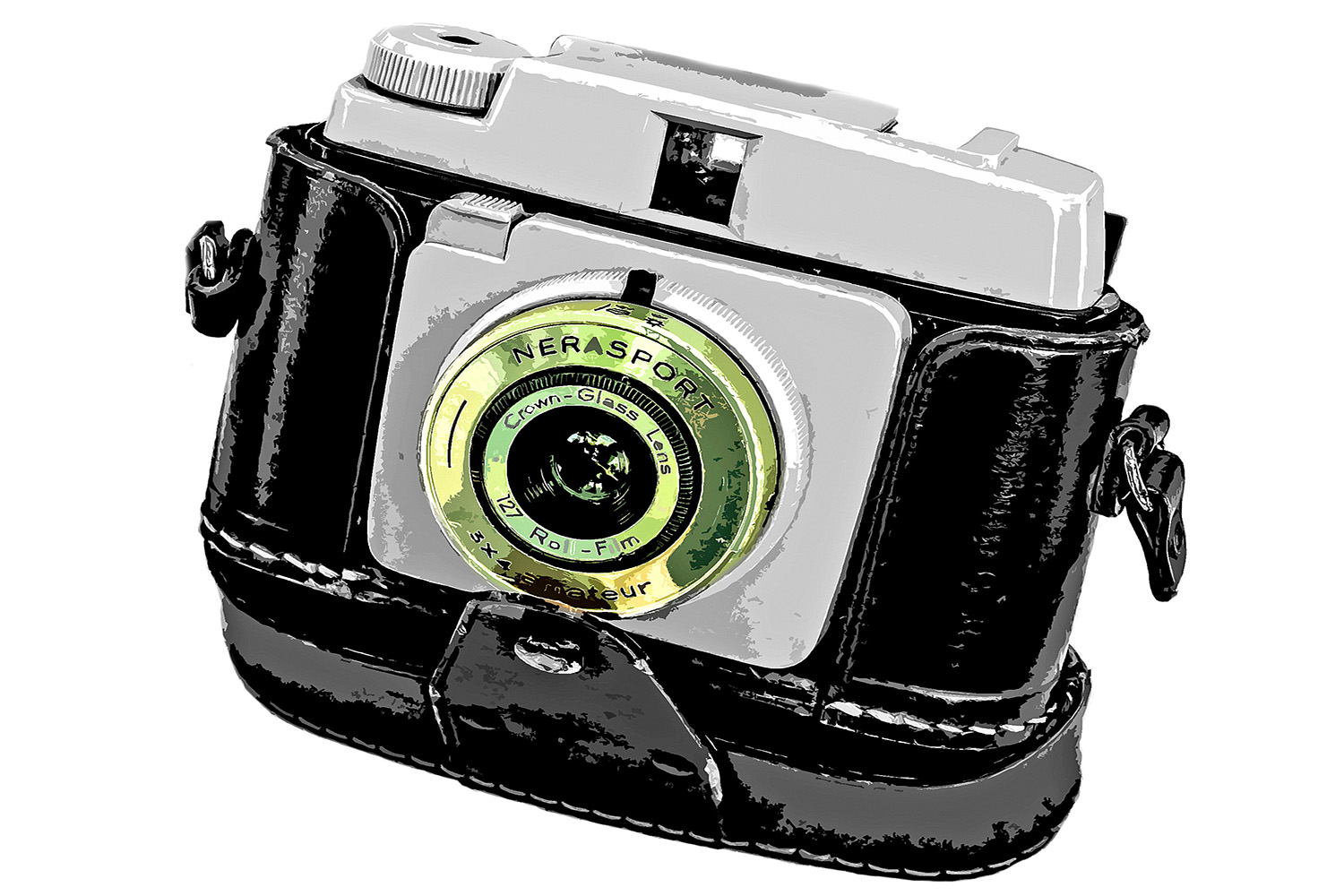 Photographic works made in RAW format.
Images edited and converted to JPG format with Photoshop CC by @oscarps
---
---