PhotoEdits @oscarps - Perched at the top of the city
---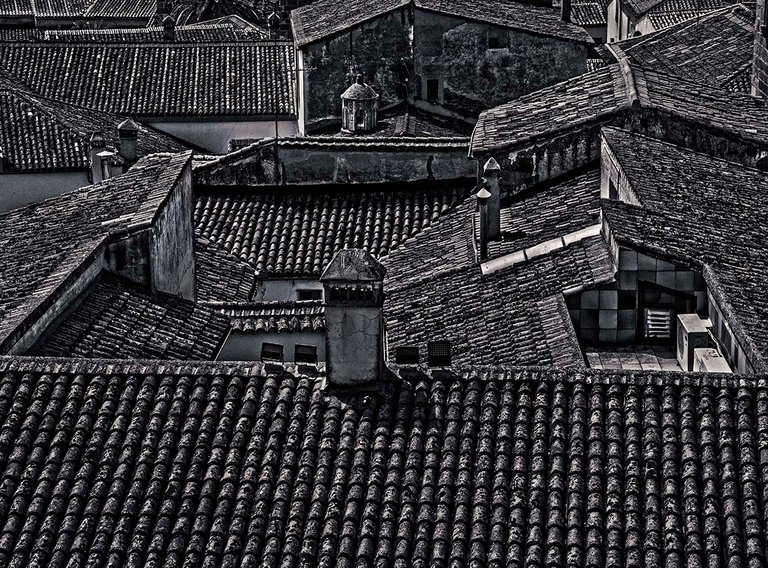 ---

---
Good day community

Sometimes I like to walk through complicated places that are difficult to access, as in this case. The photographs that I show you today are taken from the highest part of the old city of Cáceres. Walking very carefully through these high places is something that seems to be done by cats. The old tiles crack easily and are slippery and the fall and the proximity of the void is very close. It has a double effect on my being in these places, firstly the feeling of constant danger, alert mind in movements and full activity of reflexes, secondly the views are incredibly unique and fantastic.
---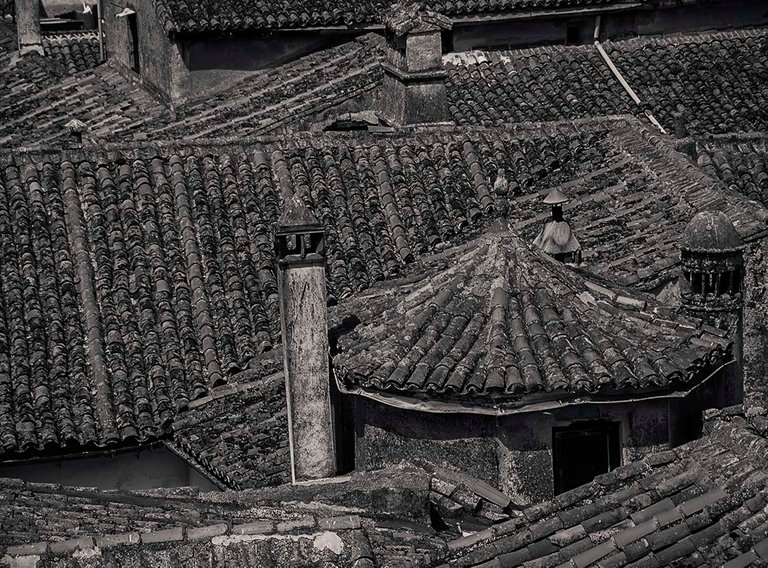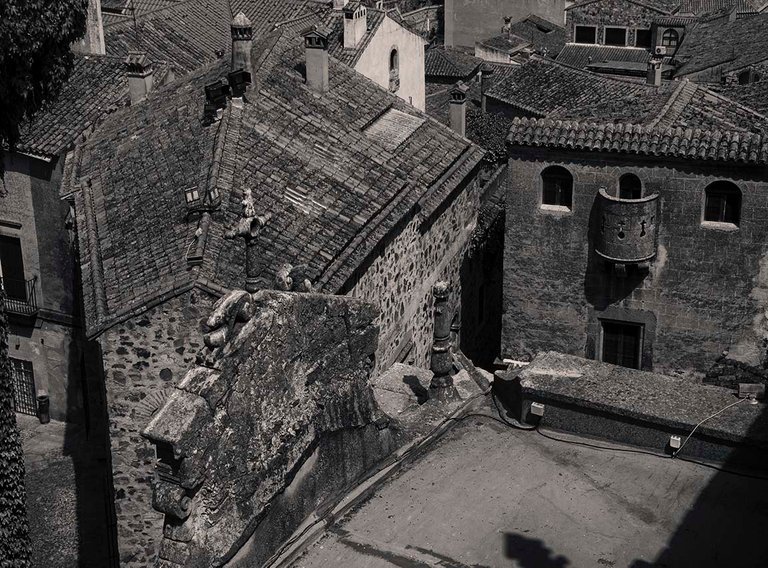 I have worked in these situations on certain occasions and I feel very comfortable in them. The main thing when one walks on these old rooftops is to keep the mind wide awake so that each step, each step, is exact, without hesitating, feeling if it is safe to move and take the next step before taking full action. When I manage to position myself where I want, the feeling is very nice to have achieved it and the views are almost always exclusive images that few people have been able to take, a challenge.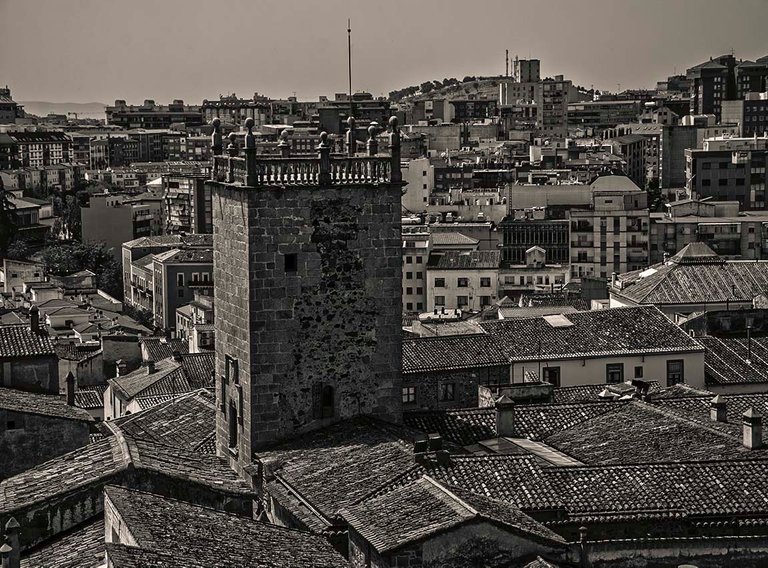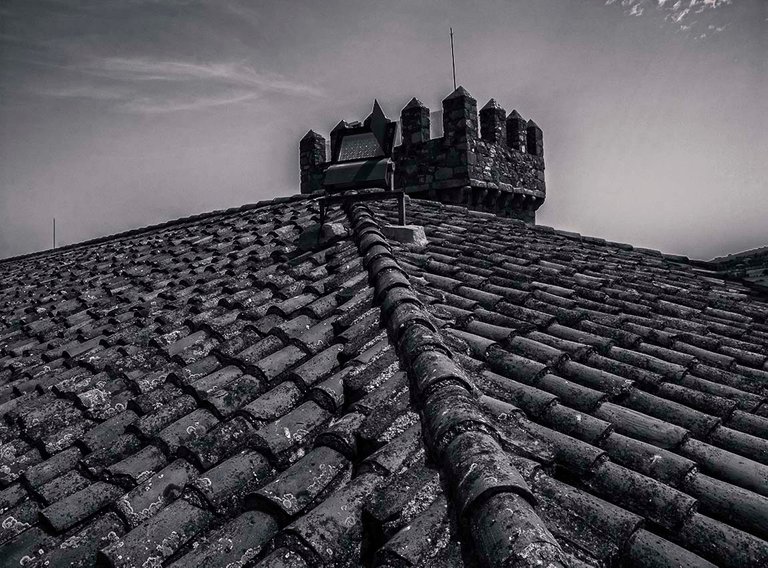 I wanted to make a special edition in monocolor and thus provoking the selenium with a touch of yellow, the shade of tone is exactly what I was looking for. Since it is monocolor, the effects of shadows and lights become more pronounced and I like the details more, Regards friends.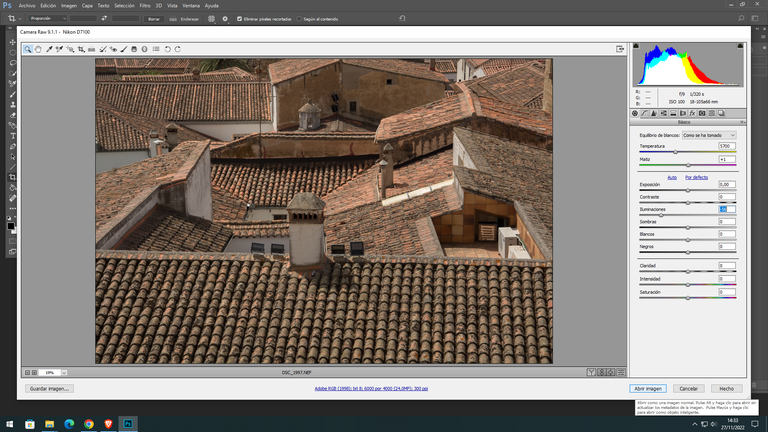 Spanish
---
@oscarps Encaramado en lo más alto de la ciudad
Algunas ocasiones me gusta caminar por sitios complicados y de difícil acceso como es este caso. Las fotografías que os muestro hoy están tomadas desde la parte más elevada de la antigua ciudad de Cáceres. Caminar con mucho cuidado por estos sitios elevados es algo que parece de felinos. Las tejas viejas se cuartean fácilmente y son resbaladizas y la caída y la cercanía del vacío es muy próxima. Tiene un doble efecto en mi estar en estos lugares, primero la sensación de peligro constante, de mente alerta en los movimientos y de plena actividad de reflejos, segundo las vistas, son increíblemente únicas y fantásticas.
He trabajado es estas situaciones en determinadas ocasiones y me encuentro muy cómodo en ellas. La cuestión principal cuando uno camina por estos viejos tejados es mantener bien despierta las mente para que cada paso, cada pisada, sea exacta, sin titubear, palpando si es seguro moverse y dar el siguiente paso antes de realizar la acción total. Cuando consigo posicionarme donde quiero la sensación es muy agradable de haberlo conseguido y las vistas son casi siempre imágenes exclusivas que pocas personas han podido tomar, un reto.
He querido hacer una especial edición en monocolor y así provocando al selenio con un toque de amarillo el matiz de tono es exactamente el que buscaba, Al ser monocolor los efectos de sombras y luces se me hacen más pronunciados y los detalles me gustan más, Saludos amigos.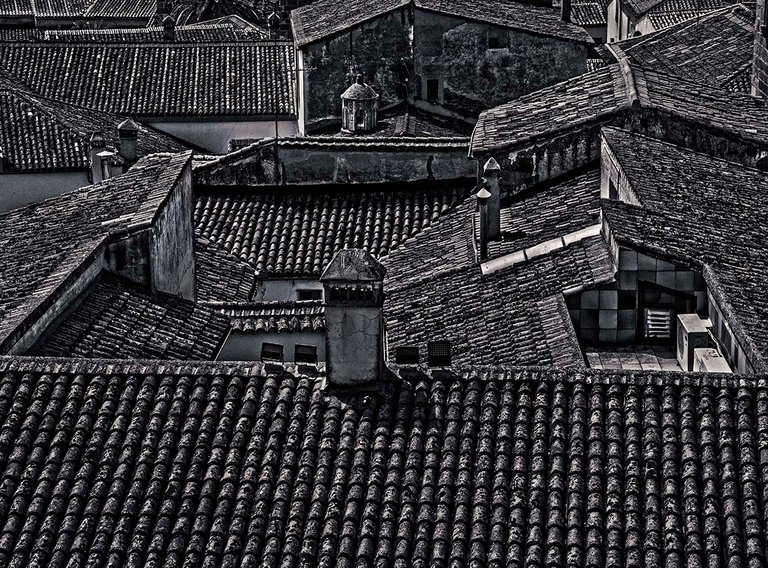 ---
| | |
| --- | --- |
| Categoría | Phototalent |
| Ajustes | ISO-100 f/8 1/100s |
| Cámara | Nikon D7100 - Olympus E410 y Kodak Z |
| Lente | Nikkor or Olympus |
| Localización | Spain |
---

---


Image ©oscarps. All Rights Reserved.
Original content by @oscarps
---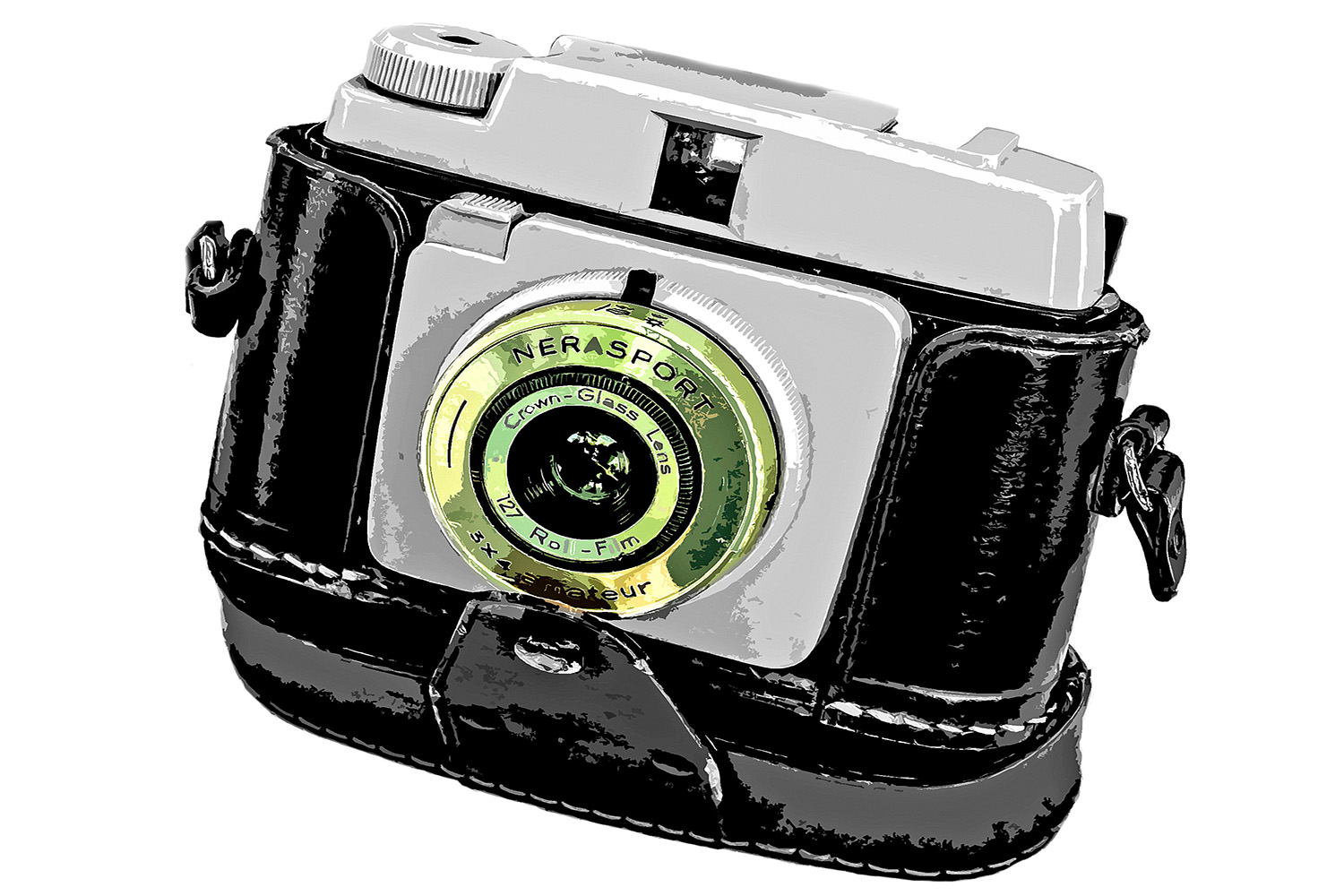 Photographic works made in RAW format.
Images edited and converted to JPG format with Photoshop CC by @oscarps
---
---