Hive Openmic Week #118_Cover of Lewis "Someone You Love" ENG/ESP
---
Hive Openmic Week #118_Cover of Lewis "Someone You Love" Eng/Español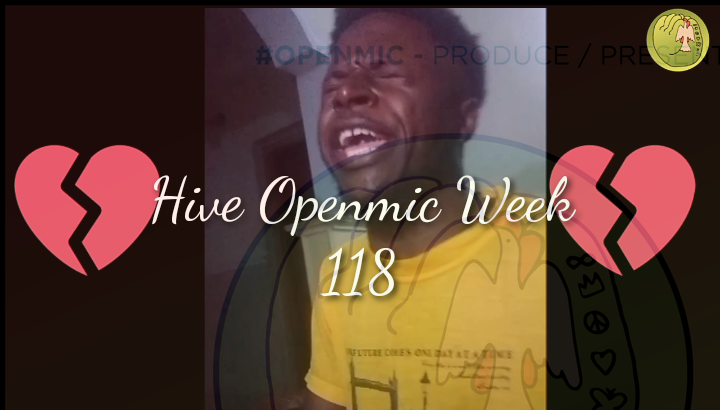 English
Good day my Friends and Family of Hiveopenmic and Welcome to my entry for week 118 of Hiveopenmic with the theme Love hurts. I tell you the truth love is really a beautiful thing but at the same time it can give us a worstest Life we never deserve. A Lot of people mistook love with lost and end up with regrets some actually had the feeling but due to some kind of conflicts the two parties loose interest each other leading to heart breaks. Love is very strong and can happen to anyone I have seen people that made vow not to fall in love but end up in the warm hands of love again, I have seen people that play love and everything seems it will have no end but one thing leads to another and then a surprising ending comes in.
Español
Buen día mis Amigos y Familia de Hiveopenmic y Bienvenidos a mi entrada para la semana 118 de Hiveopenmic con el tema El amor duele. Te digo la verdad el amor es realmente una cosa hermosa pero al mismo tiempo nos puede dar la peor Vida que nunca merecemos. Mucha gente confundió el amor con la pérdida y terminaron arrepintiéndose, algunos realmente tenían el sentimiento, pero debido a algún tipo de conflicto, las dos partes pierden el interés mutuo y se rompen el corazón. El amor es muy fuerte y le puede pasar a cualquiera. He visto personas que hicieron votos de no enamorarse pero terminan nuevamente en las cálidas manos del amor. He visto personas que juegan al amor y todo parece no tener fin, solo una cosa. lleva a otro y luego llega un final sorprendente.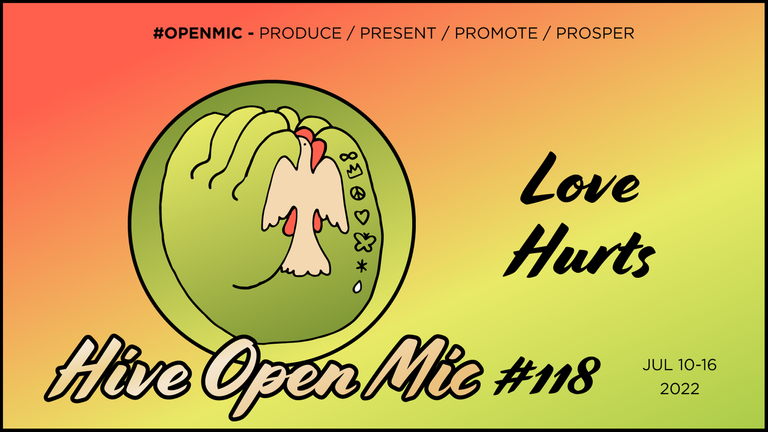 English
Just of recent I had this big misunderstanding with my girlfriend and she broke my heart not because she said she was going but because she didn't really love me from unset, she just wanted to have an experience and so she is going. This isn't my first relationship actually and won't be the last because sooner or later I will find the real one for me, I have been broken several times and I do feel hurt but this particular one brought back the pain of everything together, I began to ask myself questions, but what was the effrontery she had to look me in the eyes and tell me several times she loves me? How comes it seems so real? Am really scared of getting hurt again but I no myself I will try again. Allot of people say love is blind but my own type of love can see because when love is blind you tend to forget the right things to do in the relationship and the both of you will continue to keep the wrongs and neglect the right thing and definitely you will suffer for it some day but what I mean by my own love sees is that I prefer we correct each other when we are wrong and we make sure the right thing is done I think this is the perfect love for me.
Español
Hace poco tuve un gran malentendido con mi novia y ella me rompió el corazón no porque dijo que iba a ir, sino porque realmente no me amaba desde el principio, solo quería tener una experiencia y por eso se va. Esta no es mi primera relación en realidad y no será la última porque tarde o temprano encontraré la verdadera para mí, me han roto varias veces y me siento herida, pero esta en particular me trajo de vuelta el dolor de todo junto. , comencé a hacerme preguntas, pero ¿cuál fue el descaro que tuvo de mirarme a los ojos y decirme varias veces que me ama? ¿Cómo es que parece tan real? Tengo mucho miedo de volver a lastimarme, pero sé que lo intentaré de nuevo. Mucha gente dice que el amor es ciego, pero mi propio tipo de amor puede ver porque cuando el amor es ciego, tiendes a olvidar las cosas correctas que hacer en la relación y ambos continuarán manteniendo los errores y descuidando lo correcto y definitivamente. sufrirás por eso algún día, pero lo que quiero decir con mi propio amor es que prefiero que nos corrijamos cuando nos equivocamos y nos aseguremos de que se haga lo correcto. Creo que este es el amor perfecto para mí.
English
I don't know why people feel more comfortable when they're been told they are loved without a reason because if they should be loved because of a reason when that reason isn't there the person will stop loving them. Let me ask a question, don't we think if someone is loved without a reason the lover can stop loving the person without a reason too? But if you are love with a reason that means you have the keys to that relationship immediately you leave the reason why you're loved you tend to loose that love. I don't know of others but this are my guidelines for Love, I can't tell you I love you without a reason because I will definitely leave you without a reason, but if I love you with a reason I will tell you the reason and often times my reason to love isn't all about beauty, your character matters, I will appreciate if you are beautiful both in and out, if you're beautiful outside and inside is corrupted then there will definitely be problem but if you are beautiful from the inside, the outside is just an additional gift. When I mean beautiful from the inside I mean good character which makes you have the possession of the key to my heart but if you change from being good to bad I might try to make it right but if it doesn't I go. I really love the theme for this week and if I should continue talking about love I would have to invite you next time maybe with some cup of coffee to keep you agile while we talk inexhaustibly. Thank you so much for reading through my Post
Español
No sé por qué las personas se sienten más cómodas cuando les dicen que son amadas sin una razón porque si deberían ser amadas por una razón cuando esa razón no está ahí, la persona dejará de amarlas. Déjame hacerte una pregunta, ¿no crees que alguien es amar sin razón el amante puede dejar de amar a la persona sin razón? Pero si eres amado por una razón que significa que tienes las llaves de esa relación inmediatamente dejas la razón por la que eres amado tiendes a perder ese amor. No se de otras pero estas son mis pautas para el Amor, no puedo decirte que te amo sin razon porque definitivamente te dejare sin razon, pero si te amo con razon te dire la razón y muchas veces mi razón para amar no se trata solo de la belleza, tu carácter importa, apreciaré si eres hermosa tanto por dentro como por fuera, si eres hermosa por fuera y por dentro está corrompida, entonces definitivamente habrá un problema, pero si tú son hermosos por dentro, el exterior es solo un regalo adicional. Cuando me refiero a hermoso por dentro, me refiero a un buen carácter que te hace tener la llave de mi corazón, pero si cambias de ser bueno a malo, podría tratar de hacerlo bien, pero si no es así, me iré. Realmente me encanta el tema de esta semana y si tuviera que hablar de amor tendría que invitarte la próxima vez tal vez con una taza de café para mantenerte ágil mientras hablamos inagotablemente. Muchas gracias por leer mi publicación.

Lyrics of Someone You Love

I'm going under and this time I fear there's no one to save me
This all or nothing really got a way of driving me crazy
I need somebody to heal
Somebody to know
Somebody to have
Somebody to hold
It's easy to say
But it's never the same
I guess I kinda liked the way you numbed all the pain
Now the day bleeds
Into nightfall
And you're not here
To get me through it all
I let my guard down
And then you pulled the rug
I was getting kinda used to being someone you loved
I'm going under and this time I fear there's no one to turn to
This all or nothing way of loving got me sleeping without you
Now, I need somebody to know
Somebody to heal
Somebody to have
Just to know how it feels
It's easy to say
But it's never the same
I guess I kinda liked the way you helped me escape
Now the day bleeds
Into nightfall
And you're not here
To get me through it all
I let my guard down
And then you pulled the rug
I was getting kinda used to being someone you loved
And I tend to close my eyes when it hurts sometimes
I fall into your arms
I'll be safe in your sound til I come back around
For now the day bleeds
Into nightfall
And you're not here
To get me through it all
I let my guard down
And then you pulled the rug
I was getting kinda used to being someone you loved
But now the day bleeds
Into nightfall
And you're not here
To get me through it all
I let my guard down
And then you pulled the rug
I was getting kinda used to being someone you loved

Lyrics Source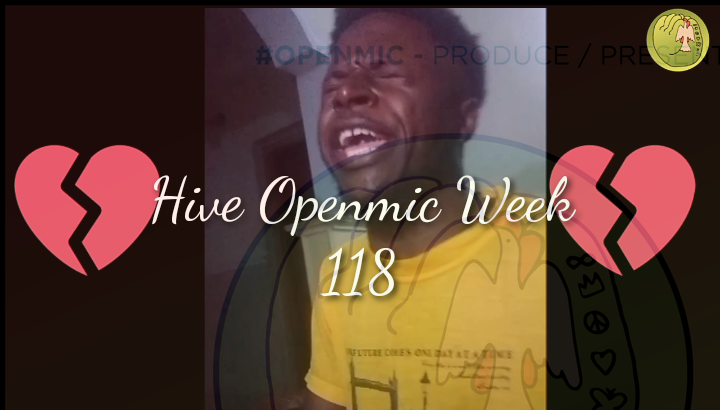 APPRECIATION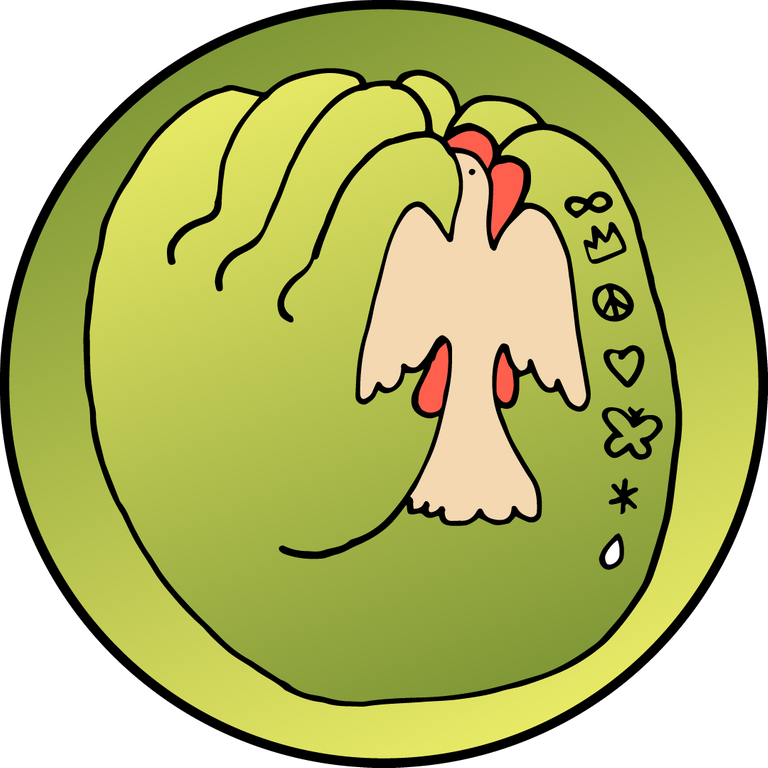 Thank you for visiting my Post

---
▶️ 3Speak
---
---