Do we should invest in dogcoin cryptocurrency now?

Befor we talk about the future of dogcoin we should take a look about what is dogcoin and it history so we can have a full vision about dogcoing future.
---
          dogcoin beginning

Dogecoin is a cryptocurrency that was created on December 6th, 2013 based on the popular "Doge" Internet meme. The codebase of the project was a fork of Litecoin, in which most of the same features such hash hashing algorithm were inherited, with the only difference of branding and large inflationary supply.
Introduced as a "joke currency", Dogecoin quickly developed its own online community and reached a capitalization of US$60 million in January 2014.
but The biggest surprise was that this year the dogecoin price has exploded , rising almost 10,000% since October 2020 and propelling the memecoin into the crypto top ten—and that was because of one of elon Musk's Twitte . For comparison, the bitcoin price has added 400% over the last 12 months, with much of its gains coming after Musk revealed Tesla had bought $1.5 billion worth of bitcoin at the beginning of the year


            Dogcoin future

After the biggest rise this year the dog coin has settle at the price of 0.22-0.24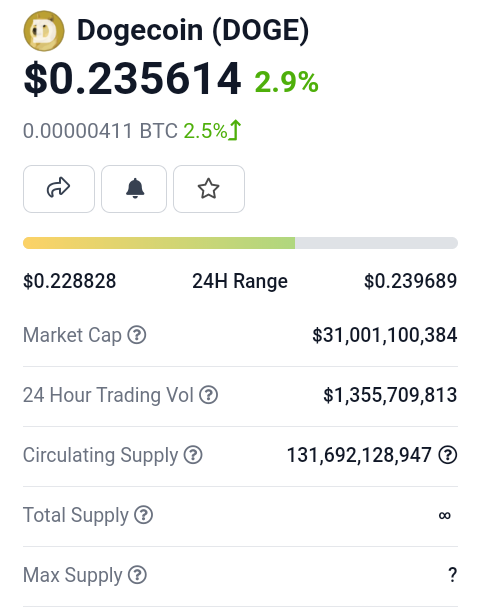 (The pic have been taked from "coingecko" just for learning Intentional)
Some investors thinking that dogcoin have a future and its will rise more at 2022, and it's can reach 1$ before 2021, but in other side some cryptocurrency experts think that if dogcoin didn't start to make some projects and start cooperate with different companys ,the dogcoin then will had no future and the price will drop 50%_100% before the end of this year . The only reason why dogcoin didn't dropped yet is because the investment of elone musk .
So as an long term non risk investor i don't recommend to invest in dogcoin until the creators and investors of dogcoin start working and makiking good project for it , so you need to stay prepared if that happen , then investing on it with just 100$ can make you a profit of 500$ or more in one month but that if they start working for projects .
---
This my opinion and i hope you all success in investment.
---
---