Thoughts about Ego - Selfishness and Individualism | Reflexões sobre Ego - Egoísmo e Individualismo.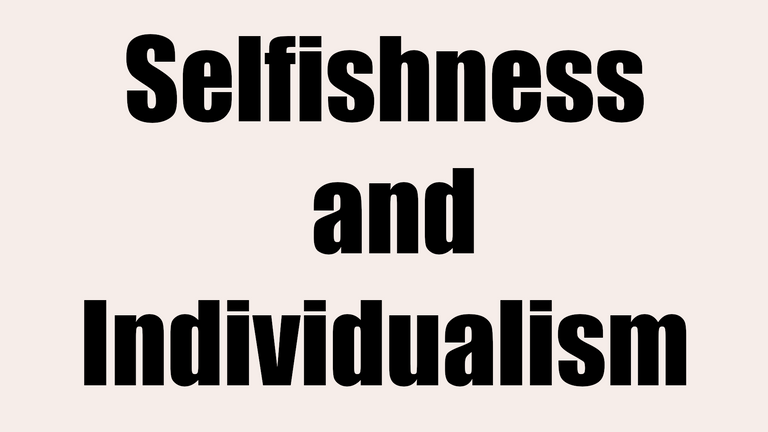 Source: Made by me.
This post can be read in English and Portuguese
English
As I said in my post about Ego, it would only be an introduction to issues related to the topic of Ego, and one of the issues that I always reflect and now want to talk about is the confusion between Egoism and Individualism in relation to resources (money, food, items, equipment, etc).
Before, I want to share 2 things.
The first is that the word we use for Selfishness in Portuguese here in Brazil is Egoísmo(pt-br), this word also encompasses the concept of Egotism. As I'm going to talk more about actions involving resources and not just about behavior and ways of seeing oneself, the concept used in this post is relative to Selfishness.
The second thing is a brief story/anecdote that I read more than a decade ago, before the real expansion of the internet in Brazil, in one of the editions of Reader's Digest(in here the name is of the magazine is Seleções).
The story/anecdote was told in one of the short stories sections that were in the magazine. I don't remember the exact words of the story, nor who sent it, so I won't be able to attribute an authorship, I'd say it's anonymous. Let's go to it:
A woman, the mother of one boy, married a man who was the father of two boys.

At Easter (and other festivities),the boys who were the man's biological children received Chocolate Eggs (or other delicacies at other festivities) from their biological mother, and the woman's child received nothing.

One day she came to her adopted children and said:

"You get Easter Eggs every year, but your brother doesn't. You need to learn to share and not be selfish, how about each of you giving half of every Easter Egg you earn to him?"

And so it was.

Anonymous.
Sometimes when the theme of selfishness comes up, I remember this story/anecdote.
It would be wrong to say that I've never committed selfish acts, but usually when I'm called selfish, I realize that in reality people are acting more or less like the boy's mother.
I consider myself an individualist, and in my view, being an individualist is thinking about my interests as a priority, without wanting what other people want, and without wanting them to do things that are disadvantageous for them but that are beneficial to me.
That is, I only want what is mine, and it's up to me to decide whether I share or not, and what belongs to others I am not interested in obtaining by any means that are not fair, much less want or like to monopolize collective things (collectivity can be a complex term, but I don't want to go into that merit).
Note: You see, I'm not talking about wealth sharing, large-scale monopoly of essential natural resources, or anything like that, nor do I want to get into that. I'm talking about smaller or smaller resources (money, food, equipment, etc.) usually obtained through the action of a person, resources that often have no relationship with the people who demand a part, nor are they a collective resource, obtained from collectively, or through the work of others.
Returning:
However, most people are angry when there is a situation where a person refuses to share a resource obtained individually, with their own effort, a non-collective resource. And then the accusations of selfishness start to appear.
But in the end, whoever is being selfish, demanding altruism from others, is who generally did not get the resource (non-collective) in question and demands sharing, people who also generally do not like to share what they have, even when it is something obtained by collective actions. It is an inversion of values, an inversion that few people make the effort to address.
Personally, I avoid having access to collective resources, other people's resources, or going to events or occasions where I cannot contribute resources. I do this to avoid accusations, which always come up in the sense of "I did this for you, how can you not give me what I want, how selfish!"
All the people with whom I am intimate know that if I have something I have achieved with my own effort if I feel like sharing I will share it, if I don't feel like it, I don't, and I even avoid showing off what I get, even to avoid provocation( I see ostentation in this sense as something abhorrent). And also when I want something that someone else has, and they don't want to give it to me, I don't argue, I try to acquire that something with my own means (work or exchanges).
However, in general, most people act differently, and I've been involved in fruitless and hurtful discussions because of it.
I'm not against collectivism or altruism, and I won't go into details so as not to fall into self-promotion, but I say that whenever I can, I share and collaborate as I can, with what or how much I can.
But it irritates me deeply to be forced to share something that is mine, and even more to is accused of something I avoid being, which is being selfish. I believe that if people could understand the difference between individualism and selfishness, and sought to apply that notion to their own lives, a lot could be resolved. And the very concept of individualism could be better understood.
Individualism in relation to resources in my view is about neutrality, sharing is a choice, in relation to oneself and others. Selfishness in relation to resources is something negative that harms those who practice it and those around them in the long run, as it generates excessive concentration, and includes taking from others without a fair return.
An individualist just wants to keep his own, with what is his, and share whenever he wants. An egoist wants what belongs to others, more and more, he doesn't share what he has, and when he shares he usually has ulterior motives.
Making that explicit and recognizing yourself as an individualist is complex and comes at a cost, but the cost of conforming to selfish people or people who try to force other ways of dealing with resources is just as costly.
And you? What do you think about this subject?
---
---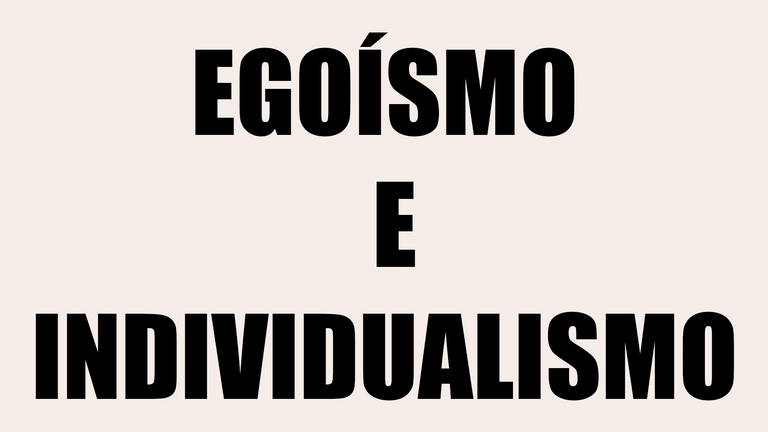 Source: Made by me.
Português
Como disse no meu post sobre Ego, ele seria só uma introdução para assuntos relacionados ao tema do Ego, e um dos temas que sempre reflito e quero agora falar sobre é a confusão entre Egoísmo e Individualismo em relação a recursos(dinheiro, comida, itens, equipamentos, etc).
Antes, quero compartilhar 2 coisas.
A primeira é que a palavra que usamos para Selfishness em português aqui no Brasil é Egoísmo(pt-br), essa palavra também abrange o conceito de Egotism. Como vou falar mais de ações e não só de conduta e formas de uma pessoa se enxergar, o conceito usado em inglês é o de Selfishness.
A segunda coisa é uma breve história/anedota que li há mais de uma década atrás, antes da expansão real da internet no Brasil, em uma das edições da Seleções - Reader's Digest.
A história/anedota foi contada em uma das seções de pequenas histórias que havia na revista. Não lembro as palavras exatas da história, nem quem enviou, então não vou poder atribuir uma autoria, diria que é anônima. Vamos a ela:
Uma mulher, mãe de um menino, se casou com um homem que era pai de dois meninos.

Na Páscoa(e em outras festividades), os meninos que eram filhos biológicos do homem recebiam Ovos de Chocolate(ou outras iguarias em outras festas) da mãe biológica deles, e o filho dessa mulher não recebia nada.

Um dia ela chegou para os filhos adotivos dela e disse:

"Vocês ganham Ovos da Páscoa todo ano, mas o irmão de vocês não ganha. Vocês precisam aprender a compartilhar e não serem egoístas, que tal cada um de vocês dar metade de cada Ovo de Páscoa que vocês ganharem para ele?"

E assim foi.
As vezes quando o tema egoísmo vem a tona, lembro dessa história/anedota.
Seria errado dizer que nunca cometi atos de egoísmo, mas geralmente quando sou chamado de egoísta, percebo que na realidade as pessoas estão agindo mais ou menos como a mãe do menino.
Me considero uma pessoa individualista, e na minha visão ser individualista é pensar nos meus interesses como prioridade, sem desejar o que de outras pessoas, e sem desejar que elas façam coisas desvantajosas para elas mas que sejam proveitosas para mim.
Ou seja, quero somente o que é meu, e cabe a mim decidir se compartilho ou não, e o que é dos outros não me interessa obter por quaisquer meios que não sejam justos, muito menos quero ou gosto de monopolizar coisas coletivas(coletividade pode ser um termo complexo, mas não quero entrar nesse mérito). E penso que todas as pessoas tem o direito de agirem assim.
Obs: Veja bem, não estou falando sobre divisão de riquezas, sobre monopólio de recursos naturais essenciais em grande escala, ou coisas do tipo, nem quero entrar nesse mérito. Estou falando de recursos menores ou em menor escala(dinheiro, comida, equipamentos, etc) geralmente obtidos através da ação de uma pessoa, recursos que muitas das vezes não tem relação com as pessoas que demandam uma parte, nem é recurso coletivo, obtido de forma coletiva, ou através do trabalho de outrém.
Voltando:
Porém, a maioria das pessoas ficam revoltadas quando existe uma situação em que uma pessoa se recusa a compartilhar um recurso obtido de forma individual, com o próprio esforço, um recurso não coletivo. E aí as acusações de egoísmo começam a aparecer.
Só que no fim, quem está sendo egoísta, exigindo altruísmo de outrém, é quem geralmente não obteve o recurso(não coletivo) em questão e demanda repartição, pessoas que também geralmente não gostam de compartilhar o que possuem, mesmo quando é algo coletivo. É uma inversão de valores, uma inversão que poucas pessoas se esforçam em tratar sobre.
Pessoalmente eu evito ter acesso a recursos coletivos, de outras pessoas ou ir a eventos ou ocasiões em que não posso contribuir com recursos. Faço isso para evitar acusações, que sempre surgem no sentido de "eu fiz isso para você, como você não pode me dar o que eu quero, que egoísta!".
Todas as pessoas com quem tenho intimidade sabem que se tenho algo que consegui com meu próprio esforço, se tiver vontade de compartilhar eu compartilho, se não tiver vontade não compartilho, e inclusive evito ficar ostentando o que obtenho, até para não servir de provocação(vejo ostentação nesse sentido como algo abominável). E também quando quero algo que outra pessoa tem, e ela não quer me ceder, não discuto, busco adquirir esse algo com meus próprios meios(trabalho ou trocas).
No entanto, no geral a maioria das pessoas agem de forma diferente, e já me envolvi em discussões infrutíferas e nocivas por causa disso.
Não sou contra coletivismo, ou altruísmo, e não vou entrar em detalhes para não cair em auto promoção, mas digo que sempre que posso compartilho e colaboro como posso, com o que ou quanto posso.
Mas me irrita profundamente ser forçado a dividir algo que é meu, e mais ainda ser acusado de algo que evito ser, que é ser egoísta. Acredito que se as pessoas conseguissem entender a diferença entre individualismo e egoísmo, e buscassem aplicar essa noção para a própria vida, muita coisa poderia ser resolvida. E o próprio conceito de individualismo poderia ser melhor entendido.
Individualismo em relação a recursos na minha visão é sobre neutralidade, compartilhamento é uma escolha, em relação a si e aos outros. Egoísmo em relação a recursos é algo negativo que prejudica a longo prazo quem o pratica e também quem está em volta, pois gera concentração desmedida, e inclui tomar de outros sem retorno justo.
Um individualista só quer ficar na dele, com o que é dele, e compartilhar quando quiser. Um egoísta quer o que é dos outros, cada vez mais, não compartilha o que tem, e quando compartilha geralmente tem segundas intenções.
Explicitar isso e se reconhecer como um individualista, é complexo e tem um custo, mas o custo de se conformar em relação aos egoístas ou pessoas que tentam forçar outras formas de lidar com recursos é tão custoso quanto.
E você? O que pensa sobre esse assunto?
---
If you liked this post, give it a share, an upvote, or make a comment! If you have any criticisms or positive suggestions, comment too!!
Si te gustó esta publicación, dale un voto positivo, haz un comentario, ¡comparte! Si tienes alguna crítica o sugerencia positiva, ¡comenta también!!
Se você gostou desse post, dê um upvote, faça um comentário, compartilhe! Se tiver alguma crítica ou sugestão positiva, comente também!!
---
Posted via proofofbrain.io
---
---