🇪🇸|🇬🇧 Review Argan Oil Shampoo || Mi experiencia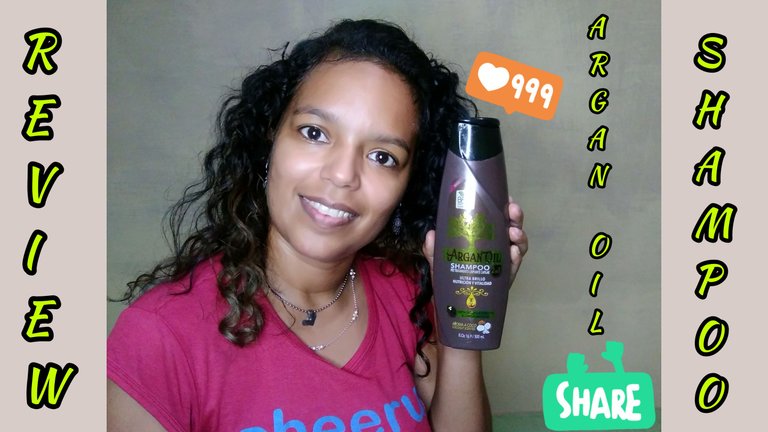 ---
¡Holaaaaaa!
Feliz inicio de mes 💫 pues les cuento que está publicación no estaba prevista, sin embargo estoy tan feliz y contenta que debo contarle al mundo entero sobre este hallazgo, así que chicas compartan la info porque estoy segura que habrán muchas personas que se lo agradecerán, yo le agradecí al universo por ponermelo en frente 😄.
Happy start of the month 💫 well I tell you that this post was not planned, however I am so happy and content that I must tell the whole world about this find, so girls share the info because I'm sure there will be many people who will thank you, I thanked the universe for putting it in front of me 😄.
Y tengo un chiste cruel sobre esto, yo utilice hace rato otros shampoos de esta marca que no me gustaron y desde ese entonces le hice la cruz a la marca. Ahora con este producto se reivindico por el resto de la vida.
And I have a cruel joke about this, I used other shampoos from this brand a while ago that I didn't like and since then I made a cross to the brand. Now with this product it has been vindicated for the rest of my life.
Cuando inicie con la recuperación de mi cabello entre tanta información que leí siempre aclaraban que los productos perfectos para mi tipo de cabello los encontraría probando y para eso debía tener paciencia, ya que el producto que le caía fabuloso a equis persona no necesariamente le favorecería a mi cabello. Entonces yo debería armar mi rutina después haber utilizado una variedad de productos en un periodo de tiempo.
When I started with the recovery of my hair among so much information I read, it was always made clear that I would find the perfect products for my hair type by testing them and for that I had to be patient, since the product that was fabulous for someone else would not necessarily be good for my hair. I would then have to build my routine after using a variety of products over a period of time.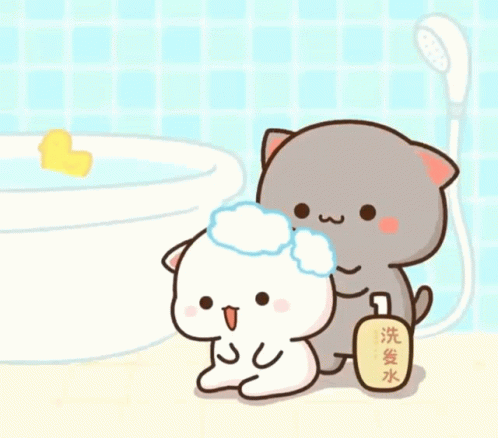 Yo estaba utilizando un shampoo para rizos ya que estoy en transición sin embargo necesitaba un shampoo común para mi mamá ya que el de ella se había terminado, fui a Farmatodo y aproveché de revisar en general por si veía alguno que me interesara para comprarlo próximamente y es así como vi esta maravilla.
I was using a shampoo for curls since I am in transition, however I needed a regular shampoo for my mom since hers had run out, I went to Farmatodo and took the opportunity to check in general in case I saw one that would interest me to buy it soon and that's how I saw this wonder.
Al verlo, leer sus componentes y ver la marca fue una sensación muy rara porque según lo que decía era perfecto para mi proceso de recuperación sin embargo la marca hacia que recordara los resultados nefastos del pasado. Batalle un poco con las dudas, tome el recipiente y leí los ingredientes. Todo apuntaba a que sería un éxito total.
When I saw it, read its components and saw the brand name, it was a very strange sensation because according to what it said it was perfect for my recovery process, however the brand name reminded me of the bad results of the past. I struggled a little with doubts, took the container and read the ingredients. Everything pointed to it being a total success.
---
Características del producto / Let's take a look at the product characteristics
---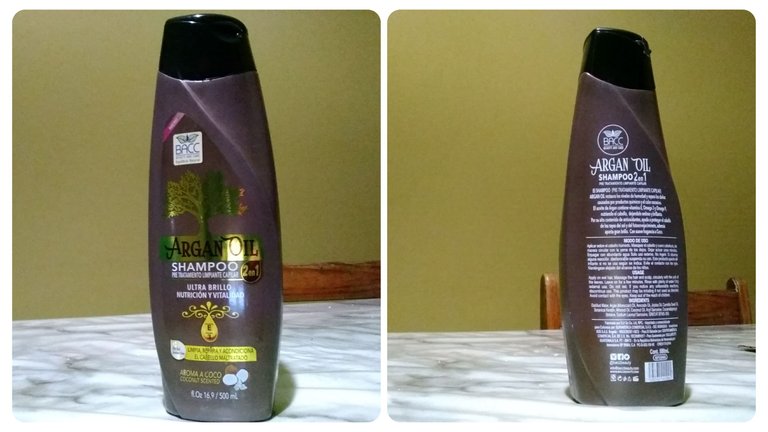 📍 Este shampoo es de la marca BACC (Beauty and Care) de la línea Equilibrio Natural.
📌 This shampoo is from the BACC (Beauty and Care) brand of the Equilibrio Natural line.
📍 En su etiqueta puedes leer que es sin sal.
📌 On its label you can read that it is salt-free.
📍 2 en 1 proporciona Brillo, Nutrición y Vitalidad.
📌 2 in 1 provides Shine, Nourishment and Vitality.
📍 Contiene vitamina E y Omega 3.
📌 It contains Vitamin E and Omega 3.
📍 El color del shampoo es marrón, al frotarlo en las manos sientes que hidrata.
📌 The color of the shampoo is brown, when you rub it in your hands you feel it moisturizes.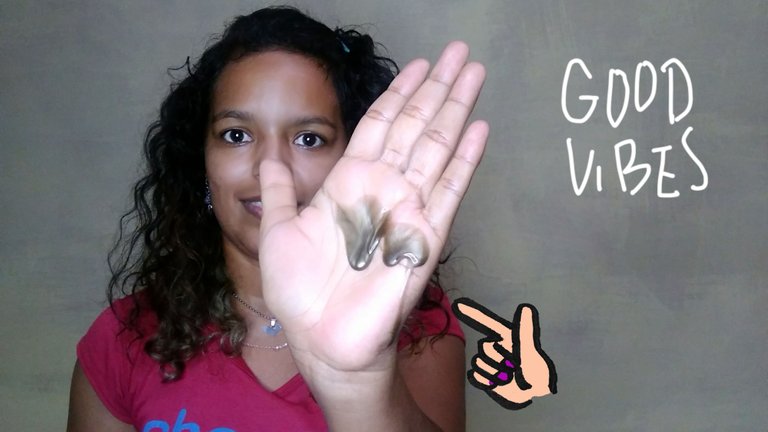 📍 Hace poca espuma sin embargo siento que limpia.
📌 It does not lather well but I feel it cleanses.
Algo que me gusta es que no me deja el cabello duro o tieso que es una característica de los shampoo sin sal, este es gentil y deja el cabello manejable.
One thing I like is that it doesn't leave my hair hard or stiff which is a characteristic of salt-free shampoos, this one is gentle and leaves my hair manageable.
Yo mantengo la técnica del pre-poo, incluso en ocasiones luego de aplicarme este shampoo me coloco mascarilla. No me deja el cabello grasoso ni saturado.
I keep the pre-poo technique, even sometimes after applying this shampoo I put a mask on my hair. It doesn't leave my hair greasy or saturated.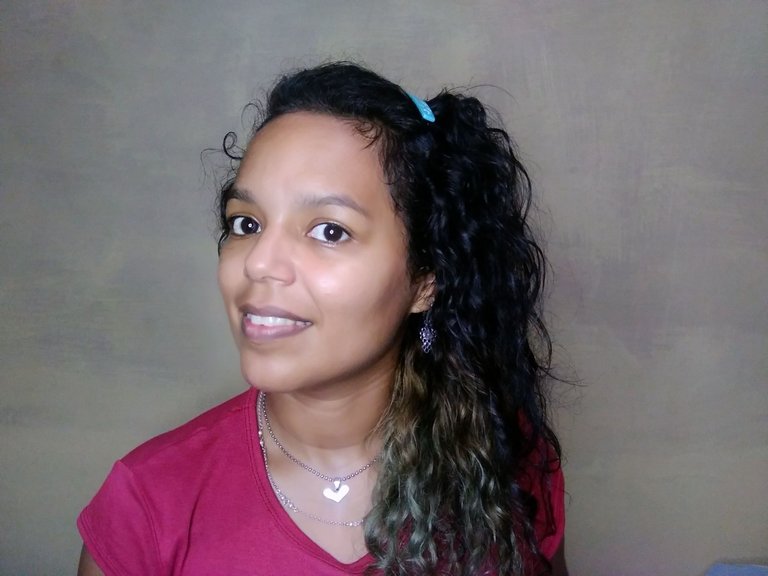 Siento que limpia sin deshidratar el cabello, sobre todo de medias a puntas que es donde requiero fuerza y control de frizz.
I feel it cleanses without dehydrating the hair, especially from mid-lengths to ends which is where I need strength and frizz control.
Esta poción mágica 😄 protege el cabello de los rayos del sol y del fotoenvejecimiento.
This magic potion 😄 protects hair from the sun's rays and photoaging.
📍 Dentro de sus ingredientes contiene aceite de Argán, aceite de aguacate, aceite de jojoba, aceite de camellia, aceite de almendras y aceite de coco.
📌 Within its ingredients it contains Argan oil, avocado oil, jojoba oil, camellia oil, almond oil and coconut oil.
📍 Tiene un aroma suave a coco.
📌 It has a mild coconut scent.
📍 Esta presentación es de 500ml, en un envase de plástico de color marrón.
📌 This presentation is 500ml, in a brown plastic container.
Encontrar un shampoo sin sal que diga en su etiqueta que hidrata y que al aplicarlo sientas que limpia y realmente deje tu cabello suave no es algo que logres fácilmente.
Finding a salt-free shampoo that says on the label that it moisturizes and that when you apply it you feel that it cleanses and really leaves your hair soft is not something that comes easily.
Con este shampoo he logrado controlar el frizz casi en su totalidad. De hecho días pasado probé lavandome el cabello sin aplicar mascarillas solo acondicionador y lo deje secar al natural sin ningún producto leave-in y el resultado fue excelente. El cabello suave, y con un mínimo de frizz acotando que ese día llovió.
With this shampoo I have been able to control the frizz almost completely. In fact last days I tried washing my hair without applying masks only conditioner and let it dry naturally without any leave-in product and the result was excellent. The hair was soft and with a minimum of frizz, noting that it rained that day.
Para incorporar a una rutina de hidratación donde se deba recuperar el cabello es perfecto. Todo los aportes que se leen en la etiqueta son reales.
It is perfect to incorporate into a moisturizing routine where hair needs to be recovered. All the ingredients that you read on the label are real.
Este shampoo lo compré en Farmatodo, tuvo un precio de BS 22. Y para mí tiene 10/10 relación calidad/ Costo.
I bought this shampoo at Farmatodo, it had a price of BS 22. And for me it has a 10/10 quality/cost ratio.
Desconozco si hay mascarillas o acondicionadores de esta misma línea. Estaré revisando porque de haber me encantaría probar la mascarilla.
I don't know if there are masks or conditioners of this same line. I will be checking because if there is I would love to try the mask.
Este shampoo ha sido clave en la hidratación y reparación de mi cabello. El dúo Pre-Poo + Shampoo de aceite de Argán han dado resultados en poco tiempo.
This shampoo has been key in moisturizing and repairing my hair. The Pre-Poo + Argan Oil Shampoo duo have given results in a short time.
Si tienen oportunidad de probarlo no lo duden. Si desean aclarar algunos puntos antes de comprarlo déjenme todas sus dudas y con gusto se las aclararé.
If you have the opportunity to try it, don't hesitate. If you want to clarify some points before buying it, leave me all your doubts and I will be happy to clarify them.
---
¡Saludos mPB!
---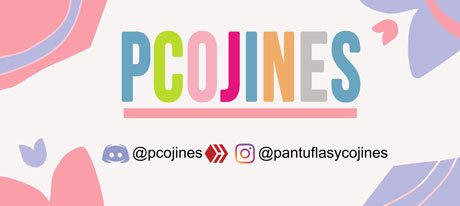 ---
Derechos Reservados®️ 2020
Traductor deepl
Imágenes propiedad de @pcojines
Banner y separadores diseñado con Photoshop
Fotos tomadas con teléfono Motorola Modelo E4
---
---