Movie Review: Real Steel (2011)

[All photos in this post are from moviemeter.nl, used here on Fair Use basis.]
Days ago I noticed there was a contest announced, which would call for a review of a film featuring a prominent father figure. Today I realized I have missed the deadline, but thought I'd post this review of a somewhat light sci-fi sports drama called Real Steel here anyway because that is one film which immediately comes to my mind when thinking of movies that deal with a father and child relationship. There are several reasons why it has such a special place in my memory ever since I saw it at the cinema when it was first released, and I intend to tell you, dear reader, those reasons in this write-up.
First of all: ROBOTS!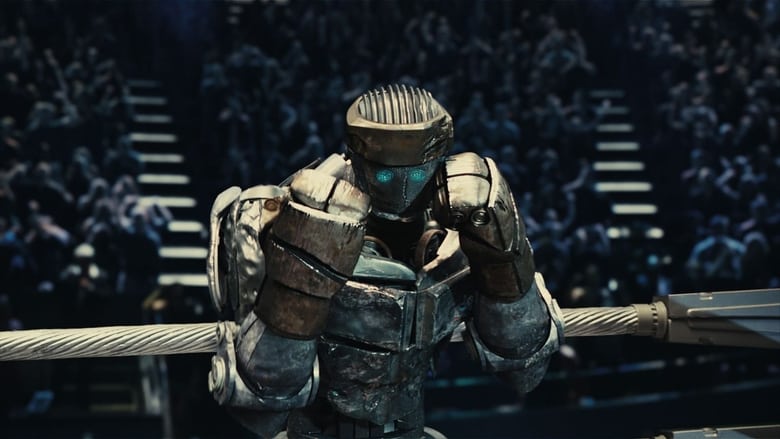 Sparring bot "Atom" in Real Steel movie.
Machines alone, of course, wouldn't be reason enough for a film to become that memorable. There is a number of films that feature the type of robots that can be seen in Real Steel: Robot Jox, Pacific Rim, Robo Warriors et al, namely, the machines designed after human with parts that resemble legs, arms, torso and head, and had been intended specifically for fights of some sort. There have also been Robot Wars tv series: something Real Steel, being a project in development for a number of years before its production started back in 2010, may have even tried to capitalize on. Thus it would seem there's little room for a surprise left. But here comes Real Steel's unique selling point: a former boxer Charlie Kenton, who by means of his passion and dedication to robot fighting, which has replaced traditional boxing matches, manages to form a bond with Max, his ten year old son whom he hadn't seen since the kid's birth.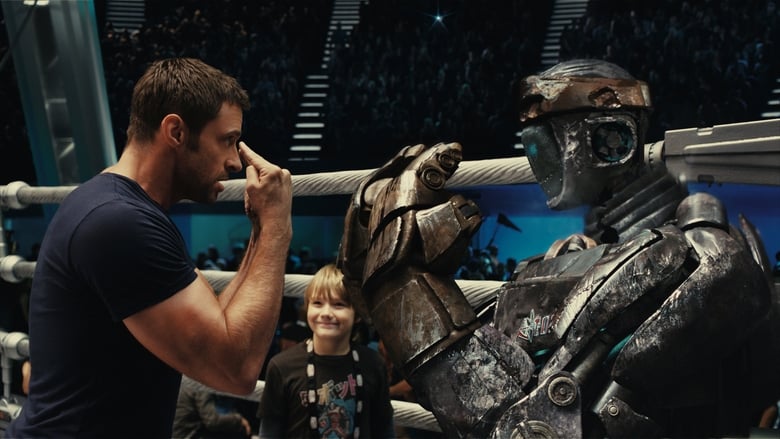 Hugh Jackman as Charlie Kenton, Dakota Goyo as Max Kenton and "Atom" in Real Steel.
The note of a failed father and that of an illusionless, bitter kid is the challenge Real Steel is really about. The keyword is 'fight'. On the backdrop of rings with robots there's Charlie fighting the "I blew it" notion in regards to his kid, and trying to find the connection and belief in the relationship between the two. "I wanted you to fight for me. That's all I ever wanted," Max tells his dad after the latter is giving up on him again. The film is about how a father finds his way back to his son. Luckily for the father here, the kid turns out to be a fan of robot boxing, which means that, after a court hearing about Max's custody, the boy walks right into a toyland he loves – one full of fighting bots with AI and parts made of steel. This may sound like a deliberately created plot point to make things easier for each of the lead characters, and, I think, it might as well be the case because the film's tone is really more inspirational than dramatic, and even less that of a tragedy. There definitely had been more than one route to take here with the story, and frankly, I am glad that the screenwriter John Gatins, and story authors Dan Gilroy (also wrote and directed Nightcrawler, starring Jake Gyllenhaal) and Jeremy Leven (script writer of The Notebook) had all chosen for it to be a story of inspiration and victory rather than dead serious, bitter and sad struggle throughout.
From a purely male point of view here, Real Steel is full of masculine delights on practically every level: there's competitiveness tied with technology in it; also development and assembly, and, of course, fights. A gamble too. Stakes as such have got a major part in the movie, so much so that even Max at one point asks his dad, "do you even think before you do something?" Referring to a situation where Charlie has made a decision not caring enough about the stakes beforehand, and has ended up losing. In an admirable fashion all the noteworthy details as far as telling the story goes: the upgraded old sparring bot, designed to withstand serious blows; previous gamble-like decisions, and the consequences of those – culminate during the glorious finale, where Charlie for once in his life of a perpetual bluffer and gambler is at the right place, deciding to wait for the right moment and circumstances to come out victorious, and succeeds. At that moment everyone: his son, his love interest and every viewer is looking at him with a genuine excitement, and joy witnessing victory of a man in one of his finest hours. Victory!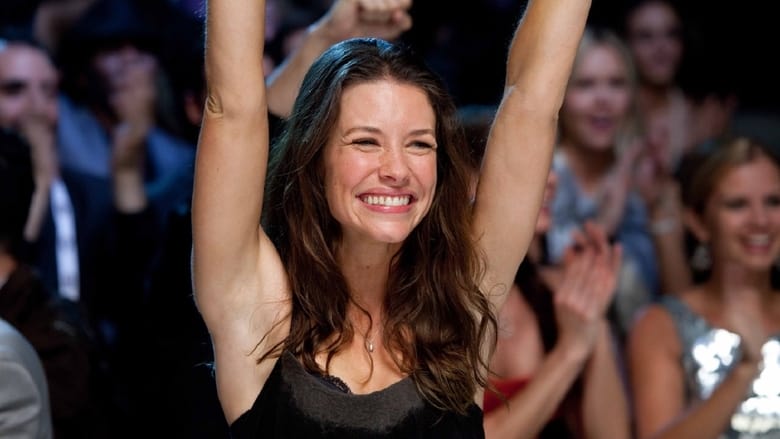 Evangeline Lilly as Bailey Tallet in Real Steel.
Charlie's role is played by Australian singer, dancer, multi-instrumentalist and A-list actor Hugh Jackman. His performance in Real Steel is as inspirational, prepared and talented as in Les Misérables and The Greatest Showman. Although this is a different genre, and not really one of X-Men either, Jackman still manages to pull off a self defeating character in a familiar absorbing manner, where there is always a self awareness and reason for optimism present, with that face that always seems to have a smile on it. On the other hand, the scenes before and during fights is where Charlie the winner surfaces; it is a bit different Charlie and different Jackman, and that is where the communication with Max (played by Dakota Goyo) is at its best. These winner scenes become more frequent as the movie progresses, going from one where Max states, "you sold me for fifty grand, you owe me half," to one where Charlie tells Marvin (James Rebhorn), Max's maternal aunt's (Hope Davis) husband, "I don't want your money." There are more reasons for rooting in this film than robots in a ring; Hugh Jackman does his best to make those noticable and relatable, and succeeds.
Real Steel was directed by Shawn Levy, who is nowadays known as one of the directors and executive producers of Stranger Things series, but back in 2011 was known for directing and producing Night at the Museum films. In my opinion, there is a lot to love about the fight scenes in Real Steel. Both, the camera angles and editing end up augmenting each other's effect flawlessly. Add to this the fact that boxing consultant was professional boxer and actor Sugar Ray Leonard, and trust me, dear reader, when I tell you: it is all really as good as it sounds. Especially when this is all built around the fervor and aspirations of the two protagonists. There are some adrenaline worthy scenes for sure as well as certain variety regarding fighting grounds; enter the scene with a robot called Metro, for instance. Metro's handler in the film is a guy called Kingpin; played by the film's very own screenwriter, who sports a spike mohawk hairstyle, and is basically a full on punk. All the extras in that part of the film are of alternative subcultures, and Metro itself is made to visually look as a nonconformist; especially when compared to other bots in the movie.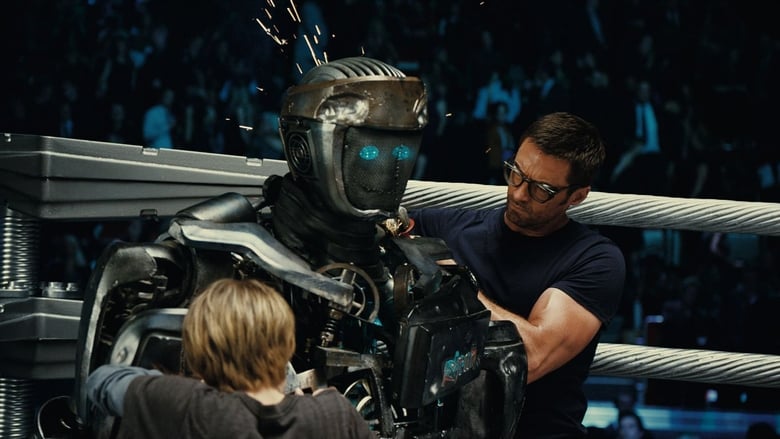 Real Steel's story was in part based on a short story named Steel by American author and screenwriter Richard Matheson, first published in 1956 in The Magazine of Fantasy & Science Fiction, which was later turned into one of the episodes of The Twilight Zone series. Perhaps the most interesting part about this is the opportunity to compare the two visual works and be inspired by seemingly great number of possibilities a short story can end up looking like on screen. Real Steel gives off a portion of inspiration, imagination and passion behind it every time I watch it.
---
---