21 March My Technical Analysis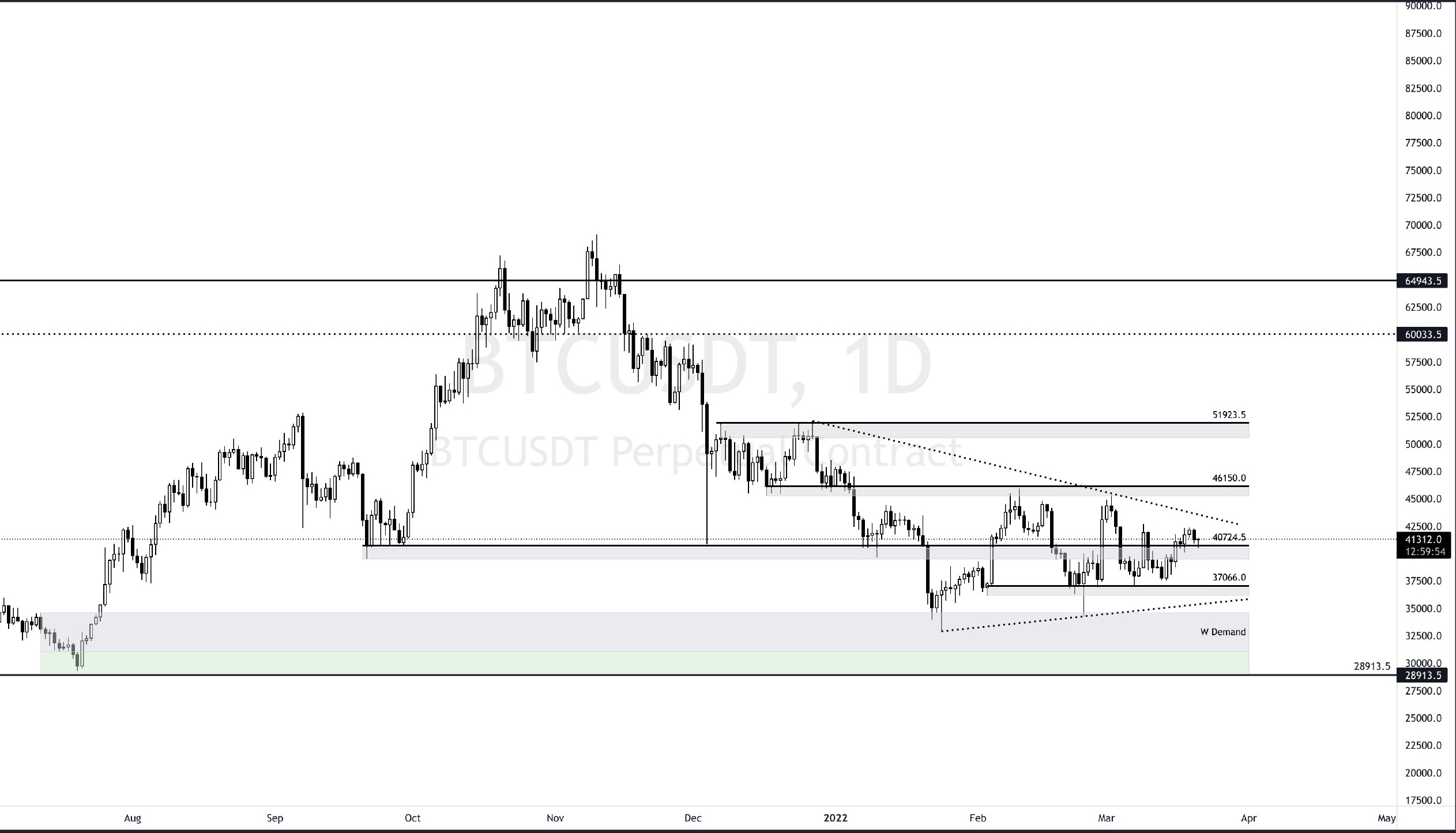 $BTC 40724 continues to work as support for the fix. As long as there is no daily close below 40724, 43350-44130 targets can be looked at in the coming days.
During the day, we are highly likely to visit 41910s.
If closings start below -41K, it is necessary to be cautious.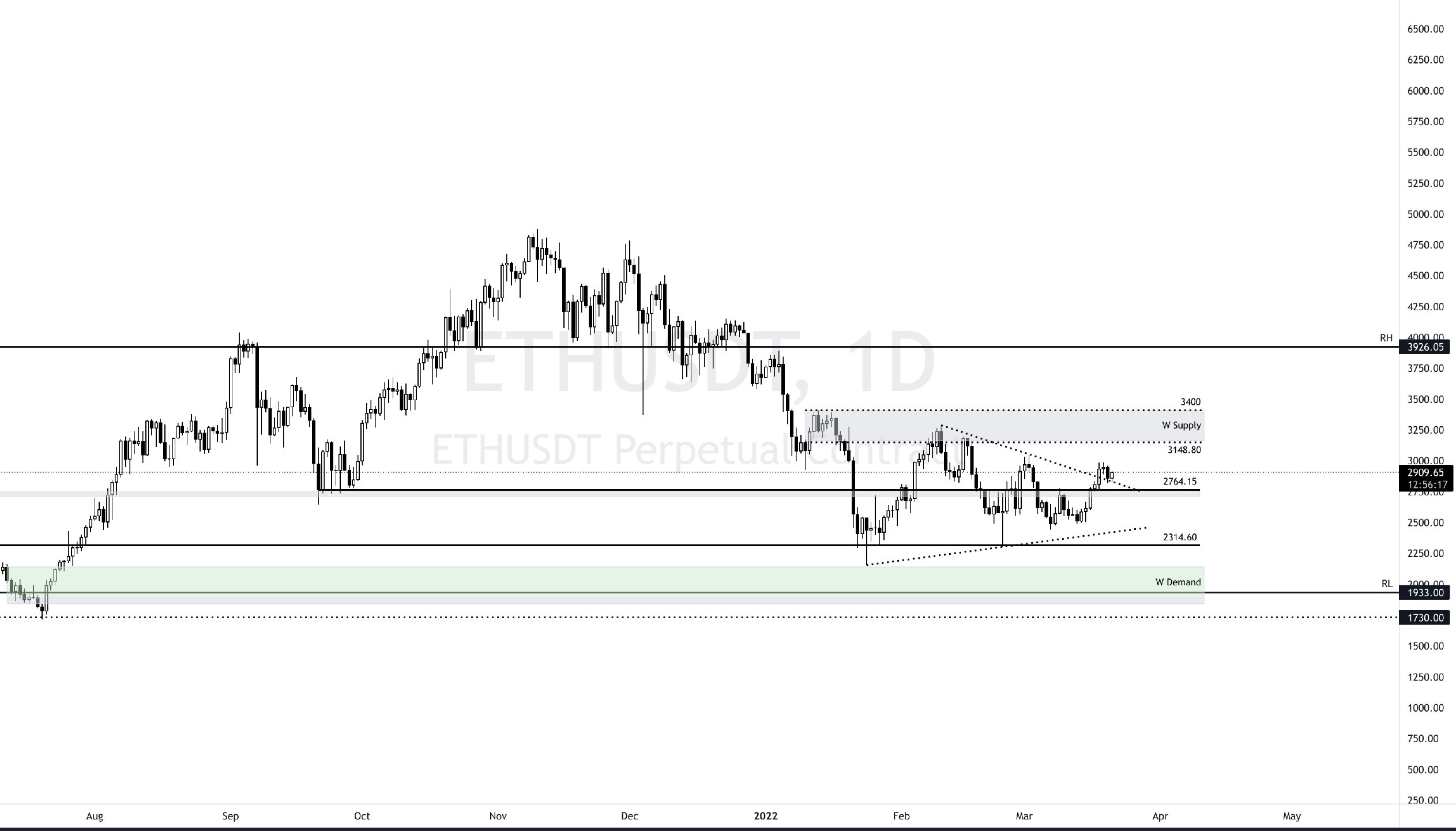 The long adventure that started with $ETH 2764 continues. In the last analysis, I said that it is possible to retest the triangle, so if you have never opened long, you can wait here. As far as I can see, this opportunity has come.
Unless there is a daily closing below 2764, I follow the intermediate target of 3044 and the main target of 3148, which I wrote in the last analysis.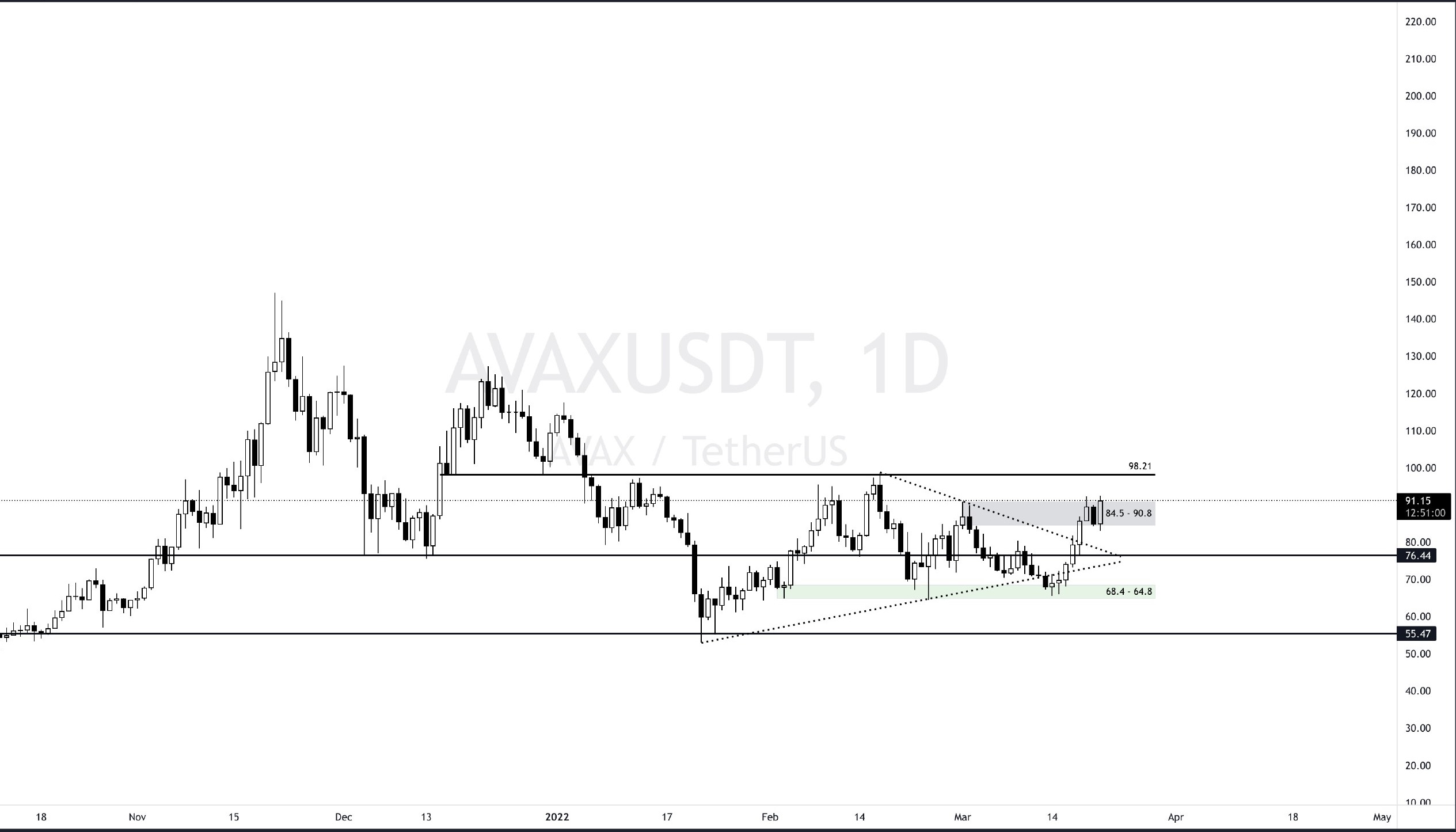 The $AVAX analysis was pretty successful. In general, $AVAX price movements are quite responsive to the technique compared to most altcoins. For this reason, it gives good results on both the long and short sides without much surprise.
Targets 86.54 and 90.8 seen 🎯👊
The demand (green) supply (gray) fields that I have marked on the graph both below and above work pointwise.
If there is a daily close above 90.8, we can head towards the 98.21 target. Since the first targets have been completed, it is reasonable and logical for me to have around 50% closed position.
This is the world of trading, although we are talking about targets, etc., it can be destroyed with a single news, sometimes for this reason, position management / risk management is more important than the target.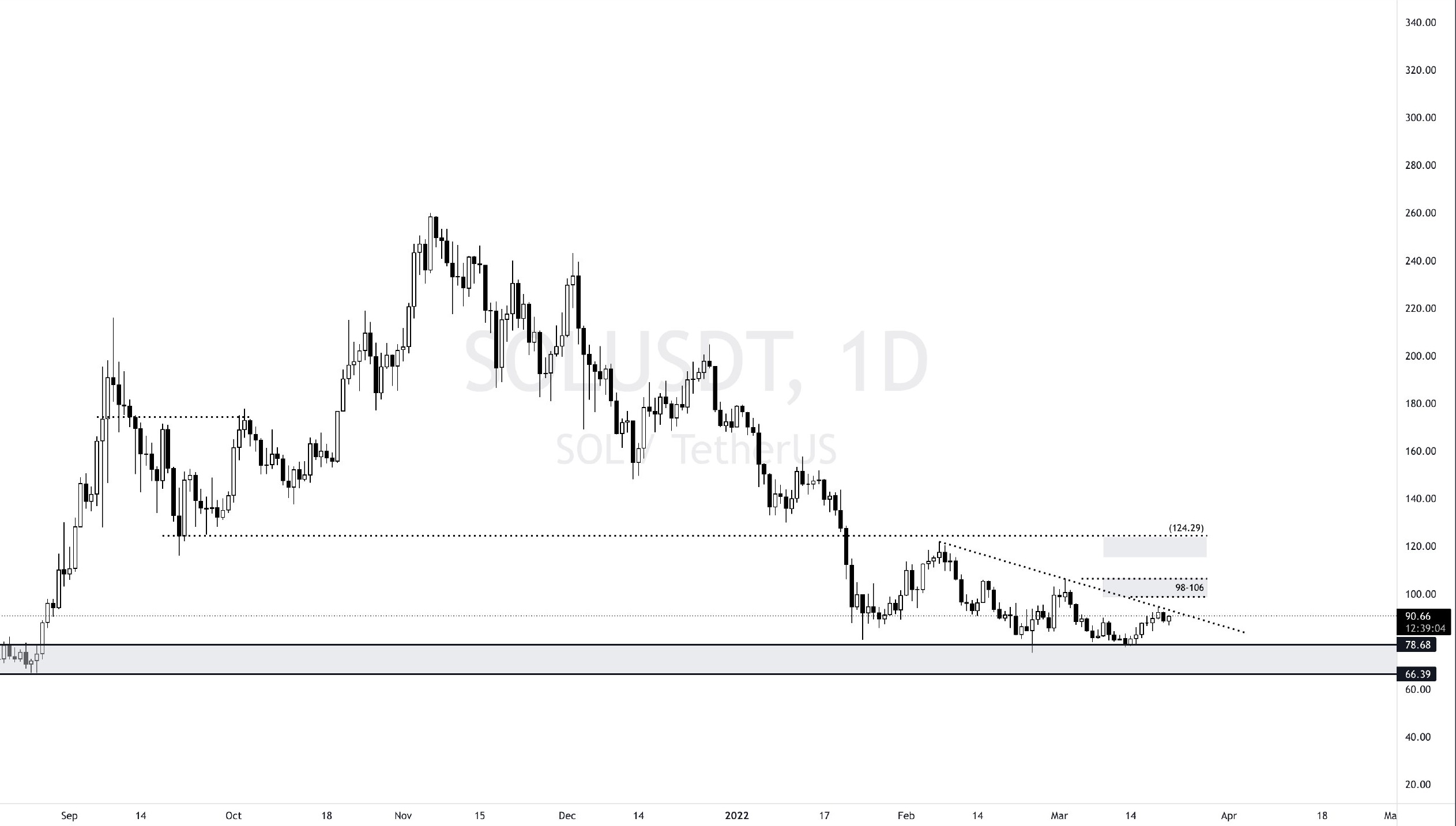 Even though $SOL has gone up to 95's, it hasn't produced the bulky response I expected yet. I haven't given up on the 98-106 target yet, but I thought it might be a little stronger. In general, we are advancing in accordance with the technique, but we remained heavy.
My criteria for canceling the idea is as follows:
If it brings daily closes below 88 USD, I may consider stopping the long side.
For those who are patient, I can recommend them to keep a stop below 78.68.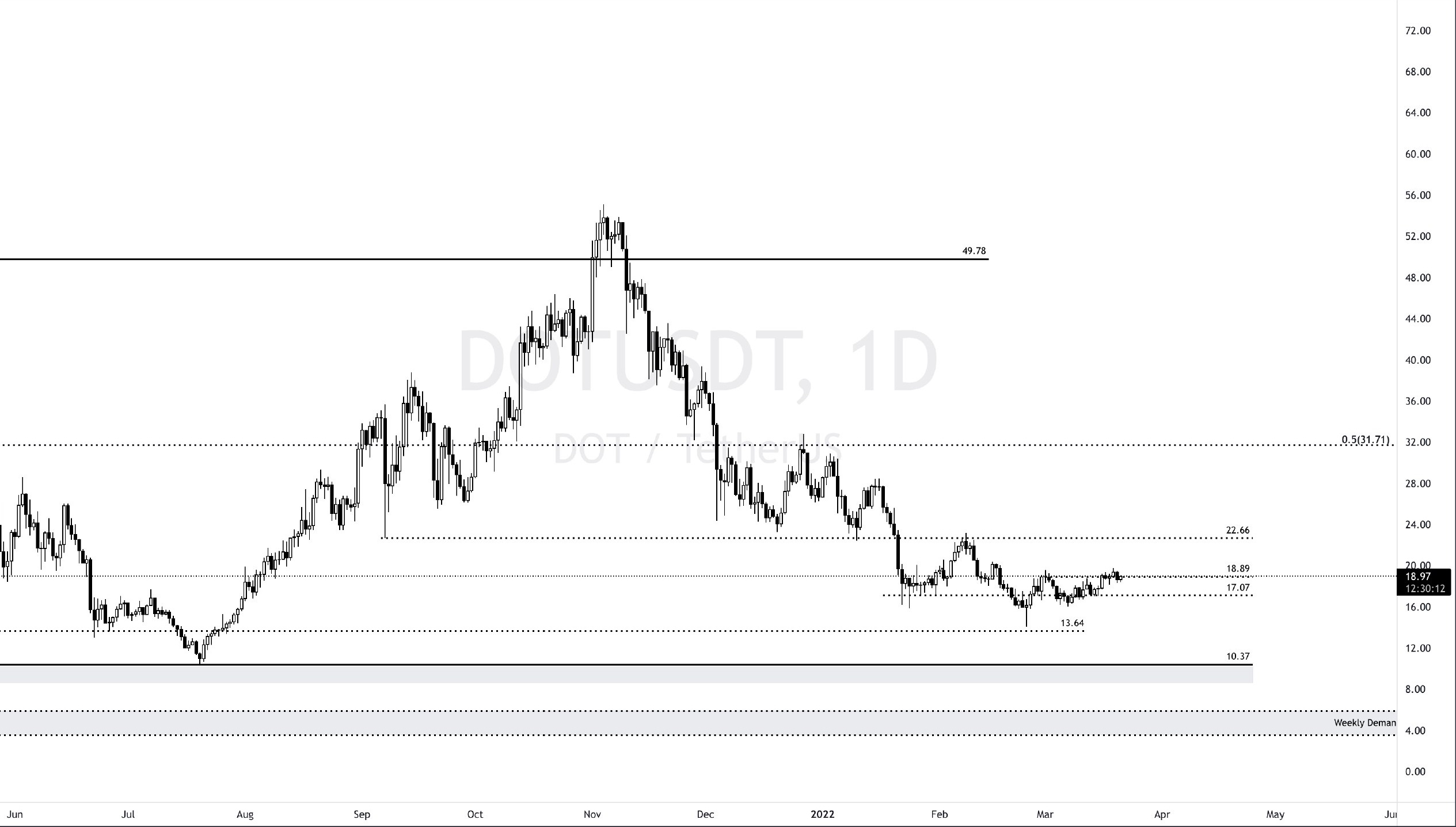 $DOT is showing volatile movements around 18.89. There are closings above and below, so we have to ask ourselves the question of whether the daily closing above 18.89 was fake.
In general, the bottom formation is nice and strong, if the majors support, it can easily say 20 and 22.66.
You can follow it with the 15.55 hard stop I mentioned in the last analysis. If you stopped because of the daily closing below 18.89, then you can consider to be included when the daily close above 18.89 comes again.
Currently the price is 19 USD ; With the 16:30 US opening, it can give an idea of ​​​​a little more direction.
Good luck with,
It is not investment advice.
Graphic Source: Tradingview
Posted Using LeoFinance Beta
---
---