ASK LEO: ARE YOU AWARE THAT TOO MUCH OF BAIT CLICKING CAN HALT YOUR FINANCIAL SAVING??

Source
Undoubtedly! There are some who can't do what you are doing here. By taking your time writing contents,posting them and waiting for upvote with always the stress of racking your brain to out words, sentences together before they become readable for readers. But these set of people I am talking about have the time create bait or link, that if you mistakingly click on,the access to your account wallet has been gained or achieved. They change your keys and before you know it,they would have sweep out your all your hard earned token within the twinkle of your eyes and with that all your financial savings will be gone. Before you even think of retrieving back your account,a lot of things must have been damaged.
---
What is bait clicking?
Bait clicking is an act or urge to click attractive headlines designed for readers so that the senders will be able to achieve or have access to the readers personal details. It's covetousness that mostly make people want to bait click because the offer on the headlines read attractive.
---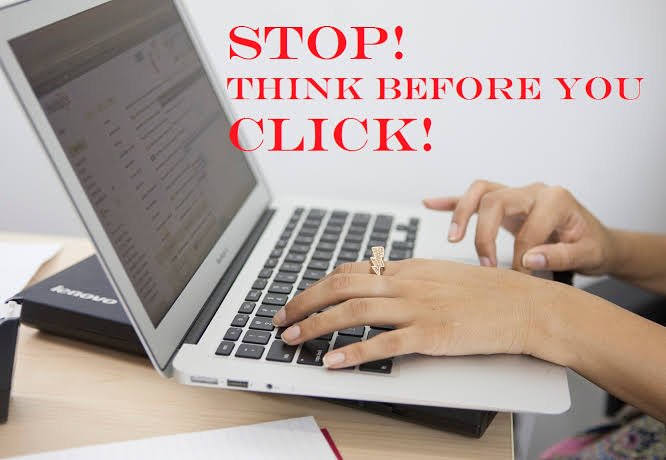 Source
How to restrict yourself from bait clicking.
When you see headlines with iota of dishonest,you would clearly and definitely know. Such headlines give or read outrageous promises, promises that are impossible. Click baiting is like you are being intimidated to click instead of wanting to click willingly. A lot of people have been scammed here just because they click bait by clicking unreliable source. There are some ways in which you can restrict yourself from clicking unnecessary links......
When an headlines read impossible promises, promises that are not feasible. Better you should skip.

Confirm the source first or ask people around to ascertain the authenticity of the information before you click.
Note that there a lot of reliable sources or link which require redirection. It's not all links you click are with the intention of scamming. So only the safest way not to be a victim of being scammed is to limit the way you click on unnecessary baits.
---
Thanks for stopping by to view my blog. Please do have a wonderful day ahead.@peterale cares🤭
Posted Using LeoFinance Beta
---
---