All In Good Time .:. #MyHiveGoals 2023
This title will serve me (and maybe you too) as a reminder that patience is one of the most important things in investing... The first month of 2023 didn't pass yet, and I already have doubts about my goals... 😃 Maybe I have created some goals too high, or maybe I have created some others too low? It is a fact that it's too early to make any conclusions as there is plenty of time ahead... Tables can turn many times in the rest of the year... Besides that, I'm training my patience in something else too...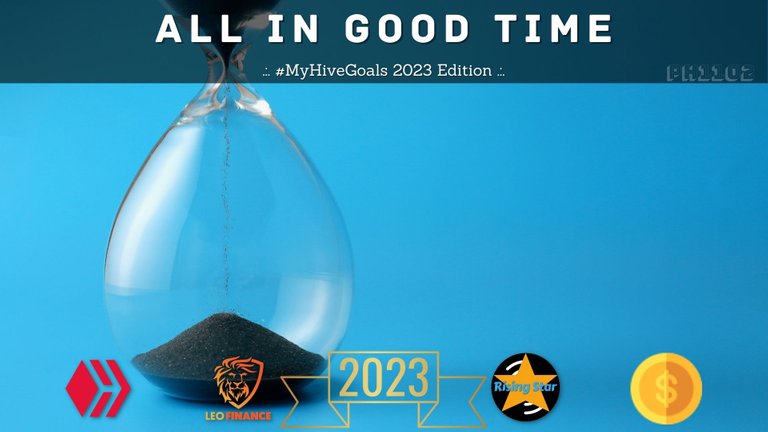 Created in Canva.com
As I have activated a bot to play on my Splinterlands account, I got additional "free" time in my life... 😃 It's not too much, but it is around an hour per day, which isn't that bad at all... So, instead of hitting the sofa and binge watch some TV show, I returned to trading! 😱
After my not-that-successful FOREX trading excursion 15 years ago, I did some crypto trading in 2017... But, we had a heavy bull run that year and everyone was successful in trading, so I don't count that at all... Also, I don't count my occasional selling the spikes, and buying HIVE for a lower price, as that's more like investing for me...
I have reactivated my old Bybit account and began to follow charts, different trading strategies, and of course, learning a lot about risk and money management... The last two are probably the most important and that was something that I didn't know in my first trading attempt... The problem is that now, I do know this stuff, and all that sounds logical and has sense, but the reality is something completely different...
As much as we want to be "emotionally disconnected" from our trades (or investments), as humans it's hard to do it in reality... It's hard to see your trade going into the red when your strategy says HOLD!!! Then doubts come... Was my decision good when I opened the trade? Am I smarter now and I should close the order?

Back to #MyHiveGoals... In the beginning, let's check out HiveStats...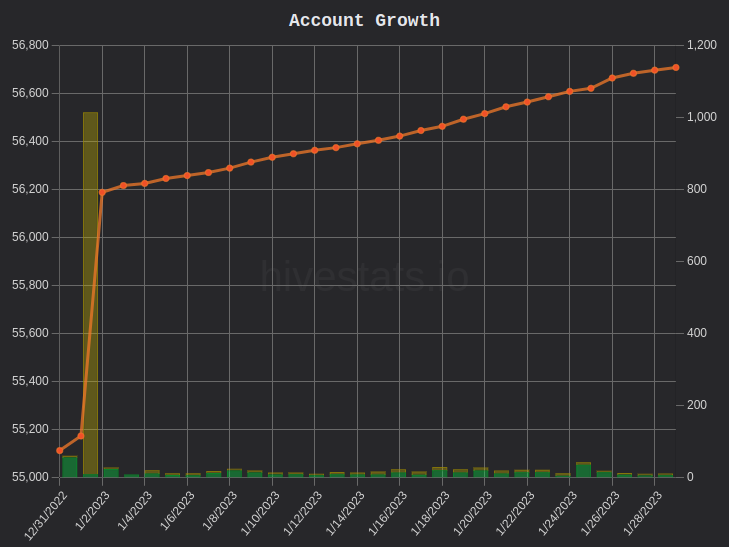 screenshot from hivestats.io
Speaking of patience... I said to myself that I will not sell any of my HIVE tokens under $0.50 (and will consider that number too 😃), but on the other side, I said to myself that I will accumulate more tokens if the price goes to 30-35 cents area... So, at this moment, we are around 40 cents, and I'm "on hold"... Waiting for the price to go in some of those two directions... All my HBD tokens from author rewards are waiting in buy orders on the market, and all my Hive Power that you can see in that chart are from curation rewards and HP author rewards...
Also, just a reminder for everyone, the next #HivePUD is close, so prepare your liquid HIVE!!!

One of the goals that I have maybe put too high is my LEO Power goal... I don't receive too many LEO upvotes at my posts and most of my earnings are from curation with existing LEO Power and liquid LEO that I get for my delegation to LEO Voter... When my HP grows more, I will add a bit more to my existing delegation to push this goal up... Until then, consistency and patience... 😃

GAMING GOALS - Flexible Goals
On the other side, I'm happy that I have added my favorite game, RISING STAR to my goals list... This was the "most relaxed goal" in 2022 and I will try to keep it like that this year too... Yes, I'm going down in game rankings, but I'm happy with my consistency by opening packs 3 times per week for months (or maybe even a year)... Also, I have added a small addition to my gameplay... I have decided to support more musicians in the game and I will buy at least 1 record from some of them every week... I know that it's not too much, but it's better than nothing... When my income goes up, I will do it more...
---
I said in the beginning that I put some goals too high, and others too low... Well, I think that my GLX token goal is maybe too low... The price tanked more and I will probably buy more tokens because of that... So, maybe I will raise that goal in a month or so, but that depends on game development and future FOMOs that will be created for sure... We all know that the Splinterlands team are experts in those things and I have no doubts that it will happen with GLG/GLS project too... When the price goes up, it will be hard to continue to accumulate at this pace...
As you can see from the table above, the only goal that I have reached this month is my GLX token goal!

It's time to update the numbers and put them into the spreadsheet until the next week! So, freshly updated numbers for #MyHIVEGoals, on January 29th, 2023 are:


These are my initial goals for 2023 created on January 15th, 2023::

Join me in this awesome #MyHiveGoals and let's grow together! It is fun, it is motivating, and it will keep you focused!
Thank you for your time,
~ph~
PS. None of this is financial advice of any kind...

If you want to support my witness, you can do it by voting for @ph1102.ctp here https://tribaldex.com/witnesses, or just scan the QR code down below...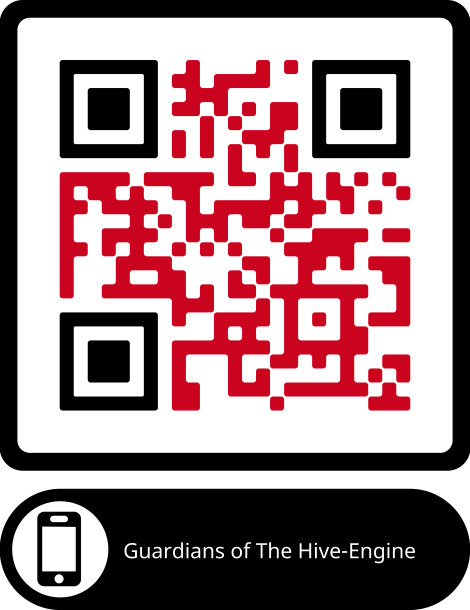 Don't forget to follow, reblog, and browse my Hivepage to stay connected with all the great stuff!
You can also find me on LEO Finance .:. Twitter .:. LBRY

Posted Using LeoFinance Beta
---
---