Almost Liquidated! 😱 😲 .:. Terra LUNA UST Fiasco Experience
When you can learn the most about a certain thing? In hard times, when you make mistakes, when you FOMO or FUD, when you lose money, etc... In those moments, you learn the most, and not just that, you remember well what you did wrong! Learning and forgetting after a while has zero value, but taking out valuable lessons and reminding yourself next time, is the best that can happen to you... It hurts, but that's the way how you grow!
So, yesterday was one of the craziest days in the crypto markets for a while... It showed us how many different assets are connected to each other and when one goes down, the other follows... It's sad to see some people making fun of LUNA and UST in these hard times for them, without noticing that the hole that has been dug is also in their wallets, too! Bitcoin went down yesterday following NASDAQ, but the fall was even more empowered by the sell-off that Luna Foundation did to protect their stablecoin... And all that pulled down all other cryptocurrencies, even those that people who were making fun have!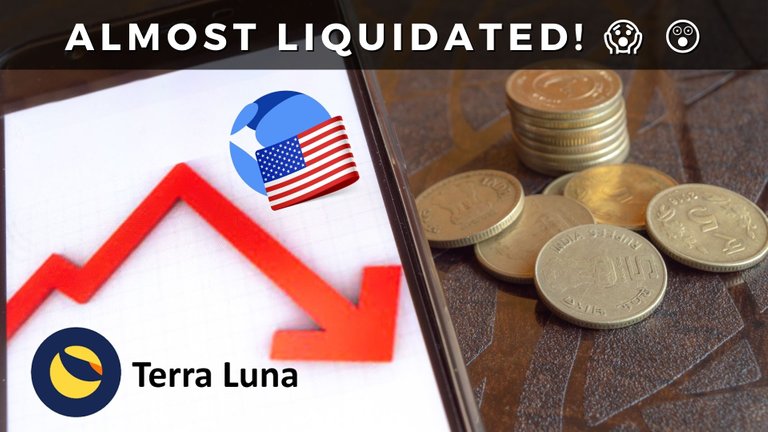 created in Canva.com
There is no "safe stablecoin" and what happened yesterday to UST, could happen to ANY other stablecoin... Even fiat currencies aren't the same today, as they were yesterday... Inflation is killing them... Yes, you see the same numbers, but their power isn't the same as before...
So, I would like to share some of my mistakes and "good moves" (maybe... time will tell) that I have done in the past 48 hours regarding this LUNA-UST situation... Any of this isn't financial advice, it's just what I have done, and what are my opinions about it... If you get into a similar situation, you should do whatever you think it's right to do and not blindly follow others...

Firstly, I'm not an "old LUNA" HODLer as I have ignored the whole ecosystem because of a lack of time for researching... I got into the LUNA almost at the top (how convenient... lol...) and that was probably my first mistake... That was kind of FOMOing into it at those moments, but I had some reasons to do so and we will come to those reasons very soon...
Maybe a bit more than a month before, I have watched a couple of YT videos with people explaining different strategies to earn higher yields by lending and borrowing crypto... As UST was one of the stablecoins with the higher APR, I have decided to research more about the ecosystem, wallets, earnings, bridges, etc...
The idea was to provide LUNA as collateral and borrow UST... Later on, with that UST buy more LUNA and repeat that process... Well, that was the SECOND mistake... To provide LUNA as collateral and borrow UST! Why? At these moments everyone knows why, but I wasn't alone before "not seeing" the reason before... The problem is when UST lost its USD peg, the price of LUNA went down, which is obvious (now)!

Now, it's time to look on the bright side... As I said, I did use LUNA as collateral, but I have added ETH also, just to make the whole borrow more resistant and diversified! As a matter of fact, my ETH collateral was almost at the same level at LUNA, so the risk was split between 2 tokens... That was a crucial move that kept me "safe" from liquidating yesterday! So, note for the future, pick carefully which asset(s) will you use as collateral for your loans!
The second positive thing regarding all this mess was actually the point that UST lost is peg! Wait, what? Yes, you read it right, that was a positive for me... but why?
I said that I watched videos with those "loop strategies" for earning more UST, but I didn't say that I did that! As a matter of fact, I did something completely different... And we are back to the beginning of this post and my reasons to borrow UST... In those moments, there were discussions about getting HBD on Polycub, which happened a bit later... So, my idea was to exchange UST to HBD and instead of earning 20% on Anchor protocol, actually earn up to 40% APR in Polycub! Which I have done by exchanging my UST to HBD and deploying them into the pHBD-USDC pool on Polycub!

So, long story short, yesterday, before going to bed, I exchanged some BUSD that I had in my wallet for UST at a rate of around 0.85 (yes, it dropped even more later, but I wasn't on the computer), and got almost 20% more UST... I went to Anchor and repay over half of the debt that I had! I left some more if UST falls more the next day and will probably repay that too, soon (depends on the price)...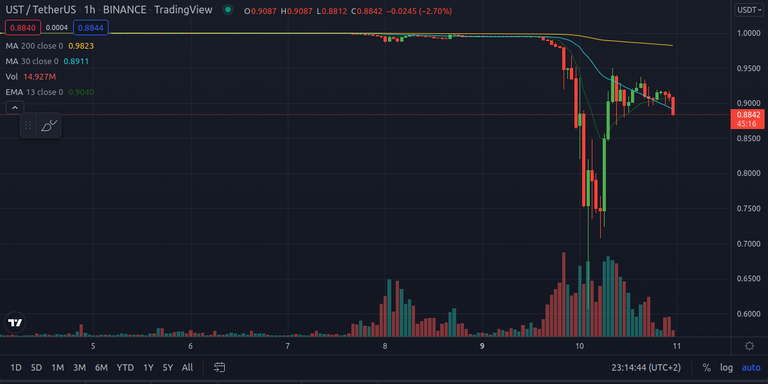 Now, there were other options on how to play out all this, but again, I have my reasons and beliefs for doing it as I did... Also, I do believe that UST will recover the peg, and I do believe that LUNA will survive... That's the reason why I didn't sell my LUNA which is still in my wallet as collateral... I know that price still tanks, but I will keep HODLing it as my investment in LUNA is less than 1% of my portfolio... Even if it never recovers, it will not be a huge hit to my pocket...

I hope that this "adventure" will help you in something and I would like to hear what are your thoughts about all this LUNA-UST fiasco? Did you invest something into LUNA or UST? How did you play out this?
Thank you for your valuable time,
~ph~

If you want to support my witness, you can do it by voting for @ph1102.ctp here https://tribaldex.com/witnesses, or just scan the QR code down below...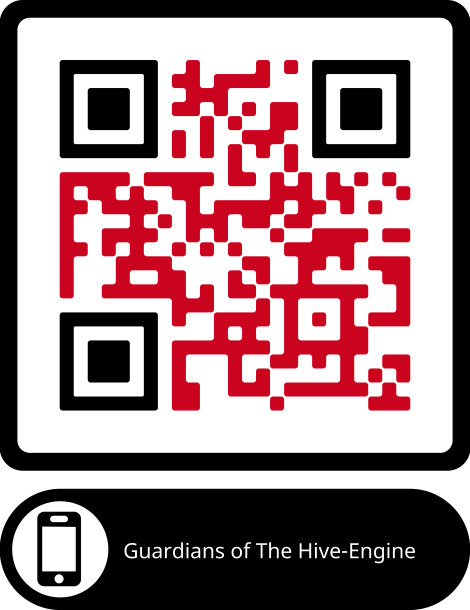 Don't forget to follow, reblog, and browse my Hivepage to stay connected with all the great stuff!
You can also find me on LEO Finance .:. Twitter .:. LBRY
Posted Using LeoFinance Beta
---
---