Do We Really Need Regulations in Crypto? .:. Late Night Blogging
Okay, in this post I would like to have your mind widely open... To think differently... To think outside the box... Before rushing to judge my opinion on this... We are all on the same page and we all want to see crypto winning, but... For what price?
After the FTX debacle, my first thought was... We need crypto regulations... This is a catastrophic event that will hurt crypto a lot... After that I watched a lot of videos on this topic, and lately, read a post by @howzat on this topic too... At that moment, I asked myself a question that not many did... Do We Really Need Regulations in Crypto?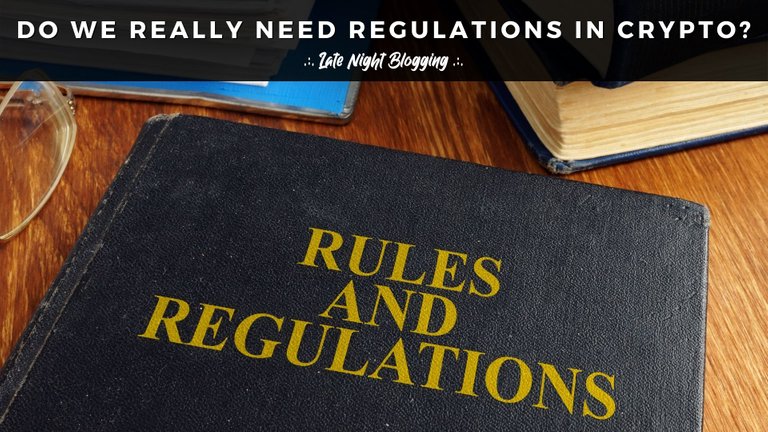 Created in Canva.com
We, humans, have one very bad characteristic... We always like to take the easiest path... If we can avoid some hurdles that can "flex" our muscles, we will avoid them... And become weaker instead of stronger... Maybe we are lazy to "invent" some better way, or we are just "silenced" by the huge MSM machine to follow the herd... I know that you will call me a conspiracy theorist, but we all were against crypto regulations, and now, after the FTX shitcase, everyone is calling for it. Goal succeed!
It reminds me on C-19 masks, lockdowns and distancing... In the beginning, everyone was against it, and then, everyone followed the herd, without questioning anything... The same happens at these moments with crypto... Crypto didn't fail, centralized entities did! We can't forget that... We are not allowed to forget... The point of crypto is decentralization, escaping from centralized banks and institutions... They came into our space, played the game following their rules (not crypto rules), and failed!
---
I want to underline once again that I was on the first line to call for regulations when FTX failed... It was an impulsive "objection"... That's how you fall into every single trap in your life... Someone lures you and you make an impulsive movement and make a mistake... So, it's time to take a deep breath, calm down, and think outside the box...
I'm a strong believer that nobody can be OVER someone else... Nobody is more important than some other... Rules SHOULD be the same for everyone... I know that's not the case (SBF is a living example... the guy is playing games at home after robbing billions from people... he will probably never go to jail...)... Anyways, the point is... If we, as individual investors can learn to use hardware wallets, then institutions can do it too... I know that they have some limitations, but working in the newborn industry is risky...
---
Some tools aren't even invented, but that's not an excuse for not working in that direction to find a solution... Instead of building on DEXes, "institutions" find an easier way and send their money to SBF to manage crypto for them... Like, WTF?! That has nothing to do with crypto at all... I said this before in some of my previous blogs, you can't look at crypto as just another stock in your portfolio... This is a completely different game... Put your big boy pants on and play by crypto rules if you want... If not, GTFO! (sorry for this, I got triggered... 😃)
Investors need protection of their assets.
@howzat
No, they don't! As a responsible adult, I can live "without the protection" and I can take care of myself, my family, and my assets... I don't need a freakin' bank to "protect my money from evil", I can put it on the blockchain and remember my private key... If I can, then the multi-billionaire company can do it too... You can find the way IF YOU WANT...
No, it's easier to go back to a traditional finance system that has failed hundreds of times than develop something better... And to be honest... It isn't about going on an easier path, it is always about the CONTROL and POWER... It's scary to give that back to the people... Who knows what can they do...
Well, guess what? We don't need approvals at all... We have crypto and we will take our power back! With or without you...
Thank you for your time,
~ph~

If you want to support my witness, you can do it by voting for @ph1102.ctp here https://tribaldex.com/witnesses, or just scan the QR code down below...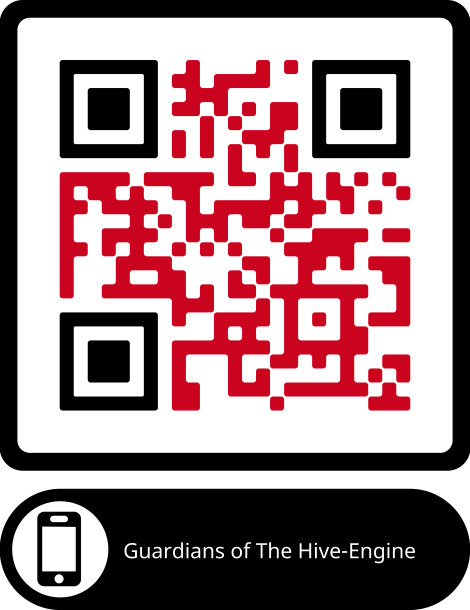 Don't forget to follow, reblog, and browse my Hivepage to stay connected with all the great stuff!
You can also find me on LEO Finance .:. Twitter .:. LBRY

---
---